Incorporate agility without breaking the bank
Agility is now the expectation for enterprises. As noted by Global News Wire, a new study reports that 81 percent of C-level executives agree on the critical importance of agility, and according to Forbes, 93 percent of executives are planning changes to organizational design "where networks of empowered teams united by a shared vision replace traditional hierarchical structures."
While visions of an agile enterprise carry benefits for cost control, speedy adaption and long-term ROI, what does this transformation look like in practice? How do organizations incorporate agility to build a better business without breaking the bank or falling back into old habits?
Don't reinvent the wheel
Embracing agile practices and technology can help fundamentally shift business mentality and change the way enterprises approach everything from IT to HR and marketing. But there's a caveat. Companies often attempt to reinvent themselves by shifting their mission and mantra away from their industry niche — such as healthcare, marketing or finance — to technology or "digital."
The hope? To become digital-first, agile firms that simply layer on existing services. The problem? The established nature of enterprise structures, policies and procedures makes this kind of change impossible. Put simply, enterprise agility isn't about reinventing the wheel, it's about improving the wheels already in motion.
Start with the end in mind
In practice, it means starting with the outcome in mind. What's the specific goal of agile transformation? Here, organizations need to narrow their focus and identify key areas that would benefit from agile implementation.
Consider HR. Many enterprises have human resource departments still using paper-based processes and Excel spreadsheets to manage the data of hundreds or thousands of employees. Here, the use of cloud-based HR software solutions combined with user-centered HR applications can drive new outcomes while addressing specific concerns around data security, request processing and overall response times. But it also extends to core processes. Do the performance evaluation processes and incentives model encourage a new way of working? If not, you are not likely to see the real change take root.
The human factor
Enterprises often struggle with change. According to principal consultant Sunil Mundra of ThoughtWorks in a recent Economic Times piece, this is often because "people end up treating organizations like machines, when in fact, they are living systems." If enterprises implement new processes and technology but don't address the critical role of corporate culture, any agile shift is doomed to fail.
Effective culture shifts start with clarity of purpose and transparent conversation. Bring in front-line staff, mid-level managers and C-suite executives and talk about the need for agile implementation. Discuss the reason for the change, the desired outcomes and acknowledge the embedded processes and behaviors that need to materially change to improve workflow. Wherever possible, make the change in an iterative manner, giving employees the experience before full deployment so they have the chance to ask questions and discover potential pitfalls.
Also critical are agile lines of communication. Embracing a responsive, adaptive business model is impossible if staff can't easily connect with managers or C-suite executives when problems arise. Culture shifts must be both top-to-bottom and bottom-to-top for any long-term gains.
"People end up treating organizations like machines,
when in fact, they are living systems."
— Sunil Mundra, Principal Consultant, ThoughtWorks
Leverage the right technology
While it should not be the primary factor, technology also plays a critical role in the agile enterprise. The challenge is finding the best fit in a rapidly-diversifying tech marketplace.
One option is the advent of XaaS or "everything-as-a-service," which combines traditional IaaS, PaaS, SaaS and other "as-a-service" solutions, allowing IT functions to be delivered on demand. As noted by Tech Central, adopting XaaS empowers agility by helping companies reduce the number of cloud services and solutions they manage at any given time, in turn makes it easier for staff to access what they need, when they need it.
According to Business 2 Community, meanwhile, big data and analytics are also driving factors of agile transformation, especially when it comes to learning and course correction. Recent data suggests that insights-driven organizations are now growing at 30 percent per year, with 71 percent of business intelligence decision-makers planning to increase big data and analytics spending year over year.
The need for big data solutions capable of managing unstructured and structured data sets and delivering actionable insights about this data can't be overstated for the agile enterprise. True agility demands decision-making that both addresses current market forces and accounts for emerging trends.
Tracking transformation
Business plans, cultural shifts and new technologies form the foundation of agile transformation. Measurement is critical to ensure transformation is actually paying off. This means setting goals such as increased customer satisfaction or reduced time between requests and responses, and then tracking these goals to determine their success.
The best bet is to develop some audacious goals to set the bar high, but then break them down into short-term measurements of six to 10 weeks and assess results against predictions. If outcomes aren't meeting expectations, the teams should be looking into the reason and identifying ways to course correct. The job of the leader is to support the team and eliminate impediments. What challenges have they encountered? What remedies would they suggest? If results are in line with initial assessments, measure again in the same time frame to confirm reliability and then set new goals.
The agile advantage
Enterprise agility is now essential for modern, digital companies. Making the transition starts with a plan. How can agile transformation positively impact key business outcomes? Next, companies must embrace cultural change and then find the right organization (team and leadership) model, ways of working and technology to support business aims. Finally, transformation must be regularly measured, assessed and re-evaluated to deliver long-term success.
Further reading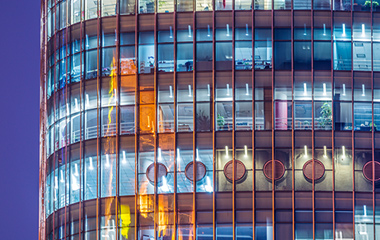 Enterprise agility — Transforming to digital
Adopt a cultural change in a command-and-control environment.
Creating the agile enterprise
Change the way your company works and its ability to sustain change.