Change is continuous. No one can opt-out. Leadership is key.
The rate of external change is outstripping an organization's internal ability to change. Leaders push their organizations to work faster, better, cheaper. This may be possible in the short run, but how can an organization sustain working at such a pace all the time? Adopting enterprise agility changes the way companies work and their ability to sustain change.
Enterprise agility isn't a technology play
While agile grew out of software development, enterprise agility extends well beyond that. It is about changing the way companies work — and changing it in a modern way that is fit for digital reinvention. Strategy has two components: strategy definition and strategy execution. It is incredibly important to define a digital strategy that changes the positioning of a company. It is even more important to build the environment and foundation to execute — and evolve — that strategy to move it from paper to reality. This is where enterprise agility fits.
There is a common mantra often heard from big companies as they envision digital reinvention: "We are not a bank; we are a technology company that delivers financial services" or "We are not an airline; we are a technology company that delivers travel services." The reality is that most big companies do not behave like start-ups or modern digital companies. Experimentation, course correction and speedy time to market is not the way these companies work. Digital strategy doesn't only address the 'what,' it addresses the 'how.'
At the end of the day, this is about culture change, but you don't change culture with words from executives or posters on walls. Culture is a by-product of how an organization works, and you need to take a structured look across the organization to have any chance of changing. You need to change the organization and innovation model, change the leadership behaviors, introduce new practices based on a set of modern work principles and throw away or change the gating processes and risk aversion that slows down teams and leads to mediocrity. While there is a need to understand the past, there is also a need to fix these areas. Then you can behave like a digital company. That's when you look back and realize that you have moved the needle on culture.
Most large companies have been on improvement paths — pushing change and excellence in operations to improve the way teams work. These previous operational improvements have yielded results, but some groups feel that the type of work they do does not lend itself to traditional, operational improvement approaches. In the industry, business leaders have been adopting agile beyond technology to improve performance. The concept of lean grew up in manufacturing but has been extended to many different types of work — primarily with a focus on work that is more regular and repeatable. In a similar way, while agile started as a new way to develop software, it is now being used in many different areas to improve time to market, deliver improved customer outcomes and increasing employee engagement. The key to identify the right areas to apply the concepts and to create the right environment for the change to take root — which includes visible direction and support from the top.
From teams to the top and from the top to the team
Companies are increasingly using these agile ways of working to drive business benefits. We continue to see increased adoption levels — even if most companies are still relatively early on their journey. Interestingly, while most companies adopt first in the technology space, the benefits they are trying to drive go beyond technical improvements. This is an iteration of agile that looks at the organizational change needed to deliver business outcomes in new ways.
Agile maturity
Benefits of agile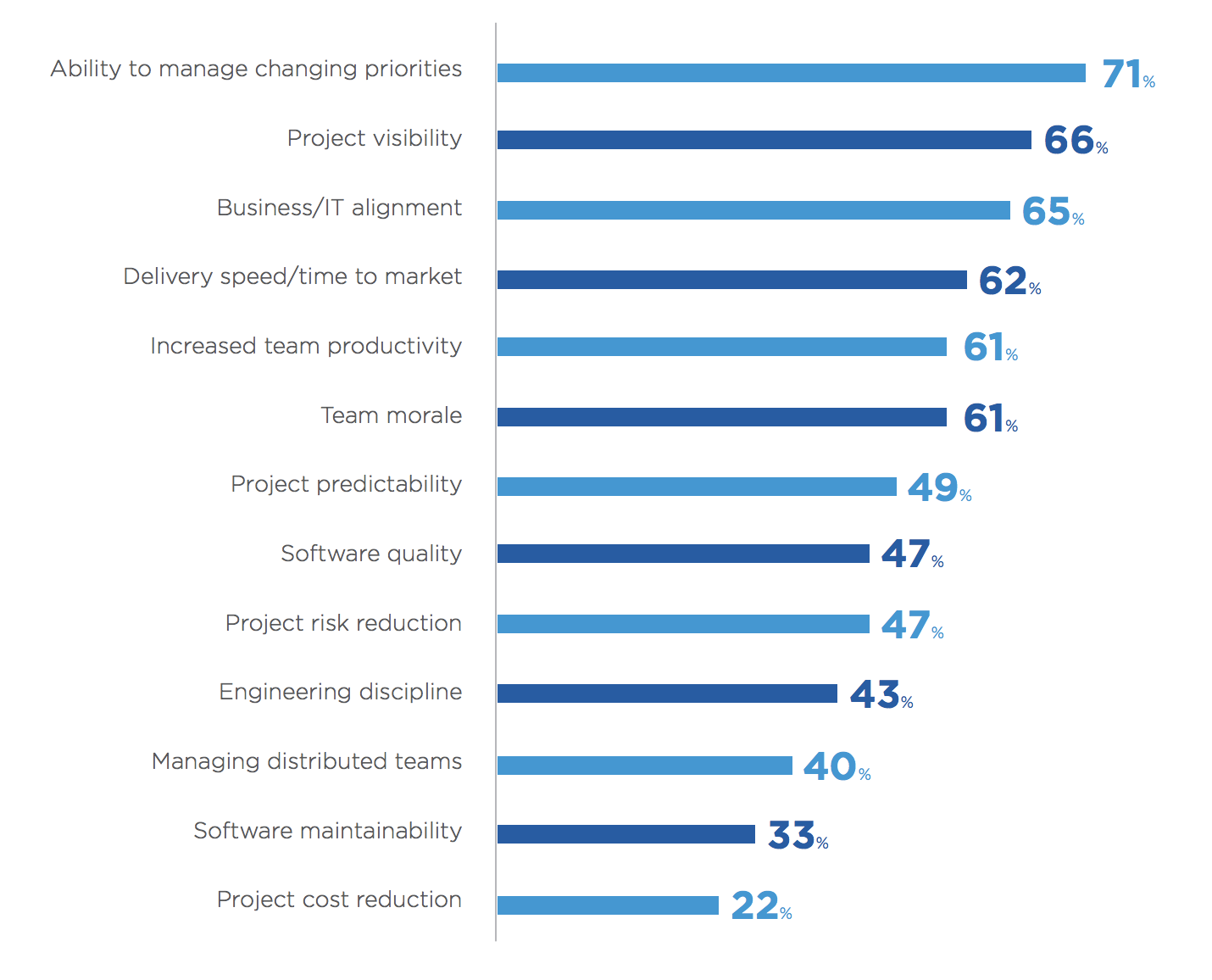 We also see companies changing the behaviors at the leadership level to embrace and embody the change that they expect from their teams. This does not mean that the activities of the CEO team need to follow the exact practices at the team level, but they do need to address the underlying principles behind the practice.
Teams will continue to learn agile and will be changing how their teams are structured, increase the visibility of their work and will be encouraged to make more decisions for the direction of their work. Leadership needs to keep up with the teams. Companies cannot expect the teams to change their behaviors while doing everything the same at the C-suite level.
Executives need to adapt their behaviors and ensure they set the strategy to support prioritization, execute with the same pace as their teams and provide the autonomy (and accountability) needed to work in a new way. They must walk the talk.
As teams adopt agile, they will expect leadership to actively engage with and support them along their journey. This expectation extends to the top of the organization where teams will be looking towards leadership to how they model their behaviors.
Scaling to the enterprise
The approach takes clients through four primary steps as outlined below. This approach borrows a lot of core agile principles but applies them more broadly. Think of agile as a philosophy vs. a development method. The name and terminologies will continue to evolve as it is applied to the business, but the core concepts will remain:
1. Define the starting point and target. To start the change, we need enough clarity to know where we want to apply the change and how bold we are trying to be. This should be rooted in the digital strategy and determine the areas that need to change and how quickly that change needs to happen. In the past, that has been mostly on the technology side, but more recently, the scope is being applied to the business (e.g., bringing new products to the market quicker) or support (e.g., creating an internal audit group that is customer-responsive and fast without taking on more risk).
2. Reimagine the organization. The organization change has two components: teams and leaders. On the team side, companies need to define and apply a set of design principles that help lower the center of gravity, empower smaller teams to get to client-valued outcomes quicker and create roles that match modern companies. This also includes a scaling model to help multiple teams work together to achieve common outcomes. While it is critical to focus on building the right agile teams, it has been proven through experience that the focus on leadership requires even more attention. The new model requires a new type of servant leader — and fewer of them in most cases.
3. Change the ways of working. It is not enough to talk about change; we need to give the teams and leaders new practices to follow and explain to them why these are important. This requires training, coaching, tooling and a new means of managing demand and work in the organization. This is the area most aligned to the traditional concept of agile to many people.
4. Govern and measure what matters. You cannot put a heavyweight management system on top of the new model and expect different results. Beyond the vision, organization and ways of working, companies also need to address their underlying governance model and processes that will slow them down and snap them back to old ways of working. This requires a new view of measurements (focused on clients and outcomes), compliance, architecture, performance/incentives and financial funding (to name a few). These areas need to change in parallel, as much of the culture is dictated by these processes.
Fitting with digital reinvention
Digital reinvention programs must include enterprise agility to deliver on the promise of change. Digital reinvention without enterprise agility helps define the strategy but leaves the actual change to hope or to a traditional business or IT transformation project. On the flip side, the same is also true. Enterprise agility focuses on changing how companies can trigger entry points to help define digital reinvention. We've seen both sides of this equation while helping many of our clients with digital transformation.
Enterprise agility is not technology strategy. There is a core technology underpinning due to where the concept started, but the reality is that companies are looking for a solution that goes across traditional functional areas. And they need a solution that is modern — that has been adapted and reinvented like the digital strategies they are trying to execute. That's what this is — a new view of work based on how modern, fast growing, fast responding technology companies work.
Getting started
We have a method, approach and deliverable samples — and now client examples and testimonials. We are building the skills to deliver. The typical starting point is a 12-18-week effort (depending on the scope) that outlines the strategy and design and creates the foundation for scaling. It is delivered using an agile approach with two-week sprints that adapt to the client's environment and what we are learning as we move forward.
We use a co-creation model that is collaborative by design. The initial team is staffed with 4-5 people from digital strategy with the client dedicating 3-5 people to complete the agile team. This model correctly keeps the client in the ownership role of the change but allows us to teach them how to think and work in this new way.
The activities addressed are aligned to the four areas of the approach mentioned above, and we increase or decrease the emphasis in an area based on the client's current culture and environment. In addition to the template materials we have created, we also have a series of assets that were developed to support IBM's internal agile transformation (e.g., training, tooling) that we can bring as accelerators for our clients to quickly move forward and that differentiate IBM.
Further reading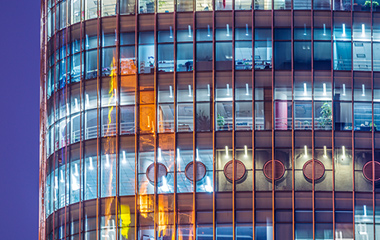 Enterprise agility — Transforming to digital
Adopt a cultural change in a command-and-control environment.