IBM iX @ DMEXCO
11th - 12th of September 2019 in Cologne
Trust in people. Not in hype.
Meet our team at DMEXCO in Cologne, the central event for digitisation, marketing and innovation. Let's discuss how to establish new ways of working and how to successfully implement innovative technologies – beyond the hype. Because what is hyped in theory as a successful model for the future is often more difficult to implement in reality than thought. We're looking forward to present, how we can help our clients grow and change their business, by design.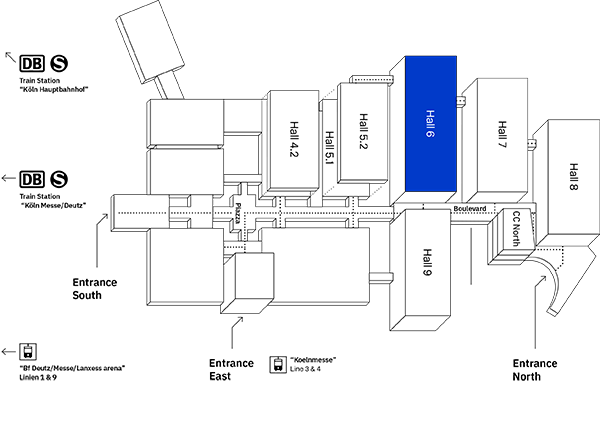 Stop by! Hall 6.1, Booth A 0.35
IBM iX works at the intersection of strategy, creativity and technology and is one of the largest digital agencies with 17,000 employees and 57 studios worldwide. You will find our team in Hall 6.1/A 035.
IBM iX in Germany, Austria and Switzerland
IBM iX is present at eight locations in the D-A-CH region - with many years of expertise in the iX studios and established agency brands such as Aperto, ecx.io, Bluewolf and Plantage iX, which have been part of the global agency family since 2016.







Our topics, sessions and speakers
Arrange a Meet & Greet appointment or book one of our limited Expert Sessions (30-60 min). We give you an impulse and look forward to a personal exchange on your topics! Or simply come to one of our keynotes, seminars and worklabs.
Keynotes, Seminare, Worklabs @ DMEXCO
11.9. / 11:00 – Seminar 6: The Cognitive Brand – Leveraging AI for next generation brand building – Executive Director IBM iX – Aperto
11.9. / 11:45 – CVC Conference: Hype of AI – Marko Thorhauer, Executive Director IBM iX – Aperto
11.9. / 14:50 – Congress Stage: Female Quotient - When difference is the biggest strength – Sarah Bernuit, VP Digital Strategy & iX Europe
11.9. / 16:00 – Demo Area: Blockchain = business value or technology hype?! – Neele Franke, Senior Managing Consultant & Georg Schultz Business Transformation Consultant, IBM
12.9. / 11:30 – WorkLab 2: Neues Wachstum durch innovative Geschäftsmodelle & digitale Ökosysteme – Arne Buesching, Associate Partner & Rebecca Riebeling, Senior Managing Consultant, IBM Digital Strategy & iX
Panels & Keynotes @ iX STAGE, Halle 6, A35
11.09.19 – WEDNESDAY
11.09.19 / 11:00 – Why design is THE 21st century business skill – Daniel Simon, CCO IBM iX Europe
11.09.19 / 11:30 – Digital Transformation of B2B Marketing & Sales – Maximilian Moore, Managing Consultant, Digital Strategy
11.09.19 / 12:00 – Shut the hype up! – Dietmar Dahmen, Visionary, futurologist, innovation expert
11.09.19 / 12:30 – Develop innovative business models and digital ecosystems to enable new growth – Arne Buesching, Associate Partner & Rebecca Riebeling, Senior Managing Consultant, IBM Digital Strategy & iX
11.09.19 / 13:00 – Incumbents strike back: How the IBM Garage is changing the business model of Fortune 500 companies with business by design – Urszula Stefanowicz, Senior Business Development Manager – Aperto
11.09.19 / 13:30 – Exploring new digital services powered by VR/AR – Rene Andersson & Katina Sostmann
11.09.19 / 14:00 – Blockchain = business value or technology hype?! – Neele Franke, Senior Managing Consultant IBM
11.09.19 / 14:30 – Let your brand win: Reinventing prize promotions – Peter Steigerwald & Fabian Payer
11.09.19 / 15:00 – Panel: Earn the trust of your customer and engage better - The view of the platform giants – Tristan Reckhaus (Moderation)
11.09.19 / 15:30 – BVDW Tour: Digital Transformation (Start @ BVDW Booth A001) – Daniel Simon, CCO IBM iX Europe
11.09.19 / 17:00 – Shut the hype up! – Dietmar Dahmen, Visionary, futurologist, innovation expert
Panels & Keynotes @ iX STAGE, Halle 6, A35
12.09.19 – THURSDAY
12.09.19 / 10:00 – Let your brand win: Reinventing prize promotions – Peter Steigerwald & Fabian Payer
12.09.19 / 10:30 – The Power of Design Systems: The new role of AI in design – Marko Thorhauer, Executive Director IBM iX – Aperto
12.09.19 / 11:00 – Enterprise Agility: Implement an ambitious business strategy by building an adaptive organization – Friederich Schnürer, Senior Consultant IBM
12.09.19 / 11:00 – BVDW Tour: Programmatic Advertising (start @ BVDW booth A001) - Stephan Stechow & Hartmut Kozok
12.09.19 / 12:00 – The need for reinvention to become a digital winner – key success factors for the CDO – Sarah Bernuit, VP Digital Strategy & iX Europe
12.09.19 / 12:30 – The MVP dilemma – what does the M stand for? Designing a user-centered application from paper to cloud in an industrial context – Tristan Reckhaus, Industrial Products and Automotive Lead IBM iX
12.09.19 / 13:00 – BVDW Tour: Digitale Kreativität (start @ BVDW booth A001) – Antje Kruse-Schomaker, Design Principal IBM iX
12.09.19 / 14:00 – The Cognitive Brand – Leveraging AI for next generation brand building – Jan Pilhar, Executive Director IBM iX – Aperto
12.09.19 / 14:30 – Agile Marketing Framework – Hartmut Kozok & Stephan Stechow, IBM iX – Aperto
12.09.19 / 15:00 – How Moovster, a BMW Spin-off, created a pioneering Mobility-as-a-Service Platform and multi-sided Marketplace to solve urban mobility – Dr. Mario Lochmüller, Moovster
12.09.19 / 15:30 – Enterprise Agility: Implement an ambitious business strategy by building an adaptive organisation ­– Friederich Schnürer, Senior Consultant IBM
12.09.19 / 16:00 – Let your brand win: Reinventing prize promotions – Peter Steigerwald & Fabian Payer
12.09.19 / 16:30 – How Moovster, a BMW Spin-off, created a pioneering Mobility-as-a-Service Platform and multi-sided Marketplace to solve urban mobility – Dr. Mario Lochmüller, Moovster