Cleaner energy: good for the planet and your bottom line.
Resilience represents the capacity of a system to overcome disruptions successfully. Sustainability represents a system's capacity to meet today's needs to find a balance between business growth and responsible practices to help preserve our planet. Resilience and sustainability are inextricably linked. These twin values represent an imperative for Energy and Utilities (E&U) organizations that operate on long time scales and trade in finite resources.
Current socio-economic challenges and the complex process of distributing energy, along with unpredictable extreme weather events are challenging the grid's ability to sustain disruptions. The move to more sustainable and resilient energy solutions will take decades, but there are quick wins available to innovators in the space which will prove that the push for more earth-friendly operations isn't altruistic, it's good business sense.
A more sustainable energy and utility organization starts with asset management. All your assets have a finite lifecycle and making an assertive decision about replacing or extending their in-service longevity is an important step. Enterprise Asset Management (EAM) can help with that balance. The best EAM platforms can deliver greater sustainability not only through intelligent asset management, but also through predictive maintenance, computer vision, safety, and reliability.
"

Utilities are trying to thread the decarbonization needle while maintaining reliability and affordability, a difficult task as they boost variable renewables. To do it, they're building a more flexible and modern grid."1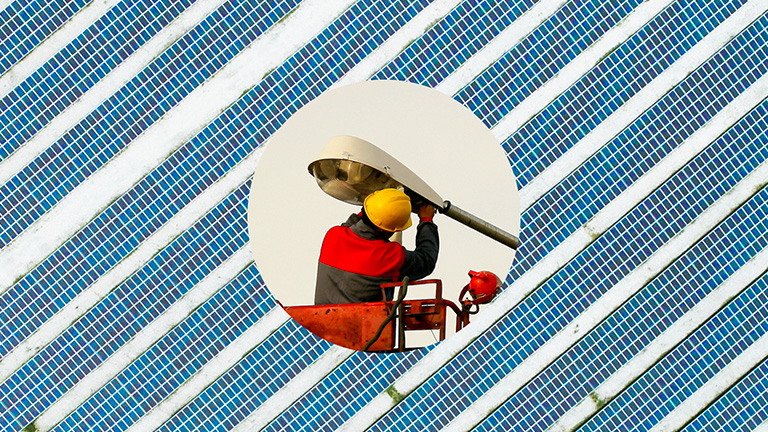 By using IoT data, AI, and analytics, it's possible to make incremental changes to reduce downtime, costs, C02 and waste, as well as resources consumed.2 Some examples:
Electrification and decarbonization: The former is essential to achieving the latter. Energy efficiency is a key benefit of electrification, and electrical devices are often multiple times more efficient than internal combustion engines.
Digitalization: Aging grids with large, centralized power stations powered by fossil fuels are increasingly subject to regulation. Digitalization can be used to build and optimize smarter grids that address the challenges of environmental sustainability, reliability and integration of renewables.
Decentralization:  Utility customers are now both consumers and energy producers, however grids weren't designed to accommodate two-way transmission. The centralized, top-down power grid is outdated. Decentralizing it will require the adoption of smarter technologies and IT systems that can handle data collection from smart assets throughout the grid, sending data in every direction.
Read more about sustainability and the role of technology in helping companies reduce their impact on the planet.
Explore more resources