What can the IBM SAN18B-6 do for your business?
IT organizations are under pressure to keep pace with the growing avalanche of data and ensure their information is protected from a disaster. The IBM Storage Networking SAN18B-6 extension switch dramatically speeds up replication performance and enables organizations to substantially reduce costs by deploying less expensive WAN connections. With powerful performance, non-stop reliability, and strong security, the SAN18B-6 can handle the unrelenting transfer of data between data centers, can minimize the impact of disruption to maintain service-level agreements (SLAs), and secure data-in-flight between data centers.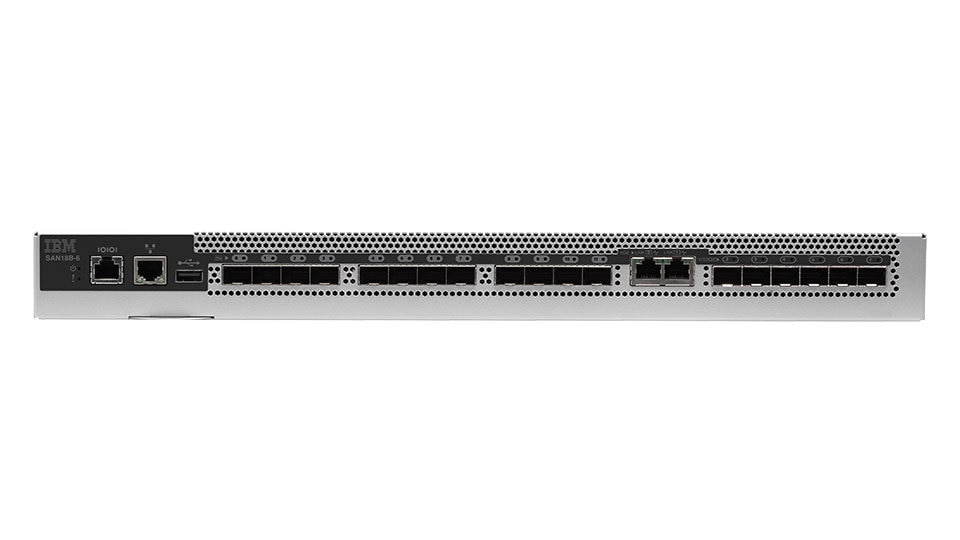 Moves more data securely and faster
The SAN18B-6 maximizes replication and backup throughput over distance using data compression, disk and tape protocol acceleration, WAN-optimized TCP and other extension technologies.
Replicates data over less-expensive WAN
The IBM SAN18B-6 extension switch provides a modern replication connectivity solution that cost-effectively and quickly replicates data across sites for fast, continuous data protection.
High throughput with compression
With a compression ratio of 4 to 1, organizations can scale up to 10 Gbps replication throughput, depending on the type of data and the characteristics of the WAN connection.
Features of the IBM Storage Networking SAN18B-6
Purpose-built extension platform for midrange storage
Move more data faster over distance quickly
Protect data from network disruptions and outages
Secure data from network breaches
Extends Fabric Vision Technology between data centers
Simplified management and robust network analytics
Improve efficiency with fabric automation