What the IBM TS1160 Tape Drive can do for your business
The IBM TS1160 tape drive gives organizations an easy way to deliver fast access to data, improve security and cost-effective long-term data retention infrastructure. TS1160 offers high-performance, improved capacity, flexible data storage with support for data encryption. TS1160 now offers FC, Ethernet/RoCE and SAS interfaces, helping to protect investments in tape automation by offering compatibility with existing automation. TS1160 also supports the LTFS format in IBM Spectrum Archive for direct, intuitive and graphical access to data.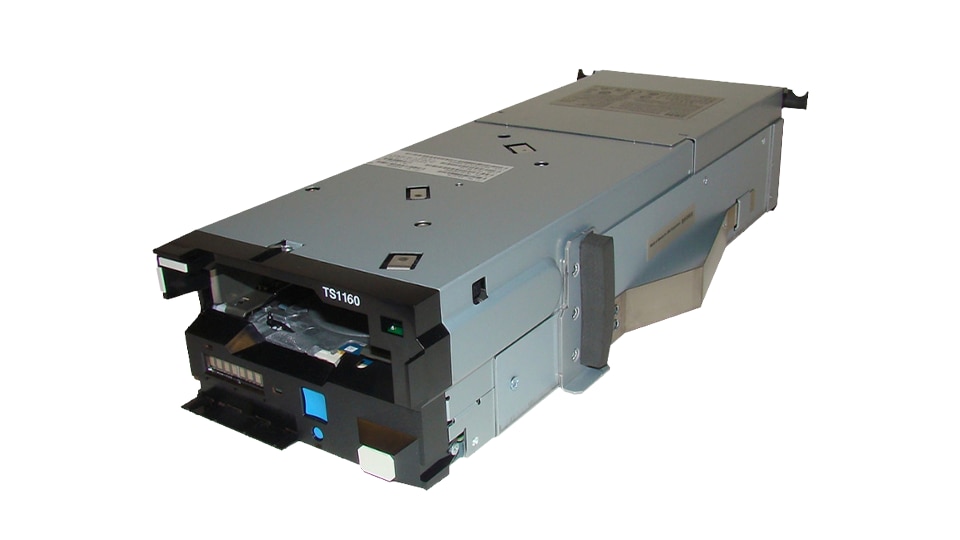 Protect existing investment
Improves performance and provides compatibility with existing IBM tape automation installations. TS1160 offers SAS-12Gb/sec, RoCE 10 & 25Gb/sec and FC 16 Gb interfaces.
Improve tape operations performance
Offers native data transfer rates of up to 400 MBps (up to 900 MBps compressed) and new 10 Gb Ethernet host attachment or dual-port 16 Gb FC support.
Reduce total cost of ownership
IBM 3592 enterprise drives are recognized as a state of the art on Tape technology. The TS1160 delivers higher capacity, better performance, and reliability than other formats, providing a lower TCO.
Improve space efficiency
Delivers increased native capacity per tape with double the capacity of TS1150.
Robust modern data protection
Offers the ultimate line of defense and greater protection of sensitive corporate data.
Reliable and cost-efficient connectivity
Can be shared on a SAN through the existing FC 16 Gb interface. Plus, the Ethernet version is designed for hyperscale and RHEL environments with support for Ethernet 10Gb host and NAS attachment.
Key features of the TS1160
Up to 20 TB native capacity, up to 60 TB compressed capacity
IBM Spectrum Archive with LTFS technology support
FC-16 Gb, Ethernet 10Gb & 25Gb, and SAS 12Gb interfaces
Address ransomware and cybersecurity threats
Scalable data protection for most open systems servers
3592 media options
Encryption support