Find your potential risk hot spots
IBM StoredIQ® InstaScan uses native index to give you visibility into your cloud data. Perform risk assessment and compliance check with speed and confidence by taking advantage of industry-recognized sampling algorithms.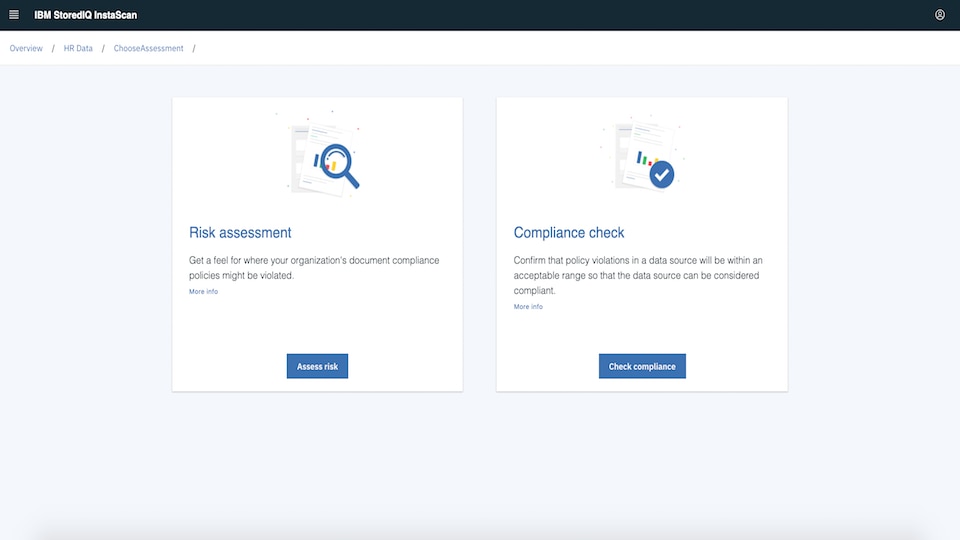 Better manage cloud data sources
Apply your organization's data management and compliance policies to your cloud data sources. Get a jump start on your data governance and compliance preparedness plan.
Know your data
See what types of sensitive data are most prevalent within your organization and prioritize your data clean-up activities.
Get more confident about data privacy
When you perform regular Risk Assessment and Compliance Checks, you can gain confidence about your data.
Which option is right for you?
IBM StoredIQ InstaScan 10TB

---

Leverage IBM StoredIQ InstaScan to run Risk Assessment and Compliance Check

IBM StoredIQ InstaScan 50TB

---

Leverage IBM StoredIQ InstaScan to run Risk Assessment and Compliance Check