IBM announces 50 percent increase in quarterly dividend
Underlining the fundamental financial strength of IBM′s business, the IBM Board has declared a quarterly cash dividend of $.30 per common share. This represents an increase of $ .10, or 50 percent more than the prior quarterly dividend of $ .20 per common share.
This is the eleventh year in a row that IBM has increased its quarterly dividend and marks the biggest percentage increase in IBM's history. This also represents the 362nd consecutive dividend paid by IBM.
Accompanying IBM's dividend increase, the Board also authorized $4 billion in additional funds for use in its stock repurchase program. Together with the amount remaining at quarter's end from our last Board authorization, IBM's total authorization now available is approximately $6.5 billion.
As an innovation company, IBM's business model is designed to produce consistent earnings growth and cash generation. In each of the last five years, IBM has generated between $10.5 billion and $13.1 billion of cash from operations, excluding our Global Financing accounts receivables.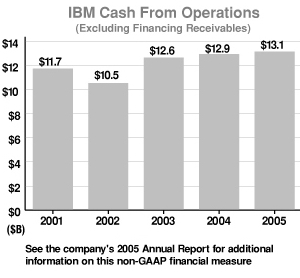 IBM deploys this strong cash flow to support internal growth through investments in research and development, capital equipment, and strategic acquisitions. After those investments, IBM makes substantial annual returns to shareholders through dividends and share repurchase. Our consistently strong operational cash flow enables this higher dividend level which provides a greater cash return to our continuing shareholders. IBM remains committed to its current business model and longer-term financial objectives of double-digit earnings per share growth.
This longer-term financial model is supported by a combination of organic revenue growth coupled with revenue from financially sound acquisitions; productivity actions to improve margins; and strong cash generation to provide shareholder returns through dividends and share buybacks, with the latter contributing at least 2 points to earnings per share growth.
Between 2001 and 2005, IBM returned $34.1 billion to shareholders, through a combination of $28.6 billion in share repurchases and $5.5 billion in dividends. In the last 10 years, IBM has returned over $70 billion to shareholders through dividends and share repurchases.
For more information on IBM's announcement of April 25, 2006 , read the Q&A with Jesse Greene, IBM's Treasurer, and the press release.
Related resources
Site links
PDF documents
IBM Announces 50 Percent Increase in Quarterly Dividend.
RSS feeds
Investor relations search
Learn about IBM
Help and feedback
Investor relations subscriptions