IBM named a leader in IoT platforms
IDC MarketScape: Worldwide IoT Platforms, 2017 Software Vendor Assessment, "IBM has created a strong analytics brand with Watson and can demonstrate the power of cognitive analytics in the IoT."
When it comes to key strengths, the report cites IBM's investments into innovative technologies that provide value above and beyond a standard IoT platform, such as NodeRed for rapidly building IoT applications and BlockChain for supply management and payments processing.
"Based on the Watson IoT™ Platform, IBM currently aims to help customers transform in 3 discrete areas:
Improving operational performance and lowering costs;
Creating new products and business models;
Driving engagement and customer experience."
*IDC MarketScape: Worldwide IoT Platforms, Software Vendors 2017 Assessment: IDC#US42033517, June 2017.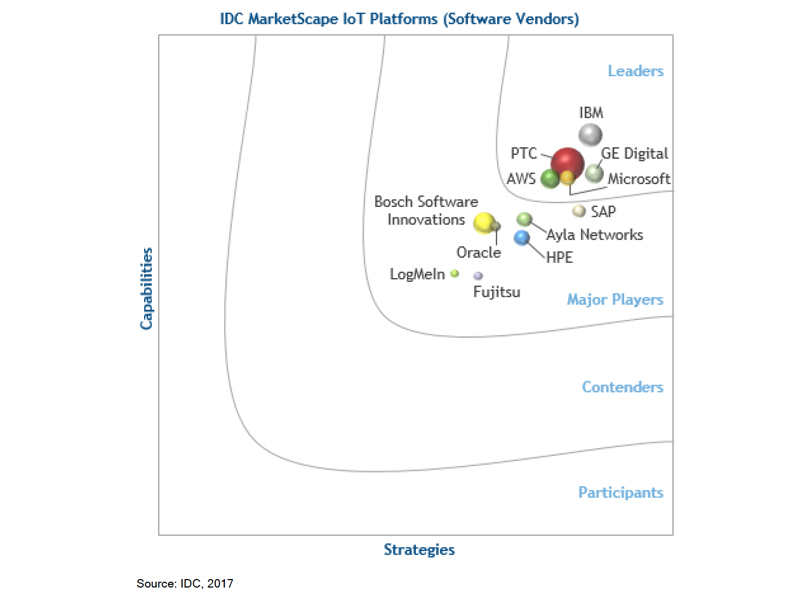 IDC MarketScape vendor analysis model is designed to provide an overview of the competitive fitness of ICT suppliers in a given market. The research methodology utilizes a rigorous scoring methodology based on both qualitative and quantitative criteria that results in a single graphical illustration of each vendor's position within a given market. The Capabilities score measures vendor product, go-to-market and business execution in the short-term. The Strategy score measures alignment of vendor strategies with customer requirements in a 3-5-year timeframe. Vendor market share is represented by the size of the icons.