We envision a world where the lights never go out, networks never go down, and planes are always on time. A world where assembly lines operate flawlessly, cargo is delivered on schedule, and the turbines that generate energy never run out of steam. We envision a world in which the machinery that propels us forward is always operating at peak performance, reliably humming along at the pace of progress.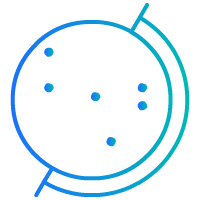 In this world, man and machine work harmoniously, forging a future in which expectation is a reality, and probability is predictable.
This is the world of Asset Performance Management (APM). It's a smarter world. A better world. A world where you belong.
Let's build that world together.
---
APM is the engine that drives the future
For many organizations the deployment of an Enterprise Asset Management system (EAM) was the beginning of monumental changes to how physical assets were managed. It allowed them to take control of critical assets and plan, execute, and track needed maintenance activities.
But the advent of the Internet of Things (IoT), artificial intelligence (AI) and new technologies such as 5G has made much more possible. Today, organizations can use these technologies to improve decisions about when and how to provide routine maintenance, the optimal points to overhaul assets, and when to consider decommissioning and replacement.
Individual assets can now be monitored, measured, and managed to predict and prevent system failures. Operations can run uninterrupted. Time can be saved. And asset investments protected. This new practice is quickly being adopted by visionary enterprises and is driving a revolution of reliability.
APM is so effective that some asset-intensive organizations have been able to achieve
40%
reduction in maintenance costs
and extend the life of their assets by years. Wouldn't you like to report those statistics, too?1
---
Your actions impact your assets
The success of your organization depends upon its physical assets. And the performance of those assets depends on the actions you take using the insights they generate. Keep reading to learn how you can leverage IoT and advanced analytics and AI to balance costs with risk and performance to optimize the contribution of your assets.