Are you obtaining the greatest value from your assets?
Each asset is part of a complex, dependent ecosystem. But not all assets equally contribute to uptime. Hidden dependencies across assets pose real threats to reliability. Given budget limitations, maintenance resources need to be prioritized based upon the most business-critical assets and a complete understanding of risk. IBM offerings ─ IBM® Maximo®, IBM Predictive Maintenance and Quality, and IBM Watson™ IoT Platform ─ can generate insights from the Internet of Things to help focus maintenance resources and obtain the greatest value from assets.
Make smarter maintenance decisions using IoT data with Maximo, Predictive Maintenance and Quality, and Watson Analytics to optimize business processes.
IBM Watson IoT asset management industry solutions:
Watson IoT Enterprise Asset Management
Comprehensive capabilities ─ on premises or in the cloud
Many maintenance departments don't have dedicated IT resources or large implementation teams, but need a fast-start platform. Others are multi-site organizations who need standard ways of communicating information. Whatever your reasons, IBM Enterprise Asset Management solutions can help.
Watson IoT Analytics powers IBM predictive asset management solutions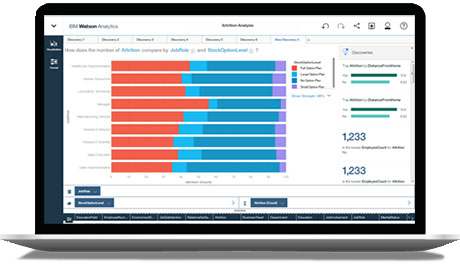 Watson Analytics for Maximo: fast, easy insights from your asset and maintenance data
Business leaders in asset-intensive industries can make better, data-driven decisions with Watson Analytics — an intuitive analytics tool that integrates directly with your Maximo data. Easily bring in your asset or maintenance data from Maximo, explore that information for insights, and display the findings as dashboards or infographics for easy sharing. Watson Analytics is your new data scientist in a box.
Mobile Asset Optimization
IBM and Vodafone have partnered to create a solution to make smarter, data-driven logistics decisions easy and scalable. Now you can foresee weather impacts on your supply chain, understand asset availability, better predict operational risks, more easily enforce contracts, and optimize the lifecycle of your assets.
Asset management news and resources