In India, 400 million people will need homes in the next 20 years—that's more real estate than the US has built since WWII. In Italy, fewer families are having children and there is a mass exodus afoot. And in the U.S., industrial jobs have traveled overseas, leaving a glut of surplus skills and entire cities built for manufacturing economies that don't exist anymore.
The world's governing bodies have a choice: they can be passive and let change dictate the way their nations will adjust. Or they can anticipate change with effective strategies to improve the lives of their citizens, protect their interests and grow their international profiles.
The drivers of change
What are these inescapable forces?
The IBM Institute for Business Value (IBV) has identified six inescapable forces—called drivers—which will bring change to public sectors around the world over the next decade. Together, they present a mix of opportunities and threats. But as universal as they are, they require unique responses suited to each nation, region or locality. These drivers are:
Changing demographics. Median ages are rising in the developed countries of Italy, Germany and Japan, but dropping in developing ones such as India. What will that mean for services, education and infrastructure?
Accelerating globalization. Capital, raw materials, finished goods, work and labor are now moving between previously independent entities. Who wins? Who loses?
Rising environmental concerns. Suddenly, the "green" vote is a powerful force in global politics. How will it affect civil programs and growth?
Evolving societal relationships. How can administrations deliver secure, private services anywhere, anytime to businesses, citizens and even other governments?
Growing threats to social stability and order. From terrorism to armed conflict to pandemics to natural disasters, the character of threats is changing. How can governments prevent the dire and often long-lasting consequences of poor preparation and response?
Expanding impact of technology. The adoption of the Internet is remaking the landscapes of business, healthcare and government. How will that impact privacy and accessibility?
The mandate to collaborate
How can the world work together?

Based on more than two dozen studies with public sector experts, the IBV has determined that the most effective approach to managing these six drivers is a multilayered, multidirectional tactic called perpetual collaboration, a framework of deepened connectivity and cooperation across constituencies, agencies, governments and societies.
Collaboration has emerged as a key issue and a required competency in business. And this collaboration framework can also help governments better engage their citizens and partners in achieving large-scale goals and massive improvement in quality of life for all involved.
Policy for the people, with the people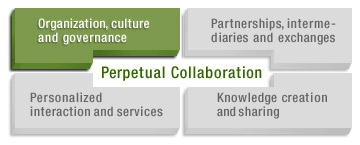 Organization, culture and governance
Governments need to transform the way they do public business. Communication, metrics and visibility are critical for constituents, partners and agencies to adopt new policies.
SWEDEN: Keeps traffic moving in all directions with a two-way dialogue
Like other cities, Stockholm, Sweden faced traffic congestion and pollution, resulting in poor air quality and long commutes. Their solution was a congestion charging system, which taxes vehicles entering or leaving designated zones. The local government took a very pro-active, collaborative approach to developing, measuring and implementing the system.
First, the city council voted to hold a trial implementation of congestion charging.
The full scale trial was held for seven months, during which benchmarks were set to determine success or failure.
Nine surveys involving over 10,000 people were conducted to assess times, payment and information channels.
After the 7-month pilot, traffic dropped by 25%; train and transit passengers increased by 40,000 per day; and greenhouse gases fell 40%.
Voters approved permanent implementation after the Swedish Parliament had done so in 2007.
Collaboration across borders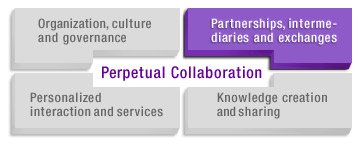 Partnerships, intermediaries and exchanges
How can governments work together to overcome obstacles in trade, security or immigration? A growing number of collaborative ventures such as international and supranational organizations and exchanges offer support and resources that cross borders. These include the European Union, the World Health Organization and the International Civil Aviation Organization.
CHINA: Uses a single window to open doors of trade
With 41 customs regions, 562 customs offices and more than 48,000 custom officials, China managed its massive trade lifecycle with disparate and siloed systems that rarely shared information.
To maintain a security-rich environment that also supported the vast international trade market, China E-Port was developed as a single window extranet for networking China Customs and the departments responsible for public security, railway, trade, quarantine, foreign exchange and banks at ports.
Chinese customs officials tested, refined and agreed upon the principles for facilitating supply chains between Asia and Europe, with particular emphasis on sea containers moving between China and the Netherlands and the United Kingdom.
The end of one-size-fits-all programs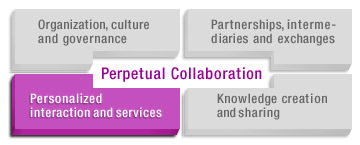 Personalized interaction and services
Around the world, citizens are frustrated by government systems built around individual programs and services, each with its own department, systems and protocols. People want services that meet their needs and are easy to engage in addition to speedy access to information. They want to be able to get services in different ways, in person at a service center, online, or by telephone-in short, one-stop service that is a call, click or visit away.
CANADA: Delivers online services with a personal touch
In 1997, Canada announced its goal to become the most connected nation on earth. In that spirit, Service Canada was established in 2005 as a one-stop, integrated, multichannel service center for a broad range of federal programs and services. All programs can now be accessed in person at more than 300 offices throughout Canada; by phone, with over 50 million calls a year; or through the Web with over 14 million visits per year.
As a result, Service Canada has:
Created a citizen-centric delivery network for dozens of programs, including education, employment, housing and legal assistance.
Expanded points of service throughout the country, especially in northern and remote communities.
Built partnerships with other levels of government and community service providers to better integrate services for Canadians.
Survival of the wisest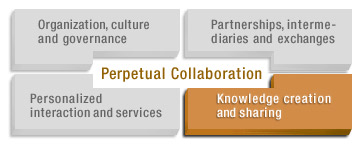 Knowledge creation and sharing
The U.S. Bureau of Labor Statistics indicates that, between 2004 and 2014, the growth in the percentage of older workers will far outpace that of younger workers. This aging workforce requires new models of employment and knowledge sharing, such as mentoring the next generation, flexible work schedules and skill enhancing opportunities for older workers.
PENNSYLVANIA: New thinking about older knowledge workers
As industry models have evolved, the state of Pennsylvania experienced competitive pressure and job loss. But Pennsylvania possesses strong workforce skills and intellectual and technological assets and has committed stable funding to support business retention and growth. Many of its initiatives serve as national models for economic development, including:
Ben Franklin Technology Partners—brings together the best of Pennsylvania's people, ideas and technology to serve as a catalyst for advancing the state's knowledge-based economy.
Pittsburgh Digital Greenhouse—a public—private consortium that includes local companies and state universities. It works to foster the technology industry in southwestern Pennsylvania.
Keystone Innovation Zones—teams colleges, universities and other post—secondary schools with local businesses and economic development organizations to encourage the areas around their campuses to create opportunities for entrepreneurs to establish and grow companies.
Other company, product, or service names may be trademarks or service marks of others.