28 Jan 2014 -- IBM won the 2013 Platts Global Energy Award in the category "Stewardship Awards, Efficiency Initiative - Commercial End-User" for its significant energy conservation and efficiency initiatives and results. Platts is a leading global energy, metals and petrochemicals information provider. Their annual awards program honors exemplary achievement in the energy industry, recognizing corporate and individual performance, innovation and entrepreneurship.
IBM was recognized for its worldwide energy conservation results in 2012 and 2013, including its achievement of a significant, additional energy conservation goal, and its longstanding global energy conservation and management program which has delivered annual average energy conservation savings of 5.1 percent from 1990 to 2012.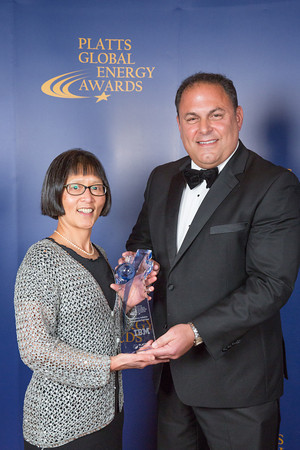 According to Platts, "Judges selected an atypical winner in the Stewardship Award for Energy Efficiency category this year. Historically, the award has recognized companies that enact an energy efficiency plan to protect the environment while strengthening the bottom line. This year's winner, IBM, achieved those objectives - but its commitment to rolling out the changes throughout its entire massive global enterprise, over decades, makes the impact of its change exponentially greater than most. Judges remarked on its absolute savings program; the company aimed for and achieved a hard cut in energy across its entire enterprise. Energy efficiency is not just wise environmental stewardship -- it is good for business as well, and IBM has proved it on a grand scale."
IBM has had a corporate-wide energy conservation goal since 1996. The company's current goal focuses on the results of initiatives undertaken each year. The goal: implement projects to conserve energy equal to 3.5 percent of IBM's annual energy use. In 2012, IBM's energy savings were achieved through more than 2,670 conservation projects at over 400 locations around the globe. These projects helped IBM save 400,000 megawatt-hours (MWh) of energy, equivalent to 6.5 percent of the company's total energy use for the year, while also saving $35 million in expense and avoiding over 155,000 metric tons of CO2 emissions. IBM's energy conservation goal recognizes only completed projects that actually reduce or avoid the consumption of energy in the company's operations. Reductions in energy consumption from downsizings, the sale of operations and cost avoidance actions, such as fuel switching and off-peak load shifting, are not included in the results for measuring performance against achieving this goal. Moreover, the conservation results discussed above are conservative in that they include only the first year's savings from the conservation projects.
IBM's global energy management program leverages the expertise of more than 40 IBM energy management professionals deployed around the world. The team has created best-practices checklists that set minimum expectations for building systems and operations, including controls and equipment for lighting, HVAC (heating, ventilating and air conditioning), central utility plants (CUPs), compressed air, data center and IT systems, cafeterias and office systems. All IBM sites using 2,000 MWh/year or more of energy must complete the checklists, perform a gap analysis and develop an energy conservation implementation plan to capture existing, cost-effective conservation activities a minimum of every four years.
Between 1990 and 2012, IBM saved 6.1 billion kilowatt-hours of electricity consumption, avoided 3.9 million metric tons of CO2 emissions (equal to 57 percent of the company's 1990 global CO2 emissions) and saved $477 million through its annual energy conservation actions.
IBM's commitment to energy conservation dates back to 1974 and has continued unabated ever since. Energy conservation is a major component of IBM's comprehensive, multifaceted climate protection program because the release of CO2 by utility companies powering the company's facilities, or from the use of fuel for heating or cooling, represents the greatest potential climate impact associated with its operations.
For more information about IBM's energy and climate programs, visit IBM's climate protection web page. To learn more about the Platts Global Energy Awards and see the full list of 2013 Platts Global Energy Awards winners, visit the Platts Global Energy Awards website.