On October 18, 2016, IBM received a 2016 Golden Peacock Global Award for Sustainability. The Golden Peacock Awards, named after India's national bird the "peacock," are awarded annually, and separately, under global and national categories. The global award category for sustainability recognizes initiatives that promote sustainable development among developed and developing countries.
IBM has a longstanding commitment to corporate responsibility. Our definition of corporate responsibility reflects our expansive footprint and spans environmental responsibility; social responsibility; innovation to address critical societal needs in the communities in which we operate; and a culture of ethics and integrity -- guided by a rigorous system of corporate governance -- that promotes transparency on a global basis.
The Golden Peacock Awards were established by the Institute of Directors, India, in 1991 to recognize corporate excellence worldwide. All institutions whether public, private, non-profit, government, business, manufacturing and service sector are eligible to apply.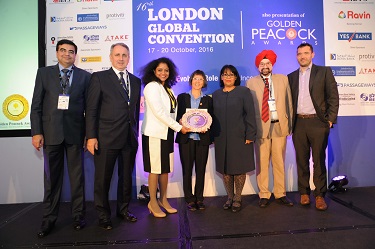 (From left to right) Vijay Karia, Chairman & Managing Director, Ravin Group of Companies, India, Stephen Haddrill, Chief Executive, Financial Reporting Council, UK, Priti Kadam, program manager, IBM Corporate Environmental Affairs, Edan Dionne, director, IBM Corporate Environmental Affairs, Baroness Sandip Verma, Global Chairperson, Advisory Council, Institute Of Directors, India and Chairperson, European External Affairs Committee, Lt. Gen. J. S. Ahluwalia, PVSM (Retd.), President, Institute Of Directors, India, and Trevor Marshall, program manager, IBM Corporate Environmental Affairs.
IBM accomplishments considered by the Golden Peacock Award committee included:
IBM's corporate policy on environmental affairs, first issued in 1971, is supported by the company's global environmental management system, which drives results consistent with environmental leadership and ensures the company is vigilant in protecting the environment across all of its operations worldwide.
Our products and solutions have enabled our clients to improve their efficiency and reduce their environmental impact. IBM is working with cities around the world to use advanced technologies to help identify ways to tackle urbanization challenges, improve sustainability and deliver better services to their citizens. One specific project is the Green Horizons initiative that IBM launched in 2014 with the government of Beijing, China to provide advanced air-quality forecasting and decision support systems, enabling actions to be taken to reduce the generation of airborne particulate matters.
IBM's annual corporate environmental reporting first began in 1990 and has continued each year since. The company's environmental stewardship also was incorporated into IBM's Corporate Responsibility Report. In selecting the content for inclusion in our annual Corporate Responsibility reports, we use the Global Reporting Initiative (GRI) reporting principles of materiality, sustainability context, stakeholder inclusiveness and completeness.
For more information on our corporate responsibility initiatives and performance, see our 2015 Corporate Responsibility Report.
IBM has received several Golden Peacock Awards under the national award categories as follows:
2014 - Golden Peacock Award for Sustainability (National) for IBM India Private Limited, Bangalore
2012 - Golden Peacock Environmental Management Award (National) for IBM India Private Limited, Gurgaon
2012, 2011 and 2010 - Golden Peacock National Training Award (Employer category) for IBM Global Process Services India
2011 - Special Commendation for Golden Peacock Environmental Management Award for IBM India Private Limited (Note: We did not receive the award, just special recognition)
2011 - Golden Peacock Award for HR Excellence (National) for IBM India Private Limited
2010 - Golden Peacock Award for Corporate Social Responsibility (National) for IBM India Private Limited