IBM first corporation to earn U.S. EPA Climate Protection Award twice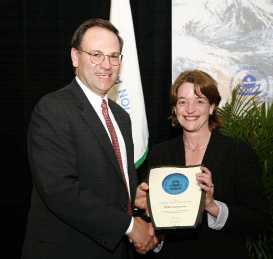 Wayne Balta, IBM Vice President of Corporate
Environmental Affairs and Product Safety, accepts the
Award from Kathleen B. Hogan, U.S. EPA. 05 Jun 2006 -- The U.S. Environmental Protection Agency (EPA) has given IBM a 2006 Climate Protection Award. This is the second time the company has received the Award and the first time a corporation has earned it twice.

The EPA established the Climate Protection Awards in 1998 to recognize exceptional leadership, outstanding innovation, personal dedication, and technical achievements in climate protection. According to the EPA, IBM and the 12 other 2006 Climate Protection Award recipients have demonstrated ingenuity, leadership and public purpose by improving their environmental performance and encouraging others to do the same.
"These leading companies are proving that doing what is good for the environment can also be good for business," said EPA Administrator Stephen L. Johnson. "EPA applauds the 2006 Climate and Ozone Protection Award winners for their efforts to ensure a better world for future generations."
IBM's climate protection program is multifaceted, covering energy conservation and reductions in greenhouse gas emissions from its own operations, to offering energy efficient products and sharing technologies to help its clients improve their business efficiency and address an area of increasing concern. IBM also purchases renewable energy and encourages employees to use alternative commute options.
IBM first issued its energy conservation policy in 1974. Since 1998, the year the company won its first Climate Protection Award, IBM's energy conservation efforts have resulted in an average annual savings of $15.8 million and achieved a 4.9 percent average annual energy savings rate against annual energy use. That energy savings is equal to removing 51,600 cars, traveling 10,000 miles annually in carbon dioxide (CO2) emission avoidance. Contributing to these reductions were projects ranging from such simple activities as installing motion detectors to control lighting to complex controls projects which monitor and adjust a building's environment to minimize energy usage.
IBM has likewise been active in reducing perfluorocarbon (PFC) emissions from its semiconductor manufacturing (PFCs are considered greenhouse gases). From 2000 through 2005, those emissions dropped from 528 tons to 225 tons - a reduction of more than 57 percent. The company also focuses on reducing the emissions associated with employee commuting. IBM was named in the EPA's first two Top 20 Best Workplaces for CommutersSM among FORTUNE 500 Companies lists in 2004 and 2005.
"IBM considers climate change to be one of the most important global environmental issues facing the planet. While some say that cutting CO2 emissions cost businesses money, we have found that it has in fact been good for both the environment and our business," said Wayne Balta, IBM Vice President of Corporate Environmental Affairs and Product Safety. "Since 1998, IBM has avoided more than 1.28 million tons of CO2 emissions and has saved more than $100 million through energy conservation and the use of renewable energy."
In 1998, IBM received a Climate Protection Award from the EPA for its efforts to reduce greenhouse gas emissions in semiconductor manufacturing through reducing direct emissions of high global warming potential chemicals and reducing indirect emissions of CO2 by improving operational energy efficiency.
The Climate Protection Awards are the most prestigious awards for climate protection in the U.S. Due to their international scope, they are also among the most prestigious environmental awards for climate protection in the world. Businesses, non-profits, NGOs, public-sector organizations and individuals may apply or be nominated. The Climate Protection Awards recognize achievements all over the world; applicants are not limited to the U.S.
FORTUNE is a registered trademark of Time, Inc.