11 Mar 2016 -- IBM received a 2016 Climate Leadership Award for its Excellence in Greenhouse Gas (GHG) Management -- Goal Setting from the U.S. Environmental Protection Agency (EPA), the Center for Climate and Energy Solutions (C2ES), and The Climate Registry. This is the fourth time IBM has been recognized with a Climate Leadership Award since the launch of the award program in 2012 -- and it is the first recipient to win an award in each of the four award categories recognizing individual organizations.
IBM earned this year's award for its third-generation GHG emissions reduction goal. Established in February 2015, the goal commits the company to reduce CO2 emissions associated with IBM's energy consumption 35 percent by year-end 2020, against a base year of 2005, adjusted for acquisitions and divestitures. This represents an additional 20 percent reduction, from year-end 2012 to year-end 2020, over the reductions achieved from 2005 to 2012 under IBM's second generation goal. IBM plans to achieve this new goal through a continued focus on energy conservation and a shift to greater use of renewable electricity.
"IBM is honored to receive a 2016 Climate Leadership Award from the United States Environmental Protection Agency, the Center for Climate and Energy Solutions, and The Climate Registry and is humbled to be the first company to be recognized in each of the program's four award categories for individual organizations since the program's inception in 2012," said Wayne Balta, vice president, Corporate Environmental Affairs and Product Safety. "IBM has been firmly committed to environmental leadership for decades. We substantiate our commitment with demonstrable results. To achieve our 3rd generation greenhouse gas reduction goal, IBM will increase its purchases of renewable electricity and apply new technical innovations for continual energy conservation and energy efficiency."
The company exceeded its second-generation goal to reduce operational CO2 emissions by 12 percent from 2005 to 2012, achieving a further reduction in CO2 emissions of 15.7 percent. At the end of 2014, CO2 emissions have been reduced over 25 percent against the 2005 baseline. From 1990 to 2005, IBM avoided three million metric tons of CO2 emissions -- an amount equal to 40 percent of its 1990 emissions -- through a program of conservation actions.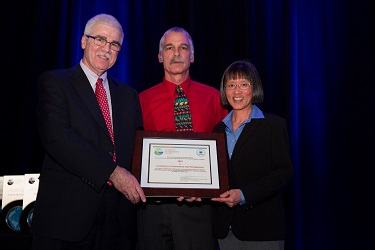 Dennis J. McLerran, regional administrator, U.S. Environmental Protection Agency, Region 10, presents the award to Jay Dietrich, Distinguished Engineer, energy and climate stewardship, IBM Corporate Environmental Affairs, and Edan Dionne, director, IBM Corporate Environmental Affairs.
The Climate Leadership Award is a national program that recognizes and incentivizes exemplary corporate, organizational and individual leadership in response to climate change. Recipients, who come from the public and private sectors, have demonstrated leadership in managing and reducing GHG emissions in internal operations and through the supply chain, as well as integrating climate resilience into their operating strategies.
"I am proud to distinguish IBM for its outstanding actions and dedication to reduce harmful carbon pollution that leads to climate change," said EPA Administrator Gina McCarthy. "IBM is leading the way towards a healthy environment, and demonstrates that meeting challenges of a changing climate can be done."
IBM received a 2014 Climate Leadership Award for its GHG Management --specifically for exceeding its second-generation GHG reduction goal. The company also was recognized with a 2013 Climate Leadership Award for its supply chain leadership in setting requirements for its suppliers to measure, disclose and reduce their operational GHG emissions. In 2012, the first year of the award program, IBM received a Climate Leadership Award for its organizational leadership in energy and GHG emissions management and for achieving sustained results in energy conservation and GHG emissions reductions across its operations.
Learn more about IBM's comprehensive and multifaceted programs focused on energy efficiency and climate protection by visiting the company's Climate protection page. For more information about the Climate Leadership Awards, visit the Climate Leadership Awards page.