29 Feb 2012 -- IBM has been recognized by the U.S. Environmental Protection Agency (EPA), the Center for Climate and Energy Solutions (C2ES) (formerly the Pew Center on Global Climate Change), The Climate Registry (TCR) and the Association of Climate Change Officers (ACCO) for an inaugural Climate Leadership Award in the Organizational Leadership category.
The award highlights IBM's leadership in energy and greenhouse gas (GHG) emissions management and goal setting, and for achieving sustained results in energy conservation and GHG emissions reduction across its operations. The award also recognizes IBM's commitment to responding to climate change through its education and training programs for employees - including environmental policy and energy management technical training - and in its work with governments, nongovernmental organizations and industry to demonstrate and promote climate change solutions. Finally, the award recognizes IBM for setting new requirements for its more than 27,000 direct suppliers globally to implement a corporate responsibility and environmental management system to address their environmental intersections.
The 2012 Climate Leadership Awards were presented by Beth Craig, Director, Climate Protection Partnerships Division of the U.S. EPA on February 29, 2012, at the first annual Climate Leadership Conference.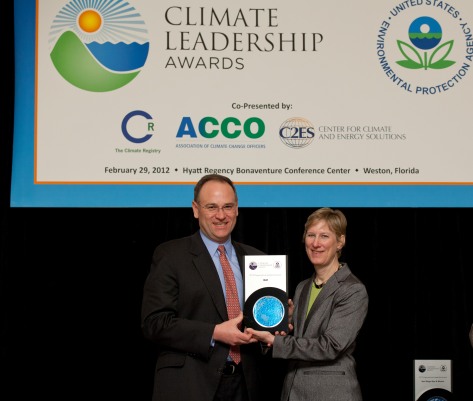 In congratulating the winners of these awards, Gina McCarthy, Assistant Administrator for EPA's Office of Air and Radiation said, "IBM and all of our Climate Leadership Award winners demonstrate that organizations who are taking action to mitigate climate change are also operating more efficiently, more innovatively, and more competitively."
"C2ES joins EPA and our partners in congratulating IBM as an inaugural recipient of the Climate Leadership Awards," said C2ES President Eileen Claussen. "IBM demonstrates every day that it's possible to manage your carbon footprint without compromising your bottom line. Corporate leadership is essential to meeting our climate and energy challenges. IBM's accomplishments will inspire other companies to act and contribute to strong, sensible policies benefiting both our economy and our climate."
For more information about the Climate Leadership Awards and award winners, visit the Climate Leadership Awards webpage.