07 Jul 2020 -- IBM Chairman, Ginni Rometty, announced that IBM Watson Advertising and Weather is the recipient of the 2020 IBM Chairman's Environmental Award. IBM established this program in 1991 to encourage leadership and recognize achievement in environmental affairs by IBM's business units.
For more than a quarter of a century, the IBM Chairman's Environmental Award has celebrated and recognized the environmental achievements of these business units.
The focus of the competition for 2020 was on environmental accomplishments of IBM's business units over the past three years in the areas of energy conservation, chemicals management, prevention of pollution, waste minimization and recycling, water conservation, and other environmental topics.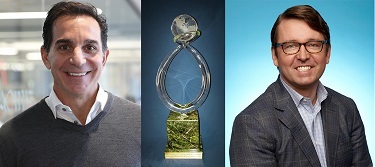 Left to right: Bob Lord, Senior Vice President of Cognitive Applications, Blockchain and Ecosystems, and Cameron Clayton, General Manager of Cloud Ecosystem and Weather, accept the 2020 IBM Chairman's Environmental Award on behalf of the IBM Watson Advertising and Weather team.
The IBM Watson Advertising and Weather team put its expertise to work, educating and innovating, in pursuit of environmental leadership. A few highlights since 2017:
Launched the IBM Global High-Resolution Atmospheric Forecasting System which not only enables smarter decisions for the environment by farmers, airlines, energy companies, and governments, but which also democratizes the most accurate weather forecasting by making it available to people in the developing world. It provides updated forecasts with 3 km resolution every hour versus previous forecasts with 10-15 km resolution updated every 6-12 hours.
Produced a series of award-winning stories which highlight the effects of climate change on local communities, including The United States of Climate Change (2017), Exodus: The Climate Migration Crisis (2018), Collateral (2018), and Hidden Cost: Our Laws Have Not Kept Up with the Climate (2019). External recognition included two Emmy Awards and the Society of Professional Journalists' Delta Sigma Chi Award. (Weather.com stories available in the U.S. only)
Inspired action through "Forecast: Change," an initiative by The Weather Company in partnership with The Nature Conservancy and charity: water to help combat freshwater scarcity around the world. This work helped to provide over 100 million liters of clean water for 50 different communities while strengthening our brand.
The Weather Company, part of IBM Watson Advertising and Weather, creates the world's most accurate forecast so that people, businesses and governments everywhere can make better decisions given the impacts of weather, especially climate change, in our daily lives.
The IBM Chairman's Environmental Award recipients are selected based on their degree of environmental leadership, initiative and results. Performance is evaluated against each nominee's opportunity to contribute given its mission and operations. While only one business unit is selected each year to receive the IBM Chairman's Environmental Award, the contributions of each nominated unit collectively highlight IBM's worldwide efforts to demonstrate environmental leadership in all of its business activities.