20 Jul 2018 -- IBM chairman, president and CEO Ginni Rometty announced that Global Technology Services (GTS) is the recipient of the 2018 Chairman's Environmental Award. IBM established this program in 1991 to encourage leadership and recognize achievement in environmental affairs by IBM's business units. For more than a quarter of a century, the Chairman's Environmental Award has celebrated and recognized the environmental achievements of IBM's business organizations.
The focus of the competition for 2018 was on those elements of IBM's environmental policy that pertains to our internal operations. Competing IBM organizations were asked to address their accomplishments in energy conservation, prevention of pollution, waste minimization and recycling, water conservation, and other environmental topics over the last three years.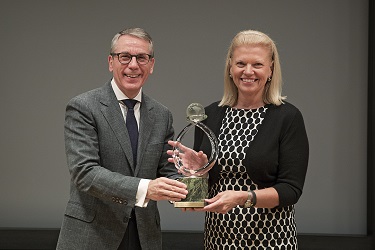 Ginni Rometty, IBM chairman, president and CEO, presents the 2018 Chairman's Environmental Award to Martin Jetter, senior vice president, Global Technology Services.
GTS designs, builds, runs and maintains critical infrastructure systems across clients' IT environments worldwide. The GTS team has put its expertise to work, deploying technology and innovations, in the pursuit of environmental leadership. A few highlights:
Between 2015 and 2017, the GTS team reduced energy consumption by 11.7 percent (577 gigawatt-hours). Based on global averages that's enough electricity to light 172,000 households for a year.
GTS virtualized and decommissioned over 152,000 servers from 2015 to 2017, saving 245 gigawatt-hours of electricity and $32.1 million.
As a result of GTS efforts, IBM was recognized once again by the European Commission for the largest number of data centers operated by a single company achieving "Participant" status in the European Union (EU) Code of Conduct for Data Centres program. IBM operates 38 data centers in 18 EU countries.
GTS increased its purchases of renewable electricity to 26.4 percent of its total electricity consumption. If you include the 20 percent of renewable electricity received as part of the grid mix, 46.4 percent of GTS's electricity consumption comes from renewable sources.
The Chairman's Environmental Award recipients are selected based on their degree of leadership, initiative and results in contributing to IBM's environmental policy objectives. Performance against these criteria is evaluated against each nominee's opportunity to contribute given its mission and operations. While only one organization is selected each year to receive the Chairman's Environmental Award, the contributions of each nominated organization collectively highlight IBM's worldwide efforts to demonstrate environmental leadership in all of its business activities.