21 Jul 2017 -- IBM chairman, president and CEO Ginni Rometty announced that IBM Research is the recipient of the 2017 Chairman's Environmental Award. IBM established this program in 1991 to encourage leadership and recognize achievement in environmental affairs by IBM's business units. For more than a quarter of a century, the Chairman's Environmental Award has celebrated the company's environmental results.
The focus of the competition for 2017 was on those elements of IBM's environmental policy that pertain to IBM's products and solutions. Competing IBM organizations were asked to address their accomplishments in energy conservation, prevention of pollution, waste minimization and recycling, water conservation, and other environmental topics over the last three years.
With 12 labs located across six continents, IBM Research makes industry-leading breakthroughs and drives technologies that enable and deliver innovative solutions to the most challenging environmental problems for IBM and its clients.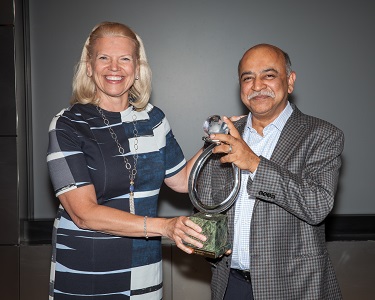 Ginni Rometty, IBM chairman, president and CEO, presents the 2017 Chairman's Environmental Award to Arvind Krishna, senior vice president, Hybrid Cloud and director, IBM Research.
Over the last three years, IBM Research achieved the following results:
Demonstrated exceptional application of IBM's strategic imperatives -- especially our data, cloud, and cognitive capabilities -- to target the critical issues of air quality, renewable energy forecasting, energy optimization, and resilience
Executed innovative and repeatable solutions that address a broad range of environmental issues and societal concerns:

Green Horizons -- Enabled the municipal government of Beijing, China, to improve air quality and forecast the dependability of renewable energy. Expanded to New Delhi, India, Johannesburg, South Africa, and additional cities across China.
Liquid Gold Waste Water Project in Spain -- Deployed data and mathematical optimization to improve waste water treatment. A pilot project for a Spanish water management company achieved a 13.5 percent reduction in electricity use, a 14 percent reduction in chemical use, and a 17 percent reduction in sludge production.
SuperMUC Phase 2 supercomputer in Munich, Germany -- Invented a new hot water cooling technology which allowed the supercomputer to be built in a more compact manner while consuming 40 percent less energy and saving $1.25 million in annual energy costs.
The Jefferson Project at Lake George, New York -- Employed IoT, analytics, cloud, and cognitive technologies to understand the resilience of this large fresh water lake to circulation and environmental stresses from weather, adjacent land use, and contaminants based upon over 100 million data points collected across a network of sensor platforms.

Earned 5 external awards, filed 36 patent applications, and published 21 papers recognizing leadership in environmental sustainability and innovation
The Chairman's Environmental Award recipients are selected based on their degree of leadership, initiative and results in contributing to IBM's environmental policy objectives. Performance against these criteria is evaluated against each nominee's opportunity to contribute given its mission and operations. While only one organization is selected each year to receive the Chairman's Environmental Award, the contributions of each nominated organization collectively highlight IBM's worldwide efforts to demonstrate environmental leadership in all of its business activities.