21 Jul 2016 -- IBM chairman, president and CEO Ginni Rometty announced that IBM's Real Estate Strategy and Operations (RESO) organization is the recipient of the 2016 Chairman's Environmental Award. IBM established this program in 1991 to encourage leadership and recognize achievement in environmental affairs by IBM's business units. For a quarter of a century, the Chairman's Environmental Award has celebrated the company's environmental results.
The focus of the competition for 2016 was on those elements of IBM's environmental affairs policy that pertain to IBM's internal operations. Competing IBM organizations were asked to address their accomplishments in energy conservation, prevention of pollution, waste minimization and recycling, water conservation, and other environmental topics over the past three years.
RESO manages the global IBM real estate portfolio, made up of a mix of office, data center, manufacturing, development and lab space. They manage the range of real estate disciplines including strategy; space management; workplace design; engineering and construction; leasing; real estate acquisitions and dispositions; facility operations; and environmental and energy management.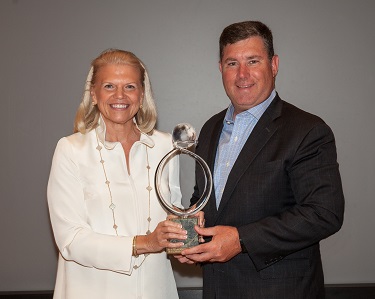 Over the last three years, RESO achieved the following results:
Performed nearly 7,000 energy conservation projects, saving $81 million while achieving an average conservation rate of 6.5% per year.
Leveraged analytics technologies for increased energy efficiency.

Deployed the IBM TRIRIGA® Real Estate Environmental Sustainability Manager in 145 buildings (representing 45% of IBM's global energy use), delivering $5 million cost savings and providing a reference point for clients.
Installed Chilled Water Optimization software at our seven largest U.S. sites, delivering $2 million/year savings.
Developed analytics software in conjunction with Global Technology Services and IBM Research to sense conditions in data centers and automatically control cooling, which is being implemented at 42 data centers following a successful pilot in 2015.

Increased the purchase of renewable energy from 11.8% in 2013 to 16.2% in 2015.
Successfully certified 12 sites to the ISO 50001 Energy Management Standard.
Sent 84% of construction waste for recycling and composted more than 4 million pounds of organic waste.
Executed a variety of water conservation projects including rainwater harvesting, air-cooled chillers, and drought-resistant plantings.
Led IBM's effort to implement the Globally Harmonized System of Classification and Labeling of Chemicals (a new UN standard).
Earned over 25 external awards recognizing leadership in environmental and energy management.
The Chairman's Environmental Award recipients are selected based on their degree of leadership, initiative and results in contributing to IBM's environmental policy objectives. Performance against these criteria is evaluated against each nominee's opportunity to contribute given its mission and operations. While only one organization is selected each year to receive the Chairman's Environmental Award, the contributions of each nominated organization collectively highlight IBM's worldwide efforts to demonstrate environmental leadership in all of its business activities.