7 Jul 2014 -- IBM Chairman, President and CEO Ginni Rometty announced that IBM's Global Asset Recovery Services (GARS) organization is the recipient of the 2014 Chairman's Environmental Award. IBM established this recognition program in 1991 to encourage leadership and recognize achievement and progress in environmental affairs by IBM's organizations. For over 20 years, the Chairman's Environmental Award has promoted the contributions of IBM's organizations toward the objectives of IBM's corporate environmental affairs policy. The focus of the competition for 2014 was on those elements of the policy that pertain to internal operations and call for IBM to:
Provide a safe and healthful workplace
Be an environmentally responsible neighbor in the communities where we operate
Conserve natural resources by reusing and recycling materials, purchasing recycled materials, and using recyclable packaging and other materials
Competing IBM organizations were asked to address their accomplishments in these areas over the past three years.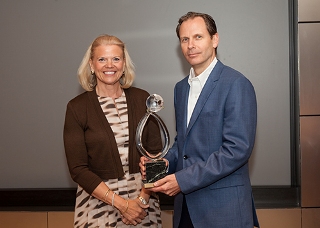 IBM Global Asset Recovery Services is the line of business within IBM Global Financing that is responsible for remarketing pre-owned and end-of-lease IBM system assets externally, reutilizing and redeploying assets internally and providing an environmentally compliant product end-of-life management structure for the disposal of scrap IT equipment. GARS recovers the maximum residual value for IBM's internal excess, surplus and scrap assets and for IBM Global Finance's returned end-of-lease assets. GARS also supports complex IBM bids and recovers value for client-owned assets, ensuring data security and environmentally responsible management of end-of-life assets. As IBM executes its strategy of Cloud, Analytics, Mobile and Social (CAMS), GARS is uniquely positioned to help clients in the areas of equipment buyback and disposal as they transition to these transformative IBM solutions.
The selection of GARS for the 2014 IBM Chairman's Environmental Award recognizes the organization's demonstrated industry leadership in hardware remanufacturing, refurbishment and reuse; comprehensive contributions to resource and energy conservation; and expansion of its environmental management system. GARS' innovation, leadership, and results favorably differentiate IBM with its clients. Gartner recognized GARS as a leader in their 2013 Magic Quadrant report for Worldwide IT Asset Disposal. Highlights from their operations in the past three years include:
2.4 million assets sent for refurbishment with more than 90% resold or reused
$761 million revenue from reuse of 1,293 IBM System z® and IBM Power SystemsTM equipment through a technology exchange program
Energy savings enabled for Global Technology Services (GTS) data center installations and GTS' clients by replacement and consolidation of older technology hardware with more energy-efficient refurbished assets
Excellent waste minimization and pollution prevention results: less than 0.7% of materials sent for demanufacturing and scrap was landfilled or incinerated despite increased activities in countries with underdeveloped recycling infrastructure
15% average increase in service parts recovered from dismantle process
Expanded worldwide Environmental Management System in 2012 with ISO 14001 certification of Asia Pacific region
Established a new remanufacturing center in China; shipped 4,800 Power Systems equipment with $21.5 million revenue since 2011
First IT industry license obtained to import used equipment into India for reutilization in IBM data centers; 300 systems imported with $40 million revenue since 2012
The Chairman's Environmental Award recipients are selected based on their degree of leadership, initiative and results in contributing to IBM's environmental policy objectives. Performance against these criteria is evaluated against each nominee's opportunity to contribute given its mission and operations. While only one organization is selected each year to receive the Chairman's Environmental Award, the contributions of each nominated organization collectively provide an integrated picture of the company's worldwide efforts to demonstrate environmental affairs leadership in all of its business activities.