22 Jul 2013 -- IBM Chairman, President and CEO Ginni Rometty announced that IBM's Integrated Supply Chain (ISC) organization is the recipient of the 2013 Chairman's Environmental Award. IBM established this recognition program in 1991 to encourage leadership and recognize achievement and progress in environmental affairs by IBM's organizations. For over 20 years, the Chairman's Environmental Award has promoted the contributions of IBM's organizations toward the objectives of IBM's corporate environmental policy. The focus of the competition for 2013 was on those elements of the policy that call for IBM to:
Develop, manufacture, and market products that are safe for their intended use, efficient in their use of energy, protective of the environment, and that can be reused, recycled or disposed of safely, and
Utilize IBM products, services and expertise around the world to assist in the development of solutions to environmental problems.
Competing IBM organizations were asked to address their accomplishments in these areas over the past three years.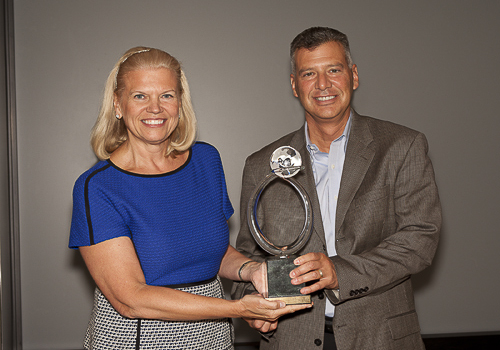 The Integrated Supply Chain (ISC) organization encompasses procurement, manufacturing, logistics, engineering, hardware operations, and sales transaction support for all IBM software, hardware and services offerings globally. It oversees $35 billion of supplier expenditure with strategic focus on creating smarter value chains, driving effectiveness and enabling growth that implements IBM's high standards for environmental leadership.
The selection of ISC for the 2013 IBM Chairman's Environmental Award recognizes this organization's comprehensive and outstanding contributions to product environmental stewardship and excellent environmental results across its diverse activities. Since 2010, ISC has achieved:
Technical leadership to improve the energy efficiency of power supplies and memory components
Leadership in developing a strategy to find halogen-free materials for IBM products ahead of regulatory and client requirements
Execution of an end-to-end global product compliance process which benefits all business units with new tools to proactively address emerging environmental requirements
Implementation of 111 projects that reduced the use of packaging material by 3,150 tons and saved $25 million
Reduction in printed publications, saving over $19 million
Expansion of product take back and recycling programs across the European Union, 25 U.S. states and growth market countries such as Australia, India, Brazil and Colombia
Leadership in supply chain environmental management, establishing and communicating requirements to 28,000 suppliers around the world
Completion of 844 supplier site audits in 30 growth market countries
Impressive external recognition for environmental sustainability
The Chairman's Environmental Award recipients are selected based on their degree of leadership, initiative and results in contributing to IBM's environmental policy objectives. Performance against these criteria is evaluated against each nominee's opportunity to contribute given its mission and operations. While only one organization is selected each year to receive the Chairman's trophy, the competition generates an integrated picture of the company's worldwide efforts to demonstrate exceptional commitment to environmental affairs leadership. IBM is proud of the contributions of each nominated organization.