2011 IBM Chairman's Environmental Award recipient
26 Apr 2012 -- IBM Chairman Samuel J. Palmisano announced that IBM's Global Real Estate Operations is the recipient of the 2011 Chairman's Environmental Award. IBM established this recognition program in 1991 to encourage leadership and recognize achievement and progress in environmental affairs by IBM's organizations. For 20 years, the Chairman's Environmental Award has promoted the contributions of IBM's business units toward the objectives of IBM's corporate environmental affairs policy. IBM's organizations were required to address their accomplishments over the past three years in all eleven elements of the environmental affairs policy, to the extent that each policy element is applicable for their global operations.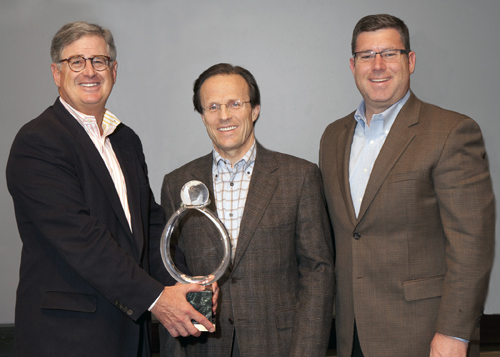 Under the leadership of Vice President Bill DeStasio, Global Real Estate Operations (RESO) has management responsibility for the IBM real estate portfolio of more than 1,600 locations in 97 countries, overseeing all facilities operations, engineering, workplace design and construction. RESO plays a vital role in implementing IBM's environmental and energy programs, and the development and implementation of IBM's Smarter Building Solutions at the company's high energy usage sites worldwide.
The selection of RESO for the 2011 IBM Chairman's Environmental Award recognizes this organization's outstanding leadership and execution of globally integrated business processes. Since 2009, RESO has achieved:
Factory Mutual Global's "Highly Protected Risk Status" for fire protection at 170 locations
Annual energy conservation rates of 5% or more from 2009 to 2011, saving 698,000 megawatt-hours (MWh) of electricity and 1,052 million BTU of fuel while reducing expenditure by $77 million from implementing over 4,000 energy conservation projects
Purchasing 11% of IBM's annual electricity usage from renewable sources, equivalent to 560 MWh each year since 2009, avoiding 200 tons of carbon dioxide emissions
Implementation of highly effective alternative commuting programs as well as leading community volunteer initiatives and IBM Centennial Events
24% reduction in nonhazardous waste generation through the implementation of innovative programs addressing construction debris, composting, furniture reuse, and paper consumption reductions
Reduction of 4 million square feet of office space and associated environmental demands through space utilization improvements
Expansion of its Environmental Management System to include landlord-managed leased locations
Sustainable building design and operation which resulted in twelve IBM buildings certified to the LEED® (Leadership in Energy and Environmental Design) and other environmental performance standards
Internal deployment of IBM Smarter Building solutions and demonstration of their capabilities
Recognition with 25 external awards for leadership in environmental and energy management
The Chairman's Environmental Award recipients are selected based on their on their degree of leadership, initiative and results in contributing to IBM's environmental policy objectives. Performance against these criteria is evaluated against each nominee's opportunity to contribute given its mission and operations. While only one organization is selected each year to receive the Chairman's trophy, it is the integrated picture of the efforts of all IBM organizations that demonstrates the company's exceptional commitment to environmental affairs leadership. IBM is proud of the contributions of each nominated organization. Additional highlights from the 2011 competition can be found in the IBM Chairman's Environmental Award 2011 brochure.