2010 IBM Chairman's Environmental Award recipient
21 Apr 2011 -- IBM Chairman Samuel J. Palmisano announced that IBM Systems and Technology Group is the recipient of the 2010 Chairman's Environmental Award. IBM established this recognition program in 1991 to encourage leadership and recognize achievement and progress in environmental affairs on the part of IBM's organizations. Similar to the last four years, the 2010 Award program focused on energy conservation and energy efficiency across IBM's operations, products and services.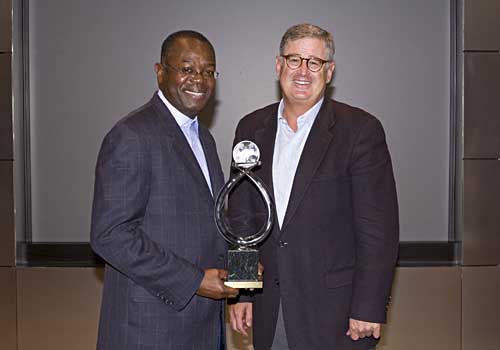 IBM Chairman Sam Palmisano (right) presents the 2010 IBM Chairman's Environmental Award to Rod Adkins, Senior Vice President, IBM Systems and Technology Group.
The Systems and Technology Group (STG) has global responsibility for developing IBM systems hardware and operating systems software solutions as well as designing and manufacturing semiconductor technology for IBM systems and OEM clients. STG's operations include 37 laboratories in 9 U.S. states and 17 countries around the globe.
The selection of STG for the 2010 Chairman's Environmental Award recognizes the organization's outstanding leadership, innovation and results in energy efficiency and conservation as demonstrated by a comprehensive focus across its products and operations.
Energy efficiency results in STG's product lines from processors to high performance computing products include:
Enhanced power management functions in new server POWER7® and x86 processors, memory and I/O subsystems.
Innovative data management such as Easy TierTM storage, data compression, data de-duplication, and thin provisioning supporting storage energy efficiency.
Low-power "sleep" mode for Retail Store Systems.
The first in the industry to qualify a 4-processor socket server to the new U.S. EPA ENERGY STAR® criteria for servers.
The IBM System Blue Gene® family of supercomputers achieved computing excellence with breakthroughs in energy efficiency, winning the National Medal of Technology.
In data center energy efficiency initiatives STG:
Moved Measurement & Management Technologies (MMT) from Research to a data center thermal analysis customer service offering.
Partnered with Syracuse University to deploy a new data center with innovative energy-saving features.
Developed and offered Active Energy Management capabilities for IBM products.
In addition, STG achieved exceptional operational energy efficiency in its microelectronics manufacturing operations, significantly contributing to IBM's overall energy conservation results over the last three years.
The Chairman's Environmental Award recipients are selected based on their degree of leadership, results, innovation and integration with regard to their programs and initiatives in the areas of energy efficiency and energy conservation. Performance against these criteria is evaluated against each nominee's opportunity to contribute given its mission and operations. IBM is proud of all the nominees' contributions to furthering the company's leadership in developing and providing solutions that make the company, its clients and the world more energy efficient.