2009 IBM Chairman's Environmental Award recipient
22 Apr 2010 -- IBM Chairman Samuel J. Palmisano announced today that IBM Research is the recipient of the 2009 Chairman's Environmental Award. IBM established this recognition program in 1991 to encourage leadership and recognize achievement and progress in environmental affairs on the part of IBM's organizations. Similar to the last three years, the 2009 Award program focused on energy conservation and energy efficiency across IBM's operations, products and services.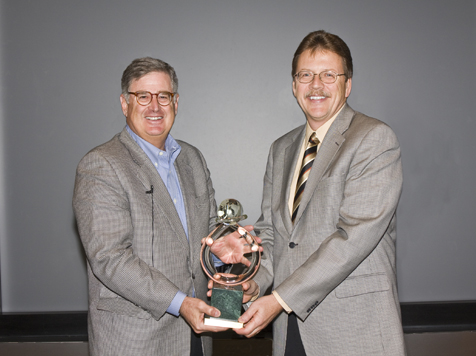 (Left to right) IBM Chairman Sam Palmisano presents the 2009 IBM Chairman's Environmental Award trophy to John Kelly III, Senior Vice President and Director of Research.
With eight research centers in six countries around the world, IBM Research develops industry-leading inventions and drives technologies that enable and deliver significant energy efficiency improvements for IBM and its clients. Here are some highlights of the IBM Research innovations and initiatives this award is recognizing:
Mobile Measurement Technology (MMT) - Developed and deployed this thermal mapping tool with rapid survey capabilities that enables real-time identification of opportunities to reduce energy use of buildings including data centers.
Maximo for Energy Optimization (MEO) - Collaborated with other IBM organizations in the development of MEO software to provide information to make better decisions about energy management. Data available from MEO include mapping capabilities for energy and environmental metrics to identify opportunities for conservation.
EnergyScaleTM Technology - Drove the development of this technology which advances energy efficiency of microprocessors and provides functions that help users understand and control IBM server power and cooling usage.
"Hydro-air cooling" - Developed this system in which air is repeatedly re-used by the introduction of large air-to-water heat exchangers between adjacent racks. The new hydro-air cooling system reduces the space requirement for Blue Gene/P by 25%.
Carbon trade-off-modeler (CARBAN) - Developed this business analytics tool which considers CO2 emissions as a lever in transportation logistics optimization.
Solar cell technology achievements:

Development of thin film solar cells from liquid precursors, without requiring expensive and slow vacuum deposition processes, yielding solar cell efficiencies of ~13.5% with a material called CIGS (Copper Indium Gallium Selenide) and reduced production costs, without comprising efficiencies; demonstration of world record 9.7% efficiencies with solar cells of an earth abundant material called CZTSS (Copper Zinc Tin Sulfur Selenide).
Concentrator photovoltaics - Using IBM's proprietary solutions in chip cooling and other areas to develop ultrahigh concentration photovoltaic technologies that have successfully concentrated sunlight to up to 2,300 times the normal power density onto a commercial solar cell. Such approaches have allowed the extraction of up to 75 Watts of electrical power from a single 1x1 cm triple junction solar cell.
Significant solar cell technology work in the areas of nanostructured photovoltaics and silicon-based photovoltaics.
IBM Research also actively participates in both the GridWise® Alliance and the GridWise Architecture Council.
The Chairman's Environmental Award recipients are selected based on their degree of leadership, results, innovation and integration with regard to their programs and initiatives in the areas of energy conservation and energy efficiency. Performance against these criteria is evaluated against each nominee's opportunity to contribute given its mission and operations. IBM is proud of all the nominees' contributions to furthering the company's leadership in developing and providing solutions that make the company, its clients and the world more energy efficient.