IBM Europe/Middle East/Africa receives the 2004 Chairman's Environmental Award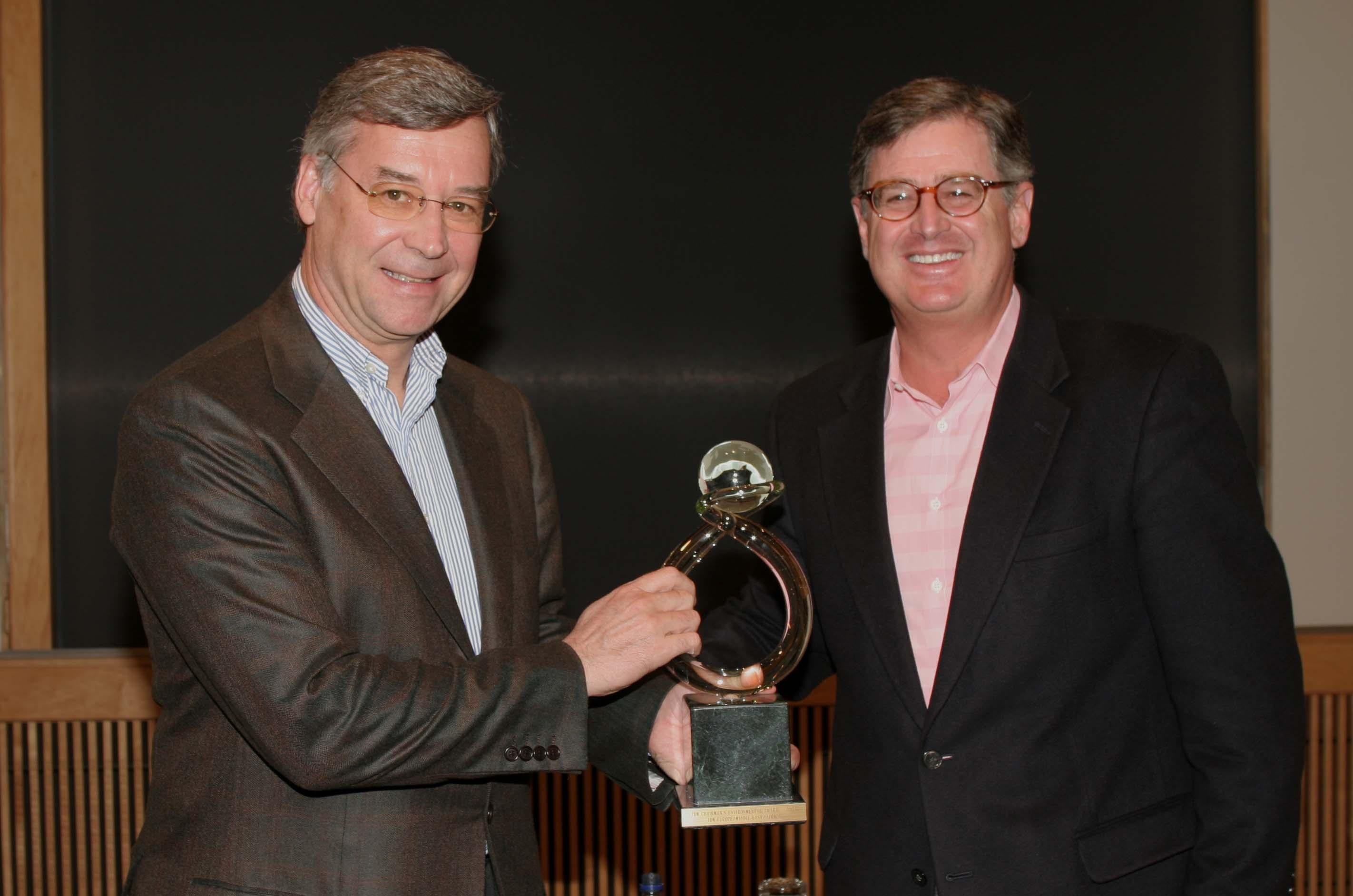 IBM Chairman Sam Palmisano (right) presents the 2004 IBM Chairman's Environmental
Award trophy to Hans Ulrich Maerki, Chairman, IBM EMEA. 14 Dec 2004 -- IBM Chairman Samuel J. Palmisano has announced that IBM Europe/ Middle East/ Africa (EMEA) will receive the 2004 Chairman's Environ- mental Award in the competition among IBM's Geographic Sales & Distribution organizations.
IBM EMEA has demonstrated significant leadership and achievement in managing its programs to meet IBM's environmental objectives across many countries and multiple languages. Its effective health and safety programs focus on both housed and mobile employees, and the geography has developed a number of new well-being tools and solutions. IBM EMEA has strong waste recycling programs and its product end-of-life management programs have consistently exceeded IBM's goals. The organization's energy conservation efforts include the largest procurement of cost-competitive renewable energy in IBM. IBM EMEA has also made extensive use of conferences and presentations to share IBM's environmental accomplishments, expertise and solutions in 14 countries and at the EU level. Moreover, IBM EMEA's advocacy on product stewardship issues in Europe and its international leadership in fostering the standardization of product content reporting have benefited IBM globally. IBM EMEA has both a significant challenge and a significant opportunity in managing its environmental programs across its entire organization and has addressed both admirably in furthering IBM's leadership in environmental affairs.
All of IBM's major geographies participated in the competition for this year's award and the company is proud of the outstanding contributions all the nominees have made toward IBM's environmental leadership and objectives.
IBM established this recognition program in 1991 to encourage leadership and recognize achievement and progress in environmental affairs on the part of IBM's organizations. Recipients are selected based upon the degree of leadership, comprehensiveness, progress and results of their environmental, energy and safety programs within the framework of IBM's corporate policy on environmental affairs. Performance against these criteria is evaluated against each nominee's opportunity to contribute given its operations and mission.