IBM Brazil recognized for solid waste management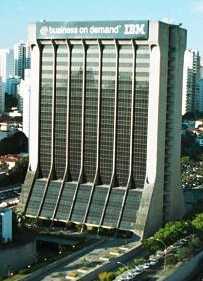 IBM Brazil's Tutóia Building IBM Brazil received a 2006 Brazil Environmental Award from the American Chamber of Commerce of Brazil in the solid waste management category. The award recognized IBM's high rate of recycling and reuse of materials during the replacement of the facade and ground level entrance plaza at IBM Brazil's Tutóia building in Sao Paulo. More than 40 projects representing different business sectors were submitted for the five categories of competition (Solid Waste Management, Environmental Education/Awareness, Forest Management, Water management and Clean Technology Development) for the 2006 Brazil Environmental Awards. One award recipient was selected from each category.
IBM Brazil's Tutóia facility is a 22-story office building with approximately 37,918 net rentable square meters which was constructed in the early 1970s. The existing facade was in need of major repair. IBM decided to replace it with a completely new facade. In addition, the concrete materials at the ground level of the plaza were removed and replaced.
During the project planning cycle, IBM Brazil set an objective to recycle as much of the construction debris as was feasible and they were very successful in these efforts. Materials that were removed and sent to various sources for recycling and reuse included approximately:
7,617 square meters of glass from the old facade;
14,260 lineal meters of old aluminium curtain wall mullions and window frames;
6,552 old metal fasteners, clips and bolts;
3,431 square meters of old window blind (damaged blinds were sent for recycling and reusable blinds were donated to several non profit organizations for reuse in existing facilities); and
700 cubic meters of old concrete paving materials from the ground level plaza.
IBM Brazil's accomplishment not only served as an example of what companies can do to minimize their impact on the environment through renovation activities but also reflects IBM's continued commitment to environmental leadership across its operations, products and services.