IBM's Product Stewardship program recognized with award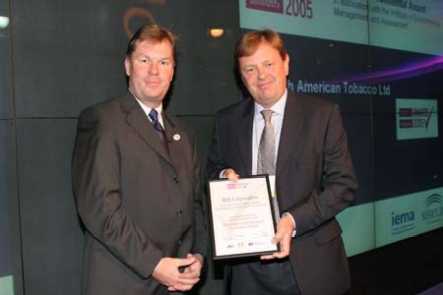 Steve Bushnell (right), IBM Environmental Affairs Manager - UK, Ireland and South Africa,
receives the Big Tick award from Philip Beard, Director of Corporate Communications,
London 2012.
11 Aug 2005 -- IBM was recently awarded a Big Tick for its Product Stewardship program through Business in the Community's Awards for Excellence 2005. Now in its eighth year, Business in the Community's Awards for Excellence are the most prestigious awards recognizing responsible business practice in the UK. Big Ticks are awarded to companies that demonstrate a high standard of excellence in the way they organize and integrate their responsible business practices and can show a positive impact on society and the business. Titled, "IBM's Product Stewardship Program: Benefiting the Company and the Environment", IBM's submission under the Shields Environmental Award category highlighted the environmental and business benefits of its program.
Established in 1991, IBM's Product Stewardship program provides a proactive and strategic approach to its environmental management of products, focusing on the entire life cycle of products, from their design through their end-of-life management. The objectives of IBM's Product Stewardship program include designing and producing products that can be upgraded to extend product life, can be reused, recycled and safely disposed of at end of product life, use recycled materials, provide improvements in energy efficiency, and minimize resource use and impacts through the use of environmentally preferred materials and finishes.
IBM's Product Stewardship program is fully integrated into the company's global environmental management system and product development process. Environmental requirements are communicated internally through a corporate design standard, and are extended to the supply chain through engineering specifications. End-of-life management suppliers are assessed and evaluated in order to maintain the integrity of recycling operations. IBM also works with sector peers, suppliers and technical consortia to develop industry-wide solutions related to material use, packaging and lead-free technologies. In IBM's experience, environmental programs are both good for business and good for the environment.
Introduced by Business in the Community in 1998, Big Ticks have been awarded to 503 recipients to date. For more information, see the Business in the Community Environment Web site (link resides outside of ibm.com).