17 Oct 2011 -- IBM has been recognized by the Association of Energy Engineers (AEE) with its 2011 Corporate Energy Management International Award. AEE recognizes organizations and individuals that have achieved national and international prominence in promoting the practices and principles of energy engineering and energy management.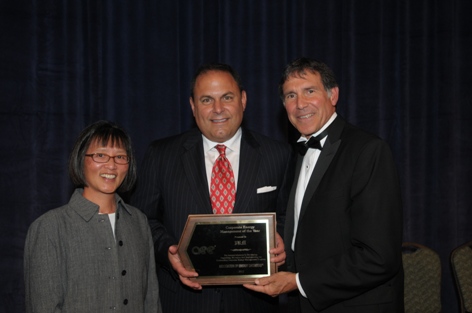 From left, Edan Dionne, Director, Corporate Environmental Affairs, IBM; accepting the award John DeMarco, Director, Real Estate Operations, IBM, and Carl Salas, AEE Awards Chairman.
Since 2008, IBM's energy management initiatives drove reductions in electrical usage of 747,000 megawatt-hours, and 1,642,000 MMBTU of fuel savings, allowing the company to maintain a year over year energy usage reduction in excess of 5%. IBM has utilized its commercially available Smarter Building Technology to achieve these reductions, which helps clients drive continuous improvement in their facility operations.