IBM calculates its greenhouse gas (GHG) emissions according to The Greenhouse Gas Protocol Corporate Accounting and Reporting Standard. We calculate Scope 2 emissions in accordance with the "market-based" method in The Greenhouse Gas Protocol Scope 2 Guidance.
With few exceptions, IBM does not estimate Scope 3 GHG emissions associated with our value chain because the necessary gross assumptions associated with such estimates simply do not enable credible, factual results. For more information, please see our Position on Scope 3 GHG emissions.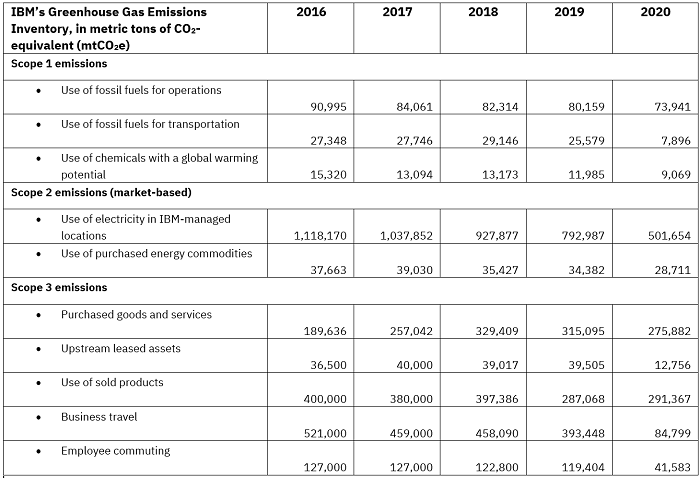 Description of Scope 3 GHG emissions
Purchased goods and services

These are the emissions associated with IBM's use of energy in data centers located in facilities managed by third parties where IBM does not procure the electricity (also referred to as co-location data centers).

Upstream leased assets

In some countries, IBM provides leased vehicles for employees that they may use for both business and personal purposes. For these vehicles, we have set standard guidelines that require leasing of vehicles with lower emissions profiles. These guidelines enable reductions in average car emission levels as the car fleets are renewed.

Use of sold products

These are the emissions associated with the electricity consumption of our sold products when they are used by our clients. The reported number estimates the annual quantity of power used by products sold by IBM during the reporting calendar year and only represents 12 months of product use.

Business travel

These emissions are associated to business air travel on commercial carriers and car rentals. Business travel is a necessary and important part of ensuring that IBM understands our clients' needs and delivers the best client experience possible. We have worked with rental car companies to require that they offer more fuel-efficient vehicles to our employees while traveling for business. IBMers can reduce the need for travel by taking advantage of strategic collaboration and meeting tools that allow them to easily engage with clients and their colleagues to have productive meetings, without the need for travel.

Employee commuting

These emissions are related to IBM's U.S. employee population only. IBM has been active for decades in promoting programs that reduce employees' work-related commutes and associated CO2 emissions. For example, many locations promote biking to work by having bicycle lockers, racks and showers available on-site. At several larger locations, IBM sponsors shuttle services to transport employees to mass transit stations and also between IBM campuses and buildings Also, many IBM locations are within reach of the public transportation system, giving employees the choice to use more energy-efficient mass transit to commute to work.

Globally, many of our locations partner with local public transit authorities to develop ride-sharing programs and negotiate subsidized transit passes for IBM employees. IBM is a member of the Best Workplaces for Commuters (BWC) program. Currently, seven IBM locations in the United States, where approximately 25 percent of the company's U.S. employees report to work, are registered as BWC sites. Our BWC-registered locations actively work with their local transit commissions and offer other commuter benefits on-site to integrate IBM's programs with regional programs, increasing commuting options for our employees.