Where the world's top IT professionals upskill and innovate
Build your credentials and bring thousands of dollars' worth of lessons back to your organization with access to hands-on training, certifications and labs. Only Full Conference Pass holders can access Think Academy, so register today and secure your spot!
Build new skills in these cutting-edge labs
Gain hands-on experience in a classroom environment or learn at your own pace. Scheduled and self-paced labs are limited capacity and require enrollment.
| Featured labs | What you'll get |
| --- | --- |
| Quantum Computing Hands-on Workshop | Learn how to implement your own Variational Quantum Eigensolver (VQE) |
| Operationalize AI in a Hybrid Cloud Environment with Cloud Pak for Data on Openshift | Learn how to plan, design, and deliver an AI-powered solution in a Hybrid Cloud environment |
| Seeing in the Dark. Using Watson Discovery to find hidden meaning in Dark Data. | Use machine learning to quickly and efficiently find valuable insights hidden in huge volumes of documentation |
| Data Virtualization: The agile way to query data | Get hands-on with Data Virtualization of Cloud Pak for Data and Db2 Big SQL to integrate data from different sources in a single query to solve various challenges |
| Maximize Automation and Workforce Productivity with IBM's Digital Workers | Maximize the benefits of digital business automation through IBM's Digital Workers |
| Getting Started with Cloud Pak for Integration on IBM Public Cloud | Install Cloud Pak for Integration on IBM Public Cloud and deploy MQ and App Connect integration capabilities from within Cloud Pak for Integration |
| Edge Computing Platform Hands-on Lab | Learn how to use the industry's only policy-based lifecycle management approach for edge workload deployments |
| Identifying and Managing Identity-related Risks in the Cloud | Manage compliance and identify risky users, accounts, entitlements and applications with IBM Cloud Identity Analyze |
| Running IBM Security Access Manager on OpenShift | Deploy IBM Security Access Manager on Red Hat OpenShift, complete basic configuration, and explore the self-healing and auto-scaling capabilities available |
| Developing for IBM Blockchain Platform | Learn the basics of blockchain development, including smart contracts and client applications |
Advance your career with these new certifications
Choose from 250+ proctored, industry-recognized certification and technical sales mastery examinations. Your first exam is free and you'll receive a deep discount on any additional examinations with a Full Conference Pass.
Note: Once you are registered with a Full Conference Pass, you will receive an email with instructions on how to register for certifications via PearsonVUE.
Dive into the deepest technical offerings at Think
These sessions dive deep into the software you're using today, the services you're building for tomorrow, and the Open solutions that integrate seamlessly with IBM technologies. You will leave knowing the purpose of the technology and how to execute it.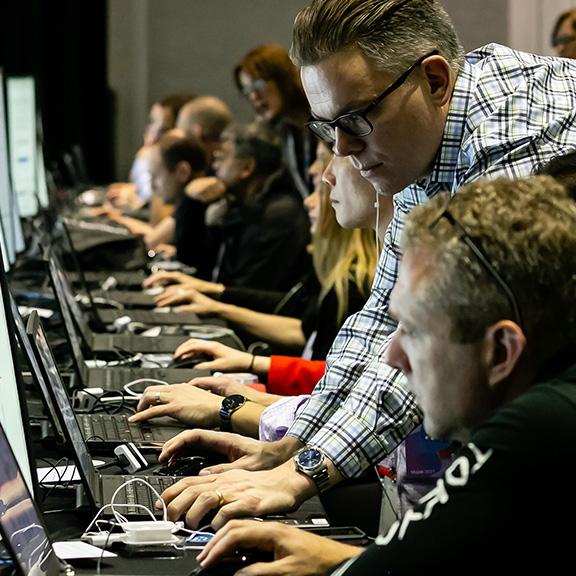 | Highlighted Master classes | What you'll get |
| --- | --- |
| Quantum Party Tricks: An entertaining introduction to quantum computing | Get a brief history of quantum computers and watch demonstrations of key quantum computing concepts using several party tricks disguised as programs running on a quantum computer |
| Doing Open Source Right - Learn from the experts at IBM and Red Hat (Panel) | Hear from some of Red Hat and IBM's most experienced experts how they have successfully managed open source policy and engagement inclusive of the risks and legal/IP implications |
Gain hands-on experience with Red Hat Labs
New this year, attendees can participate in Red Hat labs. Gain hands-on experience with a Red Hat instructor during these 90-minute sessions then share your experience with the Red Hat Learning Community. These sessions are designed for attendees with all levels of tech experience.
| Red Hat labs | What you'll get |
| --- | --- |
| From statistics to serverless: building intelligent applications on OpenShift 4 | Gain an understanding of how OpenShift supports both data science discovery and production machine learning systems |
| Better Together: OpenShift and Ansible | Leverage ansible-based operators to manage upgrades, projects, quotas, cluster roles, certificates, backups and expanding OpenShift environments |
| Installing OpenShift 4 in a Disconnected Environment | Learn about OpenShift architecture, OpenShift 4 installation modes and how to install OpenShift in a disconnected environment |
| Containerizing applications—existing and new | Create containerized applications from scratch or existing apps, build and test these apps in a Red Hat OpenShift environment, and deploy new containers to Red Hat Enterprise Linux Atomic Host |
Engage with the brightest minds in app development
A technical track aimed specifically at developers. Meet with experts in the Code Café at TableTop Tap House and explore the latest in IBM Developer, Red Hat and Open Source code while getting your daily caffeine fix.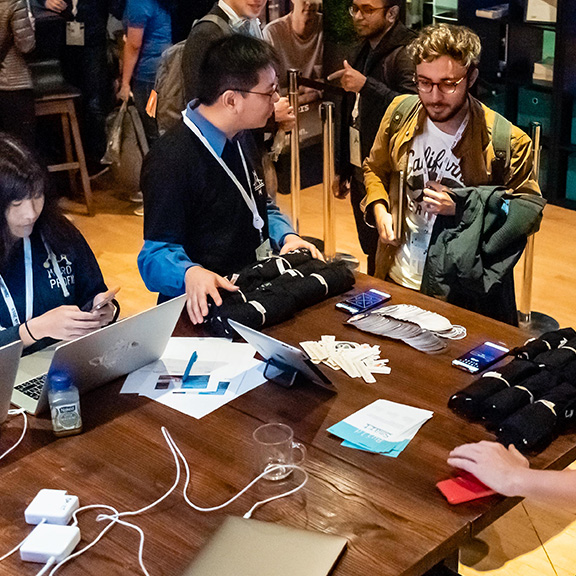 Code Café
Code, Coffee and Conversation! Join us in the TableTop Tap House for Tech Talks and rapid, in-depth information exchange.
Quick Labs
Self paced 15-minute coding sessions held in the Code Café. Guided by subject matter experts, these labs provide attendees with an introduction to the capabilities and functionalities of developer solutions.
Tech Talks
Held in the Code Café, these instructor-led tech talks deliver in-depth technical content and demos in a relaxed environment. Receive more intimate instruction on various topics and technologies.
Office Hours
Office hours are held at the Code Café throughout the day. Head over after a Tech Talk to get 1:1 time with presenters or drop in any time to have your questions answered.
Master classes
Master classes are the deepest technical offerings available at Think.  Gain hands-on experience with open source technologies or observe a detailed demonstration. You will leave knowing not only the purpose of the technology but how to execute it.