Thank you for joining IBM at Dreamforce 2017
Watch on demand: The future of work with Ginni Rometty and Marc Benioff
Recorded: Nov 8, 1:00 PM PST / 4:00 PM EST
Join Marc Benioff and Ginni Rometty, the Chairman, President and CEO of IBM, for a discussion on the future of technology and its impact on business and society. Rometty and Benioff will share their thoughts on how AI and other emerging technologies are challenging traditional business models, and how data is shaping the future of work and education.
Experience the AI partnership for business
With Salesforce and IBM, you can use artificial intelligence to make better decisions faster than ever before. We're combining Salesforce's deep customer insights with Watson's visibility into cross-industry structured and unstructured data. So whether you work in healthcare, financial services, retail, or any other industry, you can easily extract value from all of your data to drive better outcomes and experiences.
This is you to the power of IBM:
I can spot trends in nanoseconds.
I can unite enterprise systems with Salesforce to make smarter decisions.
I can unleash the full power of my data with Einstein and Watson.
I can help one person find a rainbow, or guide millions to shelter from the storm.
Good vs. Bad Chatbots: How to Build Effective Intelligent Apps
Chatbots are an important tool in delivering customer engagement. But not all chatbots are created equal. Learn seven characteristics of an effective chatbot in producing an impact on both your business and customer experience. We'll separate fact from fiction define a path to building AI powered chatbots inside your organization.
The State of Salesforce: AI & Insights for a Return on Intelligence
Cut through the noise, and get "real" regarding how organizations of all sizes and industries are creating value with Salesforce, now. Bluewolf's sixth-annual The State of Salesforce Report highlights top global trends, including how organizations are implementing AI, analytics, and transformation initiatives to deliver innovation and business impact.
5 Steps for Achieving a Metrics-Driven, Human-Centered Approach to Innovation
When companies use data as an advantage, they can create better, more human experiences. Learn the fundamentals for designing customer and employee experiences that impact your bottom line and fuel engagement. Bluewolf's Director of Customer Experience will cover a proven five-step strategy for developing a data-driven, human-centered Salesforce innovation roadmap.
Unleash Your Data: Unlock the Full Potential of Salesforce
Your data strategy is your business strategy. Without an effective way to manage data across Salesforce and existing systems (cloud and on-premise) customer experience and operational efficiencies suffer. Learn how IBM Cloud Integration for Salesforce helps businesses integrate and manage critical data, no matter where it is housed.
Weather-Based Decision Making: The Future of Sales & Service
Every business is impacted by weather. Enrich your customer and employee experiences across Salesforce Clouds and products with The Weather Company Insights for Salesforce and IBM Watson. Learn use cases for sales and service across key industries including healthcare, financial service, and retail.
Creating Customers for Life: Digital Service Transformation at Telus
Every organization is grappling with empowered customers, digitization, and increasing costs of service–but TSPs are experiencing additional market disruption. Learn how global Communication Provider, Telus transformed their customer experience with Vlocity platform on Service Cloud, creating a proactive approach to service that has increased customer satisfaction while reducing costs.
The future of work: A fireside chat with Ginni Rometty and Marc Benioff
What is the key to success? For Ginni Rometty, the Chairman, President, and CEO of IBM, the answer is simple. Her rise to prominence in IBM was due in large part to her perseverance. But as AI, quantum computing, and other emerging technologies evolve, we need to carve a new path forward.
Gather around the campfire: A look back at Dreamforce 2017
What an amazing week! We're still floored by the overwhelming positive response to the IBM and Salesforce partnership from all the trailblazers at Dreamforce 2017. The following is a roundup of some of our favorite activities, moments, and ideas from the week.
IBM and Salesforce: The AI partnership for business
Enterprises are at a crossroads. With practically every company undergoing their own form of digital transformation, you have to look elsewhere for a unique, competitive advantage. For many, the answer is AI, but that's often coupled with uncertainty. But like it or not, AI is here, and it will have a profound impact on companies.
IBM at Dreamforce: Charting a new course
With the combined expertise of IBM and Salesforce, trailblazers around the world can make smarter decisions, faster than ever before. And there's no better place to realize the benefits of this partnership than Dreamforce 2017.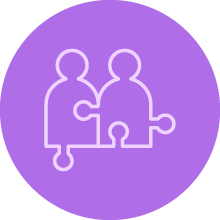 IBM Watson and Salesforce Einstein Integration
Combine IBM Watson APIs and Salesforce to bring predictive insights from unstructured data inside or outside an enterprise, along with predictive insights from Salesforce Einstein's customer data.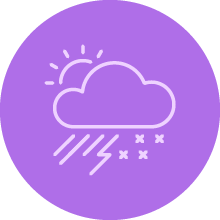 IBM Weather Insights for Salesforce
Bring The Weather Company's meteorological data into Salesforce with the Lightning component on the Salesforce AppExchange, providing you with weather insights that inform customer interactions and business performance.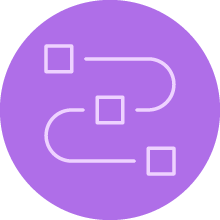 IBM Application Integration Suite for Salesforce
Bring together on premise enterprise and cloud data with specialized integration products for Salesforce, surfacing that data directly within the Salesforce Intelligent Customer Success Platform.
Bluewolf Dedicated Salesforce Consulting Services
Rapidly deploy the capabilities of both Watson and Einstein, accelerate adoption of industry-specific cognitive applications, and capitalize on Bluewolf's years of experience with Salesforce implementations.