In this issue
First things first! You may notice that the IBM WebSphere Developer Technical Journal is now the IBM Middleware Technical Journal for Developers. This change (in title only) acknowledges the expansion of our coverage over the years beyond the borders of WebSphere to include topics around IBM's application platform, integration, cloud, mobility, security, and other product areas. As always, our objective is to provide noteworthy, curated content that is interesting and essential to you in your search for answers and your quest for success.
Central to this issue are two sets of articles that spotlight two high profile players in two established technical areas. One group looks at the IBM PureApplication product group and its relationship to all types of cloud scenarios, and the other looks at the IBM WebSphere Application Server Liberty profile and its relationship to other application platforms - including traditional WebSphere Application Server. You'll also find material on distributed caching solutions, encrypting system passwords, and deploying an API for use in a mobile application. Also, we welcome back the wisdom of The WebSphere Contrarian, update an imperative Comment lines column about security, and wrap up a Faster forward video series.
Your required reading begins below...
Featured articles
The WebSphere Contrarian
Comment lines
Faster forward
Expertise and innovation that lead to your success

Explore advanced cloud solutions with IBM cloud products and services
IBM Bluemix is open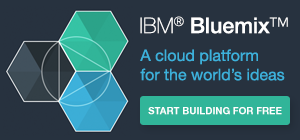 Now open for instant services, runtimes, and infrastructure to develop and deploy apps across multiple domains - fast!
Connect with IBM developerWorks