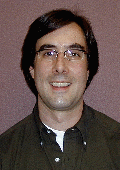 I am a Cyber Evangelist for IBM. (No one really knows what that job title means, we just thought it sounded cool.) I spend my time helping people use new technology to solve business problems, encouraging them to use standards-based, cross-platform tools. I also write articles, tutorials, sample code, and tools for developerWorks, most of which are listed here.
I was a speaker at the first XML conference in 1997, and have been working with markup languages for more than a decade. In the last year or two, I've spoken on XML, Java, Security, and Web services topics at WWW9, WWW10, Solutions 2001, Solutions 2000, WebSphere 2001, Web Services World, XML 2000, XML Europe 2001, the O'Reilly Open Source Conference, ApacheCon, ApacheCon Europe, JavaOne, XML Asia Pacific, XML World, the O'Reilly Enterprise Java Conference, XML World Europe, XML One, XML DevCon, and SD 2001.
I've been with IBM since 1989, a stark reminder of the power of inertia. I have a Masters Degree in Computer Science from Vanderbilt University and a Bachelors Degree in English from the University of Georgia. I live in Raleigh, North Carolina with my wife, cooking teacher Sheri Castle (check out her Web site at sheri-inc.com), and our six-year-old daughter Lily. In my mythical spare time, I enjoy travelling, reading, and writing ludicrous autobiographies, several of which are listed below. You can reach me at dtidwell@us.ibm.com.