Let me begin with this enlightening comic: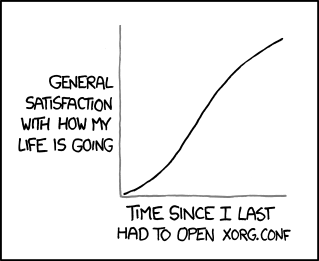 I was really excited last week because the ThinkPad W520 I was provided came with RHEL 6.3 pre-installed. Having sworn off Windows years ago, it was affirming to see IBM supporting my lifestyle.
But I have not used Red Hat as a workstation in quite some time, having bounced between Ubuntu, Fedora, and OpenSuse for years, I was a bit leery to jump in. Regardless, this is the OS the rest of the team seems to be using, so I'm on-board.
Also, I was given a port replicator and last night I went about setting up my desk, plugging a Samsung Syncmaster VGA monitor, and Logitech USB keyboard and mouse. Immediately I noticed that the external monitor was not detected at all. Pressing the Fn-F7 key made no difference.

I ended up installing the proprietary nVidia drivers and hand-editing /etc/X11/xorg.conf to get a minimal dual-head configuration working; however, there is now a problem with the transparent portions of GNOME are all black... I ended up reverting back to a single display.
Total time spent screwing around with xorg.conf: 6 hours
Gain: Knowledge

I am far from an X11 guru and I guess I've just been spoiled by these new wiz-bang Linux distros. I'm definitely down to tackle a challenge, but I seriously have much better things to be doing that jacking around with video drivers and configuration files. My general experience with these sorts of problems in the last few years have been really good. Usually I'll spend at most a couple of hours reading man files and forum posts, then applying some fix, and moving on with my life. What's worse, video problems just do not exist any more.
If anyone out there has had better experience with RHEL on their laptop, or wants to contribute to my quality of life, feel free to contact me or leave a comment below. If I come across any new information, I'll update this post.