Basic LCD Driving via Raspberry PI
Hickmat
100000QA3T
Comments (2)
Visits (10963)
During a recent trip to Maplins I spotted a "Lucky Dip" bag which contained a LCD screen (and a number of other various interesting components)
so decided to pick it up and have a play at driving it from my Raspberry PI.
When i got home and had a chance to look at the bag in more detail I became clear that the LCD included in the bag was not a standard one
  The "Luck Dip" bag included the following schematic but didn't provide much details re how to drive it.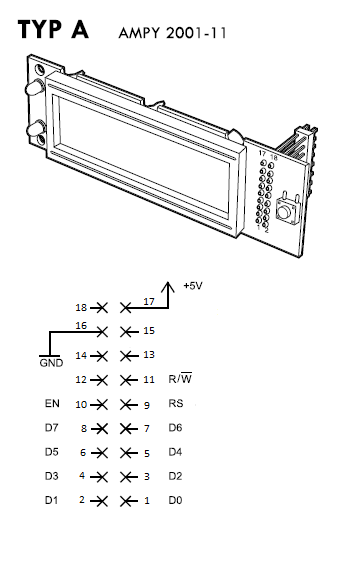 A bit more digging uncovered that this LCD was based on the HD44780.  This allowed me to understand the basic driving of the LCD which revolves around 2 registers, a Command register and a Data Register.  In addition to the LCD the AMPY-2001 sports 2 LED's and a Switch.  Some basic tests showed that these were very easy to drive from the GPIO so for now I decided to just  focus on the LCD (going forward I'm looking at using the switch to move through a set of messages).
My first task was to convert the AMPY-2001 PIN's so I could connect it up to a breadboard.  I did this by using an old ribbon cable from a PC and breaking it out to a linear set of PINs via some strip board.  Once complete I could now set about linking the LCD to my Raspberry PI.
First step was to connect the data PINs (D0 - D7) to one of my GPIO expansion ports on my MCP23017 based IO port expander.  In this way I could easily drive the setting of all the PINs with a single data write.  Once this connect was complete I then connected PIN 10 (Enter) and PIN 9 (Register select) to the based GPIO connectors on my break out board.  Finally I connected PIN 11 (R/W) to Ground (to ensure write only), PIN 16 to Ground and finally PIN 17 to +5v.
With the wiring complete I then set about using the Quick2Wire Python API to create a driver for the screen.  The basic concept I wanted to achieve was to be able to scroll a message across the screen.  This simple task proved to be more vexing than I had initially expected.  After several days pouring over all the documents I could find on the web I stumbled on the answer when I did some checks on my wiring.  The key thing I missed was the usage of the EN (Enter) PIN to actually enter data in to desired register.  Once I had discovered this creating the code was very simple.  The following is a listing of my code.
 #!/usr/bin/env python3  
 # demo will drive multiple MCP23017 devices at different addresses  
 # see http://quick2wire.com/2012/12/see-the-new-boards-at-work-with-blinken-bars/ for demo  
 import quick2wire.i2c as i2c  
 from quick2wire.gpio import GPIOPin, In, Out  
 from time import sleep  
 from itertools import cycle  
 import sys  
 iodir_register_a = 0x00 # IODIRA, bank 0  
 gpio_register_a = 0x12 # GPIOA, bank 0  
 count = 0  
 # Define Values for Register Select  
 COMMAND = 0  
 DATA = 1  
 # Set up GPIO PIN mappings  
 RS = GPIOPin(0, direction=Out) # Register Select  
 EN = GPIOPin(7, direction=Out) # Enter  
 SW = GPIOPin(3, direction=Out) # Switch  
 L2 = GPIOPin(4, direction=Out) # LED 1  
 L1 = GPIOPin(2, direction=Out) # LED 2  
 # Set up info for Screen Scrolling  
 screen_len = 16  
 # Define Message String  
 msg = "Hello Tony... This is a very long message to see if scrolling works z"  
 # Manager I2C GPIO port expander   
 class PortExpander():  
   def __init__(self, bus, address):  
     self._bus = bus  
     self._address = address  
   def write_register(self, reg, a):  
     self._bus.transaction(  
       i2c.writing_bytes(self._address, reg, a))  
   def set_iodir_a(self, a):  
     self.write_register(iodir_register_a, a)  
   def set_gpio_a(self, a):  
     self.write_register(gpio_register_a, a)  
 # Clear Screen Function  
 def clear_screen():  
   EN.value = 0               # Ensure Enter is set LOW  
   RS.value = COMMAND               # Select Command Register  
   pe.set_gpio_a(0x01)               # Push Clear Command to register  
   EN.value = 1               # Set Enter HIGH to push data to register  
   sleep(0.05)                    # Sleep to allow screen to action command  
   EN.value = 0               # set Enter back to LOW  
 # Setup Screen Function  
 def setup_screen():  
   EN.value = 0               # Ensure Enter is set LOW  
   RS.value = COMMAND               # Select Command Register  
   pe.set_gpio_a(0x30)               # Push 8bits, 1 Line and 5 x 8 Dots Command to register  
   EN.value = 1               # Set Enter HIGH to push data to register  
   sleep(0.05)                    # Sleep to allow screen to action command  
   EN.value = 0               # set Enter back to LOW  
 # Set up display Function  
 def setup_display(disp,cursor,blink):  
      EN.value = 0               # Ensure Enter is set LOW  
      RS.value = COMMAND          # Select command Register  
      reg = 8  
      if disp == 1:  
           reg = reg + 4  
      if cursor == 1:  
           reg = reg + 2  
      if blink == 1:  
           reg = reg + 1  
      pe.set_gpio_a(reg)  
      EN.value = 1  
      sleep(0.05)  
      EN.value = 0  
 # Write Data to Screen Function  
 def write_to_screen(char):  
   EN.value = 0               # Ensure Enter is set LOW  
   RS.value = DATA               # Select Command Register  
   if char == ' ':  
     print("Char is empty")  
     pe.set_gpio_a(ord('z')+9)  
   else:  
     pe.set_gpio_a(ord(char))  
   EN.value = 1               # Set Enter HIGH to push data to register  
   sleep(0.01)                    # Sleep to allow screen to action command  
   EN.value = 0               # set Enter back to LOW  
 # Scroll a message  
 def scroll_message(msg):  
      for scroll_count in range(0, (len(msg) - screen_len)+1):  
           clear_screen()  
           for char in range(0, screen_len):  
                c = msg[scroll_count+char:scroll_count+char+1]  
                write_to_screen(c)  
           sleep(0.05)  
 address = 0x20  
 with i2c.I2CMaster() as bus:  
   pe = PortExpander(bus, address)  
   pe.set_iodir_a(0x00)  
   pe.set_gpio_a(0x00)  
   # Function set  
   clear_screen()  
   # Set up screen  
   setup_screen()  
   # Set up display  
   setup_display(1,1,1)  
   scroll_message(msg)  
   sleep(3)  
   RS.value = 0  
   EN.value = 0  
   pe.set_gpio_a(0x08)  
   EN.value = 1  
   EN.value = 0  
   pe.set_gpio_a(0x00)  
   EN.value = 1  
   EN.value = 0  

With these basics now in place I'm planning to look at hooking this up to my node.js twitter code and provide a simple LCD display of received tweets.  Also the "Luck Dip" bag contained a couple OLED screen (markings OS96016PP08MB2B10) but I need to wait for my EBay order for 2 TFT TO DIP Universal ADAPTER PCB SMD convertors
Finally when I get chance I'll create a YouTube video showing this all working
UPDATE - Here is a URL to a YouTube video showing the LCD in action :
LCD In Action