with Tags:
ibm
X
Actually, if the title confuses you, it is because it has a double meaning.
Meaning 1: IBM earned almost 100 Billion dollars (USD)

IBM's 2010 [earnings report is now available], for the full year 2010 and the fourth quarter. IBM had $99.9 Billion dollars (USD) in revenue, almost $100 Billion dollars that it had set out as a vision in the 1980s. IBM Storage contributed with 8 percent growth, not bad for a year Dave Barry considers [one of the worst years ever.].

IBM President and CEO Sam Palmisano granted me a chunk of IBM stock in appreciation of my efforts towards the 2010 success! Actually, he gave stock to a whole bunch of IBMers, not just me, and they all deserve it also.  Woo hoo!


Meaning 2: IBM is almost 100 years old

That's right, this upcoming June 16, 2011, IBM turns 100 years old. This Centennial date also happens to be my 25th year anniversary working in IBM Storage, which IBM calls joining the Quarter Century Club, or QCC for short. So, I am looking forward to plenty of cake and fireworks on that day!
I am looking forward to a year-long celebration on both counts!
technorati tags: IBM, Centenial, QCC, Revenues, Earnings, 4Q10, Dave Barry
Every January, we look back into the past as well as look into the future for trends to watch for the upcoming year. Ray Lucchesi of Silverton Consulting has a great post looking back at the [Top 10 storage technologies over the last decade]. I am glad to see that IBM has been involved with and instrumental in all ten technologies.
Looking into the future, Mark Cox of eChannel has an article [Storage Trends to Watch in 2011], based on his interviews with two fellow IBM executives: Steve Wojtowecz, VP of storage software development, and Clod Barrera, distinguished engineer and CTO for storage. Let's review the four key trends:
Cloud Storage and Cloud Computing

No question: Cloud Computing will be the battleground of the IT industry this decade. I am amused by the latest spate of Microsoft commercials where problems are solved with someone saying "...to the cloud". Riding on the coat tails of this is "Cloud Storage", the ability to store data across an Internet Protocol (IP) network, such as 10GbE Ethernet, in support of Cloud Computing applications. Cloud Storage protocols in the running include NFS, CIFS, iSCSI and FCoE. Mark writes "..vendors who aren't investing in cloud storage solutions will fall behind the curve."

Economic Downturn forces Innovation

The old British adage applies: "Necessity is the mother of invention." The status quo won't do. In these difficult economic times, IT departments are running on constrained budgets and staff. This forces people to evaluate innovative technologies for storage efficiency like real-time compression and data deduplication to make better use of what they currently have. It also is forcing people to take a "good enough" attitude, instead of paying premium prices for best-of-breed they don't really need and can't really afford.

IT Service Management

Companies are getting away from managing individual pieces of IT kit, and are focusing instead on the delivery of information, from the magnetic surface of disk and tape media, to the eyes and ears of the end users. The deployment mix of private, hybrid and public clouds makes this even more important to measure and manage IT as a set of services that are delivered to the business. IT Service Management software can be the glue, helping companies implement ITIL v3 best practices and management disciplines.

Smarter Data Placement

A recent survey by "The Info Pro" analysts indicates that "managing storage growth" is considered more critical than "managing storage costs" or "managing storage complexity". This tells me that companies are willing to spend a bit extra to deploy a tiered information infrastructure if it will help them manage storage growth, which typically ranges around 40 to 60 percent per year. While I have discussed the concept of "Information Lifecycle Management" (ILM), for the past four years on this blog, I am glad to see it has gone mainstream, helped in part with automated storage tiering features like IBM System Storage Easy Tier feature on the IBM DS8000, SAN Volume Controller and Storwize V7000 disk systems. Not all data is created equal, so the smart placement of data, based on the business value of the information contained, makes a lot of sense.
These trends are influencing what solutions the various different vendors will offer, and will influence what companies purchase and deploy.
technorati tags: IBM, Steve Wojtowecz, Clod Barrera, Mark Cox, Cloud Computing, Cloud, Storage, NFS, CIFS, iSCSI, FCoE, real-time compression, deduplication, IT Service Management, Easy Tier, DS8000, SVC, Storwize V7000
For most of us in the United States, it is cold out there, so you better "bundle up!"
Today, IBM announces the [IBM Storwize Rapid Application Storage] bundle, an integrated solution that improves storage efficiency and application availability. It comes in two offerings:
Basic

The "Basic" offering includes a single IBM Storwize V7000 controller enclosure, and three year warranty package that includes software licenses for IBM Tivoli Storage FlashCopy Manager (FCM) and IBM Tivoli Storage Productivity Center for Disk - Midrange Edition (MRE). Planning, configuration and testing services for the software are included and can be performed by either IBM or an IBM Business Partner.

Standard

The "Standard" offering allows for multiple IBM Storwize V7000 enclosures, provides three year warranty package for the FCM and MRE software, and includes implementation services for both the hardware and the software components. These services can be performed by IBM or an IBM Business Partner.
Why bundle? Here are the key advantages for these offerings:
Increased storage utilization! First introduced in 2003, IBM SAN Volume Controller is able to improve storage utilization by 30 percent through virtualization and thin provisioning. IBM Storwize V7000 carries on this tradition. Space-efficient FlashCopy is included in this bundle at no additional charge and can reduce the amount of storage normally required for snapshots by 75 percent or more. IBM Tivoli Storage FlashCopy Manager can manage these FlashCopy targets easily.
Improved storage administrator productivity! The new IBM Storwize V7000 Graphical User Interface can help improve administrator productivity up to 2 times compared to other midrange disk solutions. The IBM Tivoli Storage Productivity Center for Disk - Midrange Edition provides real-time performance monitoring for faster analysis time.
Increased application performance! This bundle includes the "Easy Tier" feature at no additional charge. Easy Tier is IBM's implementation of sub-LUN automated tiering between Solid-State Drives (SSD) and spinning disk. Easy Tier can help improve application throughput up to 3 times, and improve response time up to 60 percent. Easy Tier can help meet or exceed application performance levels with its internal "hot spot" analytics.
Increased application availability! IBM Tivoli Storage FlashCopy Manager provides easy integration with existing applications like SAP, Microsoft Exchange, IBM DB2, Oracle, and Microsoft SQL Server. Reduce application downtime to just seconds with backups and restores using FlashCopy. The built-in online migration feature, included at no additional charge, allows you to seamlessly migrate data from your old disk to the new IBM Storwize V7000.
Significantly reduced implementation time! This bundle will help you cut implementation time in half, with little or no impact to storage administrator staff. This will help you realize your return on investment (ROI) much sooner.
To learn more, check out the IBM [landing page].
technorati tags: IBM, bundle, Storwize V7000, Tivoli, FlashCopy Manager, Productivity Center, TPC, MRE, SSD, Easy Tier, SAP, Exchange, DB2, Oracle, Microsoft, SQL Server
Regardless of what you do, it is important to keep your finger on the pulse of what is going on around you. Let me recap the different jobs I have had within IBM:
Software Development

I started as a Software Engineer on DFHSM, which was later renamed to DFSMShsm, and worked my way up to lead architect for the entire DFSMS product. I attended user group conferences like SHARE and GUIDE to formally present the latest releases of the product, and to collect requirements for improvements and additions desired by the CIOs, IT directors and Storage Admins that attended. Each requirement was proposed to the group, who then voted on a scale from -3 to +3, with zero considered abstention. Six months later, I would come back to present which requirements were implemented, which ones were in consideration for future releases, and which ones were rejected because they were not strategic. Not everyone was happy with these decisions, and I took a lot of abuse on this. However, the process of gathering requirements was important, and the products are better for it.

Marketing

I switched over to Marketing, starting out as a Marketing Manager for various prodcts, and working my way up to lead Marketing Strategist for the IBM System Storage product line. I continued to attend conferences to understand the client requirements, but I also attended meetings with IBM sales reps and Business Partners. For those who lump "Marketing and Sales" into a single category, there is a difference. Marketing is the transfer of awareness and enthusiasm, whereas Sales is the transfer of ownership. When Marketing does their job well, prospects are lining up to buy your product. When they don't, the Sales team has to pick up the slack, and provide the awareness and enthusiasm that Marketing failed to deliver. I traveled all over the world to present our Marketing Strategy. Not everyone was happy with some of our decisions, and I took a lot of abuse on this. However, the process of "socializing" the marketing message and hearing feedback of those who faced clients every day was important, and the marketing strategy was better for it.

Consulting

Three years ago, I switched again, this time to be a Storage Consultant at the Tucson Executive Briefing Center. While I still travel to clients and conferences, in most cases the clients come to me, here in Tucson, Arizona. I get to present our strategy, solutions and products. Not everyone is happy with some of our decisions, and I take a lot of abuse on this. However, the process of helping customers make tough business and IT purchase decisions is important, and both IBM and our clients are better for it.
It was in this same concept that US Representative Gabrielle ("Gabby") Giffords launched a series of "Congress on your Corner" meetings. These were open air townhall meetings that allowed her to present her priorities and plans for the future, and to get feedback from her constituents. Last Saturday, at one such event here in Tucson, she was shot in the head. The shooter then proceeded to shoot another 20 rounds at others before being tackled to the ground by two volunteers. He had another 70 bullets left, so it could have been much worse.
Congresswoman Gifford survived, but six died, including a US Federal Judge, a Pastor at a local church, and a 9-year-old girl, who ironically was born on Setpember 11, 2001, the date of another US tragedy. The girl had just been elected to her student council, and came out to learn what government was all about. Another dozen people were wounded.
The last time I saw Gabby in person was last October 2010, at a charity auction to benefit the local Boys and Girls Club of America. She was shaking hands with everyone. I wished her good luck on her re-election campaign, which she won a few weeks later by a slim margin of some 4,000 votes.
(People have asked me if I knew her in high school. Gabby and I both attended University High in Tucson, rated one of the top 25 high schools in the USA. She would have started her freshman year months after I graduated, so I don't remember ever crossing paths.)
Having spent much of my childhood in Central and South America, I have witnessed my fair share of gun violence, military coups, and government take-overs. Of course, in a democratic government, there is a more peaceful way to resolve your differences. In my younger days, I was a lobbyist for local and state government here in Arizona for various causes and issues. I have met and dealt with many politicians. While many people are still in shock and awe over Saturday's tragedy, consider the following:
Tucson is part of the Wild, Wild, West. We are not far from the infamous town of Tombstone where a famous shoot-out happened at the OK Corrall. A popular activity here is to shoot rounds at a shooting range, either rent a gun or bring your own. Gun ownership is high, and hunting is a popular sport. Tucson hosts "Gun Shows" that allow people to buy guns without the mandatory 5-day waiting period. Every year, Tucson celebrates "Dillinger Days" to comemorate the capture of gunslinger John Dilinger at the Hotel Congress in downtown Tucson.
Tucson is close to Mexico. Authorities have reported as many as 30,000 people have been killed on the other side of the US-Mexico border in the past five years by rival drug cartels. An estimated 30 percent of the Tucson economy comes from human and drug trafficking. Those killed in Mexico include government officials, law enforcement and journalists. Last year, US President Barack Obama [ordered 1200 troops to protect the US-Mexico border], of which half were deployed here in Arizona. The district I live in that Congresswoman Giffords represents borders Mexico.
Tucson has high schools, colleges and Universities. We have had our share of shootings by frustrated students.
While everyone immediately was quick to blame this tragedy on everyone from [Sarah Palin] to Mexican drug lords, it appears the shooter was merely a frustrated college student, acting alone, and is now in custody awaiting trial. He was attending Pima Community College and had his run-ins with the college police there as well. He had applied to join the US Army, but his application was rejected.
In the early 1990s, to help me prepare to become a public speaker, IBM loaned me out to teach at the local schools. I did four semesters of high school, and then taught a year of Computer Science 101 at Pima Community College. (Yes, I have all the teaching credentials to do this.) I found this experience to be great training for me to practice my speaking skills. However, I took a lot of abuse. I had disruptive students, angry students, frustrated students, and students that would threaten me if they did not pass the class. One by one, they would drop out of my class, leaving me with only nine students finishing my class with a passing grade.
Sadly, community colleges across the country carry a stigma that they are not as good as a full four-year University. The students I met at Pima Community College were here because they could not find decent employment with just a high school diploma, weren't smart enough or rich enough to attend the University of Arizona, and just didn't know what to do with their lives. Some who graduate manage to get jobs as technicians and medical assistants, while others use this as a stepping stone to transfer over to the University of Arizona or other specialized training program.
I am sure there is much more to learn about this incident. Politicians can expect to take some abuse for the decisions made, their actions or lack of action on various issues, but nobody deserves being shot. Congresswoman Giffords was just trying to put her finger on the pulse of her district, to understand the concerns of her constituents so that she could represent us properly in her third term in office. Instead, we have doctors at the University Medical Center keeping their finger on her pulse. So far, things are hopeful, she is able to respond to commands such as "wiggle your toes" or "hold up two fingers".
I wish her a quick recovery.
technorati tags: IBM, Pima Community College, Gabrielle Giffords, Tucson Arizona
The latest update to the IBM Storage channel on YouTube is fellow IBMer Bob Dalton presenting IBM Scale-Out Network Attached Storage (SONAS) at the NAB 2010 conference. Here is the quick [2-minute YouTube video].
For more videos, check out the [IBM Storage channel].
technorati tags: IBM, SONAS, Bob Dalton
Wrapping up my post-week coverage of the [Data Center 2010 conference], I stuck through the end to get my money's worth at this conference. As the morning went on, it became obvious many people booked flights or started their weekends prior to the official 3:15pm ending of the last day.
Strategies for Data Life Cycle Management

I prefer the term "Information Lifecycle Management", but the two analysts presenting decided to use DLM instead. Let's start with the biggest challenge faced by the audience.

The problem is not meeting Service Level Agreements (SLA) but Service Level Expectations. When looking at the real business value of IT, you should link IT strategy to business outcomes and directives, align with your CIO's pet initiatives, and position storage as a technology supporting IT Directors goals. Here were the top five goals:

Backup/Recovery Re-architecture
Curtailing Storage Sprawl
Compliance and e-Discovery
Improving Service Levels for Data Availability and Protection
Moving to Cloud Computing

The analysts reviewed both a "Tops Down" and "Bottoms Up" approach. They recommend what they call an "Enterprise Infomration Archive" (what IBM calls Smart Archive, by the way) that provides a better understanding of all data. No greater lie has been told than "Storage is Cheap". Currently, only 10 percent of companies hvae a formal "deletion policy", but the analysts predict this will rise to 50 percent by 2013.

The "Bottoms Up" approach is focused on modernizing the data center at the storage technology level. There has been a resurgence in interest in ILM solutions, implementing storage tiers, and storage efficiency features like thin provisioning, data deduplication and real-time compression. Cloud Computing can help off-load this effort to someone else.

ILM provides real business value, such as reduce costs, improve quality of service, and mitigate risks. The analysts felt that if you are not partnering with a storage vendor that offers five essential technologies, you should probably change vendors. What are those five essential technologies? I am glad you asked. Watch this [YouTube video] to find out.





Getting the Most From Your Storage Vendor Relationships

The analyst mentioned there are two kinds of storage vendors. Suppliers that sell you solutions, and Partners that work with you to develop unique functionality. He offered some advice:

Allow vendors to analyze and profile your workloads, such as IOPS, MB/sec bandwidth, average blocksize, and so on.
Review your Service level agreements (SLAs), procedures and asset management strategies
Identify upgrade risks, conversion costs, and unintended consequences
Take advantage of vendor engineers and technical staff for skills transfer, best practices, industry trends, and competitive comparisons
Explore different solutions and approaches
Avoid big pitfalls by negotiating and locking in upgrade and maintenance costs, scheduling conversions, and getting any guarantees in writing.

Asking the audience how they currently interact with their storage vendors:

The analyst's "Do's and Don'ts" were good advice for nearly any kind of business negotiation:

Do's:

Keep language simple and enforceable
Limit diagnostic time
Be reasonble with rolling time-lines
Design remedies that keep you whole and are implementable in your environment

Dont's:

Make remedies punitive
Use qualitative measures
Rely on vendor's metrics only
Set terms that expire during life of system

Let the vendor provide best practices after installation, set reasonable expectations, schedule regular reviews, and insist on cross-vendor cooperation, have zero tolerance for finger-pointing between vendors. Depreciate storage equipment quickly.

Crisis Management: Managing Behavioral Consequences

This was the last session of the conference, a workshop to deal with irrational behavior during unexpected events that could disrupt or impact business operations. In the exercise, each table was a fictitious company, and the 7-8 people sitting at each table represented different department heads who had to make recommendations to upper management on how to deal with each disastrous situation presented to us. Decisions had to be made with limited and incomplete information. Each table had to come to a consensus on each action, and a single spokesperson from each table would present the recommendations. Winners of each round got prizes.
Final thoughts?
Plenty of coffee, not enough juice. Power and Cooling were top of mind. The rooms were cold, designed for people wearing suits I imagine. I enjoyed plenty of hot coffee throughout the event. Everyone complained that their smartphones and iPads were running out of electricity. The conference had "recharge" stations with plugs for all kinds of different phones, but the Micro-USB plugs that I needed for my Samsung Vibrant, and the apple connections needed by everyone else's iPhones and iPads, were always taken. I remember when you could charge your cell phone once a week, because you hardly used it to make calls, and now that they can be used to follow Twitter feeds, surf websites, and other actions between sessions, power runs out quickly.
Information Overload. I was one of those following tweets on the HootSuite app on my Android-based smart phone. I was able to meet some of the people I have exchanged blog comments and tweets. One told me that his tweets was his way of taking notes, so that his trip report would be done when he got back to the office. I used to write trip reports also, before blogging and tweeting.
The mood was positive. Overall, all the rival competitors got along well. I had friendly chats with people from Oracle, HP, Cisco, EMC, VCE, and others. People are overall optimistic that the IT industry is set for economic growth in 2011.
The only people who look forward to change are babies in soiled diapers. My impression is that people who were threatened by Cloud Computing now have a better understanding on what they need to do going forward. Yes, this means learning new skills, re-evaluating your backup/recovery procedures, reviewing your BC/DR contingency plans, and a variety of other changes. Those who don't like frequent change should consider getting out of the IT industry. Just sayin'
I suspect this will be my last post of 2010. I will be taking a much-needed break, celebrating the Winter Solstice. To all my readers, I wish you good times over the next few weeks, and a Happy New Year!
technorati tags: IBM, ILM, DLM, SLA, Crisis Management
Continuing my post-week coverage of the [Data Center 2010 conference], Thursday morning had some interesting sessions for those that did not leave town last night.
Interactive Session Results

In addition to the [Profile of Data Center 2010] that identifies the demographics of this year's registrants, the morning started with highlights of the interactive polls during the week.

External or Heterogeneous Storage Virtualization

The analyst presented his views on the overall External/Heterogeneous Storage Virtualization marketplace. He started with the key selling points.

Avoid vendor lock-in. Unlike the IBM SAN Volume Controller, many of the other storage virtualization products result in vendor lock-in.
Leverage existing back-end capacity. Limited to what back-end storage devices are supported.
Simplify and unify management of storage. Yes, mostly.
Lower storage costs. Unlike the IBM SAN Volume Controller, many using other storage virtualization discover an increase in total storage costs.
Migration tools. Yes, as advertised.
Consolidation/Transition. Yes, over time.
Better functionality. Potentially.

Shortly after several vendors started selling external/heterogeneous storage virtualization solutions, either as software or pre-installed appliances, major storage vendors that were caught with their pants down immediately started calling everything internally as also "storage virtualization" to buy some time and increase confusion.

While the analyst agreed that storage virtualization simplifies the view of storage from the host server side, it can complicate the management of storage on the storage end. This often comes up at the Tucson Briefing Center. I explain this as the difference between manual and automatic transmission cars. My father was a car mechanic, and since he is the sole driver and sole mechanic, he prefers manual transmission cars, easier to work on. However, rental car companies, such as Hertz or Avis, prefer automatic transmission cars. This might require more skills on behalf of their mechanics, but greatly simplifies the experience for those driving.

The analyst offered his views on specific use cases:

Data Migration. The analyst feels that external virtualization serves as one of the best tools for data migration. But what about tech refresh of the storage virtualization devices themselves? Unlike IBM SAN Volume Controller, which allows non-disruptive upgrades of the nodes themselves, some of the other solutions might make such upgrades difficult.
Consolidation/Transition. External virtualization can also be helpful, depending on how aggressive the schedule for consolidation/transition is performed.
Improved Functionality/Usability. IBM SAN Volume Controller is a good example, an unexpected benefit. Features like thin provisioning, automated storage tiering, and so on, can be added to existing storage equipment.

The analyst mentioned that there were different types of solutions. The first category were those that support both internal storage and external storage virtualization, like the HDS USP-V or IBM Storwize V7000. He indicated that roughly 40 percent of HDS USP-V are licensed for virtualization. The second category were those that support external virtualization only, such as IBM SAN Volume Controller, HP Lefthand and SVSP, and so on. The third category were software-only Virtual Guest images that could provide storage virtualization capabilities.

The analyst mentioned EMC's failed product Invista, which sold less than 500 units over the past five years. The low penetration for external virtualization, estimated between 2-5 percent, could be explained from the bad taste that left in everyone considering their options. However, the analyst predicts that by 2015, external virtualization will reach double digit marketshare.
Having a feel for the demographics of the registrants, and specific interactive polling in each meeting, provides a great view on who is interested in what topic, and some insight into their fears and motivations.
technorati tags: IBM, ITIL, storage growth, unstructured data, external, storage virtualization, SVC, Storwize V7000, HDS, USP-V, EMC, Invista, HP, Lefthand, SVSP
Continuing my post-week coverage of the [Data Center 2010 conference], Wednesday evening we had six hospitality suites. These are fun informal get-togethers sponsored by various companies. I present them in the order that I attended them.
Intel - The Silver Lining

| | |
| --- | --- |
| | Intel called their suite "The Silver Lining". Magician Joel Bauer wowed the crowds with amazing tricks. |

| | |
| --- | --- |
| Intel handed out branded "Snuggies". I had to explain to this guy that he was wearing his backwards. | |

i/o - Wrestling with your Data Center?

| | |
| --- | --- |
| | New-comer "i/o" named their suite "Wrestling with your Data Center?" They invited attendees frustrated with their data centers to don inflated Sumo Wrestling suits. |

APC by Schneider Electric - Margaritaville

This will be the last year for Margaritaville, a theme that APC has used now for several years at this conference.

Cisco - Fire and Ice

| | |
| --- | --- |
| Cisco had "Fire and Ice" with half the room decorated in Red for fire, and White for ice. | |

| | |
| --- | --- |
| | This is Ivana, welcoming people to the "Ice" side. |

| | |
| --- | --- |
| This is Peter, on the "Fire" side. Cisco tried to have opposites on both sides, savory food on one side, sweets on the other. | |

CA Technologies - Can you Change the Game?

CA Technologies offered various "sports games", with a DJ named "Coach".

Compellent - Get "Refreshed" at the Fluid Data Hospitality Suite

Compellent chose a low-key format, "lights out" approach with a live guitarist. They had hourly raffles for prizes, but it was too dark to read the raffle ticket numbers.
Of the six, my favorite was Intel. The food was awesome, the Snuggies were hilarious, and the magician was incredibly good. I would like to think Intel for providing me super-secret inside access to their Cloud Computing training resources and for the Snuggie!
technorati tags: IBM, LSC29, Intel, Snuggie, APC, Schneider Electric, Margaritaville, CA+Technologies, Cisco, Compellent, Joel Bauer
Continuing my post-week coverage of the [Data Center 2010 conference], Wendesday afternoon included a mix of sessions that covered storage and servers.
Enabling 5x Storage Efficiency

Steve Kenniston, who now works for IBM from recent acquisition of Storwize Inc, presented IBM's new Real-Time Compression appliance. There are two appliances, one handles 1 GbE networks, and the other supports mixed 1GbE/10GbE connectivity. Files are compressed in real-time with no impact to performance, and in some cases can improve performance because there is less data written to back-end NAS devices. The appliance is not limited to IBM's N series and NetApp, but is vendor-agnostic. IBM is qualifying the solution with other NAS devices in the market. The compression can compress up to 80 percent, providing a 5x storage efficiency.

Townhall - Storage

The townhall was a Q&A session to ask the analysts their thoughts on Storage. Here I will present the answer from the analyst, and then my own commentary.

Are there any gotchas deploying Automated Storage Tiering?

Analyst: you need to fully understand your workload before investing any money into expensive Solid-State Drives (SSD).

Commentary: IBM offers Easy Tier for the IBM DS8000, SAN Volume Controller, and Storwize V7000 disk systems. Before buying any SSD, these systems will measure the workload activity and IBM offers the Storage Tier Advisory Tool (STAT) that can help identify how much SSD will benefit each workload. If you don't have these specific storage devices, IBM Tivoli Storage Productivity Center for Disk can help identify disk performance to determine if SSD is cost-justified.

Wouldn't it be simpler to just have separate storage arrays for different performance levels?

Analyst: No, because that would complicate BC/DR planning, as many storage devices do not coordinate consistency group processing from one array to another.

Commentary: IBM DS8000, SAN Volume Controller and Storwize V7000 disk systems support consistency groups across storage arrays, for those customers that want to take advantage of lower cost disk tiers on separate lower cost storage devices.

Can storage virtualization play a role in private cloud deployments?

Analyst: Yes, by definition, but today's storage virtualization products don't work with public cloud storage providers. None of the major public cloud providers use storage virtualization.

Commentary: IBM uses storage virtualization for its public cloud offerings, but the question was about private cloud deployments. IBM CloudBurst integrated private cloud stack supports the IBM SAN Volume Controller which makes it easy for storage to be provisioned in the self-service catalog.

Can you suggest one thing we can do Monday when we get back to the office?

Analyst: Create a team to develop a storage strategy and plan, based on input from your end-users.

Commentary: Put IBM on your short list for your next disk, tape or storage software purchase decision. Visit [ibm.com/storage] to re-discover all of IBM's storage offerings.

What is the future of Fibre Channel?

Analyst 1: Fibre Channel is still growing, will go from 8Gbps to 16Gbps, the transition to Ethernet is slow, so FC will remain the dominant protocol through year 2014. Analyst 2: Fibre Channel will still be around, but NAS, iSCSI and FCoE are all growing at a faster pace. Fibre Channel will only be dominant in the largest of data centers.

Commentary: Ask a vague question, get a vague answer. Fibre Channel will still be around for the next five years. However, SAN administrators might want to investigate Ethernet-based approaches like NAS, iSCSI and FCoE where appropriate, and start beefing up their Ethernet skills.

Will Linux become the Next UNIX?

Linux in your datacenter is inevitable. In the past, Linux was limited to x86 architectures, and UNIX operating systems ran on specialized CPU architectures: IBM AIX on POWER7, Solaris on SPARC, HP-UX on PA-RISC and Itanium, and IBM z/OS on System z Architecture, to name a few. But today, Linux now runs on many of these other CPU chipsets as well.

Two common workloads, Web/App serving and DBMS, are shifting from UNIX to Linux. Linux Reliability, Availability and Serviceability (RAS) is approaching the levels of UNIX. Linux has been a mixed blessing for UNIX vendors, with x86 server margins shrinking, but the high-margin UNIX market has shrunk 25 percent in the past three years.

UNIX vendors must make the "mainframe argument" that their flavor of UNIX is more resilient than any OS that runs on Intel or AMD x86 chipsets. In 2008, Sun Solaris was the number #1 UNIX, but today, it is IBM AIX with 40 percent marketshare. Meanwhile HP has focused on extending its Windows/x86 lead with a partnership with Microsoft.

The analyst asks "Are the three UNIX vendors in it for the long haul, or are they planning graceful exits?" The four options for each vendor are:

Milk it as it declines
Accelerate the decline by focusing elsewhere
Impede the market to protect margins
Re-energize UNIX base through added value

Here is the analyst's view on each UNIX vendor.

| | |
| --- | --- |
| | IBM AIX now owns 40 percent marketshare of the UNIX market. While the POWER7 chipset supports multiple operating systems, IBM has not been able to get an ecosystem to adopt Linux-on-POWER. The "Other" includes z/OS, IBM i, and other x86-based OS. |

| | |
| --- | --- |
| HP has multi-OS Itanium from Intel, but is moving to Multi-OS blades instead. Their "x86 plus HP-UX" strategy is a two-pronged attack against IBM AIX and z/OS. Intel Nehalem chipset is approaching the RAS of Itanium, making the "mainframe argument" more difficult for HP-UX. | |

| | |
| --- | --- |
| | Before Oracle acquired Sun Microsystems, Oracle was focused on Linux as a UNIX replacement. After the acquisition, they now claim to support Linux and Solaris equally. They are now focused on trying to protect their rapidly declining install base by keeping IBM and HP out. They will work hard to differentiate Solaris as having "secret sauce" that is not in Linux. They will continue to compete head-on against Red Hat Linux. |

An interactive poll of the audience indicated that the most strategic Linux/UNIX platform over the next next five years was Red Hat Linux. This beat out AIX, Solaris and HP-UX, as well as all of the other distributions of Linux.
The rooms emptied quickly after the last session, as everyone wanted to get to the "Hospitality Suites".
technorati tags: IBM, Steve Kenniston, Real-Time Compression, LSC29, NAS, Easy Tier, DS8000, Storwize V7000, iSCSI, FCoE, AIX, Oracle, Solaris, HP, HP-UX, RedHat, Linux
Continuing my post-week coverage of the [Data Center 2010 conference], Wednesday morning started with another keynote session, followed by some break-out sessions.
Realities of IT Investment

Tighter budgets mean more business decisions. Future investments will come from cost savings. The analysts report that 77 percent of IT decisions are made by CFOs. Most organizations are spending less now than back in 2008 before the recession.

How we innovate through IT is changing. In bad times, risk trumps return, but only 21 percent of the audience have a formal "risk calculation" as part of their purchase plans.

Divestment matters as much as investment. Reductions in complexity have the greatest long-term cost savings. Try to retire at least 20 percent of your applications next year. With the advent of Cloud Computing, companies might just retire it and go entirely with public cloud offerings. Note that this graph the years are different than the ones above, in groups of half-decade increments.

It is important to identify functional dependencies and link your IT risks to business outcomes. Focus on making costs visible, and re-think how you communicate IT performance measurements and their impact to business. Try to change the culture and mind-set so that projects are not referred to as "IT projects" focused on technology, but rather they are "business projects" focused on business results.

Moving to the Cloud

Richard Whitehead from Novell presented challenges in moving to Cloud Computing. There are risks and challenges managing multiple OS environments. Users should have full access to all IT resources they need to do their jobs. Computing should be secure, compliant, and portable. Here is the shift he sees from physical servers to virtual and cloud deployments, years 2010 to 2015:

Richard considers a "workload" as being the combination of the operating system, middleware, and application. He then defines "Business Service" as an appropriate combination of these workloads. For example, a business service that provides a particular report might involve a front-end application, talking through business logic workload server, talking to a back-end database workload server.

To address this challenge, Novell introduces "Intelligent Workload Management", called WorkloadIQ. This manages the lifecycle to build, secure, deploy, manage and measure each workload. Their motto was to take the mix of physical, virtual and cloud workloads all "make it work as one". IBM is a business partner with Novell, and I am a big fan of Novell's open-source solutions including SUSE Linux.

A Funny Thing Happened on the Way to the Cloud....

Bud Albers, CTO of Disney, shared their success in deploying their hybrid cloud infrastructure. Everyone recognizes the Disney brand for movies and theme parks, but may not aware that they also own ABC News and ESPN television, Travel cruises, virtual worlds, mobile sites, and deploy applications like Fantasy Football and Fantasy Fishing.

Two years ago, each Line of Business (LOB) owned their own servers, they were continually out of space, power and HVAC issues forced tactical build-outs of their datacenters. But in 2008, the answer to all questions was Cloud Computing, it slices and dices like something invented by [Ron Popeill], with no investment or IT staff required. However, continuing to ask the CFO for CAPEX to purchase assets that were only 1/7th used was not working out either. That's right, over 75 percent of their servers were running less than 15 percent CPU utilization.

The compromise was named "D*Cloud". Internal IT infrastructure would be positioned for Cloud Computing, by adopting server virtualization, implementing REST/SOAP interfaces, and replicating the success across their various Content Distribution Networks (CDN). Disney is no stranger to Open Source software, using Linux and PHP. Their [Open Source] web page shows tools available from Disney Animation studios.

At the half-way point, they had half their applications running virtualized on just 4 percent of their servers. Today, they run over 20 VMs per host and have 65 percent of their apps virtualized. Their target is 80 percent of their apps virtualized by 2014.

Bud used the analogy that public clouds will be the "gas stations" of the IT industry. People will choose the cheapest gas among nearby gas stations. By focusing on "Application management" rather than "VM instance management", Disney is able to seamlessly move applications as needed from private to public cloud platforms.

Their results? Disney is now averaging 40 percent CPU utilization across all servers. Bud feels they have achieved better scalability, better quality of service, and increased speed, all while saving money. Disney is spending less on IT now than in 2008,

UPMC Maximizes Storage Efficiency with IBM

Kevin Muha, UPMC Enterprise Architect & Technology Manager for Storage and Data Protection Services, was unable to present this in person, so Norm Protsman (IBM) presented Kevin's charts on the success at the University of Pittsburgh Medical Center [UPMC]. UPMC is Western Pennsylvania's largest employer, with roughly 50,000 employees across 20 hospitals, 400 doctors' offices and outpatient sites. They have frequently been rated one of the best hospitals in the US.

Their challenge was storage growth. Their storage environment had grown 328 percent over the past three years, to 1.6PB of disk and nearly 7 PB of physical tape. To address this, UPMC deployed four IBM TS7650G ProtecTIER gateways (2 clusters) and three XIV storage systems for their existing IBM Tivoli Storage Manager (TSM) environment. Since they were already using TSM over a Fibre Channel SAN, the implementation took only three days.

UPMC was backing up nearly 60TB per day, in a 15-hour back window. Their primary data is roughly 60 percent Oracle, with the rest being a mix of Microsoft Exchange, SQL Server, and unstructured data such as files and images.

Their results? TSM reclamation is 30 percent faster. Hardware footprint reduced from 9 tiles to 5. Over 50 percent reduction in recovery time for Oracle DB, and 20 percent reduction in recovery of SQL Server, Microsoft Exchange, and Epic Cache. They average 24:1 deduplication overall, which can be broken down by data category as follows:

29:1 Cerner Oracle
18:1 EPIC Cache
10:1 Microsoft SQL Server
8:1 Unstructured files
6:1 Microsoft Exchange

UPMC still has lots of LTO-4 tapes onsite and offsite from before the change-over, so the next phase planned is to implement "IP-based remote replication" between ProtecTIER gateways to a third data center at extended distance. The plan is to only replicate the backups of production data, and not replicate the backups of test/dev data.

The presentation and supporting case study details on this is available on the [IBM Literature Fullfilment] website.
The show floor closed after Wednesday's lunch, so many people made their last attempts to meet the folks at the booth.
technorati tags: IBM, CFO, Novell, WorkloadIQ, Disney, UPMC, ProtecTIER, TS7650G, deduplication, XIV, Kevin Muha, Norm Protsman, Bud Albers
Continuing my post-week coverage of the [Data Center 2010 conference], we had receptions on the Show floor. This started at the Monday evening reception and went on through a dessert reception Wednesday after lunch. I worked the IBM booth, and also walked around to make friends at other booths.
| | |
| --- | --- |
| | Here are my colleagues at the IBM booth. David Ayd, on the left, focuses on servers, everything from IBM System z mainframes, to POWER Systems that run IBM's AIX version of UNIX, and of course the System x servers for the x86 crowd. Greg Hintermeister, on the right, focuses on software, including IBM Systems Director and IBM Tivoli software. I covered all things storage, from disk to tape. For attendees that stopped by the booth expressing interest in IBM offerings, we gave out Starbucks gift cards for coffee, laptop bags, 4GB USB memory sticks and copies of my latest book: "Inside System Storage: Volume II". |
Across the aisle were our cohorts from IBM Facilities and Data Center services. They had the big blue Portable Modular Data Center (PMDC). Last year, there were three vendors that offered these: IBM, SGI, and HP. Apparently, IBM won the smack-down, as IBM has returned victorious, as SGI only had the cooling portion of their "Ice Cube" and HP had no container whatsoever.
| | |
| --- | --- |
| IBM's PMDC is fully insulated so that you can use it in cold weather below 50 degrees F like Alaska, to the hot climates up to 150 degrees F like Iraq or Afghanistan, and everything in between. They come in three lengths, 20, 40 and 53 feet, and can be combined and stacked as needed into bigger configurations. The systems include their own power generators, cooling, water chillers, fans, closed circuit surveillance, and fire suppression. Unlike the HP approach, IBM allows all the equipment to be serviced from the comfort inside. | |
| | |
| --- | --- |
| | This is Mary, one of the 200 employees secunded to the new VCE. Michael Capellas, the CEO of VCE, offered to give a hundred dollars to the [Boys and Girls Club of America], a charity we both support, if I agreed to take this picture. The Boys and Girls Club inspires and enables young people to realize their full potential as productive, responsible, and caring citizens, so it was for a good cause. |
The show floor offers attendees a chance to see not just the major players in each space, but also all the new up-and-coming start-ups.
technorati tags: IBM, booth, LSC29, David Ayd, Greg Hintermeister, PMDC, SGI, HP, VCE, Michael Capellas
Mastering the art of stretching out a week-long event into two weeks' worth of blog posts, I continue my coverage of the [Data Center 2010 conference], Tuesday afternoon I attended several sessions that focused on technologies for Cloud Computing.
(Note: It appears I need to repeat this. The analyst company that runs this event has kindly asked me not to mention their name on this blog, display any of their logos, mention the names of any of their employees, include photos of any of their analysts, include slides from their presentations, or quote verbatim any of their speech at this conference. This is all done to protect and respect their intellectual property that their members pay for. The pie charts included on this series of posts were rendered by Google Charting tool.)
Converging Storage and Network Fabrics

The analysts presented a set of alternative approaches to consolidating your SAN and LAN fabrics. Here were the choices discussed:

Fibre Channel over Ethernet (FCoE) - This requires 10GbE with Data Center Bridging (DCB) standards, what IBM refers to as Converged Enhanced Ethernet (CEE). Converged Network Adapters (CNAs) support FC, iSCSI, NFS and CIFS protocols on a single wire.
Internet SCSI (iSCSI) - This works on any flavor of Ethernet, is fully routable, and was developed in the 1990s by IBM and Cisco. Most 1GbE and all 10GbE Network Interface Cards (NIC) support TCP Offload Engine (TOE) and "boot from SAN" capability. Native suppot for iSCSI is widely available in most hypervisors and operating systems, including VMware and Windows. DCB Ethernet is not required for iSCSI, but can be helpful. Many customers keep their iSCSI traffic in a separate network (often referred to as an IP SAN) from the rest of their traditional LAN traffic.
Network Attached Storage (NAS) - NFS and CIFS have been around for a long time and work with any flavor of Ethernet. Like iSCSI, DCB is not required but can be helpful. NAS went from being for files only, to be used for email and database, and now is viewed as the easiest deployment for VMware. Vmotion is able to move VM guests from one host to another within the same LAN subnet.
Infiniband or PCI extenders - this approach allows many servers to share fewer number of NICs and HBAs. While Infiniband was limited in distance for its copper cables, recent advances now allow fiber optic cables for 150 meter distances.

Interactive poll of the audience offered some insight on plans to switch from FC/FICON to Ethernet-based storage:

Interactive poll of the audience offered some insight on what portion storage is FCP/FICON attached:

Interactive poll of the audience offered some insight on what portion storage is Ethernet-attached:

Interactive poll of the audience offered some insight on what portion of servers are already using some Ethernet-attached storage:

Each vendor has its own style. HP provides homogeneous solutions, having acquired 3COM and broken off relations with Cisco. Cisco offers tight alliances over closed proprietary solutions, publicly partnering with both EMC and NetApp for storage. IBM offers loose alliances, with IBM-branded solutions from Brocade and BNT, as well as reselling arrangements with Cisco and Juniper. Oracle has focused on Infiniband instead for its appliances.

The analysts predict that IBM will be the first to deliver 40 GbE, from their BNT acquisition. They predict by 2014 that Ethernet approaches (NAS, iSCSI, FCoE) will be the core technology for all but the largest SANs, and that iSCSI and NAS will be more widespread than FCoE. As for cabling, the analysts recommend copper within the rack, but fiber optic between racks. Consider SAN management software, such as IBM Tivoli Storage Productivity Center.

The analysts felt that the biggest inhibitor to merging SAN and LANs will be organizational issues. SAN administrators consider LAN administrators like "Cowboys" undisciplined and unwilling to focus on 24x7 operational availability, redundancy or business continuity. LAN administrators consider SAN administrators as "Luddites" afraid or unwilling to accept FCoE, iSCSI or NAS approaches.

Driving Innovation through Innovation

Mr. Shannon Poulin from Intel presented their advancements in Cloud Computing. Let's start with some facts and predictions:

Today:

About 25 percent of the [world's population] is connected to the Internet
There are over 2.5 billion photos on Facebook, which runs on 30,000 servers
30 billion videos viewed every month
Nearly all Internet-connected devices are either computers or phones

By 2015:

An additional billion people on the Internet
Cars, televisions, and households will also be connected to the Internet
The world will need 8x more network bandwidth, 12x more storage, and 20x more compute power

To avoid confusion between on-premise and off-premise deployments, Intel defines "private cloud" as "single tenant" and "public cloud" as "multi-tenant". Clouds should be automated, efficient, simple, secure, and interoperable enough to allow federation of resources across providers. He also felt that Clouds should be "client-aware" so that it know what devices it is talking to, and optimizes the results accordingly. For example, if watching video on a small 320x240 smartphone screen, it makes no sense for the Cloud server to push out 1080p. All devices are going through a connected/disconnected dichotomy. They can do some things while disconnected, but other things only while connected to the Internet or Cloud provider.

An internal Intel task force investigated what it would take to beat MIPS and IBM POWER processors and found that their own Intel chips lacked key functionality. Intel plans to address some of their shortcomings with a new chip called "Sandbridge" sometime next year. They also plan a series of specialized chips that support graphics processing (GPU), network processing (NPU) and so on. He also mentioned Intel released "Tukwilla" earlier this year, the latest version of Itanium chip. HP is the last major company to still use Itanium for their servers.

Shannon wrapped up the talk with a discussion of two Cloud Computing initiatives. The first is [Intel® Cloud Builders], a cross-industry effort to build Cloud infrastructures based on the Intel Xeon chipset. The second is the [Open Data Center Alliance], comprised of leading global IT managers who are working together to define and promote data center requirements for the cloud and beyond.

Fabric-Based Infrastructure

The analysts feel that we need to switch from thinking about "boxes" (servers, storage, networks) to "resources". To this end, they envision a future datacenter where resources are connected to an any-to-any fabric that connects compute, memory, storage, and networking resources as commodities. They feel the current trend towards integrated system stacks is just a marketing ploy by vendors to fatten their wallets. (Ouch!)

A new concept to "disaggregate" caught my attention. When you make cookies, you disaggregate a cup of sugar from the sugar bag, a teaspoon of baking soda from the box, and so on. When you carve a LUN from a disk array, you are disaggregating the storage resources you need for a project. The analysts feel we should be able to do this with servers and network resources as well, so that when you want to deploy a new workload you just disaggregate the bits and pieces in the amounts you actually plan to use and combine them accordingly. IBM calls these combinations "ensembles" of Cloud computing.

Very few workloads require "best-of-breed" technologies. Rather, this new fabric-based infrastructure recognizes the reality that most workloads do not. One thing that IT Data Center operations can learn from Cloud Service Providers is their focus on "good enough" deployment.

This means however that IT professionals will need new skill sets. IT administrators will need to learn a bit of application development, systems integration, and runbook automation. Network adminis need to enter into 12-step programs to stop using Command Line Interfaces (CLI). Server admins need to put down their screwdrivers and focus instead on policy templates.
Whether you deploy private, public or hybrid cloud computing, the benefits are real and worth the changes needed in skill sets and organizational structure.
technorati tags: IBM, FCoE, iSCSI, NAS, NFS, CIFS, DCB, CEE, CNA, TOE, SAN, LAN, Convergence, FICON, Ethernet, BNT, Cisco, HP, 3COM, Intel, ODCA, CLI
Continuing my coverage of the [Data Center 2010 conference], Tuesday afternoon I presented "Choosing the Right Storage for your Server Virtualization". In 2008 and 2009, I attended this conference as a blogger only, but this time I was also a presenter.
| | |
| --- | --- |
| | The conference asked vendors to condense their presentations down to 20 minutes. I am sure this was inspired by the popular 18-minute lectures from the [TED conference] or perhaps the [Pecha Kucha] night gatherings in Japan where each presenter speaks while showing 20 slides for 20 seconds each, This forces the presenters to focus on their key points and not fill the time slot with unnecessary marketing fluff. This also allows more vendors to have a chance to pitch their point of view. |
Here are my charts on SlideShare.net:
I am thankful I had a great turn-out, with nearly every seat taken.
technorati tags: IBM, Storwize V7000, VMware, Hyper-V, PowerVM, zLPAR, Xen, OracleVM, Citrix, KVM, Redhat, RHEV, SVC, TED.com, Pecha Kucha
Continuing my coverage of the Data Center 2010 conference, Tuesday morning I attended several sessions. The first was a serious IT discussion with Mazen Rawashdeh, Technology Executive from eBay, and the second was a lighthearted review of the benefits from Cloud Computing from humorist Dave Barry, and the third focused on re-architecting backup strategies.
eBay – How One Fast Growing Company is Solving its Infrastructure and Data Center Challenges

"It is not the strongest of the species that survives, nor the most intelligent that survives. It is the one that is the most adaptable to change." -- Charles Darwin

So far, this has been the best session I have attended. eBay operates in 32 countries in seven languages, helping 90 million users to buy or sell 245 million items in 50,000 categories. Let's start with some statistics of the volume of traffic that eBay handles:

$2000 traded every second
cell phone sold every six seconds
pair of shoes sold every nine seconds
a major appliance sold every minute
93 billion database actions every day
50 TB of daily ingested daily
code changes to the eBay application are rolled in every day

In 2007, eBay discovered a disturbing trend, that infrastructure costs matched linear growth to business listing volume, which was an unsustainable model. Mazen Rawashdeh, eBay Marketplace Technology Operations, presented their strategy to break free from this problem. They want to double the number of listings without doubling their costs. They are 2 years into their 4 year plan:

Switched from expensive 12U high servers consuming 3 Kilowatts over to open source software on commodity 1-2U server hardware. Mazen owns all the costs from cement floor up to the web server.
Replaced team-optimized key performance indicators (KPI) with a common KPI. The server team focused on transactions per minute. The storage team was focused on utilization. The network team was focused on MB/sec bandwidth. The problem is that changes to optimize one might have negative impact to other teams. The new KPI was "Watts per listing" that allowed all teams to focus on a common goal.
Focused on changing the corporate culture for communicating clear measurable goals so that everyone understands the why and how of this new KPI. You have to spend money to save money in the long run. Consider costs at least 36 months out.
Changed from purchasing servers and depreciating them over 3 years to a lease model with server replacement tech refresh every 18 months. It is a bad idea to keep IT equipment after full depreciation, as energy savings alone on new equipment easily justifies 18-month replacement.
Adopted storage tiers. Storage is purchased not leased because it is more difficult to swap out disk arrays. They have 10-40 PB of disk. They do not use traditional backup, but rather use disk replication across distant locations. They are quick to delete or archive data that does not belong on their production systems.

Their results so far? They have reduced the Watts per listing by 70 percent over the past two years. They were able to double their volume with a relatively flat IT budget.

The Wit and Wisdom of Dave Barry, Humorist and Author




Dave Barry is a humor columnist. For 25 years he was a syndicated columnist whose work appeared in more than 500 newspapers in the United States and abroad, including the [Funny Times] that I subscribe to. In 1988 he won the Pulitzer Prize for Commentary about the election and politics in general. Dave has also written a total of 30 books, of which two of his books were used as the basis for the CBS TV sitcom "Dave's World," in which Harry Anderson played a much taller version of Dave.

I first met Dave about ten years ago at a SHARE conference in Minneapolis, MN. It was good to see him again.

Backup and Beyond




The analyst covered the "Three C's" of backup: cost, capability and complexity. There are many ways to implement backup, and he predicts that 30 percent of all companies will re-evaluate and re-architect their backup strategy, or at least change their backup software, by 2014 to address these three issues. Another survey indicates that 43 percent of companies are considering backup the primary reason they are investigating public cloud service providers.

The top three primary backup software vendors for the audience were Symantec, IBM, and Commvault. An interactive poll of the audience offered some insight:

| | |
| --- | --- |
| | There appears to be shift away from using disk to emulate tape (Virtual Tape Library) and instead use direct disk interfaces. |

Some of the recommended actions were:

Exploit backup software features. On average, people keep 11 versions of backup, try cutting this down to four versions. IBM Tivoli Storage Manager allows this to be done via management class policies.
Implement a separate archive. Once data is archived and backed up, it reduces the backup load of production systems. Any chance to backup semi-static data less frequently will help.
Switch to capacity-based pricing which will allow more flexibility on server options to run backup software.
Implement data deduplication and compression, such as with IBM ProtecTIER data deduplication solution.
Consider a tiered recovery approach, where less critical applications have less backup protection. Many keep 1-2 years of backups, but 90 percent of all recoveries are for backups from the most recent 27 days. Reduce backup retention to 90 days.
Consider adopting a "Unified Recovery Management" strategy that protects laptops and desktops, remote office and branch offices, mission critical applications, and provide for business continuity and disaster recovery.
regularly test your recovery to validate your procedures and assumptions of your recoverability.
While the conference is divided into seven major tracks, it quickly becomes obvious that many of these IT datacenter issues overlap, and that approaches and decisions in one area can easily impact other areas.
technorati tags: IBM, eBay, Marzen Rawashdeh, Dave Barry, TSM, Backup, Unified Recovery
Continuing my coverage of the Data Center 2010 conference, Monday I afternoon included presentations from IBM executives.
Blueprint for a Smart data center

Steve Sams, IBM Vice President, Global Site and Facilities Services, is well known at this conference. In charge of designing and building data center facilities for IBM and its clients, he has lots of experience in various datacenter configurations.

The presentation was an update from last year's [Data Center Cost Saving Actions Your CFO Will Love]. 70 cents of every IT dollar is spent on just keeping the existing systems running, leaving only 30 percent to handle growth and business transformation. Over 70 percent of datacenters are more than seven years old, and may not be designed to handle today's density in IT equipment.

Many companies wanting to virtualize are stalled. IBM's Server Virtualization Analytics services can help cut this transformation time in half, with an ROI of only 6-18 months for complex Wintel environments. This is just one of the 17 end-to-end datacenter analytics tools IBM offers. The results have been 220 percent more VM instances per admin FTE than traditional deployments. IBM drinks its own champagne, having saved over $4 Billion USD in its own datacenter consolidation and virtualization projects.

Want to Cut the Cost of Storage in Half? Here's How

The speaker of this session started out with a startling prediction: the amount of storage purchased in the five years 2010-2014 will be 25x what was purchased in 2009, on a PB basis. Most attempts to stem this capacity growth have failed. Therefore, the focus to cut storage costs need to be elsewhere.

The first concern is poor utilization. Utilization on DAS averages 10 percent, SANs 40-50 percent. Thin provisioning can raise this to 60-75 percent. Thin Provisioning was first introduced for the mainframe storage in the 1990s by StorageTek which IBM resold as the IBM RAMAC Virtual Array (RVA), but many credit 3PAR for porting this over to distributed operating systems in 2002. Other options include data deduplication and compression to reduce the cost of storing data on disk.

The second approach is use of storage tiering. In this case, the speaker felt SATA was 3x cheaper ($/GB) but can also be 3x lower performance. Moving data between faster FC/SAS 10K and 15K RPM drives to slower 7200 RPM drives can offer some cost reductions.

Implementing "quotas" in email, file systems or other applications is one of the worst financial decisions an IT department can make, as it merely shifts the storage management from experts (IT staff) to non-experts (end users). The speaker recommended using archive instead. Keeping backup tapes for long-term is not archive, backups should not be older than eight weeks old.

Interactive polls of the audience gave some interesting insight:

When asked expected storage capacity "compound annual growth rate" (CAGR) for the next few years, 26 percent estimate 35-50 CAGR, 30 percent estimate 50-75 CAGR, and 15 estimate greater than 75 percent CAGR.
For thin provisioning, 43 percent of the audience already are using it, and 33 percent plan to next year.
Similarly , 41 percent of audience is using data deduplication for their primary data, and 30 percent plan to next year.
For automated tiering that moves portions of data automatically between fast and slow tiers of storage to optimize performance, like IBM's Easy Tier, 20 percent are already using it, and 44 percent plan to next year.
41 percent already have some archiving for file systems, 17 percent plan to next year.
Only 6 percent have an all-disk backup/replication environment, but 20 percent plan to adopt this next year.

The downsize of trying to squeeze out costs with these approaches and technologies is that there can be negative impact to performance. The speaker suggested a balanced approach of adding lower cost storage to existing fast storage to meet both capacity and performance requirements.

Smarter Infrastructures Deliver Better Economics

Elaine Lennox, IBM Vice President and Business Line Executive for System Software, presented the "3 D's" of a Smarter Infrastructure: design, data and delivery.

Design: new technologies and approaches are forcing people to reconsider the design of their applications, their infrastructure and their facilities.
Data: on average, companies store 17 copies of the same piece of production data. Data needs to be managed better in the future.
Delivery: new types of cloud computing are changing the way IT services can be delivered, and how they are consumed by end users.

Roadmap to Enterprise Cloud Computing

This was a combo vendor/customer presentation. Rex Wang from Oracle presented an overview of Oracle's service and product offerings, and then Jonathan Levine, COO of LinkShare, presented his experiences deploying Oracle ExaData.

Rex presented Oracle's "Cloud maturity model" that has its customers go through the following steps:

Silo: each application on its own stack of software, server and storage.
Grid: virtualization for shared infrastructure and platforms (internal IaaS and PaaS).
Private cloud: self-service, policy-based management, metered chargeback and capacity planning.
Hybrid Cloud: workloads portable between private and public clouds, offering federation, cloud bursting, and interoperability.

Rex felt the standard "Buy vs Rent" argument in the business world applies to IT as well, and that there could be break-even points over long-term TCO analysis that favors one over the other. He cited internal research that showed 28 percent of Oracle customers have internal or private cloud, and 14 percent use public cloud. 25 percent use Application PaaS, 21 percent database PaaS, 5 percent Identity management PaaS, 10 percent Compute IaaS, 18 percent storage IaaS, and 15 percent Test/Dev IaaS.

Rex felt that in all the hype around taking a single host and dividing it into multiple VMs, people have forgotten that the opposite approach of taking multiple instances into clusters is also important. He also felt you have to look at the entire "Application Lifecycle" that goes from:

IT sets up the equipment as an internal PaaS or IaaS
Developers write the application
End users are trained and use the application
Application owners manage and monitor the application
IT meters the usage and does chargeback to each application owner

Oracle's ExaData and ExaLogic compete directly against IBM's Smart Analytics System, IBM CloudBurst, and IBM Smart Business Storage Cloud.

Next up was Jonathan Levine, COO of [LinkShare], a subsidiary of Rakutan in Japan. This is an [Affiliated Marketing] company. Instead of pay-per-view or pay-per-click web advertising, this company only gets paid when the "end user" actually buys something when clicking on web advertising.

The business runs on an 8TB data warehouse and 1 TB OLTP database, ingesting 50GB daily, with 400 million transactions per day with 8.5 GB/sec throughput.

They discovered that the Oracle ExaData did not work right out of the box. In fact, it took them about a year to get it working for them, roughly the same amount of months it took them on their last Oracle 10 to Oracle 11 conversion.

Part of their business allows advertisers and web content publishers to generate reports on activity. Jonathan indicates that if the response is longer than 5 seconds, it might as well be an hour. He called this the "Excel" rule, that results need to be as fast as local PC Microsoft Excel pivot table processing.

With the new Exadata, they met this requirement. Over 84 percent of their transactions happen under 2 seconds, 9 percent take 2-4 seconds, and another 4 percent in the 4-8 second range. They hope that as they approach the winter holiday season that they can handle 2-3x more traffic without negatively impacting this response time.

Attendees who want a copy of the IBM presentations can go to the IBM [Literature Fullfillment] website.

technorati tags: IBM, Steve Sams, Elaine Lennox, Oracle, ExaData, LinkShare, RVA
Continuing my coverage of the Data Center 2010 conference, Monday I attended four keynote sessions.
Opening Remarks

The first keynote speaker started out with an [English proverb]: Turbulent waters make for skillful mariners. He covered the state of the global economy and how CIOs should address the challenge. We are on the flat end of an "L-shaped" recovery in the United States. GDP growth is expected to be only 4.7 percent Latin America, 2.3 percent in North America, 1.5 percent Europe. Top growth areas include 8.0 percent India and 8.6 percent China, with an average of 4.7 growth for the entire Asia Pacific region.

On the technical side, the top technologies that CIOs are pursuing for 2011 are Cloud Computing, Virtualization, Mobility, and Business Intelligence/Analytics. He asked the audience if the "Stack Wars" for integrated systems are hurting or helping innovation in these areas.

Move over "conflict diamonds", companies now need to worry about [conflict minerals].

He proposed an alternative approach called Fabric-Based Infrastructure. In this new model, a shared pool of servers is connected to a shared pool of storage over an any-to-any network. In this approach, IT staff spend all of their time just stocking up the vending machine, allowing end-users to get the resources they need.

Crucial Trends You Need to Watch

The second speaker covered ten trends to watch, but these were not limited to just technology trends.

Virtualization is just beginning - even though IBM has had server virtualization since 1967 and storage virtualization since 1974, the speaker felt that adoption of virtualization is still in its infancy. Ten years ago, average CPU utilization for x86 servers of was only 5-7 percent. Thanks to server virtualization like VMware and Hyper-V, companies have increased this to 25 percent, but many projects to virtualized have stalled.
Big Data is the elephant in the room - storage growth is expected to grow 800 percent over the next 5 years.
Green IT - Datacenters consume 40 to 100 times more energy than the offices they support. Six months ago, Energy Star had announced [standards for datacenters] and energy efficiency initiatives.
Unified Communications - Voice over IP (VoIP) technologies, collaboration with email and instant messages, and focus on Mobile smartphones and other devices combines many overlapping areas of communication.
Staff retention and retraining - According to US Labor statistics, the average worker will have 10 to 14 different jobs by the time they reach 38 years of age. People need to broaden their scope and not be so vertically focused on specific areas.
Social Networks and Web 2.0 - the keynote speaker feels this is happening, and companies that try to restrict usage at work are fighting an uphill battle. Better to get ready for it and adopt appropriate policies.
Legacy Migrations - companies are stuck on old technology like Microsoft Windows XP, Internet Explorer 6, and older levels of Office applications. Time is running out, but migration to later releases or alternatives like Red Hat Linux with Firefox browser are not trivial tasks.
Compute Density - Moore's Law that says compute capability will double every 18 months is still going strong. We are now getting more cores per socket, forcing applications to re-write for parallel processing, or use virtualization technologies.
Cloud Computing - every session this week will mention Cloud Computing.
Converged Fabrics - some new approaches are taking shape for datacenter design. Fabric-based infrastructure would benefit from converging SAN and LAN fabrics to allow pools of servers to communicate freely to pools of storage.

He sprinkled fun factoids about our world to keep things entertaining.

50 percent of today's 21-year-olds have produced content for the web. 70 percent of four-year-olds have used a computer. The average teenager writes 2,282 text messages on their cell phone per month.
This year, Google averaged 31 billion searches per month, compared 2.6 billion searches per month in 2007.
More video has been uploaded to YouTube in the last two months than the three major US networks (ABC, NBC, CBS) have aired since 1948.
Wikipedia averages 4300 new articles per day, and now has over 13 million articles.
This year, Facebook reached 500 million users. If it were a country, it would be ranked third. Twitter would be ranked 7th, with 69% of their growth being from people 32-50 years old.
In 1997, a GB of flash memory cost nearly $8000 to manufacture, today it is only $1.25 instead.
The computer in today's cell phone is million times cheaper, and thousand times more powerful, than a single computer installed at MIT back in 1965. In 25 years, the compute capacity of today's cell phones could fit inside a blood cell. See [interview of Ray Kurzweil] on the Singularity for more details.

The Virtualization Scenario: 2010 to 2015

The third keynote covered virtualization. While server virtualization has helped reduce server costs, as well as power and cooling energy consumption, it has had a negative effect on other areas. Companies that have adopted server virtualization have discovered increased costs for storage, software and test/development efforts.

The result is a gap between expectations and reality. Many virtualization projects have stalled because there is a lack of long-term planning. The analysts recommend deploying virtualization in stages, tackle the first third, so called "low hanging fruit", then proceed with the next third, and then wait and evaluate results before completing the last third, most difficult applications.

Virtualization of storage and desktop clients are completely different projects than server virtualization and should be handled accordingly.

Cloud Computing: Riding the Storm Out

The fourth keynote focus on the pros and cons of Cloud Computing. First they start by defining the five key attributes of Cloud: self-service, scalable elasticity, shared pool of resources, metered and paid per use, over open standard networking technologies.

In addition to IaaS, PaaS and SaaS classifications, the keynote speaker mentioned a fourth one: Business Process as a Service (BPaaS), such as processing Payroll or printing invoices.

While the debate rages over the benefits between private and public cloud approaches, the keynote speaker brings up the opportunites for hybrid and community clouds. In fact, he felt there is a business model for a "cloud broker" that acts as the go-between companies and cloud service providers.

A poll of the audience found the top concerns inhibiting cloud adoption were security, privacy, regulatory compliance and immaturity. Some 66 percent indicated they plan to spend more on private cloud in 2011, and 20 percent plan to spend more on public cloud options. He suggested six focus areas:

Test and Development
Prototyping / Proof-of-Concept efforts
Web Application serving
SaaS like email and business analytics
Department-level applications
Select workloads that lend themselves to parallelization

The session wrapped up with some stunning results reported by companies. Server provisioning accomplished in 3-5 minutes instead of 7-12 weeks. Reduced cost of email by 70 percent. Four-hour batch jobs now completed in 20 minutes. 50 percent increase in compute capacity with flat IT budget. With these kind of results, the speaker suggests that CIOs should at least start experimenting with cloud technologies and start to profile their workloads and IT services to develop a strategy.
That was just Monday morning, this is going to be an interesting week!
technorati tags: IBM, GDP, Cloud Computing, virtualization, mobility, BI, CIO, Big Data, Green IT, Google, Twitter, Facebook, IaaS, PaaS, SaaS, BPaaS
This week I am in beautiful Las Vegas for the Data Center 2010 Conference. While the conference officially starts Monday, I arrived on Sunday to help set up the IBM Booth (Booth "Z").
| | |
| --- | --- |
| | (Note: This is my third year attending this conference. IBM is a platinum sponsor for this event. The analyst company that runs this event has kindly asked me not to mention their name on this blog, display any of their logos, mention the names of any of their employees, include photos of any of their analysts, include slides from their presentations, or quote verbatim any of their speech at this conference. This is all done to protect and respect their intellectual property that their members pay for. This is all documented in a lengthy document in case I forget. So, if the picture of the conference backpack appears lopped off at the top, this was done intentionally to comply with their request. The list of sponsors at this event represents a "who's who" of the IT industry.) |
Orientation

The pre-conference orientation is for people who are first-timers, or for those who have not attended this conference in a while. The conference includes 7 keynote presentations and 68 sessions organized into seven "tracks" plus one "virtual track" which crosses the other seven:

Virtualization
Cloud Computing
IT Operations
Getting Agile
Servers and Operating Systems
Storage
Business Continuity
Cost Optimization "Virtual Track"

Each session is further classified as foundational versus advanced, business versus technical, and practical versus strategic.

The speaker also presented some unique methodologies that will be used this week, including "Magic Quadrant", "MarketScope", "Hype Cycle" and "IT Market Clock" which provide graphical representation to help attendees better understand the conference materials.

Welcome Reception

The Welcome Reception was sponsored by VCE, formerly known as Acadia, the coalition comprised of VMware, Intel, Cisco and EMC. I joked that this should be "VICE" so that Intel does not feel left out.

| | |
| --- | --- |
| While we enjoyed drinks and snacks, we listened to live music from the all-violin band [Phat Strad]. | |

The CEO of VCE, Michael Capellas, recognized me from across the room and came over to ask me how IBM was doing. We had a nice friendly chat about the IT industry and the economy.
technorati tags: IBM, LSC29, VCE, Phat Strad
Next week, once again, I will be blogging from beautiful Caesars Palace hotel in Las Vegas, Nevada to report on what I see and hear at the 29th annual Data Center Conference. Here are my posts from 12 months ago when I attended this conference in 2009:
Again we will have a Solutions Showcase with a Portable Modular Data Center (PMDC) and various exhibits. I will be manning the booths, stop on by. Plus, on Tuesday, I will be be speaking! My topic will be "Choosing the right storage for your server virtualization environment."
Those of you on twitter can follow me at [@az990tony] and hash tag #LSC29. I will be available for one-on-one consultations sessions. I am arriving Sunday morning, Dec. 5, and staying through Thursday afternoon, December 9.
Just in time for [Cyber Monday], Volume II of my "Inside System Storage" book series is now available. As I mentioned in my post on the [October 7th Launch announcement], I finally got past all the internal restrictions that prevented this volume from being published earlier.
| | |
| --- | --- |
| | My first book covered my initial 12 months of blogging experience, from September 2006 to August 2007. This book covers the history of my career transition from software engineer developer to marketing strategist. |
| | |
| --- | --- |
| My second book covers the next 8 months, from September 2007 to April 2008, spanning the acquisitions of XIV and Diligent companies that were part of an overall strategic re-alignment of storage within the broader "Systems and Technology Group" of IBM. | |
The books come in a variety of formats, including hardcover with dust jacket, paperback, and online eBook (PDF). My publisher, Lulu, now supports ePub format, so I am investigating the time and effort required to build this format from the source files.
Of course, if reading isn't your cup of tea, you can always go for more traditional gifts, such as [fine silver jewelry] or [Southwestern-style jewelry] offered by my close friends here in Tucson.
Either way, I hope you can help out the US economy get back on its feet!
| | |
| --- | --- |
| | The client that bought these dozen IBM System Storage DS8800 disk systems also bought three DS8700 systems. |
Governor's Celebration of Innovation [GCOI] is an annual awards gala, with attendees who include technologists, corporate executives, entrepreneurs, investors, and policymakers. Last week, IBM was awarded "Innovator of the Year" in the Large Company category for its Easy Tier feature of the IBM DS8700 that allows optimal use of Solid-State Drives through sub-LUN automatic movement of data. IBM's Long Term File System (LTFS) was also a finalist under consideration.
The award was presented to Cindy Grossman, IBM VP and Senior Location Executive for Tucson. Joining her were Dr. Krishna Nathan, Ed Childers, Glen Jaquette, Vincent Hsu, Rick Krebsbach, Gene Leo, Denise Lopez, Hironobu Nagura, Calline Sanchez, Johnny Smith, and Dr. Cheng-Chung Song.
To learn more, read the articles in the [Arizona Business & Money] and [Phoenix Business Journal]
And for my readers in the United States, Happy Thanksgiving!
technorati tags: IBM, GCOI, Cindy Grossman, DS8800, DS8700, Easy Tier, LTFS
This week, IBM launched the new [IBM Expert Network] that provides presentation materials from subject matter experts. I am honored to be one of the 20-plus experts selected for PRO accounts on SlideShare.Net to help seed this with initial materials.
I have a bit of behind-the-scenes history to share on this. Back in 2008, I first discovered SlideShare.net as an excellent resource to get ideas for presentations. Much like YouTube is for videos and FlickR is for photos, SlideShare.Net is for presentations. In my June 2008 post, [Summer Jobs and the Singularity], I embedded someone's presentation from SlideShare.
Earlier this year, I uploaded a presentation on [IBM Solid State Disk in eX5 servers], and a presentation that I gave publicly to the Institute of Management Accountants (IMA), which I embedded in my post [Cloud Computing for Accountants].
This latter one got me in a bit of trouble internally. Neither presentation had anything secret or controversial, so I didn't see the issue. Several other bloggers had asked how I got "permission" to use an external Software-as-a-Service (SaaS) like SlideShare.net for my blog. I never asked for permission! I explained that since IBM's internal Lotus Connections software we use for blogging did not have a feature to embed PowerPoint (PPT) or Open Document Format (ODP) presentations, I chose an external service instead. Yes, I guess I could have converted each page to a JPG or PNG graphic instead, or I could have put the PDF on an FTP download area of the "Files" feature of Lotus Connections, but I chose SlideShare.net instead.
The result? IBM communications decided to make an official list, it's actually three lists. A "white list" of services that we are allowed to use, a "grey list" of services under evaluation or negotiation, and a "black list" of services we are not allowed to use, and sadly Slideshare.Net was on the black list. I protested, argued that unless IBM offered something to replace it, to re-evaluate this external service. I got it back on the "grey list" and now, this week, it is officially on the "white list".
Of course, this probably involved negotiation on EULA terms and conditions, but I am not a lawyer and have no idea what went on behind closed doors to make this happen. I am just glad it did.
So please, check out the new IBM Expert Network at: [
http://www.slideshare.net/ibm
]. Let me know what you think!
technorati tags: IBM, expert network, slideshare, cloud computing, singularity, IMA, PPT, ODP
On Wikibon, David Floyer has an article titled [SAS Drives Tier 1 to New Levels of Green] that focuses on the energy efficiency benefits of newer Serial-Attach SCSI (SAS) drives over older Fibre Channel (FC) drives. This makes sense, as R&D budgets have been spent on making newer technologies more "green".
Fellow blogger Hu Yoshida (HDS) encourages people to [Invest in the Future with SAS, SATA and SFF], referring to Figure 1.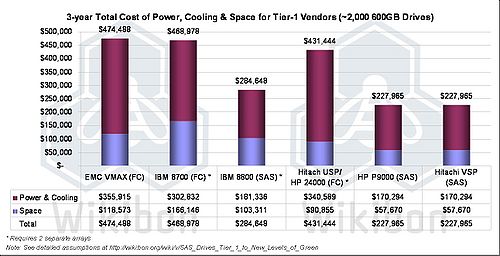 Of course, people might consider this an [apples-to-oranges] comparison. Not only are we changing from FC to SAS technology, we are also changing from 3.5-inch drives to small form factor (SFF) 2.5-inch drives. It seems odd to specify 2000 drives, when only two of the five scale up to that level. Few systems in production, from any vendor, have more than 1000 drives, so it would have seemed that would have been a fairer comparison.
However, Hu's conclusion that the combination of SAS and SFF provides better performance and energy efficiency for both IBM DS8800 and HDS VSP than FC-based alternatives from any vendor seems reasonably supported by the data.
Meanwhile, fellow blogger David Merrill (HDS) pokes fun at IBM DS8800 in Figure 2 in his post [Winner o' the green]. This second comparison was for 4PB of raw capacity, which 4 of the 5 can handle easily using 2TB SATA drives, but the DS8800 is based on SAS technology and does not support 2TB SATA drives. A performance-oriented configuration with four distinct DS8800 boxes employing 600GB SAS drives is used instead, causing the data for the DS8800 to stick out like a sore thumb, or perhaps more intentionally as a middle finger.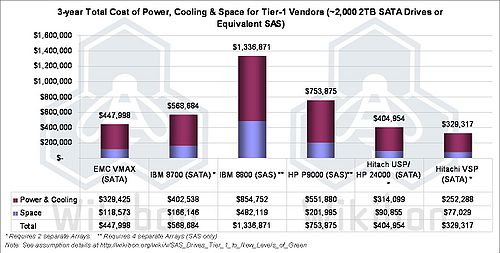 The main take-away here is that IBM offers both the DS8700 for capacity-optimized workloads, and the DS8800 for performance-optimized workloads. Some competitors may have been spreading FUD that the DS8700 was withdrawn last month, it wasn't. As you can see from the data presented, there are times where a DS8700 might be more preferable than a DS8800, depending on the type of workloads you plan to deploy. IBM offers both, and will continue to support existing DS8700 and DS8800 units in the field for many years to come.
technorati tags: IBM, DS8700, DS8800, Wikibon, Hu Yoshida, David Merrill, Davud Floyer
This year marks the 10 year anniversary of IBM's introduction of LTO tape technology. IBM is a member of the Linear Tape Open consortium which consists of IBM, HP and Quantum, referred to as "Technology Provider Companies" or TPCs. In an earlier job role, I was the "portfolio manager" for both LTO and Enterprise tape product lines.
Today, we held a celebration in Tucson, with cake and refreshments.

IBM Executives Doug Balog, IBM VP of Storage Platform, and Sanjay Tripathi, the new IBM Director and Business Line Executive for Tape, VTL and Archive systems, presented the successes of LTO tape over the past 10 years.

To date over 3.5 million LTO tape drives, and over 150 million LTO tape media cartridges have been shipped which is a testament to the remarkable marketplace acceptance of the technology.
In honor of this event, I decided to interview Bruce Master, IBM Senior Program Manager for Data Protection Systems, about this 10 year anniversary.
10 years of LTO technology is a great milestone. How is this especially significant to IBM and its clients?
According to IDC data, IBM has held the #1 leader position in market share for total world wide branded tape revenue for over 7 years and that IBM is still #1 in branded midrange tape revenue which includes the LTO tape technologies. IBM was the first drive manufacturer to deliver LTO-1 drives, back in September 2000, the first to deliver tape drive encryption to the marketplace on LTO-4 drives, and is shipping LTO generation 5 drives and libraries. IBM is the author of the new Linear Tape File System (LTFS) specification that has been adopted by the TPCs. This file system revolutionizes how tape can be used as if it were a giant 1.5 terabyte removable USB memory stick with the capability to be accessed with directory tree structures and drag and drop functionality. With LTO's built-in real-time compression, a single tape cartridge can hold up to 3TB of data.
The Linear Tape File System has been getting a lot of attention. Where can we learn more about it?
Researchers at IBM's Almaden Research Center invented the [Linear Tape File System], released it as Open Source under the name [IBM Long Term File System], and contributed the specification to the LTO consortium. On the [Ultrium.com] website, you can read articles written about the file system, the specification [60-page PDF] document and a [video demo] of the file system in action. There is also an article out on [Wikipedia].
Why is tape still a critical part of a storage infrastructure?
Tape is low cost and provides critical off-line portable storage to help protect data from attacks that can occur with on-line data. For instance, on-line data is at risk of attack from a virus, hacker, system error, disgruntled employee, and more. Since tape is off-line, not accessible by the system, it protects against these forms of corruption. LTO technology also provides write-once read-many (WORM) tape media to help address compliance issues that specify non-erasable, non-rewriteable (NENR) storage, hardware encryption to secure data, as well as a low cost long term archive media. When data cools off, or becomes infrequently accessed, why keep it on spinning disk? Move it to tape where it is much greener and lower cost. A tape in a slot on a shelf consumes minimal energy.
So tape is not dead?
Ha! Far from it. Seems like disk-only "specialty shop" storage vendors that don't have tape in their sales portfolio are the ones that propagate that myth. In reality, storage managers are tasked with meeting complex objectives for performance, compliance, security, data protection, archive and total cost of ownership. Optimally, a blend of disk and tape in a tiered infrastructure can best address these objectives. You can't build a house with just a hammer. IBM has a rich tool kit of storage offerings including disk, tape, software, services and deduplication technologies to help clients address their needs.
Do you have an example of a client who was saved by tape?
Yes indeed. Estes Express, a large trucking firm, was hit by a hurricane that flooded their data center and destroyed all systems. Fortunately the company survived because the night before they had backed up all data on to IBM tape and moved the cartridges offsite! The company survived and has since implemented a best practices data protection strategy with a combination of disk-to-disk-to-tape (D2D2T) using LTO tape at the primary site, and a remote global mirrored site that is also backed up to LTO tape.
So tape saved the day. What is the outlook for tape innovation in the future?
The future is bright for tape. Earlier this year, IBM and Fujifilm were able to [demonstrate a tape density achievement] that could enable a native 35TB tape cartridge capacity! This shows a long roadmap ahead for tape and a continued good night's sleep for storage managers knowing that their precious data will be safe.
Of course, LTO tape is just one of the many reasons IBM is a successful and profitable leader in the IT storage industry. Doug Balog talked about his experiences in London for the [October 7th launch] of IBM DS8800, Storwize V7000 and SAN Volume Controller 6.1. Sanjay Tripathi showed recent successes with IBM's ProtecTIER Data Deduplication Solution and Information Archive products.
I would like to thank Bruce Master for his time in completing this interview. To learn more about IBM tape and storage offerings, visit [ibm.com/storage].
technorati tags: IBM, Linear Tape Open, LTO, LTO-1, LTO-2, LTO-3, LTO-4, LTO-5, Doug Balog, Sanjay Tripathi, Bruce Master
Well, I'm back from my exhausting trip in New York City.
I had to rub my eyes when I saw the headlines about [HP accusing Oracle] of harassing their new CEO with a [subpoena in Oracle's suit against HP]. One thing perhaps can be said about this circus -- it may be more preferable for Oracle to talk about than the continued decline of the hardware business that it [acquired from Sun Microsystems] earlier this year.
Each quarter since 2006, the [IBM Migration Factory] team has tallied the number of clients who have moved to IBM severs and storage systems from competitive hardware. We'll I've just seen the latest numbers, for the third quarter of 2010, and it looks like we set a new quarterly record with nearly 400 total migrations to IBM from Oracle/Sun and HP.
It's clear that companies and governments worldwide are seeing greater value in IBM systems, while Oracle and HP watch their customer bases erode. In just this past 3Q 2010, nearly 400 clients have moved over to IBM -- almost all of them from Oracle/Sun and HP. Of these, 286 clients migrated to IBM Power Systems, running AIX, Linux and IBM i operating systems, from competitors alone -- nearly 175 from Oracle/Sun and nearly 100 from HP. The number of migrations to IBM Power Systems through the first three quarters of 2010 is nearly 800, already exceeding the total for all of last year by more than 200.
Let's do the math.... Since IBM established its Migration Factory program in 2006, more than 4,500 clients have switched to IBM. More than 1,000 from Oracle/Sun and HP joined the exodus this year alone. In less than five years, almost 3,000 of these clients -- including more than 1,500 from Oracle/Sun and more than 1,000 from HP -- have chosen to run their businesses on IBM's Power Systems. That's more than a client per day making the move to IBM!
And as the servers go, so goes the storage. Clients are re-discovering IBM as a server and storage powerhouse, offering a strong portfolio in servers, disk and tape systems, and how synergies between servers and storage can provide them real business benefits.
Adding it all up, it's clear that IBM's multi-billion dollar investment in helping to build a smarter planet with workload-optimized systems is paying off -- and that, more and more, clients are selecting IBM over the competition to help them meet their business needs.
technorati tags: , IBM, Migration Factory, Oracle, Sun, HP, lawsuit, subpoena
This week I am in New York City to meet with clients, IBM Business Partners, Independent Software Vendors (ISV) and Industry Solution Resellers (ISR). I'll be at IBM's [Wall Street Center of Excellence]. IBM has over 120 client centers worldwide.
Last month, I mentioned that I was named [one of the faces of IBM Smarter Planet campaign]. This resulted in some interesting email, including a college student named Hamas from India who asks:
"How can I participate in IBM's Smarter Planet, specifically Smarter Cities?"
With a lot of college students graduating next month, I thought this would be a good question to answer.
Apply for a Job at IBM

The best way to participate in IBM Smarter Cities is to get a job within IBM, and then get assigned to one of the many IBM Smarter Cities projects. Visit IBM's [Employment Page] to learn why IBM is recognized as one of the top 50 most attractive employers in the world. Mention "Smarter Cities" on your Resume so it can be routed to the appropriate manager.

Join the Conversation

Another way to participate in Smarter Cities is to "join the conversation". Each of IBM's 25 different programs has folks that are focused on that area, with blogs, forums and case studies. Here is the conversations page for [Smarter Cities]. Watch the videos at []ibm.com/theSmarterCity]. Play IBM's [City One], IBM's Smarter Planet for game for Smarter Cities. Provide IBM feedback on any ideas you might have to help make cities smarter.

You can also join in one of the many upcoming [IBM Jam events]. Jams are not restricted to generating business ideas. Their methods, tools and technology can also be applied to social issues. In 2005, over three days, the Government of Canada, UN-HABITAT and IBM hosted Habitat Jam. Tens of thousands of participants - from urban specialists, to government leaders, to residents from cities around the world - discussed issues of urban sustainability. Their ideas shaped the agenda for the UN World Urban Forum, held in June 2006. People from 158 countries registered for the jam and shared their ideas for action to improve the environment, health, safety and quality of life in the world's burgeoning cities.

Buy Products and/or Services from IBM

IBM has the resources to help the planet in so many ways that NGOs and non-profit agencies only dream of. With IBM's advocacy for causes like global public education, universal healthcare, and improved infrastructures, people often forget that IBM is not itself a non-profit organization. IBM has learned early on that creating value for the world can also be good business. The more people buy from IBM, the more skills and resources IBM will have to solve the world's toughest challenges.
IBM ... Let's build a smarter planet!
technorati tags: IBM, Smarter Planet, Smarter Cities, CityOne
It's Tuesday, and you know what that means... IBM Announcements!
IBM System Storage ProtecTIER

Today, IBM refreshed its IBM System Storage ProtecTIER data deduplication family with new hardware and software. On the hardware side, The [TS7650G gateway] now has 32 cores and 64GB RAM. The [TS7650 Appliance] now has 24 cores and 64GB of RAM, and the [TS7610 Appliance Express] has 4 cores and up to 16GB of RAM.

On the software side, all of these now support Symantec's proprietary "OpenStorage" OST API. This applies across the board, from the [Enterprise Edition], [Appliance Edition], and the [Entry Edition]. For those using Symantec NetBackup as their backup software, the OST API can provide advantages over the standard VTL interface.

IBM Systems Director Storage Control

The second announcement has an interesting twist. I could file this in my "I Told You So" folder. Offiically, it's called the [Cassandra Complex], where you accurately predict how something will turn out, but being unable to convince anyone else of what the future holds.

About ten years ago, I was asked to be lead architect of a new product to be called IBM TotalStorage Productivity Center, which was later renamed to IBM Tivoli Storage Productivity Center. This would combine three projects:

Tivoli Storage Resource Manager (TSRM)
Tivoli SAN Manager (TSANM)
Multiple Device Manager (MDM)

The first two were based on Tivoli's internal GUI platform, and the MDM was a plug-in for IBM Systems Director. I argued that administrators would want everything on a single pane of glass, and that we should bring all the components under a common GUI platform, such as IBM Systems Director. Unfortunately, management did not agree with me on that, and preferred instead to leave each interface alone to minimize development effort. The only "unification" was to give them all similar sounding names, four components packaged as single product:

Productivity Center for Data (formerly TSRM)
Productivity Center for Fabric (formerly TSANM)
Productivity Center for Disk (formerly MDM)
Productivity Center for Replication (formerly MDM)

While this management decision certainly allowed version 1 to hit the market sooner, this was not a good "first impression" of the product for many of our clients.

In 2002, IBM acquired Trellisoft, Inc. which replaced the internally-developed TSRM with a much better interface, but again, this was different GUI than the other components. A "launcher" was created that would launch the various disparate interfaces for each component for Version 2. At this point, we have different development teams scattered in five locations, with the first two components being developed by the Tivoli software team, and the other two components being developed by the System Storage hardware team.

Often times, when a technical lead architect and management do not agree, things do not end well. The lead architect has to leave the product, and management is forced to take alternative actions to keep the product going. In my case, management considered the idea of a common GUI as an expensive "nice-to-have" luxury we could not afford, but I considered this a "must-have". I moved on to a new job within IBM, and management, unable to continue without my leadership, gave up and handed the entire project over to the Tivoli Software team.

The Tivoli Software team took a whiff at the pile of code and agreed that it stunk. Dusting off my original design documents, they pretty much discarded most of the code and re-wrote much from scratch, with a common database, common app server, and common GUI platform. Unfortunately, Productivity Center for Replication was held up waiting for some hardware prerequisites, but the other three components would be packaged together as "Productivity Center v3 - Standard Edition" and was a big improvement over the prior versions.

In Version 4, TotalStorage Productivity Center was renamed to Tivoli Storage Productivity Center, and the Replication component was brought into the mix. A scaled-down version packaged as Productivity Center "Basic Edition" was made available as a hardware appliance named "System Storage Productivity Center" or SSPC. The idea was to provide a pre-installed 1U-high hardware console that had the basic functions of Productivity Center, with the option to upgrade to the full Tivoli Storage Productivity Center with just license keys.

So, now, years later, management recognizes that a common GUI platform is more than just a "nice-to-have". IBM now support three very specific use cases:

1. Administration for a single product




For small clients who might have only a single IBM product, IBM is now focused on making the GUI browser-based, specifically to work with the Mozilla Firefox browser, but any similar browser should work as well. The new IBM Storwize V7000 GUI is a good example of this.In this case, the browser serves as the common GUI platform.


2. Administration for both servers and storage devices




For mid-sized companies that have administrators managing both servers and storage, IBM announced this month the new [IBM Systems Director Storage Control v4.2.1] plug-in, which provides Tivoli Storage Productivity Center "Basic Edition" support. This allows admins already familiar with IBM Systems Director for managing their servers to also manage basic storage functions. This is the "I Told You So" moment, connecting server and storage administration under the IBM Systems Director management platform makes a lot of sense, it did when I came up with the idea 10 years ago! Hmmmm?

3. Administration for just the storage environment




For larger companies big enough to have separate server and storage admin teams, IBM continues to offer the full Tivoli Storage Productivity Center product for the storage admins. The most recent release enhanced the support for IBM DS8000, SVC, Storwize V7000 and XIV storage systems.

Today, analysts consider IBM's [Tivoli Storage Productivity Center] one of the leading products in its category. I am glad my original vision has finally come to life, even though it took a while longer than I expected.
To learn more about IBM storage hardware, software or services, see the updated [IBM System Storage] landing page.
technorati tags: IBM, ProtecTIER, TS7650G, TS7650, TS7610, Symantec, NetBackup, OpenStorage, API, OST, TPC, TSRM, Trellisoft, TSANM, SSPC, Systems Director, Storage Control, GUI
To make true advances in any industry or field requires forward thinking—as well as industry insight and experience. It can't be done just by packaging a bag of piece parts and putting a new label on it. But forward thinkers are putting smarter, more powerful technology to uses that were once unimaginable -- either in scale or in progress.
I am pleased that IBM has honored me with recognition as a "forward thinker" on the corporate-wide [IBM Smarter Planet for Smarter IT systems and Infrastructure]. This is quite an honor, being one of the "faces" of IBM's Smarter Planet campaign. I am joined by my esteemed colleagues: [Brian Sanders], [Steve Will], [Willie Favero], and [Kathleen Holm].
| | |
| --- | --- |
| | The graphics developed for the IBM Smarter Planet vision are interesting. This one for Infrastructure includes images relating to public utilities, like gas, water and electricity, clouds representing cloud computing, green forests representing the need for energy efficiency and reducing carbon footprint to fight global warming, roads, representing the intricate transportation and traffic systems, highways and city streets that connect us all together, and a printed circuit board, representing the Information Technology that makes all of this possible. |
Ironically, I didn't even know I made the final cut until I got three, yes three, separate requests for interviews about it. I already reached the "million hits" milestone.  Other people track these things for me, so it will be interesting how much additional traffic my latest [15 minutes of fame] will generate.
| | |
| --- | --- |
| Infrastructure is just one of the 25 different areas that IBM's vision for a Smarter Planet is trying to address, including the need for smarter buildings, smarter cities, smarter transportation systems, smarter energy grids, smarter healthcare and public safety, and smarter governments. | |
To learn more, visit the [Smarter Planet overview] landing page. Together, we can build a smarter planet!
technorati tags: IBM, Brian Sanders, Steve Will, Willie Favero, Kathleen Holm, Smarter Planet, Infrastructure, forward thinker
In his blog post, [The Lure of Kit-Cars], fellow blogger Chuck Hollis (EMC) uses an excellent analogy delineating the differences between kit-cars you build from parts, versus fully-integrated systems that you can drive off the car dealership showroom lot. The analogy holds relatively well, as IT departments can also build their infrastructure from parts, or you can get fully-integrated systems from a variety of vendors.
| | |
| --- | --- |
| | Is this what your data center looks like? |
Certainly, this debate is not new. In my now infamous 2007 post [Supermarkets and Specialty Shops], I explained that there were clients that preferred to get their infrastructure from a single IT supermarket, like IBM or HP, while others were lured into thinking that buying separate parts from butchers, bakers and candlestick makers and other specialty shops was somehow a better idea.
Chuck correctly explains that in the early years of the automobile industry, before major car manufacturers had mass-production assembly lines, putting a car together from parts was the only way cars were made. Today, only the few most avid enthusiasts build cars this way. The majority get cars from a single seller and drive away. In my post [Resolving the Identity Crisis], I postulated that EMC appeared to be trying to shed itself of the "disk-only specialty shop" image and over to be more like IBM. Not quite a full IT Supermarket, but perhaps more like a [Trader Joe's] premium-priced retailer.
(If you find that EMC's focus on integrated systems appears to be a 180-degree about-face from their historical focus on selling individual best-of-breed products, see my previous discussion of Chuck's contradictions in my blog post: [Is Storage the Next Confusopoly].)
While companies like EMC might be making this transition, there is a lot of resistance and inertia from the customer marketplace. I agree with Chuck, companies should not be building kit-cars or IT infrastructures from parts, certainly not from parts sold from different vendors. In my post [Talking about Solutions not Products], I explained how difficult it was to change behavior. CIOs, IT directors and managers need to think differently about their infrastructure. Let's take a quick look at some choices:
Oracle

Following Chuck's argument, it makes no sense to build a "kit-car" combining Oracle/Sun servers with EMC storage. Oracle would argue it makes more sense to run on integrated systems, business logic on their "Exalogic" system, and database processing on their "Exadata". Benchmark after benchmark, however, IBM is able to demonstrate that Oracle applications and databases run faster on IBM systems. Customers that want to run Oracle applications can run either on a full Oracle stack, or a full IBM stack, and both do better than a kit-car including EMC parts.

Hewlett-Packard (HP)

HP has been working hard to keep up with IBM in this area. With their their partnership with Microsoft, and acquisitions of EDS, 3Com and 3PAR, they can certainly make a case for getting a full HP stack rather than a kit-car mixing HP servers with EMC disk storage. The problem is that HP is focused on a converged infrastructure for private cloud computing, but Microsoft is focused on Azure and public cloud computing. It will be interesting when these two big companies sort this out. Definitely watch this space.

Dell

If you squint your eyes and focus on the part of the world that only has x86 machines, then Dell can be seen as an IT supermarket. In my post about [Entry-Level iSCSI Offerings], I discuss how Dell's acquisition of EqualLogic was a signal that it was trying to get away from selling EMC specialty shop products, and building up its own set of offerings internally.

Cisco

Cisco is new on the server scene, but has already made quite a splash. Here, I have to agree with Chuck's logic: the only time it makes sense to buy EMC disk storage at all is when it is part of an integrated "V-block". This is not really an IT supermarket situation, instead you park your car at the "Acadia Mini-Mall" and get what you need from Trader Joe's, Cisco UCS, and VMware stores.

But wait, if what you want is running VMware on Cisco servers, you might be better off with IBM System Storage N series or NetApp storage. In his blog post about [Enhanced Secure Multi-Tenancy], fellow Blogger Val Bercovici (NetApp) provides a convincing argument of why Cisco and VMware run better on an "N-block" rather than a "V-block". IBM N series provides A-SIS deduplication, and IBM Real-time Compression can provide additional capacity and performance improvements.  That might be true, but whether you get your storage from EMC, NetApp or IBM, to me, you are still working with three different vendors in any case.

IBM

| | |
| --- | --- |
| Of course, following Chuck's logic, it makes more sense for people with IBM servers, whether they be mainframes, POWER systems or x86 machines, to integrate these with IBM storage, IBM software and IBM services. IBM is the leading reseller of VMware, but also has a lot of business with Microsoft Hyper-V, Citrix Xen, Linux KVM, PowerVM, PR/SM and z/VM. While IBM has market leading servers, disk and tape systems, to compete for those RFP bids that just ask for one component or another, it prefers to sell fully-integrated systems, which IBM has been doing successfully since the 1950s. | |

Back in 2007, I mentioned how IBM's fully-integrated InfoSphere Balanced Warehouse [Trounced HP and Sun]. For business analytics, IBM offers the fully-integrated [IBM Smart Analytics Systems]. Today, IBM expanded its line of fully-integrated private cloud service delivery platforms with the announcement of the [IBM CloudBurst for on Power Systems], which does for POWER7 what the IBM CloudBurst for System x, Oracle Exalogic, or Acadia's V-block, do for x86. IBM estimates that private clouds built on Power systems can be up to 70 percent less expensive than stand alone x86 servers.
Before he earned his PhD in Mechanical Engineering, my father was a car mechanic. I spent much of my teenage years covered in grease, helping my father assembling cars, lifting engines, and rebuilding carburetors. Certainly this was good father-son time, and I certainly did learn something in the process. Like the automobile industry, the IT industry has matured, and it makes no financial sense to build your own IT infrastructure from parts from different vendors.
For a test drive of the industry's leading integrated IT systems, see your IBM sales rep or IBM Business Partner.
technorati tags: IBM, kit-cars, supermarkets, specialty-shops, EMC, Chuck Hollis, Oracle, HP, Sun, Dell, NetApp, InfoSphere Balanced Warehouse, Smart Analytics, CloudBurst, VMware, Cisco, Acadia
IBM had its big launch yesterday of the [IBM Storwize V7000 midrange disk system], and already some have discussed IBM's choice of the name. Fellow blogger Stephen Foskett has an excellent post titled [IBM's Storwize V7000: 100% SVC; 0% Storwize]. On The Register, Chris Mellor writes [IBM's Midrange Storage Blast - Storwize. But Without Compression]. In his latest [Friday Rant], fellow blogger Chuck Hollis (EMC) feels "the new name is cool, if a bit misleading."
In the spirit of the [HP Product Line Decoder Ring] and [Microsoft Codename Tracker], here is your quick IBM product name decoder ring:
In English
Protocols
Which company
designed it
What IBM decided
to call it
Intelligent block-level disk array that virtualizes both internal and external disk storage
8 Gbps FCP and 1GbE iSCSI
IBM
IBM Storwize V7000 disk system
Real-time compression appliance for files
10GbE/1GbE CIFS and NFS
Storwize, now an IBM company
IBM Real-time Compression STN-6800 appliance
1GbE CIFS and NFS
IBM Real-time Compression STN-6500 appliance
If you think this is the first time a company like IBM has pulled shenanigans with product names like this, think again. Here are a few posts that might refresh your memory:
In my September 2006 post, [A brand by any other name...] I explain that I started blogging specifically to promote the new "IBM System Storage" product line name, part of the "IBM Systems" brand resulting from merging the "eServer" and "TotalStorage' brands.
In my January 2007 post, [When Names Change], I explain our naming convention for our disk products, including our DS family, SAN Volume Controller and N series.
In my February 2008 post, [Getting Off the Island], I cover how the x/p/i/z designations came about for our various IBM server product lines.
But what about acquisitions? When [IBM acquired Lotus Development Corporation], it kept the "Lotus" brand. New products that fit the "collaboration" function were put under the Lotus brand. I think most people can accept this approach.
But have we ever seen an existing product renamed to an acquired name?
In my post January 2009 post [Congratulations to Ken on your QCC Milestone], I mentioned that my colleague Ken Hannigan worked on an internal project initially called "Workstation Data Save Facility" (WDSF) which was changed to "Data Facility Distributed Storage Manager" (DFDSM), then renamed to "ADSTAR Distributed Storage Manager" (ADSM), and finally renamed to the name it has today: IBM Tivoli Storage Manager (TSM).
Readers reminded me that [IBM acquired Tivoli Systems, Inc.] in 1996, so TSM could not have been an internally developed product. Ha! Wrong! Let's take a quick history lesson on how this came about:
In the late 1980s, IBM Almaden research had developed a project to backup personal computers and workstations, which they called "Workstation Data Save Facility" or WDSF.
This was turned over to our development team, which immediately discarded the code, and wrote from scratch its replacmeent, called Data Facility Distributed Storage Manager (DFDSM), named similar to the Data Facility products on the mainframe (DFP, DFHSM, DFDSS). As a member of the Data Facility family, DFDSM didn't really fit. The rest processed mainframe data sets, but DFDSM processed Windows and UNIX files. That a version of DFDSM server was available to run on the mainframe was the only connection.
Then, in the early 1990s, there were discussions of possibly splitting IBM into a bunch of smaller "Baby Blues", similar to how [AT&T was split into "Baby Bells"], and how Forbes and Goldman Sachs now want to split Microsoft into [Baby Bills]. IBM considered naming the storage spin-off as ADSTAR, which stood for "Advanced Storage and Retrieval." Pre-emptively, IBM renamed DFDSM to "ADSTAR Distributed Storage Manager" or ADSM.
Fortunately, in 1993, IBM brought a new sheriff to town, Lou Gerstner, who quickly squashed any plans to split up IBM. He quickly realized that IBM's core strength was building integrated stacks, combining systems, software and services to solve business problems.
In 1996, IBM acquired Tivoli Systems, Inc. to expand its "Systems Management" portfolio, and renamed ADSM over to IBM Tivoli Storage Manager, since "storage management" is an essential part of "systems management". Later, IBM TotalStorage Productivity Center would be renamed to "IBM Tivoli Storage Productivity Center."
I participated in five months of painful meetings to figure out what to name our new internally-developed midrange disk system. Since it ran SAN Volume Controller software, I pushed for keeping the SVC designation somehow. We considered DS naming convention, but the new midrange product would not fit between our existing DS5000 and DS6000 numbering scheme. A marketing agency we hired came up with nonsensical names, in the spirit of product names like Celerra, Centera and CLARiiON, using name generators like [Wordoid]. Luckily, in the nick of time, IBM acquired Storwize for its compression technology, and decided that Storwize as a name was way better fit than any of the names we came up with already.
However, the new IBM Storwize V7000 midrange product had nothing in common with the appliances acquired from Storwize, the company, so to avoid confusion, the latter products were renamed to [IBM Real-time Compression]. Fellow blogger Steven Kenniston, the Storage Alchemist from Storwize fame now part of IBM from the acquisition, gives his perspective on this in his post [Storwize – What is in a Name, Really?]. While I am often critical of the names and terms IBM uses, I have to say this last set of naming decisions makes a lot of sense to me and I support it wholeheartedly.
To learn more about the IBM Storwize V7000 midrange disk system, watch the latest videos on the IBM Virtual Briefing Center (VBC). We have a [short summary version for CFO executives] as well as a [longer version for IT technical professionals].
technorati tags: IBM, Storwize, Storwize V7000, Stephen Foskett, decoder+ring, real-time+compression, microsoft, codename, Lou Gerstner, ADSM, TSM, SVC
Well, it's Thursday, and today IBM is having a major launch for storage. We have lots of exciting announcements today, so here is the major highlights:
IBM Storwize V7000 midrange disk system

Fellow blogger Rolf Potts just completed his [No Baggage Challenge], travelling around the world, twelve countries in six weeks with no luggage. I first learned of this trip from fellow published author and blogger Tim Ferriss in his post [How to Travel 12 Countries with No Baggage Whatsoever]. This trip was sponsored by a travel agency [BootsnAll.com] and travel clothing manufacturer [ScotteVest].

From New York, Rolf went to London, Paris, Madrid, Morocco, Cairo, South Africa, Bangkok Thailand, Malaysia, Singapore, New Zealand, Australia, and then back to United States. I was hoping to run into him while I was in Australia and New Zealand last month, but our schedules did not line up.

  Travelingwithout baggage is more than just a convenience, it is a metaphor for the philosophy that we should keep only what we need, and leave behind what we don't. This was the approach taken by IBM in the design of the IBM Storwize V7000 midrange disk system.

| | |
| --- | --- |
| | The IBM Storwize V7000 disk system consists of 2U enclosures. Controller enclosures have dual-controllers and drives. Expansion enclosures have just drives. Enclosures can have either 24 smaller form factor (SFF) 2.5-inch drives, or twelve larger 3.5-inch drives. A controller enclosure can be connected up to nine expansion enclosures. |

The drives are all connected via 6 Gbps SAS, and come in a variety of speeds and sizes: 300GB Solid-State Drive (SSD); 300GB/450GB/600GB high-speed 10K RPM; and 2TB low-speed 7200 RPM drives. The 12-bay enclosures can be intermixed with 24-bay enclosures on the same system, and within an enclosure different speeds and sizes can be intermixed. A half-rack system (20U) could hold as much as 480TB of raw disk capacity.

This new system, freshly designed entirely within IBM, competes directly against systems that carry a lot of baggage, including the HDS AMS, HP EVA, an EMC CLARiiON CX4 systems. Instead, we decided to keep the what we wanted from our other successful IBM products.

Inspired by our successful XIV storage system, IBM has developed a web-based GUI that focuses on ease-of-use. This GUI uses the latest HTML5 and dojo widgets to provide an incredible user experience.
Borrowed from our IBM DS8000 high-end disk systems, state-of-the-art device adapters provide 6 Gbps SAS connectivity with a variety of RAID levels: 0, 1, 5, 6, and 10.
From our SAN Volume Controller, the embedded [ SVC 6.1 firmware] provides all of the features and functions normally associated with enterprise-class systems, including Easy Tier sub-LUN automated tiering between Solid-State Drives and Spinning disk, thin provisioning, external disk virtualization, point-in-time FlashCopy, disk mirroring, built-in migration capability, and long-distance synchronous and asynchronous replication.

To learn more on this, read the [announcement letter], [landing page], [product page], [services page], as well as the blog posts from fellow master inventor and blogger Barry Whyte (IBM) at his [Storage Virtualization] blog.

My New Book is Now Available!

Finally, the various "internal NDA" that kept me from publishing this sooner have expired, so now I have the long-awaited [Inside System Storage: Volume II], documenting IBM's transformation in its storage strategy, including behind-the-scenes commentary about IBM's acquisitions of XIV and Diligent. Available initially in paperback form. I am still working on the hard cover and eBook editions.

For those who have not yet read my first book, Inside System Storage: Volume I, it is still available from my publisher Lulu, in [hard cover], [paperback] and [eBook] editions.

IBM System Storage DS8800

A lesson IBM learned long ago was not to make radical changes to high-end disk systems, as clients who run mission-critical applications are more concerned about reliability, availability and serviceability than they are performance or functionality. Shipping any product before it was ready meant painfully having to fix the problems in the field instead.

(EMC apparently is learning this same lesson now with their VMAX disk system. Their Engenuity code from Symmetrix DMX4 was ported over to new CLARiiON-based hardware. With several hundred boxes in the field, they have already racked up over 150 severity 1 problems, roughly half of these resulted in data loss or unavailability issues. For the sake of our mutual clients that have both IBM servers and EMC disk, I hope they get their act together soon.)

To avoid this, IBM made incremental changes to the successful design and architecture of its predecessors. The new DS8800 shares 85 percent of the stable microcode from the DS8700 system. Functions like Metro Mirror, Global Mirror, and Metro/Global Mirror, are compatible with all of the previous models of the DS8000 series, as well as previous models of the IBM Enterprise Storage Server (ESS) line.

| | |
| --- | --- |
| | The previous models of DS8000 series were designed to take in cold air from both front and back, and route the hot air out the top, known as chimney design. However, many companies are re-arranging their data centers into separate cold aisles and hot aisles. The new DS8800 has front-to-back cooling to help accommodate this design. |

My colleague Curtis Neal would call the rest of this a "BFD" announcement, which of course stands for "Bigger, Faster and Denser". The new DS8800 scales-up to more drives than its DS8700 predecessor, and can scale-out from a single-frame 2-way system to a multi-frame 4-way system. IBM has upgraded to faster 5GHz POWER6+ processors, with dual-core 8 Gbps FC and FICON host adapters, 8 Gbps device adapters, and 6 Gbps SAS connectivity to smaller form factor (SFF) 2.5-inch SAS drives. IBM Easy Tier will provide sub-LUN automated tiering between Solid-State Drives and spinning disk. The denser packaging with SFF drives means that we can pack over 1000 drives in only three frames, compared to five frames required for the DS8700.

To learn more, read the [landing page] or the announcement letters for the machine types [2421], [2422], [2423], [2424].

IBM System Storage SAN Volume Controller v6.1

The [IBM System Storage SAN Volume Controller] software release v6.1 brings Easy Tier sub-LUN automated tiering to the rest of the world. IBM Easy Tier moves the hottest, most active extents up to Solid-State Drives (SSD) and moves the coldest, least active down to spinning disk. This works whether the SSD is inside the SVC 2145-CF8 nodes, or in the managed disk pool.

Tired of waiting for EMC to finally deliver FAST v2 for your VMAX? It has been 18 months since they first announced that someday they would have sub-LUN automatic tiering. What is taking them so long? Why not virtualize your VMAX with SVC, and you can have it sooner!

SVC 6.1 also upgrades to a sexy new web-based GUI, which like the one for the IBM Storwize V7000, is based on the latest HTML5 and dojo widget standards. Inspired by the popular GUI from the IBM XIV Storage System, this GUI has greatly improved ease-of-use.

To learn more, read the [announcement letter] and [SVC product page].
These are just a subset of today's announcements. To see the rest, read [What's New].
technorati tags: IBM, announcements, #IBMstorage, Storwize V7000, DS8800, Lulu, SVC, Easy Tier, SAS
A client asked me to explain "Nearline storage" to them. This was easy, I thought, as I started my IBM career on DFHSM, now known as DFSMShsm for z/OS, which was created in 1977 to support the IBM 3850 Mass Storage System (MSS), a virtual storage system that blended disk drives and tape cartridges with robotic automation. Here is a quick recap:
Online storage is immediately available for I/O. This includes DRAM memory, solid-state drives (SSD), and always-on spinning disk, regardless of rotational speed.
Nearline storage is not immediately available, but can be made online quickly without human intervention. This includes optical jukeboxes, automated tape libraries, as well as spin-down massive array of idle disk (MAID) technologies.
Offline storage is not immediately available, and requires some human intervention to bring online. This can include USB memory sticks, CD/DVD optical media, shelf-resident tape cartridges, or other removable media.
These terms and their definitions have been used for decades, and are consistent with or at least similar to definitions I found on [Wikipedia], [Webopedia], [WiseGEEK], and [SearchStorage].
Sadly, it appears a few storage manufacturers and vendors have been misusing the term "Nearline" to refer to "slower online" spinning disk drives. I find this [June 2005 technology paper from Seagate], and this [2002 NetApp Press Release], the latter of which included this contradiction for their "NearStore" disk array. Here is the excerpt:
"Providing online access to reference information—NetApp nearline storage solutions quickly retrieve and replicate reference and archive information maintained on cost-effective storage—medical images, financial models, energy exploration charts and graphs, and other data-intensive records can be stored economically and accessed in multiple locations more quickly than ever"
Which is it, "online access" or "nearline storage"?
If a client asked why slower drives consume less energy or generate less heat, I could explain that, but if they ask why slower drives must have SATA connections, that is a different discussion. The speed of a drive and its connection technology are for the most part independent. A 10K RPM drive can be made with FC, SAS or SATA connection.
I am opposed to using "Nearlne" just to distinguish between four-digit speeds (such as 5400 or 7200 RPM) versus "online" for five-digit speeds (10,000 and 15,000 RPM). The difference in performance between 10K RPM and 7200 RPM spinning disks is miniscule compared to the differences between solid-state drives and any spinning disk, or the difference between spinning disk and tape.
I am also opposed to using the term "Nearline" for online storage systems just because they are targeted for the typical use cases like backup, archive or other reference information that were previously directed to nearline devices like automated tape libraries.
Can we all just agree to refer to drives as "fast" or "slow", or give them RPM rotational speed designations, rather than try to incorrectly imply that FC and SAS drives are always fast, and SATA drives are always slow? Certainly we don't need new terms like "NL-SAS" just to represent a slower SAS connected drive.
technorati tags: IBM, online, nearline, offline, FC, SATA, SAS, NL-SAS, MAID, SSD, DVD, optical, NetApp, Seagate,
Fellow master inventor and blogger Barry Whyte (IBM) recounts the past 20 years of history in IT storage from his perspective in a series of blog posts. They are certainly worth a read:
In his last post in this series, he mentions that the amazingly successful IBM SAN Volume Controller was part of a set of projects:
"IBM was looking for "new horizon" projects to fund at the time, and three such projects were proposed and created the "Storage Software Group". Those three projects became know externally as TPC, (TotalStorage Productivity Center), SanFS (SAN File System - oh how this was just 5 years too early) and SVC (SAN Volume Controller). The fact that two out of the three of them still exist today is actually pretty good. All of these products came out of research, and its a sad state of affairs when research teams are measured against the percentage of the projects they work on, versus those that turn into revenue generating streams."
But this raises the question: Was SAN File System just five years too early?
IBM classifies products into three "horizons"; Horizon-1 for well-established mature products, Horizon-2 was for recently launched products, and Horizon-3 was for emerging business opportunities (EBO). Since I had some involvement with these other projects, I thought I would help fill out some of this history from my perspective.
Back in 2000, IBM executive [Linda Sanford] was in charge of IBM storage business and presented that IBM Research was working on the concept of "Storage Tank" which would hold Petabytes of data accessible to mainframes and distributed servers.
In 2001, I was the lead architect of DFSMS for the IBM z/OS operating system for mainframes, and was asked to be lead architect for the new "Horizon 3" project to be called IBM TotalStorage Productivity Center (TPC), which has since been renamed to IBM Tivoli Storage Productivity Center.
In 2002, I was asked to lead a team to port the "SANfs client" for SAN File System from Linux-x86 over to Linux on System z. How easy or difficult to port any code depends on how well it was written with the intent to be ported, and porting the "proof-of-concept" level code proved a bit too challenging for my team of relative new-hires. Once code written by research scientists is sufficiently complete to demonstrate proof of concept, it should be entirely discarded and written from scratch by professional software engineers that follow proper development and documentation procedures. We reminded management of this, and they decided not to make the necessary investment to add Linux on System z as a supported operating system for SAN file system.
In 2003, IBM launched Productivity Center, SAN File System and SAN Volume Controller. These would be lumped together with Horizon-1 product IBM Tivoli Storage Manager and the four products were promoted together as the inappropriately-named [TotalStorage Open Software Family]. We actually had long meetings debating whether SAN Volume Controller was hardware or software. While it is true that most of the features and functions of SAN Volume Controller is driven by its software, it was never packaged as a software-only offering.
The SAN File System was the productized version of the "Storage Tank" research project. While the SAN Volume Controller used industry standard Fibre Channel Protocol (FCP) to allow support of a variety of operating system clients, the SAN File System required an installed "client" that was only available initially on AIX and Linux-x86. In keeping with the "open" concept, an "open source reference client" was made available so that the folks at Hewlett-Packard, Sun Microsystems and Microsoft could port this over to their respective HP-UX, Solaris and Windows operating systems. Not surprisingly, none were willing to voluntarily add yet another file system to their testing efforts.
Barry argues that SANfs was five years ahead of its time. SAN File System tried to bring policy-based management for information, which has been part of DFSMS for z/OS since the 1980s, over to distributed operating systems. The problem is that mainframe people who understand and appreciate the benefits of policy-based management already had it, and non-mainframe couldn't understand the benefits of something they have managed to survive without.
(Every time I see VMware presented as a new or clever idea, I have to remind people that this x86-based hypervisor basically implements the mainframe concept of server virtualization introduced by IBM in the 1970s. IBM is the leading reseller of VMware, and supports other server virtualization solutions including Linux KVM, Xen, Hyper-V and PowerVM.)
To address the various concerns about SAN File System, the proof-of-concept code from IBM Research was withdrawn from marketing, and new fresh code implementing these concepts were integrated into IBM's existing General Parallel File System (GPFS). This software would then be packaged with a server hardware cluster, exporting global file spaces with broad operating system reach. Initially offered as IBM Scale-out File Services (SoFS) service offering, this was later re-packaged as an appliance, the IBM Scale-Out Network Attached Storage (SONAS) product, and as IBM Smart Business Storage Cloud (SBSC) cloud storage offering. These now offer clustered NAS storage using the industry standard NFS and CIFS clients that nearly all operating systems already have.
Today, these former Horizon-1 products are now Horizon-2 and Horizon-3. They have evolved. Tivoli Storage Productivity Center, GPFS and SAN Volume Controller are all market leaders in their respective areas. 

technorati tags: IBM, Barry Whyte, TPC, SANfs, SVC, EBO, Storage Tank, SoFS, SONAS, SBSC, cloud storage, NAS, storage, NFS, CIFS, HTTP
This week, Hitachi Ltd. announced their next generation disk storage virtualization array, the Virtual Storage Platform, following on the success of its USP V line. It didn't take long for fellow blogger Chuck Hollis (EMC) to comment on this in his blog post [Hitachi's New VSP: Separating The Wheat From The Chaff]. Here are some excerpts:
"Well, we all knew that Hitachi (through HDS and HP) would be announcing some sort of refresh to their high-end storage platform sooner or later.

As EMC is Hitachi's only viable competitor in this part of the market, I think people are expecting me to say something.

If you're a high-end storage kind of person, your universe is basically a binary star: EMC and Hitachi orbiting each other, with the interesting occasional sideshow from other vendors trying to claim relevance in this space."
Chuck implies that neither Hewlett-Packard (HP) nor Hitachi Data Systems (HDS) as vendors provide any value-add from the box manufactured by Hitachi Ltd. so combines them into a single category. I suspect the HP and HDS folks might disagree with that opinion.
When I reminded Chuck that IBM was also a major player in the high-end disk space, his response included the following gem:
"Many of us in the storage industry believe that IBM currently does not field a competitive high-end storage platform. IDC market share numbers bear out this assertion, as you probably know."
While Chuck is certainly entitled to his own beliefs and opinions, believing the world is flat does not make it so. Certainly, I doubt IDC or any other market research firm has put out a survey asking "Do you think IBM offers a competitive high-end disk storage platform?" Of course, if Chuck is basing his opinion on anecdotal conversations with existing EMC customers, I can certainly see how he might have formed this misperception. However, IDC market share numbers don't support Chuck's assertion at all.
There is no industry-standard definition of what is a "high-end" or "enterprise-class" disk system. Some define high-end as having the option for mainframe attachment via ESCON and/or FICON protocol. Others might focus on features, functionality, scalability and high 99.999+ percent availability. Others insist high-end requires block-oriented protocols like FC and iSCSI, rather than file-based protocols like NAS and CIFS.
For the most demanding mission-critical mix of random and sequential workloads, IBM offers the [IBM System Storage DS8000 series] high-end disk system which connects to mainframes and distributed servers, via FCP and FICON attachment, and supports a variety of drive types and RAID levels. The features that HP and HDS are touting today for the VSP are already available on the IBM DS8000, including sub-LUN automatic tiering between Solid-State drives and spinning disk, called [Easy Tier], thin provisioning, wide striping, point-in-time copies, and long distance synchronous and asynchronous replication.
There are lots of analysts that track market share for the IT storage industry, but since Chuck mentions [IDC] specifically, I reviewed the most recent IDC data, published a few weeks ago in their "IDC Worldwide Quarter Disk Storage Tracker" for 2Q 2010, representing April 1 to June 30, 2010 sales. Just in case any of the rankings have changed over time, I also looked at the previous four quarters: 2Q 2009, 3Q 2009, 4Q 2009 and 1Q 2010.
(Note: IDC considers its analysis proprietary, out of respect for their business model I will not publish any of the actual facts and figures they have collected. If you would like to get any of the IDC data to form your own opinion, contact them directly.)
In the case of IDC, they divide the disk systems into three storage classes: entry-level, midrange and high-end. Their definition of "high-end" is external RAID-protected disk storage that sells for $250,000 USD or more, representing roughly 25 to 30 percent of the external disk storage market overall. Here are IDC's rankings of the four major players for high-end disk systems:
EMC
IBM
HDS
HP
By either measure of market share, units (disk systems) or revenue (US dollars), IDC reports that IBM high-end disk outsold both HDS and HP combined. This has been true for the past five quarters. If a smaller start-up vendor has single digit percent market share, I could accept it being counted as part of Chuck's "occasional sideshow from other vendors trying to claim relevance", but IBM high-end disk has consistently had 20 to 30 percent market share over the past five quarters!
Not all of these high-end disk systems are connected to mainframes. According to IDC data, only about 15 to 25 percent of these boxes are counted under their "Mainframe" topology.
Chuck further writes:
"It's reasonable to expect IBM to sell a respectable amount of storage with their mainframes using a protocol of their own design -- although IBM's two competitors in this rather proprietary space (notably EMC and Hitachi) sell more together than does IBM."
The IDC data doesn't support that claim either, Chuck. By either measure of market share, units (disk systems) or revenue (US dollars), IDC reports that IBM disk for mainframes outsold all other vendors (including EMC, HDS, and HP) combined. And again, this has been true for the past five quarters. Here is the IDC ranking for mainframe disk storage:
IBM
EMC
HDS
HP
IBM has over 50 percent market share in this case, primarily because IBM System Storage DS8000 is the industry leader in mainframe-related features and functions, and offers synergy with the rest of the z/Architecture stack.
So Chuck, I am not picking a fight with you or asking you to retract or correct your blog post. Your main theme, that the new VSP presents serious competition to EMC's VMAX high-end disk arrays, is certainly something I can agree with. Congratulations to HDS and HP for putting forth what looks like a viable alternative to EMC's VMAX.
| | |
| --- | --- |
| | To learn more about IBM's upcoming products, register for next week's webcast "Taming the Information Explosion with IBM Storage" featuring Dan Galvan, IBM Vice President, and Steve Duplessie, Senior Analyst and Founder of Enterprise Storage Group (ESG). |
technorati tags: IBM, DS8000, EMC, Chuck Hollis, Hitachi, HDS, Virtual Storage Platform, VSP, USP-V, HP, P9500, Easy Tier, high-end, enterprise-class, IDC, marketshare
Last week, in
Computer Technology Review's
article [
Tiering: Scale Up? Scale Out? Do Both
], Mark Ferelli interviews fellow blogger Hu Yoshida, CTO of Hitachi Data Systems (HDS). Here's an excerpt:
"MF/CTR: A global cache should be required to implement that common pool that you're talking about going across all tiers.

Hu/HDS: Right. So that is needed to get to all the resources. Now with our system, we can also attach external storage behind it for capacity so that as the storage ages out or becomes less active we can move it to the external storage. They would certainly have less performance capability, but you don't need it for the stale data that we're aging down. Right now we're the only vendor that can provide this type of tiering.

If you look at other people who do virtualization like IBM's SVC, the SVC has no storage within it because it's sitting so if you attach any storage behind it, there is some performance degradation because you have this appliance sitting in front. That appliance is also very limited in cache and very limited in the number of storage boards on it. It cannot really provide you additional performance than what is attached behind it. And in fact, it will always degrade what is attached behind it because it's not storage, where as our USP is storage and it has a global cache and it has thousands of port connections, load balancing and all that. So our front end can enhance existing storage that sits behind it."
This is not the first time I have had to correct Hu and others of misperceptions of IBM's SAN Volume Controller (SVC). This month marks my four year "blogoversary", and I seem to spend a large portion of my blogging time setting the record straight. Here are just a few of my favorite posts setting the record straight on SVC back in 2007:
Since day 1, SAN Volume Controllers has focused primarily on external storage. Initially, the early models had just battery-protected DRAM cache memory, but the most recent model of the SVC, the 2145-CF8, adds support for internal SLC NAND flash solid state drives. To fully appreciate how SVC can help improve the performance of the disks that are managed, I need to use some visual aids.
In this first chart, we look at a 70/30/50 workload. This indicates that 70 percent of the IOPS are reads, 30 percent writes, and 50 percent can be satisfied as cache hits directly from the SVC. For the reads, this means that 50 percent are read-hits satisfied from SVC DRAM cache, and 50 percent are read-miss that have to get the data from the managed disk, either from the managed disk's own cache, or from the actual spinning drives inside that managed disk array.

For writes, all writes are cache-hits, but some of them will be destaged to the managed disk. Typically, we find that a third of writes are over-written before this happens, so only two-thirds are written down to managed disk.
In this example, the SVC reduced the burden of the managed disk from 100,000 IOPS down to 55,000, which is 35,000 reads and 20,000 writes. Some have argued against putting one level of cache (SVC) in front of another level of cache (managed disk arrays). However, CPU processor designers have long recognized the value of hierarchical cache with L1, L2, L3 and sometimes even L4 caches. The cache-hits on SVC are faster than most disk system's cache-hits.
This is a Ponder curve, mapping millisecond response (MSR) times for different levels of I/O per second, named after the IBM scientist John Ponder that created them. Most disk array vendors will publish similar curves for each of their products. In this case, we see that 100,000 IOPS would cause a 25 millisecond response (MSR) time, but when the load is reduced to 55,000 IOPS, the average response time drops to only 7 msec.

To be fair, the SVC does introduce 0.06 msec of additional latency on read-misses, so let's call this 7.06 msec. This tiny amount of latency could be what Hu Yoshida was referring to when he said there was "some performance degradation". There are other storage virtualization products in the market that do not provide caching to boost performance, but rather just map incoming requests to outgoing requests, and these can indeed slow down every I/O they process. Perhaps Hu was thinking of those instead of IBM's SVC when he made his comments.
Of course, not all workloads are 70/30/50, and not every disk array is driven to its maximum capability, so your mileage may vary. As we slide down the left of the curve where things are flatter, the improvement in performance lowers.
| | | | | |
| --- | --- | --- | --- | --- |
| IOPS before SVC | IOPS after SVC | MSR before SVC | MSR after SVC | Percentage Improvement |
| 100,000 IOPS | 55,000 | 25 msec | 7.06 msec | 72% |
| 80,000 IOPS | 44,000 | 12 msec | 6.06 msec | 50% |
| 60,000 IOPS | 33,000 | 7 msec | 4.86 msec | 31% |
| 40,000 IOPS | 22,000 | 5.4 msec | 4.16 msec | 23% |
| 20,000 IOPS | 11,000 | 4 msec | 3.86 msec | 4% |
Hitachi's offerings, including the HDS USP-V, USP-VM and their recently announced Virtual Storage Platform (VSP) sold also by HP under the name P9500, have similar architecture to the SVC and can offer similar benefits, but oddly the Hitachi engineers have decided to treat externally attached storage as second-class citizens instead. Hu mentions data that "ages out or becomes less active we can move it to the external storage."  IBM has chosen not to impose this "caste" system onto its design of the SAN Volume Controller.
The SVC has been around since 2003, before the USP-V came to market, and has sold over 20,000 SVC nodes over the past seven years. The SVC can indeed improve performance of managed disk systems, in some cases by a substantial amount.  The 0.06 msec latency on read-miss requests represents less than 1 percent of total performance in production workloads.  SVC nearly always improves performance, and in the worst case, provides same performance but with added functionality and flexibility. For the most part, the performance boost comes as a delightful surprise to most people who start using the SVC.
| | |
| --- | --- |
| | To learn more about IBM's upcoming products and how IBM will lead in storage this decade, register for next week's webcast "Taming the Information Explosion with IBM Storage" featuring Dan Galvan, IBM Vice President, and Steve Duplessie, Senior Analyst and Founder of Enterprise Storage Group (ESG). |
technorati tags: IBM, SVC, HDS, USP, USP-V, USP-VM, VSP, CTO, Hu Yoshida, Ponder
In my presentations in Australia and New Zealand, I mentioned that people were re-discovering the benefits of removable media. While floppy diskettes were convenient way of passing information from one person to another, they unfortunately did not have enough capacity. In today's world, you may need Gigabytes or Terabytes of re-writeable storage with a file system interface that can easily be passed from one person to another. In this post, I explore three options.
Cirago CDD2000 Docking Station

The good folks over at [Cirago International Ltd.] sent me a cute little [CDD2000 docking station] for evalution.

(FCC Disclaimer: I work for IBM, and IBM has no business relationship with Cirago at the time of this writing. Cirago has not paid me to mention their product, but instead provided me a free loaner that I promised to return to them after my evaluation is completed. This post should not be considered an endorsement for Cirago's products. List prices for Cirago and IBM products were determined from publicly available sources for the United States, and may vary in different countries. The views expressed herein may not necessarily reflect the views and opinions of either IBM or Cirago.)

| | |
| --- | --- |
| | I took a few photos so you can see what exactly this device looks like. Basically, it is a plastic box that holds a single naked disk drive. It has four little rubber feet so that it does not slip on your desk surface. |

| | |
| --- | --- |
| The inside is quite simple. The power and SATA connections match those of either a standard 3.5 inch drive, or the smaller form factor (SFF) 2.5 inch drive. However, to my dismay, it does not handle EIDE drives which I have a ton of. After taking apart six different computer systems, I found only one had SATA drives for me to try this unit out with. | |

| | |
| --- | --- |
| | The unit comes with a USB cable and AC/DC power adapter. In my case, I found the USB 3.0 cable too short for my liking. My tower systems are under my desk, but I like keeping docking stations like this on the top of the desk, within easy reach, but that wasn't going to happen because the USB cable was not long enough. |

| | |
| --- | --- |
| Instead, I ended up putting it half-way in between, behind my desk, sitting on another spare system. Not ideal, but in theory there are USB-extension cables that probably could fix this. Here it is with the drive inside. I had a 3.5 inch Western Digital [1600AAJS drive] 160 GB, SATA 3 Gbps, 8 MB Cache, 7200 RPM. | |

To compare the performance, I used a dual-core AMD [Athlon X2] system that I had built for my 2008 [One Laptop Per Child] project. To compare the performance, I ran with the drive externally in the Cirago docking station, then ran the same tests with the same drive internally on the native SATA controller. Although the Cirago documentation indicated that Windows was required, I used Ubuntu Linux 10.04 LTS just fine, using the flexible I/O [fio] benchmarking tool against an ext3 file system.

Sequential Write - a common use for external disk drive is backup.
Random read - randomly read files ranging from 5KB to 10MB in size.
Random mixed - randomly read/write files (50/50 mix) ranging from 5KB to 10MB in size.

| | | | |
| --- | --- | --- | --- |
| Workload | Metric | Internal | External |
| Sequential Write | Throughput IOPS | 1119 | 1044 |
|   | Latency (msec) | 0.866 ms | 0.948 ms |
|   | Bandwidth (KB/s) | 16900 | 14400 |
| Random Read | Throughput (IOPS) | 164 | 119 |
|   | Latency (msec) | 6.06 ms | 8.36 ms |
|   | Bandwidth (KB/s) | 658 | 477 |
| Random Mixed (50/50) | Throughput (IOPS) | 112 | 81 |
|   | Latency (msec) read | 8.78 ms | 12.1 ms |
|   | Latency (msec) write | 0.0983 ms | 0.120 ms |
|   | Bandwidth (KB/s) read | 557 | 328 |
|   | Bandwidth (KB/s) write | 556 | 337 |

For sequential write, the Cirago performed well, only about 15 percent slower than native SATA. For random workloads, however, it was 30-40 percent slower. If you are wondering why I did not get USB 3.0 speeds, there are several factors involved here. First, with overheads, 5 Gbps USB 3.0 is expected to get only about 400 MB/sec. My SATA 2.0 controller maxes out at 375 MB/sec, and my USB 2.0 ports on my system are rated for 57 MB/sec, but with overheads will only get 20-25 MB/sec. Most spinning drives only get 75 to 110 MB/sec. Even solid-state drives top out at 250 MB/sec for sustained activity. Despite all that, my internal SATA drive only got 16 MB/sec, and externally with the Cirago 14 MB/sec in sustained write activity.

| | |
| --- | --- |
| | Here is the mess that is inside my system. The slot for drive 2 was blocked by cables, memory chips and the heat sink for my processor. It is possible to damage a system just trying to squeeze between these obstacles. |

However, the point of this post is "removable media". Having to open up the case and insert the second drive and wire it up to the correct SATA port was a pain, and certainly a more difficult challenge than the average PC user wishes to tackle.

Price-wise, the Cirago lists for $49 USD, and the 160GB drive I used lists for $69, so the combination $118 is about what you would pay for a fully integrated external USB drive. However, if you had lots of loose drives, then this could be more convenient and start to save you some money.

IBM RDX disk backup system

Another problem with the Cirago approach is that the disk drives are naked, with printed circuit board (PCB) exposed. When not in the docking station, where do you put your drive? Did you keep the [anti-static ESD bag] that it came in when you bought it? And once inside the bag, now what? Do you want to just stack it up in a pile with your other pieces of equipment?

| | |
| --- | --- |
| | To solve this, IBM offers the RDX backup system. These are fully compatible with other RDX sytems from Dell, HP, Imation, NEC, Quantum, and Tandberg Data. The concept is to have a docking station that takes removable, rugged plastic-coated disk-enclosed cartridges. The docking station can be part of the PC itself, similar to how CD/DVD drives are installed, or as a stand-alone USB 2.0 system, capable of processing data up to 25 MB/sec. |

The idea is not new, about 10 years ago we had [Iomega "zip" drives] that offered disk-enclosed cartridges with capacities of 100, 250 and 750MB in size. Iomega had its fair share of problems with the zip drive, which were ranked in 2006 as the 15th worst technology product of all time, and were eventually were bought out by EMC two years later (as if EMC has not had enough failures on its own!)

The problem with zip drives was that they did not hold as much as CD or DVD media, and were more expensive. By comparison, IBM RDX cartridges come in 160GB to 750GB in size, at list prices starting at $127 USD.

IBM LTO tape with Long-Term File System

Removable media is not just for backup. Disk cartridges, like the IBM RDX above, had the advantage of being random access, but most tape are accessed sequentially. IBM has solved this also, with the new IBM Long Term File System [LTFS], available for LTO-5 tape cartridges.

With LFTS, the LTO-5 tape cartridge now can act as a super-large USB memory stick for passing information from one person to the next. The LTO-5 cartridge can handle up to 3TB of compressed data at up to SAS speeds of 140 MB/sec. An LTO-5 tape cartridge lists for only $87 USD.

The LTO-5 drives, such as the IBM [TS2250 drive] can read LTO-3, LTO-4 and LTO-5cartridges, and can write LTO-4 and LTO-5 cartridges, in a manner that is fully compatible with LTO drives from HP or Quantum. LTO-3, LTO-4 and LTO-5 cartridges are available in WORM or rewriteable formats. LTO-4 and LTO-5 cartridges can be encrypted with 256-bit AES built-in encryption. With three drive manufacturers, and seven cartridge manufacturers, there is no threat of vendor lock-in with this approach.
These three options offer various trade-offs in price, performance, security and convenience. Not surprisingly, tape continues to be the cheapest option.
technorati tags: IBM, Cirago, CDD2000, RDX, Ubuntu, Linux, LTO, LTO-5, LTFS, SATA, USB, fio
Wrapping up my seven-city romp through Australia and New Zealand, the final city was Canberra, which is the capital of Australia. As with Wellington, this meant many of the clients in the audience work in government agencies.
I had not taken any photos of Anna Wells, IBM Storage Sales Leader for ANZ, but I was able to find this caricature of her on a poster from an award she won within IBM.

I also did not have a picture of Robert, my videographer for this trip, who was always behind the camera himself.
The event went smoothly, just like the rest of them. Anna presented IBM's storage strategy and highlighted specific IBM storage solutions.
I had several emails asking if this event was called "Storage Optimisation Breakfast" because it was held in the mornings, or did we actually serve food at these events. The answer is we actually served food, a variation of the [Full English Breakfast], and most of the attendees gobbled it down while Anna spoke.

The fare was quite similar across all seven locations: scrambled or poached eggs, on toast or english muffin, ham/bacon/sausages, potatoes or mushrooms, and half of a baked tomato with bits of something toasted on top.

One morning, for a change, I decided instead to have a bowl of Weet-Bix cereal. Tasted like cardboard. I learned my lesson.
Next, we had Will Quodling, Manager of Infrastructure Operations, at Australia's Department of Innovation, Industry, Science and Research. The Department of Innovation, Industry, Science and Research consists of 3200 staff that strive to encourage the sustainable growth of Australian industries. The Department is committed to developing policies and delivering programs to provide lasting economic benefits ensuring Australia's competitive future, undertakes analysis, and provides services and advice to the business, science and research community.  American President, Barack Obama, visited Australia and was interested in adopting a similar concept for the United States.

The department was looking to replace their existing IBM System Storage DS4800 disk systems with something more energy efficient. They selected IBM XIV storage system, with an expected savings of 10kW per year. They are able to run 800 VMware images and 150 VDI workstations using storage on one XIV, replicate the data to a second XIV at a remote location, and have a third XIV for their Web serving environment. They tested out both single drive and full module failures, and experienced better-than-expected rebuild times, with no impact to users, and no impact to performance.
| | |
| --- | --- |
| | After 17 days without a functioning government, Australia finally selected a prime minister. Her name is Julia Gillard, shown here. She won in part by promising to build a National Broadband Network (NBN) for the entire country, including the rural areas. |
[Canberra] is an interesting town, a fully planned community designed in 1913 by Chicago's husband-and-wife architect team of Walter Burley Griffin and Marion Mahony Griffin. The location was selected as being half-way compromise between Australia's two largest cities, Sydney and Melbourne.
I would like to thank all the wonderful people in both Australia and New Zealand for making this a successful trip!
technorati tags: IBM, Canberra, Australia, Innovation, Government, XIV, DS4800, VMware, VDI
Continuing my romp through Australia and New Zealand, this is city 6 - Wellington, which is the capital of New Zealand. This meant many of the clients in the audience work in government agencies.
| | |
| --- | --- |
| Here is my view of Wellington from my hotel room at the Duxton Hotel. I have been to Wellington before, it has that "small town" feel. | |
The event went smoothly, just like the rest of them. Anna Wells presented IBM's storage strategy and highlighted specific IBM storage solutions.
| | |
| --- | --- |
| | Replacing Natalie from GPJ Australia is Megan, who coordinated our events in both Auckland and Wellington, NZ. |
Next, we had Glen Mitchell again from Telecom NZ, presenting his success story going from an EMC-only environment to a dual IBM-and-EMC mixed environment managed by IBM SAN Volume Controller.
| | |
| --- | --- |
| Someone mentioned that my job as public speaker in different cities was akin to "busking". I had no idea what "busking" was, until I was shown two "in the act" in front of a bank. Americans call these "street performers", which shows we appreciate this art form perhaps more than the Kiwis. | |
Lastly, I covered future trends in storage. This is particularly interesting to government agencies that are particularly interested in reducing costs, managing risks, and improving service delivery.
| | |
| --- | --- |
| | Lastly, this is Aisel Giumali, IBM storage marketing manager for Australia and New Zealand. She managed my calendar, all of my events and one-on-one client briefings. I could not have handled these past two weeks without her. |
Since the first big earthquake on Saturday, there were several smaller aftershocks, including one in Wellington itself. It is a good thing I head back for Australia for the rest of the trip.
technorati tags: IBM, Wellington, busking, Aisel Giumali
While I was in Auckland, New Zealand, for the IBM Storage Optimisation Breakfast series of events, I agreed to also talk at the [Ingram Micro Showcase 2010] held there the same week. David Bird, who was scheduled to speak, was down in Christchurch taking care of his family after the big 7.1 magnitude earthquake.
| | |
| --- | --- |
| | The marketing team did a great job putting up a "Smarter Planet" ball up near the ceiling. It had to be "enhanced" with some extra black ink to include the outline of the islands of New Zealand. |
Basically, I had 25 minutes to present "Future Storage Trends" to a packed room with standing room only. This was a shortened version of my 40-minute talk that I had been already giving at the Storage Optimisation Breakfast events. This presentation was based on three key trends:
There is a shift in the role each storage media type is going to be used for. Rising energy costs, performance and economics are causing the IT industry to re-evaluate their use of solid-state drives, spinning disk, tape cartridge, paper and analog film. IBM Easy Tier and blended disk-and-tape solutions are paving the way for these future trends.
Advancements in commuications technology and bandwidth are driving a convergence of SANs and LANs to a single Data Center Network (DCN) based on Convergence Enhanced Ethernet (CEE). IBM's top-of-rack switches and converged network adapaters (CNA) are the first step in this process.
Cloud Computing is driving new levels of standardization, automation and management that will impact the way internal IT departments will manage their own IT equipment as well. IBM's five different levels of cloud computing offerings, from private cloud to public cloud, provides every individual or company a level of service that is just right.
| | |
| --- | --- |
| Here is the IBM booth. As is often the case, we get a prestigious corner booth that maximizes foot traffic to see our solutions. | |
While walking around, the folks at the Samsung booth notices my Samsung Galaxy S smartphone. These are not yet available in the New Zealand market, so they thought I was a Samsung employee. I explained that I am an American, and that these have been available for weeks now in the states.
The Samsung team then showed me their latest 3D television. Basically, you wear special 3D glasses that sync-up electronically with the TV screen itself to give the appearance of 3D image on anything you play. I believe the TV comes with two pairs of glasses, and additional pairs can be purchased for substantial extra. It works with any movie or TV show, there is no requirement that it be filmed in 3D mode. The 3D-TV automatically analyzes that is moving on the screen, and then makes that item clearer and sharper, and things that are considered background are automatically made fuzzier, out of focus. The effect is really incredible.
| | |
| --- | --- |
| | One of the storage solutions on display was the entry-level IBM System Storage DS3524 disk system, which is a small 2U high cabinet that holds 24 drives. These are the small form factor 2.5 inch drives. It's amazing we can pack so many drives in such a compact rack-optimized enclosure! |
Ingram Micro is one of IBM's technology distributors, and it was good to see it was a well-attended event.
technorati tags: IBM, Ingram Micro, Auckland, DS3500, DS3524, Samsung, Galaxy, smartphone, future, storage trends
I am now fully a week behind in my coverage of my romp through Australia and New Zealand. Last week was "week 2" of the "Tony and Anna" show! This time we were in Auckland, New Zealand. Anna Wells is from New Zealand originally, so it was good for her to be back in her home country.
| | |
| --- | --- |
| | Sunday I was able to take the Ferry boat to Devonport, and climb to the top of Mt Victoria, which is only 283 feet above sea level, but still affords spectacular views of Auckland from across the harbour. My hotel, the Auckland Heritage, as well as the IBM building, is about a block or two away from the Sky Tower. |
New Zealand shares a lot of traits with Australia, including low unemployment and a healthy economy. Employees feel secure enough in their jobs to invest in real estate, get married and start families. School teachers are well-regarded in society, earning six-figure incomes. Retail stores were filled with shoppers spending [disposable and discretionary income]. What a refreshing difference from the United States! The level of optimism made my skin tingle. I had to file a lot of paperwork for all the work permits and visas for this trip, so I hate to think what it would take to emigrate to either country.
(Of course, the grass always appears greener on the other side. Not everything is perfect in New Zealand. I saw warning signs for toxic sea slugs in their beaches, sales advertising for [Brolly Sheets], and the south island of New Zealand suffered a magnitute 7.1 earthquake near Christchurch on the day I arrived to Auckland on the north island. Over 100,000 homes were damaged, but nobody died, and the entire country rallied support to help out those affected.)
| | |
| --- | --- |
| I took this photo of a seagull walking along Cheltenham Beach. I thought it might make for a nice wallpaper for my phone or laptop. | |
The Storage Optimisation Breakfast at this, the fifth of seven cities, went smoothly. The New Zealand client case study she had planned to show was in the middle of an [RFP], so instead she covered [Edith Cowan University] and [Bunnings Warehouse] from Australia as examples of success stories.
Our next speaker was Glen Mitchell, an IT architect in the Operational Integration, Technology & Shared Services of Telecom NZ. The Telecom NZ is New Zealand's phone company, recently split up into separate business units, similar to what the US government did to AT&T during the 1974 [Bell System Divestiture].
The change forced Telecom NZ to be more financially responsible. Before, they were using an all-EMC disk environment, managed by HP Enterprise Services (formerly known as EDS). The EMC gear worked as expected and Telecom NZ is happy with EMC as a vendor, but they were uncomfortable with vendor lock-in. Some firmware upgrades on their EMC boxes often forced them to take outages on hundreds of connected servers to install Powerpath updates. After an EMC disk array went off its four-year prepaid warranty, it took another FOUR YEARS to get all 180 servers migrated to another disk array. Keeping a disk array after warranty expires can cost as much as $450K NZD per year, per disk array, in maintenance fees! Ouch!  This served as a strong motivator to find a way to migrate data from one disk array to another in a more smooth and timely manner.

The new direction was a dual-vendor environment, keeping some of the midrange EMC gear, and getting new IBM high-end DS8700 gear, resulting in a drastically lower TCO. To make the transition as smooth as possible, Telecom NZ employed IBM SAN Volume Controller (SVC) to virtualize their entire environment, both EMC and IBM happily being part of shared disk pools. They had originally planned to migrate their entire server environment over in 12 months, but in the first six weeks, they are already at 20 percent, ahead of schedule!
The SAN Volume Controllers will also allow Telecom NZ have Business Continuity/Disaster Recovery protection in a consistent manner across both EMC and IBM equipment between their two main data centers in Auckland and Hamilton.
| | |
| --- | --- |
| | Remember those trees shown in the movie trilogy "Lord of the Rings"? The trees here in New Zealand are amazing! I'm not an arborist, but I was told this one shown here is a [Morton Bay Fig Tree]. Some of the oldest trees in the world live in New Zealand. |
By deploying IBM DS8700 and SAN Volume Controller, Telecom NZ was able to reduce costs, manage risk, and improve service delivery!
technorati tags: IBM, Auckland, Devonport, Telecom NZ, HPES, Hewlett-Packard, EDS, EMC, vendor lock-in, price-gouging
Continuing my romp through Australia and New Zealand, the last Storage Optimisation Breakfast of the week was Brisbane, which the locals here refer to as [Brisvegas], probably for all of the nightlife and casinos here.
| | |
| --- | --- |
| | The IBM office building is conveniently across the street from my hotel, the [Sofitel Brisbane]. The hotel also sits above central station, which allows quick transportation to the airport. |
This time, we had a tag team of two people from James Cook University (JCU) to present their success story. First up was Kent Adams, the Director or Information Technology and Resources. JCU is recognized as one of the top 5 percent of Universities worldwide, and as a result, their data storage requirements are growing at 400 percent per year! Their latest purchase put out for RFP was for at least 40TB that could handle at least 20,000 IOPS. The winning solutions was an IBM XIV disk system.
| | |
| --- | --- |
| Behind the scenes at all the events this week here in Australia were, from left to right, Natalie from GPJ Australia, the local subsidiary of the George P. Johnson events management we use in the states; Sonia Phillips, IBM Advisory Marketing Lead for Dynamic Infrastructure Optimisation and Cloud Computing, Demand Programs, for Australia and New Zealand; and Monika Lovgren, IBM Marketing and Execution Lead for Workload Optimised Systems for Australia. | |
The second speaker was Lee Askew, one of the Storage Administrators. Overall, the JCU team have been amazed at how well this box works. When they started it up, they expected to spend the next 24-36 hours formatting RAID ranks, but not with the XIV. It was ready in 2 minutes and they started provisioning storage right away. Their own tests to fail a drive found they can do a full rebuild to redundancy in 9 minutes. It took 8-36 hours on their previous disk array. Failing a full data module took only 75 minutes to bring back to redundancy.
| | |
| --- | --- |
| | After a long and tiring week, I was able to relax by walking through this beautiful King Edward park near the IBM building. This had a nice variety of plants and flowers, and with the surprise visit of a lizard about the length of my arm that crossed my path. |
JCU also uses Asynchronous Mirror to replicate data to another XIV at distance. Again, as with all aspects of IBM XIV, the solution works as advertised. They are well positioned to grow from the 18,000 students they have today, to their target goal of 25,000 students they want to have by 2015.
Worldwide, IBM has done well with colleges and universities, and this was a great example of how partnering with IBM for your IT infrastructure can make a huge difference!
technorati tags: IBM, James Cook University, XIV, Brisbane, King Edward Park
Continuing my romp through Australia and New Zealand, today I presented in Melbourne. We had a huge turn-out, close to a hundred attendees sitting at a dozen different tables.
In the first two cities, Adam Beames, system administrator for Tennis Australia, presented. Tennis Australia is most known for running the [Australian Open], the first Grand Slam tennis tourney of the year, but they also run some smaller events, such as the Brisbane International, the Sydney International, the Hobart International, the Davis Cup, the Fed Cup and the Pro Tour. They have 150 full time staff, and another 180 staff contributed from their eight member associations they support.
Of these events, the Australian Open is by far the biggest, with over 9 million unique visitors to the website for the few weeks in January every year. For this, Tennis Australia leverages IBM cloud computing services. The rest of the year, they have deployed their own "private cloud" for running the other events. During the month of January, Tennis Australia grows their staff from 300 to 4500 people.
Adam had been there since 2005, and told how back then they were using beige-colored IBM PC 330 tower servers, on a plastic shelf that was sagging from the weight. This server had six hot-swappable drives, 4.5GB each. There was also a mysterious "blue box" that served as their serial distribution panel, operated by a laptop running Windows 95, with a spare laptop just in case for high-availability.
(Last month, August 24, marked Microsoft's 15 year anniversary for the introduction of Windows 95! Read Mary Jo Foley's article [Were you in line to buy Windows 95 fifteen years ago?])
The situation started to improve in 2008, Tennis Australia brought in BladeCenter H with HS20, HS21 and HS22 blade servers, and x3850 M2 machines for VMware virtual machines, and boot over SAN to an IBM XIV disk system. This allows them to run all of the other tennis events throughout the year. It provided N+1 redundancy, and made the process of provisioning servers and storage simple and efficient.
| | |
| --- | --- |
| This is the view of Melbourne from the IBM office. The tall 975 foot building on the left with the golden bumblebees at the base is the famous [Eureka Tower], Melbourne's tallest residential building. | |
As Paul Harvey would say, at Melbourne we got to hear [the rest of the story] from Chris Yates, the CIO of Tennis Australia. He came on board in November 2007, just six weeks prior to the big Australian Open of January 2008. Witnessing how bad the IT was for the infrastructure, he partnered with IBM to deploy all the solutions that Adam mentioned in the first two cities. The transformation over the past two years has been a phenomenal success, with some of the best recognized international tennis organizations crediting Tennis Australia for some of the best run events.
IBM is also using its [cloud computing services to help the US Open] as well. In both the Australian Open and the US Open, IBM provides a cloud computing capability that allows the operation to scale up dramatically for the tournament. IBM rapidly creates and provisions services on a common infrastructure -- services that are mission-critical to the tennis tournament.
And now you know the rest of the story.
technorati tags: IBM, Tennis Australia, Austrian Open, US Open, Chris Yates, Adam Beames
I'm down here in Australia, where the government is a bit stalled for the past two weeks at the moment, known formally as being managed by the [Caretaker government]. Apparently, there is a gap between the outgoing administration and the incoming administration, and the caretaker government is doing as little as possible until the new regime takes over. They are still counting votes, including in some cases dummy ballots known as "donkey votes", the Australian version of the hanging chad.  Three independent parties are also trying to decide which major party they will support to finalize the process.

While we are on the topic of a government stalled, I feel bad for the state of Virginia in the United States. Apparently, one of their supposedly high-end enterprise class EMC Symmetrix DMX storage systems, supporting 26 different state agencies in Virginia, crashed on August 25th and now more than a week later, many of those agencies are still down, including the Department of Motor Vehicles and the Department of Taxation and Revenue.
Many of the articles in the press on this event have focused on what this means for the reputation of EMC. Not surprisingly, EMC says that this failure is unprecedented, but really this is just one in a long series of failures from EMC. It reminds me of the last time EMC had a public failure with a dual-controller CLARiiON a few months ago that stopped another company from their operations. There is nothing unique in the physical equipment itself, all IT gear can break or be taken down by some outside force, such as a natural disaster. The real question, though, is why haven't EMC and the State Government been able to restore operations many days after the hardware was fixed?
In the Boston Globe, Zeus Kerravala, a data storage analyst at Yankee Group in Boston, is quoted as saying that such a high-profile breakdown could undermine EMC's credibility with large businesses and government agencies. "I think it's extremely important for them,'' said Kerravala. "When you see a failure of this magnitude, and their inability to get a customer like the state of Virginia up and running almost immediately, all companies ought to look at that and raise their eyebrows.''
Was the backup and disaster recovery solution capable of the scale and service level requirements needed by vital state agencies? Had they tested their backups to ensure they were running correctly, and had they tested their recovery plans? Were they monitoring the success of recent backup operations?
Eventually, the systems will be back up and running, fines and penalties will be paid, and perhaps the guy who chose to go with EMC might feel bad enough to give back that new set of golf clubs, or whatever ridiculously expensive gift EMC reps might offer to government officials these days to influence the purchase decision making process.
(Note: I am not accusing any government employee in particular working at the state of Virginia of any wrongdoing, and mention this only as a possibility of what might have happened. I am sure the media will dig into that possibility soon enough during their investigations, so no sense in me discussing that process any further.)
So what lessons can we learn from this?
Lesson 1: You don't just buy technology, you also are choosing to work with a particular vendor

IBM stands behind its products. Choosing a product strictly on its speeds and feeds misses the point. A study IBM and Mercer Consulting Group conducted back in 2007 found that only 20 percent of the purchase decision for storage was from the technical capabilities. The other 80 percent were called "wrapper attributes", such as who the vendor was, their reputation, the service, support and warranty options.

Lesson 2: Losing a single disk system is a disaster, so disaster recovery plans should apply

IBM has a strong Business Continuity and Recovery Services (BCRS) services group to help companies and government agencies develop their BC/DR plans. In the planning process, various possible incidents are identified, recovery point objectives (RPO) and recovery time objectives (RTO) and then appropriate action plans are documentede on how to deal with them. For example, if the state of Virginia had an RPO of 48 hours, and an RTO of 5 days, then when the failure occurred on August 25, they could have recovered up to August 23 level data(48 hours prior to the incident) and be up and running by August 30 (five days after the incident). I don't personally know what RPO and RTO they planned for, but certainly it seems like they missed it by now already.

Lesson 3: BC/DR Plans only work if you practice them often enough

Sadly, many companies and government agencies make plans, but never practice them, so they have no idea if the plans will work as expected, or if they are fundamentally flawed. Just as we often have fire drills that force everyone to stop what they are doing and vacate the office building, anyone with an IT department needs to practice BC/DR plans often enough so that you can ensure the plan itself is solid, but also so that the people involved know what to do and their respective roles in the recovery process.




Lesson 4: This can serve as a wake-up call to consider Cloud Computing as an alternative option

Are you still doing IT in your own organization? Do you feel all of the IT staff have been adequately trained for the job? If your biggest disk system completely failed, not just a minor single or double drive failure, but a huge EMC-like failure, would your IT department know how to recover in less than five days? Perhaps this will serve as a wake-up call to consider alternative IT delivery options. The advantage of big Cloud Service Providers (Microsoft, Google, Yahoo, Amazon, SalesForce.com and of course, IBM) is that they are big enough to have worked out all the BC/DR procedures, and have enough resources to switch over to in case any individual disk system fails.
To learn more on this event, see the following articles: Washington Post, ZDnet.com, and Government Computer News.
technorati tags: EMC, Symmetrix, DMX, Failure, Virginia, State Government, DMV, IBM, Business Continuity, Disaster Recovery
Continuing my romp through Australia and New Zealand, today I presented in Hobart, the second city on my seven-city tour. Hobart is on a separate island called Tasmania, just south of the main Australian continent. The island is heart-shaped, and Hobart is in the lower right ventricle.
| | |
| --- | --- |
| | Hobart boasts the second deepest harbour in the Southern Hemisphere (yesterday's Sydney Harbour being the first). It is quite cold here, but at least the skies are clear. |
I stayed in the [Henry Jones Art Hotel], named after the famous owner of the IXL Jam Company. When I arrived, they presented me with a list of 18 known convicts that shared my last name: PEARSON. I checked and made sure I was not on the list. Then it was explained to me that here in Australia, everyone values their criminal ancestors, as this is how the country was formed. The names were from registry archives from the 19th century.
| | |
| --- | --- |
| In keeping with the concept of an art hotel, each of the rooms were unique, which is a nice way of saying that they fit whatever they could into the spaces available. It's been a while since I stayed at a hotel with the phone at one end of the room, but the electrical outlet at the other. The thermostat was hidden in the bathroom, and I had to master some 16 different ropes to put down the shades, as the bright light from the [Cenotaph] was keeping me awake. I was able to take pictures of some of the art sculptures from the balcony. | |
This was a smaller event than Sydney, with only about two dozen attendees. This makes sense, as Hobart population is only about 250,000 people. Tasmania island hold about 1 million people overall, concentrated mostly along the center line of the island.
| | |
| --- | --- |
| | As we had done in Sydney, Anna Wells presented IBM strategy and products, Adam Beames, system administrator for Tennis Australia (shown here in the picture at left) presented his experiences transforming their datacenter, and I presented the future trends in storage. |
In appreciation for Adam's presentations in Sydney and Hobart, I presented him with a copy of my book, [Inside System Storage: Volume I], available from my publisher, Lulu.com, in paperback, hard cover, and now also in eBook format for those with Kindle, Nook or other digital book readers. See panel at right on this blog for ordering information.
technorati tags: IBM, Hobart, Events, Adam Beames, Henry James, IXL Jam
This week and next, I am down under in Australia and New Zealand for a seven-city Storage Optimisation Breakfast series of presentations to clients and prospects. My first city for this seven-city tour was Sydney, Australia.
| | |
| --- | --- |
| | Here is the view from my room at the [Shangri-La hotel], including the famous [Sydney Opera House] and Circular Quay, from which to take a water taxi or ride the Manly Ferry. [Sydney harbour] is the deepest harbour in the Southern Hemisphere, allowing boats of all sizes to enter. This section of the city is known as "The Rocks". |
Sydney is a very modern metropolis. The last time I was in Sydney was in May 2007 to teach an IBM Top Gun class. My post back then on [Dealing with Jet Lag] is as relevant now as it was back then. In addition to being 9 hours off-shifted from last week in Dallas, Texas, I also have to deal with the colder climate, about 40 degrees F cooler down here. The weather is crisp and clear, it is Winter going into Spring down here as the seasons are flipped below the equator.
Many of the buildings are recognizable from the movie ["The Matrix"] which was filmed here. We joked that this seven-city trip was also similar to [The Adventures of Priscilla, Queen of the Desert], in that both journeys started in Sydney. If you haven't seen the latter, I highly recommend it to get to learn more about Australia as a country.
(Completely useless trivia: Actor Hugo Weaving appeared in both movies. While most people associate him with Australia, where he has lived since 1976, he actually was born in Nigeria, and traveled extensively because his father worked in the computer industry.)
| | |
| --- | --- |
| Here I am standing next to our banner. | |
The line-up for each event is simple. After all the attendees sit down for breakfast, we have the following three sessions:
First, Anna Wells, local IBM Executive for Storage Sales in Australia and New Zealand presents IBM's strategy for storage, and how IBM plans to address Storage Efficiency, Data Protection and Service Delivery. She then highlights various products that are currently available to help meet customer needs, including XIV and the SAN Volume Controller (SVC).
Second, we have a client or two share their success story. We will have different speakers at the different locations.
Third, I present on future trends that will impact the storage marketplace. With only 40 minutes for my section, I decided to focus on just three specific trends, with a mix of some colorful analogies to help emphasize my key points.
We had a great turn-out for our first event in Sydney, lots of clients and prospects came out for this. There is a lot of enthusiasm for IBM's vision, thought leadership, and broad portfolio of storage solutions.
technorati tags: , IBM, storage, optimisation, events, Sydney, Australia, Hugo Weaving, Anna Wells
This week I am down under, starting my 7-city Storage Optimisation Breakfast roadshow on Tuesday in Sydney, Australia. I can't be at two places at once, and it seems whenever I am one place, lots of my coworkers are somewhere else at another conference or event. For those at [VMworld 2010] conference in San Francisco this week, IBM is a Platinum Sponsor and hosting a variety of presentations and activities. Here are some things to look forward to:
Session ID SP9638 - Getting the MAX from your Virtualization Investment

Monday 1:30pm, Moscone South Room 309
Speaker: Bob Zuber, IBM System x Program Director
Speaker: Clod Barrera Distinguished Engineer and Chief Technical Strategist


Clod and I just finished Solutions University 2010 in Dallas, and here he is going to VMworld! You already know that virtualization is beneficial. Exploit virtualization to its MAXimum and move beyond virtualization 101 where you have virtualized web, file/print, and DHCP type workloads. Now it is time to take virtualization to the next step and virtualize business infrastructure applications such as ERP, Messaging, CRM, and Database. With IBM solutions you can take the virtualization journey to build a smarter data center through; 1) Consolidation, 2) Management, 3) Automation and 4) Optimization. Attend this session and learn the key considerations for virtualizing mission-critical workloads and the best practices for a virtual data center that delivers a REAL return on your investment.

Session ID TA8065 - Storage Best Practices, Performance Tuning and Troubleshooting

Speaker: Duane Fafard, Senior XIV Storage Architect, IBM
Monday 10:30 AM Moscone South Room 301
Wednesday 03:00 PM Moscone West Room 2005

The industry has solved many of the challenges of virtualization applications by delivering innovative server solutions that automatically migrate load to available resources, but the complete environment requires both the network and the storage to be part of the equation. Designing, managing, and troubleshooting intricate storage environments in today's age have become more and more complex. This session will discuss storage best practices, performance challenges, and resolving issues in the storage area network using native tools within the environment. With the techniques learned in this session, the storage administrator will be able to use these best practices to design proper storage solutions and pinpoint troubled areas quickly and accurately.

Session ID SS1012 - Expert Panel: How Smarter Systems can Address your Business Challenges

Wednesday, 12-1pm, Room 135

This is IBM's "Super Session". At IBM, we know that all business challenges such as sprawling IT infrastructure, poor performance and rising management costs are solvable on a smarter planet. With Smarter Systems, IBM can help you increase utilization and flexibility, reduce complexity and cost, respond to business changes swiftly and effectively, and enable end-to-end resiliency and security. Alex Yost, Vice President and Business Line Executive for IBM System x and BladeCenter hosts a panel of Virtualization experts:

James Northington, Vice President and Business Line Executive, IBM System x
Donn Bullock, Vice President of Sales, Mainline Information Systems, Inc.
Dylan Larson, Director of Advanced Software and Server Technologies, Intel Data Center Group
Richard, McAniff, Chief Development Officer and Member of the Office of the President, VMware
Siddhartha (Sid) Chatterjee, Ph.D, Vice President, Strategy & Partnerships, IBM Systems Software
David Guzman, Chief Information Officer and Senior Vice President, Global Technology Solution, Acxiom
Sounds like a lot of fun!
technorati tags: IBM, VMworld, Bob Zuber, Duane Fafard, Clod Barrera, David Guzman, Acxiom
Next week is [VMworld 2010], so I thought today would be a good day to write a blog post about reporting and managing virtual guest images.
As the original lead architect for IBM Tivoli Storage Productivity Center, I am no stranger to reporting and management tools. Needless to say, if you have lots of virtual guest images, it makes sense to deploy reporting and management software. I had never heard of Veeam before, but I decided to check out Veeam Reporter 4.0, an enterprise-level reporting solution specifically designed for large Virtual Infrastructure (VI3) and vSphere virtual environments that allows you to automatically discover and collect information about your VMware virtual environment. Their 90-page User Guide offered these helpful "First Steps" on page 9 which I used as the master plan for my evaluation.
Install Veeam Reporter 4.0

The instructions appeared fairly straightforward: Download [the latest version] of the application. Unpack the downloaded archive and run the VeeamReporter.exe file. Then follow the installation wizard steps. What could go wrong?

I should have known better. Like IBM Tivoli Storage Productivity Center, Veeam Reporter is designed to be installed on its own server-class machine with its own application web server and database. I wasn't going to stand up a new server in our lab just for this contest, so I decided to just install it on my Windows XP SP3, which Veeam had listed as a supported operating system level. I ran into a series of installation issues, including installing IIS, installing SQL server, and installing the SRSS component. I am more familiar with IBM's WebSphere Application Server and DB2 combination used in IBM's own products, and have experience with Apache and MySQL on a standard LAMP stack, so my lack of experience with IIS and SQL server made the installation more difficult. Many thanks to all the support personnel at Veeam, Microsoft, and my internal IT department to finally get all of this working.

It appears you can set this up as a client/server environment, where the Veeam Reporter server runs IIS and SQL Server, and then you have a browser on your client machine point to that server. In my cases, I have client browser and server all on one machine.

Create and run a collection job

This step also seemed fairly standard for reporting tools. Once you launch Veeam Reporter 4.0 for the first time, you need to retrieve data from your virtual infrastructure to be able to generate reports. To start the created collection job, select it and click the Start button on the toolbar. If you have a vCenter server in your VI environment, we recommend that you create a job for it to immediately collect data for all objects in its hierarchy. After that, you will be able to select VI objects that were engaged in the performed job using the Workspace, and generate reports for it.

I signed up for this contest August 7, but step 1 above took me two weeks to resolve all the installation iissues. I wanted to get my blog post entry for the contest BEFORE the start of VMworld. Since I am in Dallas, Texas this week for the IBM Storage Solutions University, I had to go through several firewalls for my laptop to tunnel through and get to my VMware Center back in Tucson.

Click on the graphic above to see larger view.

I was able to create and run a collection job. I have a WMware ESX 3.5 host running five guest images and 14 datastores. This seemed to be enough to evaluate the basic features of this reporting tool. Veeam Reporter let's you run the collection process manually, or set a "periodic" schedule to collect data every hour.

Generate reports manually or create a reporting job

Finally, I get to the fun part: To generate report manually, click the Workspace tab, select a necessary VI object from the tree view, date and collection job session, choose reports and click the Create Report button.

At this point, I am reminded of a famous poem:

To see a world in a grain of sand
And a heaven in a wild flower,
Hold infinity in the palm of your hand
And eternity in an hour.
- William Blake

When evaluating products, try to imagine what the reports would look like with hundreds of virtual guest images. Certainly, I can see some potential, even though I had rather limited data to work with. In theory, the tool can create Visio output files, but you need to have Microsoft Visio installed. I have only "Visio Viewer" so I was unable to create any visio files with this product.

The reports can be exported to PDF, Word or Excel formats. Here is an example of an Excel spreadsheet export. While it has 14 bars for the 14 datastores, there are no labels, and the misleading details link in the lower right corner is non-functional. The only way for me to figure out what each referred to was to go back to my vCenter client, which kind of defeats the purpose of having a separate reporting tool.

This same report exported to PDF spanned across four pages, leaving the re-assembly to be done with a pair of scissors and celophane tape.

When you create reports, you can use SRSS or Veeam's internal proprietary format. Only SRSS reports can be put on the dashboard, so I recommend that.

Customize your dashboard

The fourth and final step is to configure your own dashboard: To add reports to the Dashboard, you should first create and save them using Workspace of Veeam Reporter 4.0. Keep in mind that you can add to the Dashboard only saved SSRS-based reports. To customize the Dashboard, click the Dashboard tab and then click the Edit Dashboard button. Customize the layout by dragging blue borders from the right and the bottom of the screen. Then, drag reports from the Reports list and drop them onto the created cells.

The "Free Edition" only allows you to put a single report on the dashboard, so as in step 3, you have to use your imagination of what the potential of the full license would looke like with multiple reports are on a single pane of glass.
(FTC Disclosure: I work for IBM, the leader in server virtualization worldwide, and the number #1 reseller of VMware. In this post, I review [Veeam Reporter 4.0] as my official entry for their blogging contest. IBM and Veeam do not have any business relationshiop that I know of, other than both being VMware business partners, so I am treating them here as an Independent Software Vendor (ISV). Veeam has not compensated me in any manner for this review, this review is not to be taken as an endorsement of Veeam or its products, and I was not provided any full or evaluator license keys. The review is based entirely on my experience using the "Free Edition" available to all for download. None of this blog post was pre-reviewed by anyone from Veeam. IBM, of course, also offers similar software, which I mention below for comparison purposes.)
At this point, you might be thinking, "Doesn't IBM offer something like this?" Of course it does! IBM is the leader in infrastructure reporting, monitoring and management software. Last October, [IBM unveiled IBM Systems Director VMcontrol] software. Not only does IBM Systems Director VMcontrol provide similar support for your VMware environment, it also manages Microsoft Hyper-V and Xen deployments, PowerVM on POWER-based serves, and even z/VM guest images on the System z mainframes. Combined with the rest of the IBM Systems Director, you can manage all of your physical and virtual servers with a single tool from a single pane of glass. How cool is that?
IBM VMcontrol comes in [three levels]:
[Express Edition] offers the easiest way to manage virtual machines
[Standard Edition] adds the ability to manage complete libraries of virtual images
[Enterprise Edition] creates and enables the management of system pools – dynamic collections of computing resources used to support multiple virtual images running concurrently
To learn more, see the [VMcontrol Implementation Guide], take it for a test drive, with a [trial download], or talk to one of the many IBMers at [VMworld 2010] in San Francisco, August 30-September 2.
I would like to think Doug Hazelman, Senior Director of Product Strategy at Veeam, for organizing this awesome blogging contest. If you liked this blog post, click here to [vote for me] to get counted for this contest.
technorati tags: IBM, VMcontrol, Veeam, Reporter, VMware, Hyper-V, Xen, PowerVM, zVM, VMworld
Well, it's Tuesday again, and you know what that means! IBM Announcements!
Today, IBM announced its latest IBM Tivoli Key Lifecycle Manager (TKLM) 2.0 version. Here's a quick recap:
Centralized Key Management

Centralized and simplified encryption key management through Tivoli Key Lifecycle Manager's lifecycle of creation, storage, rotation, and protection of encryption keys and key serving through industry standards. TKLM is available to manage the encryption keys for LTO-4, LTO-5, TS1120 and TS1130 tape drives enabled for encryption, as well as DS8000 and DS5000 disk systems using Full Disk Encryption (FDE) disk drives.

Partitioning of Access Control for Multitenancy

Access control and partitioning of the key serving functions, including end-to-end authentication of encryption clients and security of exchange of encryption keys, such that groups of devices have different sets of encryption keys with different administrators. This enables [multitenancy] or multilayer security of a shared infrastructure using encryption as an enforcement mechanism for access control. As Information Technology shifts from on-premises to the cloud, multitenancy will become growingly more important.

Support for KMIP 1.0 Standard

Support for the new key management standard, Key Management Interoperability Protocol (KMIP), released through the Organization for the Advancement of Structured Information Standards [OASIS]. This new standard enables encryption key management for a wide variety of devices and endpoints. See the [22-page KMIP whitepaper] for more information.

As much as I like to poke fun at Oracle, with hundreds of their Sun/StorageTek clients switching over to IBM tape solutions every quarter, I have to give them kudos for working cooperatively with IBM to come up with this KMIP standard that we can both support.

Support for non-IBM devices from Emulex, Brocade and LSI

Support for IBM self-encrypting storage offerings as well as suppliers of IT components which support KMIP, including a number of supported non-IBM devices announced by business partners such as Emulex, Brocade, and LSI. KMIP support permits you to deploy Tivoli Key Lifecycle Manager without having to worry about being locked into a proprietary key management solution. If you are a client with multiple "Encryption Key Management" software packages, now is a good time to consolidate onto IBM TKLM.

Role-based Authorization

Role-based access control for administrators that allows multiple administrators with different roles and permissions to be defined, helping increase the security of sensitive key management operations and better separation of duties. For example, that new-hire college kid might get a read-only authorization level, so that he can generate reports, and pack the right tapes into cardboard boxes. Meanwhile, for that storage admin who has been running the tape operations for the past ten years, she might get full access. The advantage of role-based authorization is that for large organizations, you can assign people to their appropriate roles, and you can designate primary and secondary roles in case one has to provide backup while the other is out of town, for example.
For more details, see the IBM [Announcement Letter].
This week, I'll be in Dallas, Texas. If you are an avid reader located in or near the Dallas area, and want to connect, you know how to reach me.
technorati tags: IBM, TKLM, KMIP, OASIS, encryption, FDE, Multitenancy, EKM, LTO, LTO-4, LTO-5, TS1120, TS1130, DS8000, DS5000, role-based, authorization, Emulex, Brocade, LSI
Wrapping up my week's theme of storage optimization, I thought I would help clarify the confusion between data reduction and storage efficiency. I have seen many articles and blog posts that either use these two terms interchangeably, as if they were synonyms for each other, or as if one is merely a subset of the other.
Data Reduction is LOSSY

By "Lossy", I mean that reducing data is an irreversible process. Details are lost, but insight is gained. In his paper, [Data Reduction Techniques", Rajana Agarwal defines this simply:

"Data reduction techniques are applied where the goal is to aggregate or amalgamate the information contained in large data sets into manageable (smaller) information nuggets."

Data reduction has been around since the 18th century.

Take for example this histogram from [SearchSoftwareQuality.com]. We have reduced ninety individual student scores, and reduced them down to just five numbers, the counts in each range. This can provide for easier comprehension and comparison with other distributions.

The process is lossy. I cannot determine or re-create an individual student's score from these five histogram values.

This next example, complements of [Michael Hardy], represents another form of data reduction known as ["linear regression analysis"]. The idea is to take a large set of data points between two variables, the x axis along the horizontal and the y axis along the vertical, and find the best line that fits. Thus the data is reduced from many points to just two, slope(a) and intercept(b), resulting in an equation of y=ax+b.

The process is lossy. I cannot determine or re-create any original data point from this slope and intercept equation.

In this last example, from [Yahoo Finance], reduces millions of stock trades to a single point per day, typically closing price, to show the overall growth trend over the course of the past year.

The process is lossy. Even if I knew the low, high and closing price of a particular stock on a particular day, I would not be able to determine or re-create the actual price paid for individual trades that occurred.

Storage Efficiency is LOSSLESS

By contrast, there are many IT methods that can be used to store data in ways that are more efficient, without losing any of the fine detail. Here are some examples:

Thin Provisioning: Instead of storing 30GB of data on 100GB of disk capacity, you store it on 30GB of capacity. All of the data is still there, just none of the wasteful empty space.
Space-efficient Copy: Instead of copying every block of data from source to destination, you copy over only those blocks that have changed since the copy began. The blocks not copied are still available on the source volume, so there is no need to duplicate this data.
Archiving and Space Management: Data can be moved out of production databases and stored elsewhere on disk or tape. Enough XML metadata is carried along so that there is no loss in the fine detail of what each row and column represent.
Data Deduplication: The idea is simple. Find large chunks of data that contain the same exact information as an existing chunk already stored, and merely set a pointer to avoid storing the duplicate copy. This can be done in-line as data is written, or as a post-process task when things are otherwise slow and idle.

When data deduplication first came out, some lawyers were concerned that this was a "lossy" approach, that somehow documents were coming back without some of their original contents. How else can you explain storing 25PB of data on only 1PB of disk?

(In some countries, companies must retain data in their original file formats, as there is concern that converting business documents to PDF or HTML would lose some critical "metadata" information such as modificatoin dates, authorship information, underlying formulae, and so on.)

Well, the concern applies only to those data deduplication methods that calculate a hash code or fingerprint, such as EMC Centera or EMC Data Domain. If the hash code of new incoming data matches the hash code of existing data, then the new data is discarded and assumed to be identical. This is rare, and I have only read of a few occurrences of unique data being discarded in the past five years. To ensure full integrity, IBM ProtecTIER data deduplication solution and IBM N series disk systems chose instead to do full byte-for-byte comparisons.

Compression: There are both lossy and lossless compression techniques. The lossless Lempel-Ziv algorithm is the basis for LTO-DC algorithm used in IBM's Linear Tape Open [LTO] tape drives, the Streaming Lossless Data Compression (SLDC) algorithm used in IBM's [Enterprise-class TS1130] tape drives, and the Adaptive Lossless Data Compression (ALDC) used by the IBM Information Archive for its disk pool collections.

Last month, IBM announced that it was [acquiring Storwize. It's Random Access Compression Engine (RACE) is also a lossless compression algorithm based on Lempel-Ziv. As servers write files, Storwize compresses those files and passes them on to the destination NAS device. When files are read back, Storwize retrieves and decompresses the data back to its original form.

To read independent views on IBM's acquisition, read Lauren Whitehouse (ESG) post [Remote Another Chair, Chris Mellor (The Register) article [Storwize Swallowed], or Dave Raffo (SearchStorage.com) article [IBM buys primary data compression].

As with tape, the savings from compression can vary, typically from 20 to 80 percent. In other words, 10TB of primary data could take up from 2TB to 8TB of physical space. To estimate what savings you might achieve for your mix of data types, try out the free [Storwize Predictive Modeling Tool].
So why am I making a distinction on terminology here?

Data reduction is already a well-known concept among specific industries, like High-Performance Computing (HPC) and Business Analytics. IBM has the largest marketshare in supercomputers that do data reduction for all kinds of use cases, for scientific research, weather prediction, financial projections, and decision support systems. IBM has also recently acquired a lot of companies related to Business Analytics, such as Cognos, SPSS, CoreMetrics and Unica Corp. These use data reduction on large amounts of business and marketing data to help drive new sources of revenues, provide insight for new products and services, create more focused advertising campaigns, and help understand the marketplace better.
There are certainly enough methods of reducing the quantity of storage capacity consumed, like thin provisioning, data deduplication and compression, to warrant an "umbrella term" that refers to all of them generically. I would prefer we do not "overload" the existing phrase "data reduction" but rather come up with a new phrase, such as "storage efficiency" or "capacity optimization" to refer to this category of features.

IBM is certainly quite involved in both data reduction as well as storage efficiency. If any of my readers can suggest a better phrase, please comment below.
technorati tags: IBM, data reduction, storage efficiency, histogram, linear regression, thin provisioning, data deduplication, lossy, lossless, EMC, Centera, hash collisions, Information Archive, LTO, LTO-DC, SLDC, ALDC, compression, deduplication, Storwize, supercomputers, HPC, analytics
In preparation for my [upcoming trip to Australia and New Zealand], I decided to upgrade my smartphone. My service provider T-Mobile offered me the chance to try out any new phone for 14 days for only ten dollar re-stocking fee. For the past 16 months, I have used the Google G1 phone. This is based on a storage-optimized Android operating system, based on open source Linux, with applications processed in a storage-optimized virtual machine called Dalvik, based on open source Java. According to Wikipedia, Android-based phones have #1 market share [outselling both BlackBerry OS and Apple iOS phones]. There are over 70 different companies using Android, driven away from the proprietary interfaces from Apple, BlackBerry and Microsoft.
Since I was already familiar with the Android operating system, I chose the Samsung Galaxy S Vibrant. I liked my G1, but it had only a small amount of internal memory to store applications. The G1 supported an external Micro SDHC card, but this only was used for music and photos. There was no way to install applications on the memory card, so I found myself having to uninstall applications to make room for new ones. By contrast, the Vibrant has 16GB internal memory, plenty of room for all applications, and supports Micro SDHC up to 32GB in size. My model can pre-installed with a 2GB card, of which 1.4GB is consumed by James Cameron's full-length movie Avatar. On the G1, swapping out memory cards was relatively easy. On the Vibrant, you have to take the phone apart to swap out cards, so I won't be doing that very often. I will probably just get a 32GB card and leave it in there permanently.
(FTC disclosure: I work for IBM. IBM has working relationships with Oracle, Google, and lots of other companies. IBM offers its own commercial version of Java related tools. I own stock in IBM, Apple, Google. I have friends and family who work at Microsoft. My review below is based entirely on my own experience of my new Samsung Galaxy S Vibrant phone. Samsung has created different models for different service providers. The T-Mobile Vibrant is an external USB storage device with telephony capabilities, comparable to the AT&T Captivate, Verizon Fascinate, or Sprint Epic 4G. The majority of mobile phones in the world contain IBM technology. This post is not necessarily an endorsement for Samsung over other smartphone manufacturers, nor T-Mobile over other service providers. I provide this information in context of storage optimization, state-of-the-art for smartphones in general, and disputes related to software patents between companies. I hold 19 patents, most of which are software patents.)
When Oracle acquired Sun Microsystems, it inherited stewardship of Java. Java is offered in two flavors. Java Standard Edition (SE) for machines that are planted firmly on or below your desk, and Java Micro Edition (ME) for machines that are carried around. Most Java-based phones limit themselves to Java ME, but Google decided to base its smartphones on the more powerful Java SE, but then optimize for the limited storage and computing resources. These two levels of Java have radically different licensing terms and conditions, so Larry Ellison of Oracle cried foul. On The Register, Gavin Clarke has an excellent article with details of the Oracle-vs-Google complaint. Daniel Dilger opines that Oracle [might kill Google's Android and software patents all at once]. Fellow blogger Mark Twomey (EMC) on his StorageZilla blog, argues that [it's not about Android phones, but Android everything].
My Vibrant is roughly the size of a half-inch stack of 3x5 index cards in my hand. In my humble opinion, the problem is the grey area between mobile phone and the desktop personal computer. Laptops, netbooks, iPads, tablet computers, eBook readers, and smartphones fall somewhere in between. At what point do you stop licensing Java SE and start licensing Java ME instead?
Let's take a look at all the stuff my new Samsung Vibrant can do, and let you decide for yourself. I have 140 applications installed, which I can access alphabetically. I also have up to seven screens which I can fill with application icons and widgets to simplify access. The screen measures about 4 inches diagonally. Click on each image below to see the full 480x800 resolution.
Each screen has five rows. On my first screen, I have the first two rows related to photography. This includes a camera, camcorder, bar-code scanner and visual search engine (Google Goggles). I am not happy with Flickr Droid app in uploading photos, so I might need to find another app for that. Other reviews I read complain that the Vibrant's camera does not have am LED flash for night time shots, and that there is no forward facing camera to do Skype or FaceTime-style videoconferencing. I think it is fine the way it is. An interesting feature of the camera app is that it uses the volume up/down buttons to zoom in and out.

The next two rows related to books and documents. In addition to both Amazon's Kindle and Barnes and Noble's Nook eBook readers, I have Dropbox to make it easy to transfer files between all my machines, a camera-scanner that generates PDFs, and ThinkFree, which appears to be based on OpenOffice open source software to create, view and edit WORD documents, EXCEL spreadsheets and PowerPoint presentations.
My second screen is for music and video entertainment.

The top row is consumed by a single widget for [Pandora], an internet radio station, not to be confused with the Pandora moon that the movie Avatar is based on. I-heart-radio, Slacker, and Last.fm are other internet radio stations. Be careful when roaming in another country, as the $15-per-MB transfer fees can really add up. While the Galaxy S has a built-in FM radio, T-Mobile has decided to disable this feature in its Vibrant model, in favor of internet-based radio stations.

I am glad the Samsung Vibrant uses the same 3.5mm combo audio jack that I mentioned in my blog post about my [New ThinkPad T410]. This allows me to use the same headset for both my laptop and my cell phone.

For those who use Microsoft Windows Media Player v10 or above, this phone lets you transfer over your songs, playlists and videos via the USB cable in PMC mode. The TED application shows 18-minute videos of lectures at conferences that focus on Technology, Entertainment and Design. MobiTV offers live streaming of popular Television shows, normally ten dollars monthly, but I got a free 30-day trial in the deal.
Screen 3 is focused on travel. I have a 30-day free trial of GoGo, the new Wi-Fi networks on various airlines. Hopefully, I will get to try this out on my upcoming flights. When GoGo is not available, the Extended Controls widget allows me to turn the phone into "Airplane mode", which would allow me to read eBooks and listen to pre-recorded music and videos stored on my phone. Most of the apps on Android are free, but Extended Controls, shown here in the top row, cost me money but well worth it. With this you can customize different size widgets with all the appropriate setting toggles you want. On this one, I can toggle Wi-Fi, Data transfer, GPS positioning, and Airplane mode.

Google Maps, Google Places and Google Sky Map are all well represented here. I also like TripIt, which is a free Software-as-a-Service for managing your trip itenerary, and syncs up with their online website. Currency and Language translation can help on international travel. The standard Alarm Clock also includes Time Zone conversion as well.
My screen 4 is my central home page. There are four buttons on the bottom of the phone: Menu, Home, Back, and Search. Hit the "Home" button on any screen, and it jumps immediately to Screen 4. From here, I can get to any of the other screens with just swiping my finger across the surface. Therefore, I chose to keep this screen simple.

For meetings, I have a big clock, and an Extended Controls widget to set my phone on silent/vibrate mode, and show my battery status. I put icons here for apps that I might need in a hurry, like Camera, Evernote, or Shazam. For those not familiar with Shazam, it will listen to the microphone for whatever song is playing in the background where you are, and it will identify the song's title and artist.

The "Starred" folder lists those five or so contacts that I have marked with a "star" to be on this short list. From here, I can call or send them an SMS text message.
Screen 5 is for office productivity. I have a 2x2 widget from Astrid to list my to-do items. I have a 1x2 widget showing my last call. My calendar syncs up with my Google calendar online.

The Locale widget allows me to change which on-screen keyboard to use. There is the standard Android keyboard which allows voice-to-text input, the Samsung keyboard that offers [XT9 mode], and the new ["Swype"] keyboard that allows you to write words quickly with squiggles swiped across the keyboard. The Swype is incredible accurate when I am typing in English. When I am communicating in Spanish, it gets in the way, spell-checking when it shouldn't.
Screen 6 is for my social media, news and search facilities. I have HootSuite Lite for managing my Twitter and Facebook posts. For news junkies, NPR, USA Today and CNN all offer mobile versions.

I have a selection of browsers, including Opera Mini 5, and Dolphin Browser HD. The latter offers a variety of special add-ons similar to Firefox on a desktop system. I also have specialty search sites, including the Internet Movie Database (IMDB), Fandango for local movie times, and Dex for local phone listings.
Screen 7 is for system administration. The top row is another "Extended Controls" widget, this time to change between 2G and 3G networks, brightness setting, set the the time-out interval for when the screen should automatically shut off, and a "stay awake" to turn off the screen saver altogether.

I can do some really powerful things here. For example, I have an application to let me use secure shell (ssh) to access our systems at work. I also can "tether" my laptop to my Vibrant, for those few times when Wi-Fi is not available, to let my laptop use the phone's signal as a dial-up modem. It is slower than Wi-Fi, but might be just what I need in a pinch.

The bottom row is the same across all seven screens, which you can customize. I left the bottom row in its original default, with options to make phone calls, look up contacts, and send text messages. The bottom right corner launches a list of all applications alphabetically, to access those not on my seven main screens.
Just in case I switch to a local SIM card while abroad in another country, I asked T-mobile to unlock my phone, which they happily did at no additional charge. For example, while I am in Australia, I can either leave my T-Mobile USA chip in the phone, and pay roaming charges per minute, or I can purchase a SIM chip from a local phone company with pre-paid minutes. This often includes unlimited free incoming calls to a local Australian phone number, and voicemail.
Unlocking the phone to use different SIM cards is different than "jailbreaking", a term that refers to Apple's products. For Android phones, jailbreaking is called "rooting", as the process involves getting "root" user access that you normally don't have. The only reason I have found to have my phone "rooted" was to take these lovely screen shots, using the "Screen Shot It" application. This is another application that I paid for. I used the free trial for a few screenshots first to check it out, liked the results, and bought the application.
So, this new smartphone looks like a keeper. I got a screen protector to avoid scratching, and a two-piece case that snaps around the phone to give it more heft. All my chargers are "Mini USB" for my old G1 phone, and this new Vibrant phone is "Micro USB" instead, so I had to order new ones for my car, my office, and for my iGo (tip A97).
This review is more to focus on the fact that the IT industry is changing, and what was traditionally performed on personal computers are now being done on new handheld devices. Android provides a platform for innovation and healthy competition. Let's all hope Oracle and Google can work out their differences amicably.
Well, it's Tuesday, and you know what that means! IBM Announcements!
This week, IBM announces its latest versions of IBM [Tivoli Storage Productivity Center v4.2] and [Tivoli Storage Productivity Center for Replication on System z v4.2]. I was the original lead architect for Productivity Center back in the version 1 and version 2 days, and am proud to see my little baby has grown up to be a fine young citizen. Analysts recognize IBM Tivoli Storage Productivity Center as one of the top three best SRM products currently in the marketplace. Here are the key highlights:
Storage Resource Agent

The "Storage Resource Agent" introduced for Linux, AIX and Windows in v4.1 is a lightweight agent, written in native "C" language instead of Java, to avoid all the resources that Java consumes. In this release, it is now supported for HP-UX and Solaris, and adds file level and database level storage resource management (SRM) reporting for all five platforms.

For new customer deployments, this will eliminate all the pain setting up a "Common Agent Manager". The Productivity Center server will send out the agent, the agent collects the data, and can then optionally uninstall itself. In this manner, you always have the latest version of the code collecting the data. For those with Common Agent Manager already installed, you can continue running as is, or slowly transition over to the new lightweight agent methodology.

Full support for IBM XIV Storage System

IBM XIV® Storage System support updated to include provisioning, data path explorer and performance management reporting. Before this release, Productivity Center could only discover and provide rudimentary capacity information for XIV systems. Now you can carve LUNs and monitor XIV disk performance just like you can with most other disk systems.

Storage Area Network (SAN) configuration planning

For those who have both Productivity Center Standard Edition (SE) and Productivity Center for Replication, the SAN Config Planner is now "replication-aware" and will add LUNs to existing copy sessions, or create new copy sessions, and ensure that the devices chosen meet the appropriate criteria.

HyperSwap™ for the IBM AIX® environment

On z/OS mainframes, if you experience an outage on a storage system, Productivity Center for Replication (TPC-R) can automatically swap to the synchronous mirror copy without disruption to the operating system or application. Now, IBM has extended this awesome feature to the AIX platform for high availability in POWER-based server environments.

Detailed Session Reporting for Global Mirror

Before, TPC-R enforced the notion of only one Global Mirror master per storage system. Now, TPC-R v4.2 is capable of supporting multiple Global MIrror sessions, and provide more detailed session reporting for these environments. This can be useful if for some unknown reason the bits are not being shoveled from point A to point B, and you need to do some "problem determination".

SVC Incremental FlashCopy

Productivity Center for Replication now adds support for the "Incremental" feature of SVC FlashCopy. While FlashCopy requests are processed instantaneously, there is background processing required that can consume cycles. Incremental processing keeps track of what changed since the last FlashCopy, and minimizes this behind-the-scenes overhead.

Integrated Distributed Disaster Recovery manager

IBM Tivoli System Automation Application Manager [TSA-AM] can now integrate with TPC-R to provide application-aware disaster recovery capability. This can coordinate between IBM Tivoli System Automation for Multiplatforms [TSA-for-MP], IBM HACMP/PowerHA, as well as other clustering products like Microsoft Cluster Services (MSCS) and Veritas Cluster Services on Solaris. When TSA-AM detects an outage, it can notify Globally Dispersed Parallet Sysplex Distributed Cluster Management (GDPS-DCM) to take action. This integration was actually completed with TPC v4.1 back in April, but got buried deep inside our big storage launch, so I bring it up again as a gentle reminder that IBM offers the best end-to-end management on the planet.
At last month's Storage University, I presented an overview of [Tivoli Storage Productivity Center v4.1]. Many of the questions were along the lines of "When will TPC do xyz?" and all I could answer was "Soon" since I knew they would be delivered with this TPC v4.2 release, but I couldn't provide any more details than that at the time.
technorati tags: IBM, TPC, TPC-R, Tivoli, Productivity Center, SRM, HACMP, PowerHA, MSCS, VCS, GDPS, GDPS-DCM
Mark your calednars! If you live or work anywhere near Australia or New Zealand, I will be presenting in a 7-city series in both countries. Here is my schedule:
I am just one of the speakers. We will have at each location the local IBM team and IBM clients giving testimonials. All the speakers will be available afterward for Q&A. It's shaping up to be an exciting series of events!
technorati tags: , IBM, storage, optimisation, australia, new zealand
Well, it's that Back-To-School time again! Mo's thirteen-year-old reluctantly enters the eight grade, still upset the summer ended so abruptly. Richard's nephew returns to the University of Arizona for another year. Natalie has chosen to move to Phoenix and pursue a post-grad degree at Arizona State University. They all have two things in common, they all want a new computer, and they are all on a budget.
Fellow blogger Bob Sutor (IBM) pointed me to an excellent article on [How to Build Your Own $200 PC], which reminded me of the [XS server I built] for my 2008 Google Summer of Code project with the One Laptop per Child organization. Now that the project is over, I have upgraded it to Ubuntu Desktop 10.04 LTS, known as Lucid Lynx. Building your own PC with your student is a great learning experience in itself. Of course, this is just the computer itself, you still need to buy the keyboard, mouse and video monitor separately, if you don't already have these.
If you are not interested in building a PC from scratch, consider taking an old Windows-based PC and installing Linux to bring it new life. Many of the older PCs don't have enough processor or memory to run Windows Vista or the latest Windows 7, but they will all run Linux.
(If you think your old system has resale value, try checking out the ["trade-in estimator"] at the BestBuy website to straighten out your misperception. However, if you do decide to sell your system, consider replacing the disk drive with a fresh empty one, or wipe the old drive clean with one of the many free Linux utilities. Jason Striegel on Engadget has a nice [HOWTO Erase your old hard disk drive] article. If you don't have your original manufacturer's Windows installation discs, installing Linux instead may help keep you out of legal hot water.)
Depending on what your school projects require, you want to make sure that you can use a printer or scanner with your Linux system. Don't buy a printer unless it is supported by Linux. The Linux Foundation maintains a [Printer Compatability database]. Printing was one of the first things I got working for my Linux-based OLPC laptop, which I documented in my December 2007 post [Printing on XO Laptop with CUPS and LPR] and got a surprising following over at [OLPC News].
To reduce paper, many schools are having students email their assignments, or use Cloud Computing services like Google Docs. Both the University of Arizona and Arizona State University use Google Docs, and the students I have talked with love the idea. Whether they use a Mac, Linux or Windows PC, all students can access Google Docs through their browser. An alternative to Google Docs is Windows Live Skydrive, which has the option to upload and edit the latest Office format documents from the Firefox browser on Linux. Both offer you the option to upload GBs of files, which could be helpful transferring data from an old PC to a new one.
Lastly, there are many free video games for Linux, for when you need to take a break from all that studying. Ever since IBM's [36-page Global Innovation Outlook 2.0] study showed that playing video games made you a better business leader, I have been encouraging all students that I tutor or mentor that playing games is a more valuable use of your time than watching television. IBM considers video games the [future of learning]. Even the [Violent Video Games are Good for Kids]. It is no wonder that IBM provides the technology that runs all the major game platforms, including Microsoft Xbox360, Nintendo Wii and Sony PlayStation.
(FTC disclosure: I work for IBM. IBM has working relationships with Apple, Google, Microsoft, Nintendo and Sony. I use both Google Docs and Microsoft Live Skydrive for personal use, and base my recommendations purely on my own experience. I own stock in IBM, Google and Apple. I have friends and family that work at Microsoft.  I own an Apple Mac Mini and Sony PlayStation. I was a Linux developer earlier in my IBM career. IBM considers Linux a strategic operating system for both personal and professional use. IBM has selected Firefox as its standard browser internally for all employees. I run Linux both at home and at the office. I graduated from the University of Arizona, and have friends who either work or take classes there, as well as at Arizona State University.)
Linux skills are marketable and growing more in demand. Linux is used in everything from cellphones to mainframes, as well as many IBM storage devices such as the IBM SAN Volume Controller, XIV and ProtecTIER data deduplication solution. In addition to writing term papers, spreadsheets and presentations with OpenOffice, your Linux PC can help you learn programming skills, web design, and database administration.
To all the students in my life, I wish you all good things in the upcoming school year!
technorati tags: IBM, Linux, Bob Sutor, BestBuy, Ubuntu, Video Games, erase, hard+disk, Google Docs, Windows Live, Skydrive, Linux Foundation, OLPC, Google, Summer of Code, Firefox, xBox360, Nintendo, Wii, Sony, Playstation
Wrapping up my coverage of the annual [2010 System Storage Technical University], I attended what might be perhaps the best session of the conference. Jim Nolting, IBM Semiconductor Manufacturing Engineer, presented the new IBM zEnterprise mainframe, "A New Dimension in Computing", under the Federal track.
The zEnterprises debunks the "one processor fits all" myth. For some I/O-intensive workloads, the mainframe continues to be the most cost-effective platform. However, there are other workloads where a memory-rich Intel or AMD x86 instance might be the best fit, and yet other workloads where the high number of parallel threads of reduced instruction set computing [RISC] such as IBM's POWER7 processor is more cost-effective. The IBM zEnterprise combines all three processor types into a single system, so that you can now run each workload on the processor that is optimized for that workload.
IBM zEnterprise z196 Central Processing Complex (CPC)

Let's start with the new mainframe z196 central processing complex (CPC). Many thought this would be called the z11, but that didn't happen. Basically, the z196 machine has a maximum 96 cores versus z10's 64 core maximum, and each core runs 5.2GHz instead of z10's cores running at 4.7GHz.  It is available in air-cooled and water-cooled models. The primary operating system that runs on this is called "z/OS", which when used with its integrated UNIX System Services subsystem, is fully UNIX-certified. The z196 server can also run z/VM, z/VSE, z/TPF and Linux on z, which is just Linux recompiled for the z/Architecture chip set. In my June 2008 post [Yes, Jon, there is a mainframe that can help replace 1500 servers], I mentioned the z10 mainframe had a top speed of nearly 30,000 MIPS (Million Instructions per Second). The new z196 machine can do 50,000 MIPS, a 60 percent increase!

(Update: Back in 2007, IBM and Sun mutually supported [OpenSolaris on an IBM System z mainframe]. Unfortunately, after Oracle acquired Sun, the OpenSolaris Governing Board has [grown uneasy over Oracle's silence] about the future of OpenSolaris on any platform. The OpenSolaris [download site] identifies 2009.06 as the latest release, but only for x86 and SPARC chip sets. Apparently, the 2010.03 release expected five months ago in March has slipped. Now it looks official that [OpenSolaris is Dead].)

The z196 runs a hypervisor called PR/SM that allows the box to be divided into dozens of logical partitions (LPAR), and the z/VM operating system can also act as a hypervisor running hundreds or thousands of guest OS images. Each core can be assigned a specialty engine "personality": GP for general processor, IFL for z/VM and Linux, zAAP for Java and XML processing, and zIIP for database, communications and remote disk mirroring. Like the z9 and z10, the z196 can attach to external disk and tape storage via ESCON, FICON or FCP protocols, and through NFS via 1GbE and 10GbE Ethernet.

IBM zEnterprise BladeCenter Extension (zBX)

There is a new frame called the zBX that basically holds two IBM BladeCenter chassis, each capable of 14 blades, so total of 28 blades per zBX frame. For now, only select blade servers are supported inside, but IBM plans to expand this to include more as testing continues. The POWER-based blades can run native AIX, IBM's other UNIX operating system, and the x86-based blades can run Linux-x86 workloads, for example. Each of these blade servers can run a single OS natively, or run a hypervisor to have multiple guest OS images.  IBM plans to look into running other POWER and x86-based operating systems in the future.

If you are already familiar with IBM's BladeCenter, then you can skip this paragraph. Basically, you have a chassis that holds 14 blades connected to a "mid-plane". On the back of the chassis, you have hot-swappable modules that snap into the other side of the mid-plane. There are modules for FCP, FCoE and Ethernet connectivity, which allows blades to talk to each other, as well as external storage. BladeCenter Management modules serve as both the service processor as well as the keyboard, video and mouse Local Console Manager (LCM). All of the IBM storage options available to IBM BladeCenter apply to zBX as well.

Besides general purpose blades, IBM will offer "accelerator" blades that will offload work from the z196. For example, let's say an OLAP-style query is issued via SQL to DB2 on z/OS. In the process of parsing the complicated query, it creates a Materialized Query Table (MQT) to temporarily hold some data. This MQT contains just the columnar data required, which can then be transferred to a set of blade servers known as the Smart Analytics Optimizer (SAO), then processes the request and sends the results back. The Smart Analytics Optimizer comes in various sizes, from small (7 blades) to extra large (56 blades, 28 in each of two zBX frames).   A 14-blade configuration can hold about 1TB of compressed DB2 data in memory for processing.


IBM zEnterprise Unified Resource Manager

You can have up to eight z196 machines and up to four zBX frames connected together into a monstrously large system. There are two internal networks. The Inter-ensemble data network (IEDN) is a 10GbE that connects all the OS images together, and can be further subdivided into separate virtual LANs (VLAN). The Inter-node management network (INMN) is a 1000 Mbps Base-T Ethernet that connects all the host servers together to be managed under a single pane of glass known as the Unified Resource Manager. It is based on IBM Systems Director.

By integrating service management, the Unified Resource Manager can handle Operations, Energy Management, Hypervisor Management, Virtual Server Lifecycle Management, Platform Performance Management, and Network Management, all from one place.

IBM Rational Developer for System z Unit Test (RDz)

But what about developers and testers, such as those Independent Software Vendors (ISV) that produce mainframe software. How can IBM make their lives easier?

Phil Smith on z/Journal provides a history of [IBM Mainframe Emulation]. Back in 2007, three emulation options were in use in various shops:

Open Mainframe, from Platform Solutions, Inc. (PSI)
FLEX-ES, from Fundamental Software, Inc.
Hercules, which is an open source package

None of these are viable options today. Nobody wanted to pay IBM for its Intellectual Property on the z/Architecture or license the use of the z/OS operating system. To fill the void, IBM put out an officially-supported emulation environment called IBM System z Professional Development Tool (zPDT) available to IBM employees, IBM Business Partners and ISVs that register through IBM Partnerworld. To help out developers and testers who work at clients that run mainframes, IBM now offers IBM Rational Developer for System z Unit Test, which is a modified version of zPDT that can run on a x86-based laptop or shared IBM System x server. Based on the open source [Eclipse IDE], the RDz emulates GP, IFL, zAAP and zIIP engines on a Linux-x86 base. A four-core x86 server can emulate a 3-engine mainframe.

With RDz, a developer can write code, compile and unit test all without consuming any mainframe MIPS. The interface is similar to Rational Application Developer (RAD), and so similar skills, tools and interfaces used to write Java, C/C++ and Fortran code can also be used for JCL, CICS, IMS, COBOL and PL/I on the mainframe. An IBM study ["Benchmarking IDE Efficiency"] found that developers using RDz were 30 percent more productive than using native z/OS ISPF. (I mention the use of RAD in my post [Three Things to do on the IBM Cloud]).
What does this all mean for the IT industry? First, the zEnterprise is perfectly positioned for [three-tier architecture] applications. A typical example could be a client-facing web-server on x86, talking to business logic running on POWER7, which in turn talks to database on z/OS in the z196 mainframe. Second, the zEnterprise is well-positioned for government agencies looking to modernize their operations and significantly reduce costs, corporations looking to consolidate data centers, and service providers looking to deploy public cloud offerings. Third, IBM storage is a great fit for the zEnterprise, with the IBM DS8000 series, XIV, SONAS and Information Archive accessible from both z196 and zBX servers.
To learn more, see the [12-page brochure] or review the collection of [IBM Redbooks]. Check out the [IBM Conferences schedule] for an event near you. Next year, the IBM Storage University will be held July 18-22, 2011 in Orlando, Flordia.
technorati tags: IBM, Technical University, zEnterprise, x86, POWER7, RISC, z/OS, Linux, AIX, OpenSolaris, Oracle, FICON, NFS, z196, zBX, DB2, SAO, IEDN, INMN, RDz, ISV, Eclipse, Cloud Computing
Continuing my coverage of the annual [2010 System Storage Technical University], I attended some sessions from the System x and Federal track side of this conference.
Grid, SOA and Cloud Computing

Bill Bauman, IBM System x Field Technical Support Specialist and System x University celebrity, presented the differences between Grid, SOA and Cloud Computing. I thought this was an odd combination to compare and contrast, but his presentation was well attended.

Grid - this is when two or more independently owned and managed computers are brought together to solve a problem. Some research facilities do this. IBM helped four hospitals connect their computers together into a grid to help analyze breast cancer. IBM also supports the [World Community Grid] which allows your personal computer to be connected to the grid and help process calculations.
SOA - SOA, which stands for Service Oriented Architecture, is an approach to building business applications as a combination of loosely-coupled black-box components orchestrated to deliver a well-defined level of service by linking together business processes. I often explain SOA as the the business version of Web 2.0. You can download a free copy of the eBook "SOA for Dummies" at the [IBM Smart SOA] landing page.
Cloud - A Cloud is a dynamic, scalable, expandable, and completely contractible architecture. It may consist of multiple, disparate, on-premise and off-premise hardware and virtualized platforms hosting legacy, fully installed, stateless, or virtualized instances of operating systems and application workloads.

Bill has his own blog, and has an interesting post [Cloud Computing, What it Is, and What it is Not] that appears to be the basis of this presentation.

Chaos to Cloud

Tom Vezina, IBM Advanced Technical Sales Specialist, presented "Chaos to Cloud Computing". Survey results show that roughly 70 percent of cloud spend will be for private clouds, and 30 percent for public, hybrid or community clouds. Of the key motivations for public cloud, 77 percent or respondents cited reducing costs, 72 percent time to value, and 50 percent improving reliability.

Tom ran over 500 "server utilization" studies for x86 deployments during the past eight years. Of these, the worst was 0.52 percent CPU utilization, the best was 13.4 percent, and the average was 6.8 percent.  When IBM mentions that 85 percent of server capacity is idle, it is mostly due to x86 servers.  At this rate, it seems easy to put five to 20 guest images onto a machine. However, many companies encounter "VM stall" where they get stuck after only 25 percent of their operating system images virtualized.

He feels the problem is with the fact most Physical-to-Virtual (P2V) migrations are manual efforts. There are tools available like Novell [PlateSpin Recon] to help automate and reduce the total number of hours spent per migration.

System x KVM Solutions

Boy, I walked into this one. Many of IBM's cloud offerings are based on the Linux hypervisor called Kernel-based Virtual Machine [a href="http://www.linux-kvm.org/page/Main_Page">KVM] instead of VMware or Microsoft Hyper-V. However, this session was about the "other KVM": keyboard video and mouse switches, which thankfully, IBM has renamed to Console Managers to avoid confusion. Presenters Ben Hilmus (IBM) and Steve Hahn (Avocent) presented IBM's line of Local Console Managers (LCM) and Global Console Managers (GCM) products.

LCM are the traditional KVM switches that people are familiar with. A single keyboard, video and mouse can select among hundreds of servers to perform maintenance or check on status. GCM adds KVM-over-IP capabilities, which means that now you can access selected systems over the Ethernet from a laptop or personal computer. Both LCM and GCM allow for two-level tiering, which means that you can have an LCM in each rack, and an LCM or GCM that points to each rack, greatly increasing the number of servers that can be managed from a single pane of glass.

Many severs have a "service processor" to manage the rest of the machine. IBM RSA II, HP iLO, and Dell DRAC4 are some examples. These allow you to turn on and off selected servers. IBM BladeCenter offers an Management Module that allows the chassis to be connected to a Console Manager and select a specific blade server inside. These can also be used with VMware viewer, Virtual Network Computing (VNC), or Remote Desktop Protocol (RDP).

IBM's offerings are unique it that you can have an optical CD/DVD drive or USB external storage attached at the LCM or GCM, and make it look like the storage is attached to the selected server. This can be used to install or upgrade software, transfer log files, and so on. Another great use, and apparently the motivation for having this session in the "Federal Track", is that the USB can be used to attach a reader for a smart card, known as a Common Access Card [CAC] used by various government agencies. This provides two-factor authentication [TFA]. For example, to log into the system, you enter your password (something you know) and swipe your employee badge smart card (something you have). The combination are validated at the selected server to provide access.
I find it amusing that server people limit themselves to server sessions, and storage people to storage sessions. Sometimes, you have to step "outside your comfort zone" and learn something new, something different. Open your eyes and look around a bit. You might just be surprised what you find.
(FTC note: I work for IBM. IBM considers Novell a strategic Linux partner. Novell did not provide me a copy of Platespin Recon, I have no experience using it, and I mention it only in context of the presentation made. IBM resells Avocent solutions, and we use LCM gear in the Tucson Executive Briefing Center.)
technorati tags: IBM, Technical University, Grid, SOA, Cloud Computing, P2V, VMware, Novell, Platespin, x86, KVM, LCM, GCM, Avocent, CAC, TFA
Continuing my coverage of the annual [2010 System Storage Technical University], I participated in the storage free-for-all, which is a long-time tradition, started at SHARE User Group conference, and carried forward to other IT conferences. The free-for-all is a Q&A Panel of experts to allow anyone to ask any question. These are sometimes called "Birds of a Feather" (BOF). Last year, they were called "Meet the Experts", one for mainframe storage, and the other for storage attached to distributed systems. This year, we had two: one focused on Tivoli Storage software, and the second to cover storage hardware. This post provides a recap of the Storage Hardware free-for-all.
The emcee for the event was Scott Drummond. The other experts on the panel included Dan Thompson, Carlos Pratt, Jack Arnold, Jim Blue, Scott Schroder, Ed Baker, Mike Wood, Steve Branch, Randy Arseneau, Tony Abete, Jim Fisher, Scott Wein, Rob Wilson, Jason Auvenshine, Dave Canan, Al Watson, and myself, yours truly, Tony Pearson.
What can I do to improve performance on my DS8100 disk system? It is running a mix of sequential batch processing and my medical application (EPIC). I have 16GB of cache and everything is formatted as RAID-5.
We are familiar with EPIC. It does not "play well with others", so IBM recommends you consider dedicating resources for just the EPIC data. Also consider RAID-10 instead for the EPIC data.
How do I evaluate IBM storage solutions in regards to [
PCI-DSS
] requirements.
Well, we are not lawyers, and some aspects of the PCI-DSS requirements are outside the storage realm. In March 2010, IBM was named ["Best Security Company"] by SC Magazine, and we have secure storage solutions for both disk and tape systems.  IBM DS8000 and DS5000 series offer Full Disk Encryption (FDE) disk drives.  IBM LTO-4/LTO-5 and TS1120/TS1130 tape drives meet FIPS requirements for encryption.  We will provide you contact information on an encryption expert to address the other parts of your PCI-DSS specific concerns.
My telco will only offer FCIP routing for long-distance disk replication, but my CIO wants to use Fibre Channel routing over CWDM, what do I do?
IBM XIV, DS8000 and DS5000 all support FC-based long distance replication across CWDM. However, if you don't have dark fiber, and your telco won't provide this option, you may need to re-negotiate your options.
My DS4800 sometimes reboots repeatedly, what should I do.
This was a known problem with microcode level 760.28, it was detecting a failed drive. You need to replace the drive, and upgrade to the latest microcode.
Should I use VMware snapshots or DS5000 FlashCopy?
VMware snapshots are not free, you need to upgrade to the appropriate level of VMware to get this function, and it would be limited to your VMware data only. The advantage of DS5000 FlashCopy is that it applies to all of your operating systems and hypervisors in use, and eliminates the consumption of VMware overhead. It provides crash-consistent copies of your data. If your DS5000 disk system is dedicated to VMware, then you may want to compare costs versus trade-offs.
Any truth to the rumor that Fibre Channel protocol will be replaced by SAS?
SAS has some definite cost advantages, but is limited to 8 meters in length. Therefore, you will see more and more usage of SAS within storage devices, but outside the box, there will continue to be Fibre Channel, including FCP, FICON and FCoE. The Fibre Channel Industry Alliance [FCIA] has a healthy roadmap for 16 Gbps support and 20 Gbps interswitch link (ISL) connections.
What about Fibre Channel drives, are these going away?
We need to differentiate the connector from the drive itself. Manufacturers are able to produce 10K and 15K RPM drives with SAS instead of FC connectors. While many have suggested that a "Flash-and-Stash" approach of SSD+SATA would eliminate the need for high-speed drives, IBM predicts that there just won't be enough SSD produced to meet the performance needs of our clients over the next five years, so 15K RPM drives, more likely with SAS instead of FC connectors, will continue to be deployed for the next five years.  
We'd like more advanced hands-on labs, and to have the certification exams be more product-specific rather than exams for midrange disk or enterprise disk that are too wide-ranging.
Ok, we will take that feedback to the conference organizers.
IBM Tivoli Storage Manager is focused on disaster recovery from tape, how do I incorporate remote disk replication.
This is IBM's Unified Recovery Management, based on the seven tiers of disaster recovery established in 1983 at GUIDE conference.  You can combine local recovery with FastBack, data center server recovery with TSM and FlashCopy manager, and combine that with IBM Tivoli Storage Productivity Center for Replication (TPC-R), GDOC and GDPS to manage disk replication across business continuity/disaster recovery (BC/DR) locations.
IBM Tivoli Storage Productivity Center for Replication only manages the LUNs, what about server failover and mapping the new servers to the replicated LUNs?
There are seven tiers of disaster recovery. The sixth tier is to manage the storage replication only, as TPC-R does. The seventh tier adds full server and network failover. For that you need something like IBM GDPS or GDOC that adds this capability.
All of my other vendor kit has bold advertising, prominent lettering, neon lights, bright colors, but our IBM kit is just black, often not even identifying the specific make or model, just "IBM" or "IBM System Storage".
IBM has opted for simplified packaging and our sleek, signature "raven black" color, and pass these savings on to you.
Bring back the SHARK fins!
We will bring that feedback to our development team. ("Shark" was the codename for IBM's ESS 800 disk model.  Fiberglass "fins" were made as promotional items and placed on top of ESS 800 disk systems to help "identify them" on the data center floor.  Unfortunately, professional golfer [<a href="http://www.shark.com/">Greg Norman</a>] complained, so IBM discontinued the use of the codename back in 2005.)
Where is Infiniband?
Like SAS, Infiniband had limited distance, about 10 to 15 meters, which proved unusable for server-to-storage network connections across data center floorspace. However, there are now 150 meter optical cables available, and you will find Infiniband used in server-to-server communications and inside storage systems.  IBM SONAS uses Infiniband today internally.  IBM DCS9900 offers Infiniband host-attachment for HPC customers.

We need midrange storage for our mainframe please?
In addition to the IBM System Storage DS8000 series, the IBM SAN Volume Controller and IBM XIV are able to connect to Linux on System z mainframes.
We need "Do's and Don'ts" on which software to run with which hardware.
IBM [Redbooks] are a good source for that, and we prioritize our efforts based on all those cards and letters you send the IBM Redbooks team.
The new TPC v4 reporting tool requires a bit of a learning curve.
The new reporting tool, based on Eclipse's Business Intelligence Reporting Tool [BIRT], is now standardized across the most of the Tivoli portfolio. Check out the [Tivoli Common Reporting] community page for assistance.
An unfortunate side-effect of using server virtualization like VMware is that it worsens management and backup issues. We now have many guests on each blade server.
IBM is the leading reseller of VMware, and understands that VMware adds an added layer of complexity. Thankfully, IBM Tivoli Storage Manager backups uses a lightweight agent. IBM [System Director VMcontrol] can help you manage a variety of hypervisor environments.
This was a great interactive session. I am glad everyone stayed late Thursday evening to participate in this discussion.
technorati tags: IBM, Technical University, DS8100, EPIC, PCI-DSS, FDE, Encryption, XIV, CWDM, DS5000, SAS, InfiniBand, FCIA, FCoE, FICON, GUIDE, Tivoli, Productivity Center, TPC-R, GDPS, SONAS, SVC, BIRT, Systems Director, VMcontrol
Continuing coverage of my week in Washington DC for the annual [2010 System Storage Technical University], I attended several XIV sessions throughout the week. There were many XIV sessions. I could not attend all of them. Jack Arnold, one of my colleagues at the IBM Tucson Executive Briefing Center, often presents XIV to clients and Business Partners. He covered all the basics of XIV architecture, configuration, and features like snapshots and migration. Carlos Lizarralde presented "Solving VMware Challenges with XIV". Ola Mayer presented "XIV Active Data Migration and Disaster Recovery".
Here is my quick recap of two in particular that I attended:
XIV Client Success Stories - Randy Arseneau

Randy reported that IBM had its best quarter ever for the XIV, reflecting an unexpected surge shortly after my blog post debunking the DDF myth last April. He presented successful case studies of client deployments. Many followed a familiar pattern. First, the client would only purchase one or two XIV units. Second, the client would beat the crap out of them, putting all kinds of stress from different workloads. Third, the client would discover that the XIV is really as amazing as IBM and IBM Business Partners have told them. Finally, in the fourth phase, the client would deploy the XIV for mission-critical production applications.

A large US bank holding company managed to get 5.3 GB/sec from a pair of XIV boxes for their analytics environment. They now have 14 XIV boxes deployed in mission-critical applications.
A large equipment manufacturer compared the offerings among seven different storage vendors, and IBM XIV came out the winner. They now have 11 XIV boxes in production and another four boxes for development/test. They have moved their entire VMware infrastructure to IBM XIV, running over 12,000 guest instances.
A financial services company bought their first XIV in early 2009 and now has 34 XIV units in production attached to a variety of Windows, Solaris, AIX, Linux servers and VMware hosts. Their entire Microsoft Exchange was moved from HP and EMC disk to IBM XIV, and experienced noticeable performance improvement.
When a University health system replaced two competitive disk systems with XIV, their data center temperature dropped from 74 to 68 degrees Fahrenheit. In general, XIV systems are 20 to 30 percent more energy efficient per usable TB than traditional disk systems.
A service provider that had used EMC disk systems for over 10 years evaluated the IBM XIV versus upgrading to EMC V-Max. The three year total cost of ownership (TCO) of EMC's V-Max was $7 Million US dollars higher, so EMC counter-proposed CLARiiON CX4 instead. But, in the end, IBM XIV proved to be the better fit, and now the customer is happy having made the switch.
The manager of an information communications technology service provider was impressed that the XIV was up and running in just a couple of days. They now have over two dozen XIV systems.
Another XIV client had lost all of their Computer Room Air Conditioning (CRAC) units for several hours. The data center heated up to 126 degrees Fahrenheit, but the customer did not lose any data on either of their two XIV boxes, which continued to run in these extreme conditions.

Optimizing XIV Performance - Brian Cormody

This session was an update from the [one presented last year] by Izhar Sharon. Brian presented various best practices for optimizing the performance when using specific application workloads with IBM XIV disk systems.

Oracle ASM: Many people allocate lots of small LUNs, because this made sense a long time ago when all you had was just a bunch of disks (JBOD). In fact, many of the practices that DBAs use to configure databases across disks become unnecessary with XIV. Wth XIV, you are better off allocating a few number of very large LUNs from the XIV. The best option was a 1-volume ASM pool with 8MB AU stripe. A single LUN can contain multiple Oracle databases. A single LUN can be used to store all of the logs.
VMware: Over 70 percent of XIV customers use it with VMware. For VMFS, IBM recommends allocating a few number of large LUNs. You can specify the maximum of 2181 GB. Do not use VMware's internal LUN extension capability, as IBM XIV already has thin provisioning and works better to allow XIV to do this for you. XIV Snapshots provide crash-consistent copies without all the VMware overhead of VMware Snapshots.
SAP: For planning purposes, the "SAPS" unit equates roughly to 0.4 IOPS for ERP OLTP workloads, and 0.6 IOPS for BW/BI OLAP workloads. In general, an XIV can deliver 25-30,000 IOPS at 10-15 msec response time, and 60,000 IOPS at 30 msec response time. With SAP, our clients have managed to get 60,000 IOPS at less than 15 msec.
Microsoft Exchange: Even my friends in Redmond could not believe how awesome XIV was during ESRP testing. Five Exchange 2010 servers connected two a pair of XIV boxes using the new 2TB drawers managed 40,000 mailboxes at the high profile (0.15 IOPS per mailbox). Another client found four XIV boxes (720 drives) was able to handle 60,000 mailboxes (5GB max), which would have taken over 4000 drives if internal disk drives were used instead. Who said SANs are obsolete for MS Exchange?
Asynchronous Replication: IBM now has an "Async Calculator" to model and help design an XIV async replication solution. In general, dark fiber works best, and MPLS clouds had the worst results. The latest 10.2.2 microcode for the IBM XIV can now handle 10 Mbps at less than 250 msec roundtrip. During the initial sync between locations, IBM recommends setting the "schedule=never" to consume as much bandwidth as possible. If you don't trust the bandwidth measurements your telco provider is reporting, consider testing the bandwidth yourself with [iPerf] open source tool.
Several members of the XIV team thanked me for my April 5th post [Double Drive Failure Debunked: XIV Two Years Later]. Since April 5th, IBM has sold more XIV units this quarter than any prior quarters. I am glad to have helped!
technorati tags: IBM, Technical University, XIV, HP, EMC, CLARiiON, VMAX, TCO, CRAC, JBOD, SAP, Oracle, ASM, Microsoft Exchange, ESRP
Continuing my coverage of the annual [2010 System Storage Technical University], I gave three sessions, some twice to accommodate the size of the rooms. The first was the ["Storage for a Green Data Center"] I covered in my previous post. This post covers the other two.
IBM Tivoli Storage Productivity Center version 4.1 Overview

In conferences like these, there are two types of product-level presentations. An "Overview" explains how products work today to those who are not familiar with it. An "Update" explains what's new in this version of the product for those who are already familiar with previous releases. This session was an Overview of [Tivoli Storage Productivity Center], plus some information of IBM's Storage Enterprise Resource Planner [SERP] from IBM's acquisition of NovusCG.

I was one of the original lead architects of Productivity Center many years ago, and was able to share many personal experiences about its evolution in development and in the field at client facilities. Analysts have repeatedly rated IBM Productivity Center as one of the top Storage Resource Management (SRM) tools available in the marketplace.

I would like to thank my colleague Harley Puckett for his assistance in putting the finishing touches on this presentation. This was my best attended session of the week, indicating there is a lot of interest in this product in particular, and managing a heterogeneous mix of storage devices in general. To hear a quick video introduction, see Harley Puckett's presentation at the [IBM Virtual Briefing Center].

Information Lifecycle Management (ILM) Overview

Can you believe I have been doing ILM since 1986? I was the lead architect for DFSMS which provides ILM support for z/OS mainframes. In 2003-2005, I spent 18 months in the field performing ILM assessments for clients, and now there are dozens of IBM practitioners in Global Services and Lab Services that do this full time. This is a topic I cover frequently at the IBM Executive Briefing Center [EBC], because it addresses several top business challenges:

Reducing costs and simplifying management
Improving efficiency of personnel and application workloads
Managing risks and regulatory compliance

IBM has a solution based on five "entry points". The advantage of this approach is that it allows our consultants to craft the right solution to meet the specific requirements of each client situation. These entry points are:

Enterprise Content Management [ECM]
Tiered Information Infrastructure - we don't limit ourselves to just "Tiered Storage" as storage is only part of a complete[information infrastructure] of servers,networks and storage
Storage Optimization and Virtualization - including virtual disk, virtual tape and virtual file solutions
Process Enhancement and Automation - an important part of ILM are the policies and procedures, such as IT Infrastructure Library [ITIL] best practices
Archive and Retention - space management and data retention solutions for email, database and file systems

When I presented ILM last year, I did not get many attendees. This time I had more, perhaps because of the recent announcement of ILM and HSM support in IBM SONAS and our April announcement of IBM DS8700 Easy Tier has renewed interest in this area.
I have safely returned back to Tucson, but have still a lot of notes of the other sessions I attended, so will cover them this week.
Continuing my week in Washington DC for the annual [2010 System Storage Technical University], I presented a session on Storage for the Green Data Center, and attended a System x session on Greening the Data Center. Since they were related, I thought I would cover both in this post.
Storage for the Green Data Center

I presented this topic in four general categories:

Drivers and Metrics - I explained the three key drivers for consuming less energy, and the two key metrics: Power Usage Effectiveness (PUE) and Data Center Infrastructure Efficiency (DCiE).
Storage Technologies - I compared the four key storage media types: Solid State Drives (SSD), high-speed (15K RPM) FC and SAS hard disk, slower (7200 RPM) SATA disk, and tape. I had comparison slides that showed how IBM disk was more energy efficient than competition, for example DS8700 consumes less energy than EMC Symmetrix when compared with the exact same number and type of physical drives. Likewise, IBM LTO-5 and TS1130 tape drives consume less energy than comparable HP or Oracle/Sun tape drives.
Integrated Systems - IBM combines multiple storage tiers in a set of integrated systems managed by smart software. For example, the IBM DS8700 offers [Easy Tier] to offer smart data placement and movement across Solid-State drives and spinning disk. I also covered several blended disk-and-tape solutions, such as the Information Archive and SONAS.
Actions and Next Steps - I wrapped up the talk with actions that data center managers can take to help them be more energy efficient, from deploying the IBM Rear Door Heat Exchanger, or improving the management of their data.

Greening of the Data Center

Janet Beaver, IBM Senior Manager of Americas Group facilities for Infrastructure and Facilities, presented on IBM's success in becoming more energy efficient. The price of electricity has gone up 10 percent per year, and in some locations, 30 percent. For every 1 Watt used by IT equipment, there are an additional 27 Watts for power, cooling and other uses to keep the IT equipment comfortable. At IBM, data centers represent only 6 percent of total floor space, but 45 percent of all energy consumption. Janet covered two specific data centers, Boulder and Raleigh.

At Boulder, IBM keeps 48 hours reserve of gasoline (to generate electricity in case of outage from the power company) and 48 hours of chilled water. Many power outages are less than 10 minutes, which can easily be handled by the UPS systems. At least 25 percent of the Computer Room Air Conditioners (CRAC) are also on UPS as well, so that there is some cooling during those minutes, within the ASHRAE guidelines of 72-80 degrees Fahrenheit. Since gasoline gets stale, IBM runs the generators once a month, which serves as a monthly test of the system, and clears out the lines to make room for fresh fuel.

The IBM Boulder data center is the largest in the company: 300,000 square feet (the equivalent of five football fields)! Because of its location in Colorado, IBM enjoys "free cooling" using outside air temperature 63 percent of the year, resulting in a PUE of 1.3 rating. Electricity is only 4.5 US cents per kWh. The center also uses 1 Million KwH per year of wind energy.

The Raleigh data center is only 100,000 Square feet, with a PUE 1.4 rating. The Raleigh area enjoys 44 percent "free cooling" and electricity costs at 5.7 US cents per kWh.  The Leadership in Energy and Environmental Design [LEED] has been updated to certify data centers.  The IBM Boulder data center has achieved LEED Silver certification, and IBM Raleigh data center has LEED Gold certification.

Free cooling, electricity costs, and disaster susceptibility are just three of the 25 criteria IBM uses to locate its data centers. In addition to the 7 data centers it manages for its own operations, and 5 data centers for web hosting, IBM manages over 400 data centers of other clients.
It seems that Green IT initiatives are more important to the storage-oriented attendees than the x86-oriented folks. I suspect that is because many System x servers are deployed in small and medium businesses that do not have data centers, per se.
technorati tags: IBM, Technical University, Green Data Center, PUE, DCiE, Free Cooling, ASHRAE, LEED, SSD, Disk, Tape, SONAS, Archive
Continuing my week in Washington DC for the annual [2010 System Storage Technical University], here is my quick recap of the keynote sessions presented Monday morning. Marlin Maddy, Worldwide Technical Events Executive for IBM Systems Lab Services and Training, served as emcee.
Jim Northington

Jim Northington, IBM System x Business Line Executive, covered the IT industry's "Love/Hate Relationship" with x86 platform. Many of the physical limitations that were previously a pain on this platform are now addressed, through a combination of IBM's new innovative eX5 architecture and virtualization technologies.

Jim also presented the [IBM CloudBurst] solution. IBM CloudBurst is one of the many "Integrated Systems" designed to help simplify deployment. Based on IBM BladeCenter, the IBM CloudBurst is basically a Private Cloud rack for those that are ready to deploy in their own data center.

Jim feels that server virtualization on x86 platforms is still in its infancy. IBM calls it the 70/30 rule: 70 percent of x86 workloads are running virtualized on 30 percent of the physical servers.

Maria Azua

Maria Azua, IBM Vice President of Cloud Computing Enablement, presented on Cloud Computing. Technology is being adopted at faster rates. It took 40 years for radio to get 60 million listeners, 20 years for 60 million television viewers, 3 years to get 60 million surfers on the Internet, but it only took 4 months to get 60 million players on Farmville!

Maria covered various aspects of Cloud Computing: virtualization images, service catalog, provisioning elasticity, management and billing services, and virtual networks. With Cloud Computing, the combination of virtualization technologies, standardization, and automation can reduce costs and improve flexibility.

We've seen this happen before. Telcos transitioned from human operators to automated digital switches. Manufacturers went from having small teams of craftsmen to assembly lines of robots. Banks went from long lines of bank tellers to short lines at the ATM.

Maria said that companies are faced with three practical choices:

Do-it-Yourself, buy the servers, storage and switches and connect everything together.
Purchase pre-installed "integrated systems" to simplify deployment.
Subscribe to Cloud computing, allowing a service provider do all this for you.

In countries where network access is not ubiquitous, IBM has developed tools for the cloud that work in "offline" mode. IBM has also developed or modified tools to run better in the cloud. Launching a computer instance from the cloud from the service catalog is so easy to do, your 5-year-old child can do this!

Want to see Cloud Computing in action? Check out [Innovation.ed.gov], which is run in the IBM cloud, for the US Department of Education's website to foster innovation.

Whether you adopt public, private or a hybrid cloud computing approach, Maria suggests you take time to plan, test your applications for standardization, examine all risks, and explore new workloads that might be good candidates. Otherwise, moving to the cloud might just mean "More mess for less". Maria provided a list of applications that IBM considers good fit for Cloud Computing today.
I heard several audience members indicate that this is the first time someone finally explained Cloud Computing to them in a way that made sense!
technorati tags: IBM, Technical University, eX5, CloudBurst, x86, Maria Azua, cloud computing, Department of Education, private cloud, public cloud, hybrid cloud
Continuing my week in Washington DC for the annual [2010 System Storage Technical University], here is my quick recap of the keynote sessions presented Monday morning. Marlin Maddy, Worldwide Technical Events Executive for IBM Systems Lab Services and Training, served as emcee.
Roland Hagen

Roland Hagan, IBM Vice President for IBM System x server platform, presented on how IBM is redefining the x86 computing experience. More than 50 percent of all servers are x86 based. These x86 servers are easy to acquire, enjoy a large application base, and can take advantage of readily available skilled workforce for administration. The problem is that 85 percent of x86 processing power remains idle, energy costs are 8 times what they were 12 years ago, and management costs are now 70 percent of the IT budget.

IBM has the number one market share for scalable x86 servers. Roland covered the newly announced eX5 architecture that has been deployed in both rack-optimized models as well as IBM BladeCenter blade servers. These can offer 2x the memory capacity as competitive offerings, which is important for today's server virtualization, database and analytics workloads. This includes 40 and 80 DIMM models of blades, and 64 to 96 DIMM models of rack-optimized systems. IBM also announced eXFlash, internal Solid State Drives accessible at bus speeds. FlexNode allows a 4-node system to dynamically change to 2 separate 2-node systems.

By 2013, analysts estimate that 69 percent of x86 workloads will be virtualized, and that 22 percent of servers will be running some form of hypervisor software. By 2015, this grows to 78 percent of x86 workloads being virtualized, and 29 percent of servers running hypervisor.

Doug Balog

Doug Balog, IBM Vice President and Disk Storage Business Line Executive, presented how the growth of information results in a "perfect storom" for the storage industry. Storage Admins are focused on managing storage growth and the related costs and complexity, proper forecasting and capacity planning, and backup administration. IBM's strategy is to help clients in the following areas:

Storage Efficiency - getting the most use out of the resources you invest
Service Delivery - ensuring that information gets to the right people at the right time, simplify reporting and provisioning
Data Protection - protecting data against unethical tampering, unauthorized access, and unexpected loss and corruption

He wrapped up his talk covering the success of DS8700 and XIV. In fact, 60 percent of XIV sales are to EMC customers. The TCO of an XIV is less than half the TCO of a comparable EMC VMAX disk system.

Dave McQueeney

Dave McQueeney, IBM Vice President for Strategy and CTO for US Federal, covered how IBM's Smarter Planet vision for smarter cities, smarter healthcare, smarter energy grid and smarter traffic are being adopted by the public sector. Almost every data center in US Federal government is out of power, floor space and/or cooling capability. An estimated 80 percent of US Federal government IT budgets are spent on maintenance and ongoing operations, leaving very little left over for the big transformational projects that President Barack Obama wants to accomplish.

Who has the most active Online Transaction Processing (OLTP)? You might guess a big bank, but it is the US Department of Homeland Security (DHS), with a system processing 600 million transactions per day. Another government agency is #2, and the top Banking application is finally #3. The IBM mainframe has solved problems 10 to 15 years ago that the distributed systems are just now encountering today. Worldwide, more than 80 percent of banks use mainframes to handle their financial transactions.

IBM's recent POWER7 set of servers are proving successful in the field. For example, Allianz was able to consolidate 60 servers to 1. Running DB2 on POWER7 server is 38 percent less expensive than Oracle on x86 Nehalem processors. For Java, running JVM on POWER7 is 73 percent better than JVM on x86 Nehalem.

The US federal government ingests a large amount of data. It has huge 10-20 PB data warehouses. In fact, the amount of GB received every year by the US federal government alone exceed the production of all disk drives produced by all drive manufacturers. This means that all data must be processed through "data reduction" or it is gone forever.

Clod Barrera

The last keynote for Monday was given by Clod Barrera, IBM Distinguished Engineer and Chief Technical Strategist for System Storage. He started out shocking the audience with his view that the "disk drive industry is a train wreck". While R&D in disk drives enjoyed a healthy improvement curve up to about 2004, it has now slowed down, getting more difficult and more expensive to improve performance and capacity of disk drives. The rest of his presentation was organized around three themes:

Integrated Stacks - while new-comers like Oralce/Sun and the VCE coalition are promoting the benefits of integrated stacks, IBM has been doing this for the past five decades. New advancements in Server and Storage virtualization provide exciting new opportunities.
Integrated Systems - solutions like IBM Information Archive and SONAS, and new features like Easy Tier that help adopt SSD transparently. As it gets harder and harder to scale-up, IBM has moved to innovative scale-out architectures.
Integrated Data Center management - companies are now realizing that management and governance are critical factors of success, and that this needs to be integrated between traditional IT, private, public and hybrid cloud computing.
This was a great inspiring start for what looks like an awesome week!
technorati tags: IBM, Technical University, Marlin Maddy, Roland Hagen, Doug Balog, Dave McQueeney, Clod Barrera, x86, eX5, FlexNode, Barack Obama, DHS, OLTP, DB2, POWER7, Oracle, JVM, Intel, Nehalem
This week, July 26-30, 2010, I am in Washington DC for the annual [2010 System Storage Technical University]. As with last year, we have joined forces with the System x team. Since we are in Washington DC this time, IBM added a "Federal Track" to focus on government challenges and solutions. So, basically, offering attendees the option to attend three conferences for one low price.
This conference was previously called the "Symposium", but IBM changed the name to "Technical University" to emphasize the technical nature of the conference. No marketing puffery like "Journey to the Private Cloud" here! Instead, this is bona fide technical training, qualifying attendees to count this towards their Continuing Professional Education (CPE).
(Note to my readers:The blogosphere is like a playground. In the center are four-year-olds throwing sand into each other's faces, while mature adults sit on benches watching the action, and only jumping in as needed. For example, fellow blogger Chuck Hollis (EMC) got sand in his face for promising to resign if EMC ever offered a tacky storage guarantee, and then [failed to follow through on his promise] when it happened.

Several of my readers asked me to respond to another EMC blogger's latest [fistful of sand]. A few months ago, fellow blogger Barry Burke (EMC) committed to [stick to facts] in posts on his Storage Anarchist blog. That didn't last long! BarryB apparently has fallen in line with EMC's over-promise-then-under-deliver approach. Unfortunately, I will be busy covering the conference and IBM's robust portfolio of offerings, so won't have time to address BarryB's stinking pile of rumor and hearsay until next week or later. I am sorry to disappoint.)
This conference is designed to help IT professionals make their business and IT infrastructure more dynamic and, in the process, help reduce costs, mitigate risks, and improve service. This technical conference event is geared to IT and Business Managers, Data Center Managers, Project Managers, System Programmers, Server and Storage Administrators, Database Administrators, Business Continuity and Capacity Planners, IBM Business Partners and other IT Professionals. This week will offer over 300 different sessions and hands-on labs, certification exams, and a Solutions Center.
For those who want a quick stroll through memory lane, here are my posts from past events:
In keeping up with IBM's leadership in Social Media, IBM Systems Lab Services and Training team running this event have their own [Facebook Fan Page] and [blog]. IBM Technical University has a Twitter account [@ibmtechconfs], and hashtag #ibmtechu. You can also follow me on Twitter [@az990tony].
technorati tags: IBM, Technical University, Federal, System Storage, System x, Washington DC, CPE, EMC, Facebook, Twitter
Continuing this week's coverage of IBM's 3Q announcements, today it's all about storage for our mainframe clients.
IBM System Storage DS8700

IBM is the leader in high-end disk attached to mainframes, with the IBM DS8700 being our latest model in a long series of successful products in this space. Here are some key features:

Full Disk Encryption (FDE), which I mentioned in my post [Different Meanings of the word "Protect"]. FDE are special 15K RPM Fibre Channel drives that include their own encryption chip, so that IBM DS8700 can encrypt the data at rest without impacting performance of reads or writes. The encryption keys are managed by IBM Tivoli Key Lifecycle Manager (TKLM).

Easy Tier, which I covered in my post [DS8700 Easy Tier Sub Lun Automatic Migration] which offers what EMC promised but has yet to deliver, the ability to have CKD volumes and FBA LUNs to straddle the fence between Solid State Drives (SSD) and spinning disk. For example, a 54GB CKD volume could have 4GB on SSD and the remaining 50GB on spinning drives.   The hottest extents are moved automatically to SSD, and the coldest moved down to spinning disk.  To learn more about Easy Tier, watch my [7-minute video] on IBM [Virtual Briefing Center].

z/OS Distributed Data Backup (zDDB), announced this week, provides the ability for a program running on z/OS to backup data written by distributed operating systems like Windows or UNIX stored in FBA format. In the past, to backup FBA LUNs involved a program like IBM Tivoli Storage Manager client to read the data natively, send it over Ethernet LAN to a TSM Server, which could run on the mainframe and use mainframe resources. This feature eliminates the Ethernet traffic by allowing a z/OS program to read the FBA blocks through standard FICON channels, which can then be written to z/OS disk or tape resources. Here is the [Announcement Letter] for more details.

One program that takes advantage of this new zDDB feature already is Innovation's [FDRSOS], which I pronounce "fudder sauce". If you are an existing FDRSOS customer, now is a good time to get rid of any EMC or HDS disk and replace with the new IBM DS8700 system.

IBM System Storage TS7680 ProtecTIER Deduplication Gateway for System z

When it comes to virtual tape libraries that attach to mainframes, the two main players are IBM TS7700 series and Oracle StorageTek Virtual Storage Manager (VSM). However, mainframe clients with StorageTek equipment are growing frustrated over Oracle's lack of commitment for mainframe-attachable storage. To make matters worse, Oracle recently missed a key delivery date for their latest enterprise tape drive.

Unfortunately, neither of these offer deduplication of the data. IBM solved this with the IBM TS7680. I covered the initial announcement six months ago in my post [TS7680 ProtecTIER Deduplication for the mainframe].

What's new this week is that IBM now supports native IP-based asynchronous replication of virtual tapes at distance, from one TS7680 to another TS7680. This replaces the method of replication using the back end disk features. The problem with using disk replication is that all the virtual tapes will be copied over. Instead, the ProtecTIER administrator can decide which subset of virtual tapes should be replicated to the remote site, and that can reduce both storage requirements as well as bandwidth costs. See the [Announcement Letter] for more details.
These new solutions will work with existing mainframes, as well as the new IBM [zEnterprise mainframe models] announced this week.
technorati tags: , IBM, DS8700, FDE, Easy+Tier, zDDB, SSD, TS7680, Deduplication, VTL, Oracle, Sun, StorageTek, STK, VSM, zEnterprise
Continuing this week's discussion on IBM announcements, today I'll cover our integrated systems.
The problem with spreading out these announcements across several days' worth of blog posts is that others beat you to the punch. Fellow blogger Richard Swain (IBM) has his post [Move that File], and TechTarget's Dave Raffo has an article titled [ "IBM SONAS gains policy-driven tiering, gateway to IBM XIV Storage System"].
By combining multiple components into a single "integrated system", IBM can offer a blended disk-and-tape storage solutions. This provides the best of both worlds, high speed access using disk, while providing lower costs and more energy efficiency with tape. According to a study by the Clipper Group, tape can be 23 times less expensive than disk over a 5 year total cost of ownership (TCO).
The two we introduced recently were the [IBM Information Archive] and the Scale-Out Network Attached Storage (SONAS). This week, IBM announced some enhancements as SONAS v1.1.1 release. SONAS is the productized version of IBM's Scale-Out File Services (SoFS), which I discussed in my posts [Area Rugs versus Wall-to-Wall Carpeting] and [More details about IBM's Clustered Scalable NAS].
ILM and HSM data movement

I have covered Information Lifecycle Management several times in this post, including my posts [ILM for my iPod], [Times a Million], and [Using ILM to Save Trees], to name a few.

I've also covered Hierarchical Storage Management, such as my post [Seven Tiers of Storage at ABN Amro], and my role as lead architect for DFSMS on z/OS in general, and DFSMShsm in particular.

However, some explanation might be warranted in the use of these two terms in regards to SONAS. In this case, ILM refers to policy-based file placement, movement and expiration on internal disk pools. This is actually a GPFS feature that has existed for some time, and was tested to work in this new configuration. Files can be individually placed on either SAS (15K RPM) or SATA (7200 RPM) drives. Policies can be written to move them from SAS to SATA based on size, age and days non-referenced.

HSM is also a form of ILM, in that it moves data from SONAS disk to external storage pools managed by IBM Tivoli Storage Manager. A small stub is left behind in the GPFS file system indicating the file has been "migrated". Any reference to read or update this file will cause the file to be "recalled" back from TSM to SONAS for processing. The external storage pools can be disk, tape or any other media supported by TSM. Some estimate that as much as 60 to 80 percent of files on NAS have low reference and should be stored on tape instead of disk, and now SONAS with HSM makes that possible.

This distinction allows the ILM movement to be done internally, within GPFS, and the HSM movement to be done externally, via TSM. Both ILM and HSM movement take advantage of the GPFS high-speed policy engine, which can process 10 million files per node, run in parallel across all interface nodes. Note that TSM is not required for ILM movement. In effect, SONAS brings the policy-based management features of DFSMS for z/OS mainframe to all the rest of the operating systems that access SONAS.

HTTP and NIS support

In addition to NFS v2, NFS v3, and CIFS, the SONAS v1.1.1 adds the HTTP protocol. Over time, IBM plans to add more protocols in subsequent releases. Let me know which protocols you are interested in, so I can pass that along to the architects designing future releases!

SONAS v1.1.1 also adds support for Network Information Service (NIS), a client/server based model for user administration. In SONAS, NIS is used for netgroup and ID mapping only. Authentication is done via Active Directory, LDAP or Samba PDC.

Asynchronous Replication

SONAS already had synchronous replication, which was limited in distance. Now, SONAS v1.1.1 provides asynchronous replication, using rsync, at the file level. This is done over Wide Area Network (WAN) across to any other SONAS at any distance.

Hardware enhancements

Interface modules can now be configured with either 64GB or 128GB of cache. Storage now supports both 450GB and 600GB SAS (15K RPM) and both 1TB and 2TB SATA (7200 RPM) drives. However, at this time, an entire 60-drive drawer must be either all one type of SAS or all one type of SATA. I have been pushing the architects to allow each 10-pack RAID rank to be independently selectable. For now, a storage pod can have 240 drives, 60 drives of each type of disk, to provide four different tiers of storage. You can have up to 30 storage pods per SONAS, for a total of 7200 drives.

An alternative to internal drawers of disk is a new "Gateway" iRPQ that allows the two storage nodes of a SONAS storage pod to connect via Fibre Channel to one or two XIV disk systems. You cannot mix and match, a storage pod is either all internal disk, or all external XIV. A SONAS gateway combined with external XIV is referred to as a "Smart Business Storage Cloud" (SBSC), which can be configured off premises and managed by third-party personnel so your IT staff can focus on other things.

See the Announcement Letters for the SONAS [hardware] and [software] for more details.

For those who are wondering how this positions against IBM's other NAS solution, the IBM System Storage N series, the rule of thumb is simple. If your capacity needs can be satisfied with a single N series box per location, use that. If not, consider SONAS instead. For those with non-IBM NAS filers that realize now that SONAS is a better approach, IBM offers migration services.

Both the Information Archive and the SONAS can be accessed from z/OS or Linux on System z mainframe, from "IBM i", AIX and Linux on POWER systems, all x86-based operating systems that run on System x servers, as well as any non-IBM server that has a supported NAS client.

technorati tags: , IBM, Announcements, SONAS, SoFS, Information+Archive, Richard Swain, TechTarget, ILM, HSM, storage tiers, GPFS, TSM, HTTP, NIS, TSM, NAS, iRPQ, XIV, SBSC, z/OS, Linux, AIX
Well, today's Tuesday, and you know what that means... IBM Announcements!
This week, IBM has their huge 3Q Launch. This on top of the [2Q results] IBM released yesterday. You can read how the rest of the company did, but it is good to see that IBM grew in both revenue and market share for storage!
As with any IBM launch of this magnitude, there are so many enhancements, I will spread them across several posts.
IBM System Storage TS7610 ProtecTIER® Deduplication Appliance Express

IBM System Storage N series

IBM System Storage DS4000 and DS5000 series

IBM Tivoli Storage FlashCopy Manager v2.2
I'll try to get to the rest in separate posts over the rest of this week.
technorati tags: IBM, 2Q Results, ProtecTIER, deduplication, TS7610, VTL, N3400, PAM, DS5020, Brazil, power cord, FlashCopy, FlashCopy Manager
Some of my favorite debates on the blogosphere concern the future of things. On his blog The Bigger Truth, fellow blogger Steve Duplessie (ESG) gives his thoughts on [Why the Cloud will Vaporize]. This was countered with TechTarget's Joseph Faran response, [Why Cloud Computing is Here to Stay]. Chris Mellor on The Register covers [HDS's pay-per-use private cloud storage] and [Nirvanix's hybrid cloud taster] offerings. Fellow blogger Alex McDonald has a hilarious send-up, poking fun at EMC's latest in their series of commercial failures, [Atmos Online, The Jezhov Of The Cloud].
Of course, EMC isn't the first, and won't be the last, vendor to [hear the sirens] of Cloud Computing and crash their ships on rocky shores. Just because you manufacture hardware or write software does not guarantee your success as a Cloud service provider.
(FTC disclaimer: I work for IBM. IBM is a successful public cloud service provider, as well as offering products that can be used to deploy a private, hybrid or community cloud, and provides technology to other cloud service proviers.)
An amusing excerpt from Steve Duplessie's post:
"Side Note: There is no such thing as a private cloud. A private cloud is called IT. We don't need more terms for the same stuff."
I have to agree that when vendors like EMC say "Journey to the Private Cloud", skeptics hear "How to keep your IT administrator job by sticking with a traditional IT approach". Butchers, bakers, candlestick makers and the specialty shop "arms dealers" of Cloud Computing IT equipment may not want to see their market shrink down to a dozen or so service providers, and drum up the fear that "Public Cloud" deployments will "disintermediate" the IT staff.
But does that mean the use of term "Private Cloud" should be discontinued? The US National Institute of Standards and Technology [NIST] offers their cloud model composed of five essential characteristics, three service models, and four deployment models. Here's an excerpt:
"Essential Characteristics:

On-demand self-service
Broad network access
Resource pooling
Rapid elasticity
Measured Service

Service Models:

Cloud Software as a Service (SaaS)
Cloud Platform as a Service (PaaS)
Cloud Infrastructure as a Service (IaaS)

Deployment Models:

Private cloud.
Community cloud.
Public cloud.
Hybrid cloud"
Like traditional IT, a private cloud infrastructure is operated solely for an organization, so I can see how many might consider the term unnecessary. However, unlike traditional IT, a private cloud may be managed by the organization or a third party and may exist on premise or off premise.
How many traditional IT departments meet the five essential characteristics above? Instead of "on-demand self-service", many IT departments have complicated and lengthy procurement and change control procedures. A few might have "measured service" with a charge-back scheme, and a few others prefer to use a "show-back" aproach instead, showing end users or managers how much IT resources are being consumed without assigning a monetary figure or other penalty. Rapid elasticity? Giving any resource you asked for back can be just as painful because re-purposing that equipment follows the same complicated and lengthy change control procedures.
Last December, I wrote a post covering a conference session by US Department Information Services Agency (DISA) on their [Rapid Access Computing Environment].
Just like the term "intranet" refers to a private network that employs Internet standards and technologies, I feel the term "private cloud" is useful, representing an infrastructure that meets the above criteria, employing Public Cloud standards and technologies, that can distinguish itself from traditional IT in key ways that provide business value.
What I do hope "vaporizes" is all the hype, and all the misuse of the Cloud terminology out there.
technorati tags: IBM, Cloud Computing, Private Cloud, Public Cloud, ESG, DISA, RACE
Well, I'm back from my adventure. For those who did not follow my tweets, here is a quick recap. Not counting the day we flew from Tucson to Minneapolis, or the day we flew from Memphis back to Tucson, Mo and I spent nine days on the road, covering 1549 miles, or roughly two thirds of the Mississippi River. 

Well, now I have a lot of unread emails and blogs to get through! My next trip is the [IBM System Storage Technical University] in Washington DC, July 26-30.
Well, I am off on a much-needed vacation. For my American readers, this weekend represents our "4th of July" Independence Day holiday. What better way to celebrate than to drive hundreds of miles from one side of the country to the other?  In this case, from the North side down to the South side.
| | |
| --- | --- |
| | I am armed with two books on this subject. The first, is part of a series on American Road Trips, which details the roadside attractions to be found along the Great River Road. We will start up in Minnesota, and work our way Southward, covering a total of eight states in eight days along the Mississippi River. |
| | |
| --- | --- |
| The second book is Alton Brown's "Feasting on Asphalt, the River Run". This book describes Alton's ride Northward up the Mississippi river, detailing the restaurants and foods he enjoyed, so I will have to read the chapters in reverse. | |
Special thanks to Roy Buol, mayor of Dubuque, Iowa that I [met in Scottsdale earlier this year] for the idea to come visit his fine city, considered one of the Smarter Cities in the USA, thanks to IBM technology.
I don't know if I will have internet access along the way, or have the time and/or energy to blog, tweet (@az990tony) or upload photos during the trip. We'll see.
technorati tags: , IBM, Smarter Cities, Dubuque Iowa, Great River Road, Mississippi River
Congratulations to my colleague and close friend, Harley Puckett, who celebrated his 25th anniversary of service here at IBM. This is known internally as joining the "Quarter Century Club" or QCC. This is not just a figure of speech, the members of this club hold get-togethers and barbeques throughout the year.

Here is Harley welcoming Ken Hannigan and others he worked with back in Tivoli Storage Manager (TSM) software development.
Our manager, Bill Terry, presenting Harley with a plaque.
By the time I got to the cake, it was half gone!
technorati tags: , IBM, TSM, Harley Puckett, QCC
Confused about what storage solutions you need? IBM now has a [Storage Evaluation Tool] that you can use to find out about IBM's latest products, solutions and offerings.
The tool will is customized for different industries, job roles, and challenge areas. Give it a try!
technorati tags: IBM, Storage, Evaluation Tool
Continuing my saga for my [New Laptop], I have gotten all my programs operational, transferred and organized all my data, and now ready for testing. You can read my previous posts on this series: [Day 1], [Day 2], [Day 3], [Day 4].
At this point, you might be thinking, "Testing? Just use your laptop already, deal with problems as you find them!" In my case, I need to sign off that the new laptop meets my needs, and then send back my previous laptop, wiped clean of all passwords and data. I have until the end of June to do this.
The value of testing is to avoid problems later, perhaps an inconvenient time such as a business trip or client briefing. It is better to work out any issues while I am still in the office, connected to the internal IBM intranet on a high-speed wired connection. Also, I plan to do a Physical-to-Virtual (P-to-V) conversion of my Windows XP C: drive to run as a virtual guest OS on Linux, so I want to make sure the image is in working order before the conversion. That said, here is what my testing encountered.
Of the 134 applications I had identified as being installed on my old laptop, I determined that I only needed about 70 of them. The others I did not bother to install on the new.
I had not thought about "addons" and "plugins" that I have that attach themselves inside browsers or other applications. I made sure that Flash, Shockwave and Java worked correctly on all three browsers: IE6, Firefox and Opera.
One of my "plugins" is an application called [iSpring Pro, which plugs into Microsoft PowerPoint. I thought I had Microsoft Office installed, but found out the standard IBM build had only the viewers. I installed Microsoft Office 2003 Standard Edition with PowerPoint, Excel and Word. I then realized that I did not have the original V4.3 installation file for iSpring Pro, so I downloaded the latest v5 from their website. However, my license key is only for version 4, so a quick email got this resolved, and the nice folks at iSpring Solutions sent me the v4.3 installation file.

Shameless Plug: We use iSpring Pro to record our voices with PowerPoint slides to generate web videos for the [IBM Virtual Briefing Center] which we use to complement face-to-face briefings. This allows attendees to review introductory materials to prepare for their visit to Tucson, or to stay up-to-date on products and features in between annual visits. If you have not checked out the IBM Virtual Briefing Center, now is a good time to see what videos and other resources we have out there. You can even request to schedule a briefing in Tucson!

Testing out iSpring Pro, I realized that there are no jacks for my headset. On my old ThinkPad T60, I had two jacks, one green for headphone and one pink for microphone. My headset has two cables, one for each, which I then use for the recordings. I also use this for online webinars and training sessions. Apparently, ThinkPad T410 went for a single 3.5mm "Combo" audio jack that handles both roles. Fortunately, there is a [Headset Buddy] adapter that merges the two cables from my headset to the combo jack on my new laptop. I ordered one which will arrive some time next week.
My new laptop doesn't fit my old docking station either. I had set the docking station aside while I had the two laptops latched together for the file transfers, but now that I am done with the old laptop, I discovered that my new T410 doesn't fit. I ordered a new one.
Using find, grep, awk, sort and uniq, I was able to generate a list of all the file extensions on my Documents foler. I was able to find old Lotus 123, Freelance Graphics, and Wordpro files. I thought Lotus Symphony would handle these, but it does not. I was able to install an old version of Lotus Smartsuite that includes these programs so that I can process these files.
I also found in the extensions list pptx, docx and xlsx files, which represent the new Microsoft Office 2007 formats. I installed the "Format Compatability Pack" that allows Office 2003 read these files.
Lastly, I installed a few programs that support a wide variety of file formats. VideoLAN's [VLC] plays a variety of audio and video files. [7-Zip] packs and unpacks a variety of archive files. (Note: Another program, BitZipper, also supports a variety of archive formats, but the install will corrupt your Firefox and IE browsers with new tool bars, change your search engine default, and install a lot of other unwanted software. Cleaning up the mess can be time-consuming. You have been warned!) I also installed [MadEdit], a binary/hex/text editor that will open any file to see what kind of format it has inside. From this, I was able to determine that some of my extension-less files were GIF, RTF or PDF format, and rename them accordingly.
With the testing done, I am ready to go wipe my old system of all passwords and data!
technorati tags: IBM, ThinkPad, T60, T410, P-to-V, Flash, Shockwave, iSpring, PowerPoint, Headset Buddy, audio jack, Lotus, Symphony, SmartSuite, VideoLAN, VLC, 7-Zip, MadEdit
Continuing my saga for my [New Laptop], let's recap my progress so far:
[Day 1 afternoon], I received the laptop from shipping on Wednesday, took a backup of the factory install image to an external USB drive, and re-partitioned to run both Windows and Linux operating systems.
[Day 2], I spent Thursday using the "Migration Assistant" tool, and completed the operation sending the rest of my data over to the /dev/sda6 NTFS partition.
So now, Friday (day 3), I get to install any applications that were not part of the pre-installed image. Thankfully, I had planned ahead and figured out the 134 different applications that I had on my old system. I printed out a copy of my spreadsheet, and used it as a checklist to systematically go through the list. For each one, I determined one of the following:
BUILD

If I could find the application already installed, either the same version or newer, or functionally equivalent, then I would mark it down as being part of the factory build. Of those programs pre-installed, I am quite pleased that the settings were carried over during yesterday's file transfer. For example, my bookmarks and bookmarklets on Firefox are all in tact. However, it did not carry forward all of my Firefox addons, so these I had to install separately.

ISSI Download

IBM Standard Software Installer is our internal website for IBM and select third-party software for the different operating systems supported. Many of the ISSI programs were already included in the factory build, such as Lotus Notes, Lotus Symphony, Firefox browser, and so I had very few left remaining to do manually from ISSI.

INSTALL from D:\Install-Files

As I mentioned in my previous post, I saved the ZIP or EXE files of installation, as well as any license keys, URLs and other useful information to re-install each application.

COPY over from D:\Prog-Files

Many programs don't have installation files, because they don't need to update the registry or create Desktop icons or Taskbar management buttons. For these I can just copy the directory over to C:\Program Files.

WEB Download

In some cases, the Install-File was fairly downlevel, so I downloaded a fresh copy from the Web. In other cases, I forgot to save the ZIP or EXE, so this was the backup plan.

DEFER for later install

I worked down the list alphabetically, but some programs needed other programs to be installed first, or I needed to find the license registry key, or whatever. This allowed me to focus on the most important programs first. Others I might defer indefinitely until I need them, such as programs to access Second Life, or to build software for Lego Mindstorms robots.

SKIP those applications no longer required

Some programs just don't need to be on my new system. This includes software to manage printers I no longer have, drivers to attach to gadgets and devices I no longer own, and software that might have been specific to the old ThinkPad T60. This was also a good time to "de-duplicate" similar applications. For example, I have decided to limit myself to just three browsers: Firefox, Opera, and Internet Explorer IE6.
The planning paid off. I was able to confirm or install all of my applications today and have a fully working Windows XP system partition. I celebrated by taking another backup.
technorati tags: , IBM, Lotus, Notes, Symphony, Firefox, Opera, IE6, ThinkPad, T410, T60
Continuing my rant from Monday's post [Time for a New Laptop], I got my new laptop Wednesday afternoon. I was hoping the transition would be quick, but that was not the case. Here were my initial steps prior to connecting my two laptops together for the big file transfer:
Document what my old workstation has

Back in 2007, I wrote a blog post on how to [Separate Programs from Data]. I have since added a Linux partition for dual-boot on my ThinkPad T60.

| | | | | |
| --- | --- | --- | --- | --- |
| Partition | Size | Format | Mount | Description |
| /dev/sda1 | 26GB | NTFS | C: | Windows XP SP3 operating system and programs |
| /dev/sda2 | 12GB | ext3 | /(root) | Red Hat Enterprise Linux 5.4 |
| /dev/sda5 | 1GB | swap | swap | Linux swap |
| /dev/sda6 | 80GB | NTFS | D: | My Documents and other data |

I also created a spreadsheet of all my tools, utilities and applications. I combined and deduplicated the list from the following sources:

Control Panel -> Add/Remove programs
C:\Program Files
Start -> Programs panels
Program taskbar at bottom of screen
D:\Install-Files

The last one was critical. Over the years, I have gotten in the habit of saving those ZIP or EXE files that self-install programs into a separate directory, D:/Install-Files, so that if I had to unintsall an application, due to conflicts or compatability issues, I could re-install it without having to download them again.

So, I have a total of 134 applications, which I have put into the following rough categories:

AV - editing and manipulating audio, video or graphics
Files - backup, copy or manipulate disks, files and file systems
Browser - Internet Explorer, Firefox, Opera and Google Chrome
Communications - Lotus Notes and Lotus Sametime
Connect - programs to connect to different Web and Wi-Fi services
Demo - programs I demonstrate to clients at briefings
Drivers - attach or sync to external devices, cell phones, PDAs
Games - not much here, the basic solitaire, mindsweeper and pinball
Help Desk - programs to diagnose, test and gather system information
Projects - special projects like Second Life or Lego Mindstorms
Lookup - programs to lookup information, like American Airlines TravelDesk
Meeting - I have FIVE different webinar conferencing tools
Office - presentations, spreadsheets and documents
Platform - Java, Adobe Air and other application runtime environments
Player - do I really need SIXTEEN different audio/video players?
Printer - print drivers and printer management software
Scanners - programs that scan for viruses, malware and adware
Tools - calculators, configurators, sizing tools, and estimators
Uploaders - programs to upload photos or files to various Web services

Backup my new workstation

My new ThinkPad T410 has a dual-core i5 64-bit Intel processor, so I burned a 64-bit version of [Clonezilla LiveCD] and booted the new system with that. The new system has the following configuration:

| | | | | |
| --- | --- | --- | --- | --- |
| Partition | Size | Format | Mount | Description |
| /dev/sda1 | 320GB | NTFS | C: | Windows XP SP3 operating system, programs and data |

There were only 14.4GB of data, it took 10 minutes to backup to an external USB disk. I ran it twice: first, using the option to dump the entire disk, and the second to dump the selected partition. The results were roughly the same.

Run Workstation Setup Wizard

The Workstation Setup Wizard asks for all the pertinent location information, time zone, userid/password, needed to complete the installation.

Re-Partition Disk Drive

I burned a 64-bit version of [System Rescue CD] and ran [Gparted] to re-partition this disk into the following:

| | | | | |
| --- | --- | --- | --- | --- |
| Partition | Size | Format | Mount | Description |
| /dev/sda1 | 40GB | NTFS | C: | Windows XP SP3 operating system and programs |
| /dev/sda2 | 15GB | ext3 | /(root) | Ubuntu Desktop 10.04 LTS |
| /dev/sda3 | 15GB | ext3 | unused | unused |
| /dev/sda5 | 5GB | swap | swap | Linux swap |
| /dev/sda6 | 245GB | NTFS | D: | My Documents and other data |




Redefine Windows directory structure

I made two small changes to connect C: to D: drive.

Changed "My Documents" to point to D:\Documents which will move the files over from C: to D: to accomodate its new target location. See [Microsoft procedure] for details.
Edited C:\notes\notes.ini to point to D:\notes\data to store all the local replicas of my email and databases.

Install Ubuntu Desktop 10.04 LTS

My plan is to run Windows and Linux guests through virtualization. I decided to try out Ubuntu Desktop 10.04 LTS, affectionately known as Lucid Lynx, which can support a variety of different virtualization tools, including KVM, VirtualBox-OSE and Xen. I have two identical 15GB partitions (sda2 and sda3) that I can use to hold two different systems, or one can be a subdirectory of the other. For now, I'll leave sda3 empty.

Take another backup of my new workstation

I took a fresh new backup of paritions (sda1, sda2, sda6) with Clonezilla.
The next step involved a cross-over Ethernet cable, which I don't have. So that will have to wait until Thursday morning.
technorati tags: IBM, Lenovo, ThinkPad, T60, T410, Intel, Clonezilla, SysRescCD, Gparted, Windows, Ubuntu, Linux, Lucid, LTS
Well, it feels like Tuesday and you know what that means... "IBM Announcement Day!" Actually, today is Wednesday, but since Monday was Memorial Day holiday here in the USA, my week is day-shifted. Yesterday, IBM announced its latest IBM FlashCopy Manager v2.2 release. Fellow blogger, Del Hoobler (IBM) has also posted something on this out atthe [Tivoli Storage Blog].
IBM FlashCopy Manager replaces two previous products. One was called Tivoli Storage Manager for Copy Services, the other was called Tivoli Storage Manager for Advanced Copy Services. To say people were confused between these two was an understatement, the first was for Windows, and the second was for UNIX and Linux operating systems. The solution? A new product that replaces both of these former products to support Windows, UNIX and Linux! Thus, IBM FlashCopy Manager was born. I introduced this product back in 2009 in my post [New DS8700 and other announcements].
IBM Tivoli Storage FlashCopy Manager provides what most people with "N series SnapManager envy" are looking for: application-aware point-in-time copies. This product takes advantage of the underlying point-in-time interfaces available on various disk storage systems:
FlashCopy on the DS8000 and SAN Volume Controller (SVC)
Snapshot on the XIV storage system
Volume Shadow Copy Services (VSS) interface on the DS3000, DS4000, DS5000 and non-IBM gear that supports this Microsoft Windows protocol
For Windows, IBM FlashCopy Manager can coordinate the backup of Microsoft Exchange and SQL Server. The new version 2.2 adds support for Exchange 2010 and SQL Server 2008 R2. This includes the ability to recover an individual mailbox or mail item from an Exchange backup. The data can be recovered directly to an Exchange server, or to a PST file.
For UNIX and Linux, IBM FlashCopy Manager can coordinate the backup of DB2, SAP and Oracle databases. Version 2.2 adds support specific Linux and Solaris operating systems, and provides a new capability for database cloning. Basically, database cloning restores a database under a new name with all the appropriate changes to allow its use for other purposes, like development, test or education training. A new "fcmcli" command line interface allows IBM FlashCopy Manager to be used for custom applications or file systems.
A common misperception is that IBM FlashCopy Manager requires IBM Tivoli Storage Manager backup software to function. That is not true. You have two options:
Stand-alone Mode

In Stand-alone mode, it's just you, the application, IBM FlashCopy Manager and your disk system. IBM FlashCopy Manager coordinates the point-in-time copies, maintains the correct number of versions, and allows you to backup and restore directly disk-to-disk.

Unified Recovery Management with Tivoli Storage Manager

Of course, the risk with relying only on point-in-time copies is that in most cases, they are on the same disk system as the original data. The exception being virtual disks from the SAN Volume Controller. IBM FlashCopy Manager can be combined with IBM Tivoli Storage Manager so that the point-in-time copies can be copied off to a local or remote TSM server, so that if the disk system that contains both the source and the point-in-time copies fails, you have a backup copy from TSM. In this approach, you can still restore from the point-in-time copies, but you can also restore from the TSM backups as well.
IBM FlashCopy Manager is an excellent platform to connect application-aware fucntionality with hardware-based copy services.
technorati tags: IBM, Announcements, FlashCopy, FlashCopy+Manager, Microsoft, Windows, VSS, UNIX, AIX, Solaris, Linux, TSM, Exchange, SQL+Server, SAP, DB2, Oracle
Well, I'm back safely from my tour of Asia. I am glad to report that Tokyo, Beijing and Kuala Lumpur are pretty much how I remember them from the last time I was there in each city. I have since been fighting jet lag by watching the last thirteen episodes of LOST season 6 and the series finale.
Recently, I have started seeing a lot of buzz on the term "Storage Federation". The concept is not new, but rather based on the work in database federation, first introduced in 1985 by [A federated architecture for information management] by Heimbigner and McLeod. For those not familiar with database federation, you can take several independent autonomous databases, and treat them as one big federated system. For example, this would allow you to issue a single query and get results across all the databases in the federated system. The advantage is that it is often easier to federate several disparate heterogeneous databases than to merge them into a single database. [IBM Infosphere Federation Server] is a market leader in this space, with the capability to federate DB2, Oracle and SQL Server databases.
Fellow blogger and BFF, Marc Farley (3PAR) has an excellent post [Zeroing in on a definition for federated storage]. Here's an excerpt:
Storage expansion: You want to increase the storage capacity of an existing storage system that cannot accommodate the total amount of capacity desired. Storage Federation allows you to add additional storage capacity by adding a whole new system.
Storage migration: You want to migrate from an aging storage system to a new one. Storage Federation allows the joining of the two systems and the evacuation from storage resources on the first onto the second and then the first system is removed.
Safe system upgrades: System upgrades can be problematic for a number of reasons. Storage Federation allows a system to be removed from the federation and be re-inserted again after the successful completion of the upgrade.
Load balancing: Similar to storage expansion, but on the performance axis, you might want to add additional storage systems to a Storage Federation in order to spread the workload across multiple systems.
Storage tiering: In a similar light, storage systems in a Storage Federation could have different capacity/performance ratios that you could use for tiering data. This is similar to the idea of dynamically re-striping data across the disk drives within a single storage system, such as with 3PAR's Dynamic Optimization software, but extends the concept to cross storage system boundaries.
To some extent, IBM SAN Volume Controller (SVC), XIV, Scale-Out NAS (SONAS), and Information Archive (IA) offer most, if not all, of these capabilities. EMC claims its VPLEX will be able to offer storage federation, but only with other VPLEX clusters, which brings up a good question. What about heterogenous storage federation? Before anyone accuses me of throwing stones at glass houses, let's take a look at each IBM solution:
IBM SAN Volume Controller

The IBM SAN Volume Controller has been doing storage federation since 2003. Not only can IBM SAN Volume Controller bring together storage from a variety of heterogenous storage, the SVC cluster itself can be a mix of different hardware models. You can have a 2145-8A4 node pair, 2145-8G4 node pair, and the new 2145-CF8 node pair, all combined together into a single SVC cluster. Upgrading SVC hardware nodes in an SVC cluster is always non-disruptive.

IBM XIV storage system

The IBM XIV has two kinds of independent modules. Data modules have processor, cache and 12 disks. Interface modules are data modules with additional processor, FC and Ethernet (iSCSI) adapters. Because these two modules play different roles in an XIV "colony", that number of each type is predetermined. Entry-level six-module systems have 2 interface and 4 data modules. Full 15-module systems have 6 interface and 9 data modules. Individual modules can be added or removed non-disruptively in an XIV.

IBM Scale-Out NAS

The SONAS is comprised of three kinds of nodes that work together in concert. A management node, one or more interface nodes, and two or more storage nodes. The storage nodes are paired to manage up to 240 nodes in a storage pod. Individual interface or data nodes can be added or removed non-disruptively in the SONAS. The underlying technology, the General Parallel File System, has been doing storage federation since 1996 for some of the largest top 500 supercomputers in the world.

IBM Information Archive (IA)

For the IA, there are 1, 2 or 3 nodes, which manages a set of collections. A collection can either be file-based using industry-standard NAS protocols, or object-based using the popular System Storage™ Archive Manager (SSAM) interface. Normally, you have as many collections as you have nodes, but nodes are powerful enough to manage two collections to provide N-1 availability. This allows a node to be removed, and a new node added into the IA "colony", in a non-disruptive manner.
Even in an ant colony, there are only a few types of ants, with typically one queen, several males, and lots of workers. But all the ants are red. You don't see colonies that mix between different species of ants. For databases, federation was a way to avoid the much harder task of merging databases from different platforms. For storage, I am surprised people have latched on to the term "federation", given our mixed results in the other "federations" we have formed, which I have conveniently (IMHO) ranked from least effective to most effective:
The Union of Soviet Socialist Republics (USSR)

My father used to say, "If the Soviet Union were in charge of the Sahara desert, they would run out of sand in 50 years." The [Soviet Union] actually lasted 68 years, from 1922 to 1991.

The United Nations (UN)

After the previous League of Nations failed, the UN was formed in 1945 to facilitate cooperation in international law, international security, economic development, social progress, human rights, and the achieving of world peace by stopping wars between countries, and to provide a platform for dialogue.

The European Union (EU)

With the collapse of the Greek economy, and the [rapid growth of debt] in the UK, Spain and France, there are concerns that the EU might not last past 2020.

The United States of America (USA)

My own country is a federation of states, each with its own government. California's financial crisis was compared to the one in Greece. My own state of Arizona is under boycott from other states because of its recent [immigration law]. However, I think the US has managed better than the EU because it has evolved over the past 200 years.

The Organization of the Petroleum Exporting Countries [OPEC]

Technically, OPEC is not a federation of cooperating countries, but rather a cartel of competing countries that have agreed on total industry output of oil to increase individual members' profits. Note that it was a non-OPEC company, BP, that could not "control their output" in what has now become the worst oil spill in US history. OPEC was formed in 1960, and is expected to collapse sometime around 2030 when the world's oil reserves run out. Matt Savinar has a nice article on [Life After the Oil Crash].

United Federation of Planets

The [Federation] fictitiously described in the Star Trek series appears to work well, an optimistic view of what federations could become if you let them evolve long enough.
Given the mixed results with "federation", I think I will avoid using the term for storage, and stick to the original term "scale-out architecture".
technorati tags: , LOST, storage, federation, IBM, DB2, Oracle, SQL, 3PAR, Marc Farley, SVC, XIV, SONAS, IA, EMC, VPLEX, USSR, United Nations, OPEC, Star Trek
Here I am, day 11 of a 17-day business trip, on my last leg of the trip this week, in Kuala Lumpur in Malaysia. I have been flooded with requests to give my take on EMC's latest re-interpretation of storage virtualization, VPLEX.
I'll leave it to my fellow IBM master inventor Barry Whyte to cover the detailed technical side-by-side comparison. Instead, I will focus on the business side of things, using Simon Sinek's Why-How-What sequence. Here is a [TED video] from Garr Reynold's post [The importance of starting from Why].
Let's start with the problem we are trying to solve.
Problem: migration from old gear to new gear, old technology to new technology, from one vendor to another vendor, is disruptive, time-consuming and painful.
Given that IT storage is typically replaced every 3-5 years, then pretty much every company with an internal IT department has this problem, the exception being those companies that don't last that long, and those that use public cloud solutions. IT storage can be expensive, so companies would like their new purchases to be fully utilized on day 1, and be completely empty on day 1500 when the lease expires. I have spoken to clients who have spent 6-9 months planning for the replacement or removal of a storage array.
A solution to make the data migration non-disruptive would benefit the clients (make it easier for their IT staff to keep their data center modern and current) as well as the vendors (reduce the obstacle of selling and deploying new features and functions). Storage virtualization can be employed to help solve this problem. I define virtualization as "technology that makes one set of resources look and feel like a different set of resources, preferably with more desirable characteristics.". By making different storage resources, old and new, look and feel like a single type of resource, migration can be performed without disrupting applications.
Before VPLEX, here is a breakdown of each solution:
| | | | |
| --- | --- | --- | --- |
|   | IBM | HDS | EMC |
| Why? | Non-disruptive tech refresh, and a unified platform to provide management and functionality across heterogeneous storage. | Non-disruptive tech refresh, and a unified platform to provide management and functionality between internal tier-1 HDS storage, and external tier-2 heterogeneous storage. | Non-disruptive tech refresh, with unified multi-pathing driver that allows host attachment of heterogeneous storage. |
| How? | New in-band storage virtualization device | Add in-band storage virtualization to existing storage array | New out-of-band storage virtualization device with new "smart" SAN switches |
| What? | SAN Volume Controller | HDS USP-V and USP-VM | Invista |
For IBM, the motivation was clear: Protect customers existing investment in older storage arrays and introduce new IBM storage with a solution that allows both to be managed with a single set of interfaces and provide a common set of functionality, improving capacity utilization and availability. IBM SAN Volume Controller eliminated vendor lock-in, providing clients choice in multi-pathing driver, and allowing any-to-any migration and copy services. For example, IBM SVC can be used to help migrate data from an old HDS USP-V to a new HDS USP-V.
With EMC, however, the motivation appeared to protect software revenues from their PowerPath multi-pathing driver, TimeFinder and SRDF copy services. Back in 2005, when EMC Invista was first announced, these three software represented 60 percent of EMC's bottom-line profit. (Ok, I made that last part up, but you get my point! EMC charges a lot for these.)
Back in 2006, fellow blogger Chuck Hollis (EMC) suggested that SVC was just a [bump in the wire] which could not possibly improve performance of existing disk arrays. IBM showed clients that putting cache(SVC) in front of other cache(back end devices) does indeed improve performance, in the same way that multi-core processors successfully use L1/L2/L3 cache. Now, EMC is claiming their cache-based VPLEX improves performance of back-end disk. My how EMC's story has changed!
So now, EMC announces VPLEX, which sports a blend of SVC-like and Invista-like characteristics. Based on blogs, tweets and publicly available materials I found on EMC's website, I have been able to determine the following comparison table. (Of course, VPLEX is not yet generally available, so what is eventually delivered may differ.)
| | | | |
| --- | --- | --- | --- |
|   | IBM SVC | EMC Invista | EMC VPLEX |
| Hardware | Scalable, 1 to 4 node-pairs | One size fits all, single pair of CPCs | SVC-like, 1 to 4 director-pairs |
| SAN Fabric | Works with any SAN switches or directors | Required special "smart" switches (vendor lock-in) | SVC-like, works with any SAN switches or directors |
| Multi-pathing driver | Broad selection of IBM Subsystem Device Driver (SDD) offered at no additional charge, as well as OS-native drivers Windows MPIO, AIX MPIO, Solaris MPxIO, HP-UX PV-Links, VMware MPP, Linux DM-MP, and comercial third-party driver Symantec DMP. | Limited selection, with focus on priced PowerPath driver | Invista-like, PowerPath and Windows MPIO |
| Cache | Read cache, and choice of fast-write or write-through cache, offering the ability to improve performance. | No cache, Split-Path architecture cracked open Fibre Channel packets in flight, delayed every IO by 20 nanoseconds, and redirected modified packets to the appropriate physical device. | SVC-like, Read and write-through cache, offering the ability to improve performance. |
| Space-Efficient Point-in-Time copies | SVC FlashCopy supports up to 256 space-efficient targets, copies of copies, read-only or writeable, and incremental persistent pairs. | No | Like Invista, No |
| Remote distance mirror | Choice of SVC Metro Mirror (synchronous up to 300km) and Global Mirror (asynchronous), or use the functionality of the back-end storage arrays | No native support, use functionality of back-end storage arrays, or purchase separate product called EMC RecoverPoint to cover this lack of functionality | Limited synchronous remote-distance mirror within VPLEX (up to 100km only), no native asynchronous support, use functionality of back-end storage arrays |
| Thin Provisioning | Provides thin provisioning to devices that don't offer this natively | No | Like Invista, No |
| Campus-wide access | SVC Split-Cluster allows concurrent read/write access of data to be accessed from hosts at two different locations several miles apart | I don't think so | PLEX-Metro, similar in concept but implemented differently |
| Non-disruptive tech refresh | Can upgrade or replace storage arrays, SAN switches, and even the SVC nodes software AND hardware themselves, non-disruptively | Tech refresh for storage arrays, but not for Invista CPCs | Tech refresh of back end devices, and upgrade of VPLEX software, non-disruptively. Not clear if VPLEX engines themselves can be upgraded non-disruptively like the SVC. |
| Heterogeneous Storage Support | Broad support of over 140 different storage models from all major vendors, including all CLARiiON, Symmetrix and VMAX from EMC, and storage from many smaller startups you may not have heard of | Limited support | Invista-like. VPLEX claims to support a variety of arrays from a variety of vendors, but as far as I can find, only DS8000 supported from the list of IBM devices. Fellow blogger Barry Burke (EMC) suggests [putting SVC between VPLEX and third party storage devices] to get the heterogeneous coverage most companies demand. |
| Back-end storage requirement | Must define quorum disks on any IBM or non-IBM back end storage array. SVC can run entirely on non-IBM storage arrays | None | HP SVSP-like, requires at least one EMC storage array to hold metadata |
| Internal storage | SVC 2145-CF8 model supports up to four solid-state drives (SSD) per node that can treated as managed disk to store end-user data | None | Invista-like. VPLEX has an internal 30GB SSD, but this is used only for operating system and logs, not for end-user data. |
In-band virtualization solutions from IBM and HDS dominate the market. Being able to migrate data from old devices to new ones non-disruptively turned out to be only the [tip of the iceberg] of benefits from storage virtualization. In today's highly virtualized server environment, being able to non-disruptively migrate data comes in handy all the time. SVC is one of the best storage solutions for VMware, Hyper-V, XEN and PowerVM environments. EMC watched and learned in the shadows, taking notes of what people like about the SVC, and decided to follow IBM's time-tested leadership to provide a similar offering.

EMC re-invented the wheel, and it is round. On a scale from Invista (zero) to SVC (ten), I give EMC's new VPLEX a six.
technorati tags: IBM, SVC, 2145-CF8, SSD, FlashCopy, Metro+Mirror, Global+Mirror, EMC, VPLEX, CLARiiON, Symmetrix, VMAX, storage, virtualization, non-disruptive, HDS, USP-V, USP-VM, HP, SVSP,
Wrapping up my coverage of the IBM Dynamic Infrastructure Executive Summit at the Fairmont Resort in Scottsdale, Arizona, we had a final morning of main-tent sessions. Here is a quick recap of the sessions presented Thursday morning. This left the afternoon for people to catch their flights or hit the links.
Data Center Actions your CFO will Love

Steve Sams, IBM Vice President of Global Site and Facilities, presented simple actions that can yield significant operational and capital cost savings. The first focus area was to extend the life of your existing data center. Some 70 percent of data centers are 10-15 years old or worse, and therefore not designed for today's computational densities. IBM did this for its Lexington data center, making changes that resulted in 8x capability without increasing footprint.

The second focus area was to rationalize the infrastructure across the organization. The process of "rationalizing" involves determining the business value of specific IT components and deciding whether the business value justifies the existing cost and complexity. It allows you to prioritize which consolidations should be done first to reduce costs and optimize value. IBM's own transformation reduced 128 CIOs down to a single CIO, and from 155 host data centers scattered were consolidated down to seven, and 80 web hosting data centers down to five. This also included consolidating 31 intranets down to a single global intranet.

The third focus area was to design your new infrastructure to be more responsive to change. IBM offers four solutions to help those looking to build or upgrade their data center:

Scalable Modular Data Center - save up to 20 percent than traditional deployments with turn-key configurations from 500 to 2500 square feet that can be deployed in as little as 8-12 weeks to an existing floorspace.
Enterprise Modular Data Center - save 40 to 50 percent with 5000 square foot standardized design for larger data centers. This modular approach provides a "pay as you grow" approach that can be more responsive to future unforeseen needs.
Portable Modular Data Center - this is the PMDC shipping container that was sitting outside in the parking lot. This can be deployed anywhere in 12-14 weeks and is ideal for dealing with disaster recoveries or situations where traditional data center floor plans cannot be built fast enough.
High Density Zone - this can help increase capacity in an existing data center without a full site retrofit.

Here is a quick [video] that provides more insight.

Neil Jarvis, CIO of American Automobile Association (AAA) for Northern California, Nevada and Utah (NCNU), provided the customer testimonial. Last September, the [AAA NCNU selected IBM] to build them an energy-efficient green data center. Neil provided us an update now six months later, managing the needs of 4 million drivers.

Virtualization - Managing the World's Infrastructure

Helene Armitage, IBM General Manager of the newly formed IBM System Software product line, presented on virtualization and management. Virtualization is becoming much more than a way of meeting the demand for performance, capability, and flexibility in the data center. It helps create a smarter, more agile data center. Her presentation focused on four areas: consolidate resources, manage workloads, automate processes, and optimize the delivery of IT services.

Charlie Weston, Group Vice President of Information Technology at Winn Dixie, one of the largest food retailers in the United States, with over 500 stores and supermarkets. The grocery business is highly competitive with tight profit margins. Winn Dixie wanted to deploy business continuity/disaster recovery (BC/DR) while managing IT equipment scattered across these 500 locations. They were able to consolidate 600 stand-alone servers into a single corporate data center. Using IBM AIX with PowerVM virtualization on BladeCenter, each JS22 blade server could manage 16 stores. These were mirrored to a nearby facility, as well as a remote disaster recovery center. They were also able to add new Linux application workloads to their existing System z9 EC mainframe. The result was to free up $5 million US dollars in capital that could be used to remodel their stores, and improve application performance 5-10 times. They were able to deploy a new customer portal on Linux for System z in days instead of months, and have reduced their disaster recovery time objective (RTO) against hurricanes from days to hours. Their next steps involves looking at desktop virtualization.

Redefining x86 Computing

Roland Hagan, IBM Vice President for IBM System x server platform, presented on how IBM is redefining the x86 computing experience. More than 50 percent of all servers are x86 based. These x86 servers are easy to acquire, enjoy a large application base, and can take advantage of readily available skilled workforce for administration. The problem is that 85 percent of x86 processing power remains idlea, energy costs are 8 times what they were 12 years ago, and management costs are now 70 percent of the IT budget.

IBM has the number one market share for scalable x86 servers. Roland covered the newly announced eX5 architecture that has been deployed in both rack-optimized models as well as IBM BladeCenter blade servers. These can offer 2x the memory capacity as competitive offerings, which is important for today's server virtualization, database and analytics workloads. This includes 40 and 80 DIMM models of blades, and 64 to 96 DIMM models of rack-optimized systems. IBM also announced eXFlash, internal Solid State Drives accessible at bus speeds.

The results can be significant. For example, just two IBM System x3850 4-socket, 8-core systems can replace 50 (yes, FIFTY) HP DL585 4-socket, 4-core Opteron rack servers, reducing costs 80 percent with a 3-month ROI payback period. Compared to IBM's previous X4 architecture, the eX5 provides 3.5 times better SAP performance, 3.8 times faster server virtualization performance, and 2.8 times faster database performance.

The CIO of Acxiom provided the customer testimonial. They were able to get a 35-to-1 consolidation switching over to IBM x86 servers, resulting in huge savings.

Top ROI projects to Get Started

Mark Shearer, IBM Vice President of Growth Solutions, and formerly my fourth-line manager as the Vice President of Marketing and Communications, presented a list of projects to help clients get started. There are over 500 client references that have successfully implement Smarter Planet projects. Mark's list were grouped into five categories:

Enabling Massive Scale
Increase Business Agility
Manage Risk, Compliance and Security
Organize Vast Amounts of Information
Turn Information into Insight

The attendees were all offered a free "Infrastructure Study" to evaluate their current data center environments. A team of IBM experts will come on-site, gather data, interview key personnel and make recommendations. Alternatively, these can be done at one of IBM's many briefing centers, such as the IBM Executive Briefing Center in Tucson Arizona that I work at.
This wraps up the week for me. I have to pack the XIV back into the crate, and drive back to Tucson. IBM plans to host another Executive Summit in the September/October time frame on the East coast.
technorati tags: IBM, dyninfra, summit, Scottsdale, CFO, rationalization, PMDC, AAA, NCNU, CSAA, PowerVM, AIX, RTO, HP
Continuing my coverage of the IBM Dynamic Infrastructure Executive Summit at the Fairmont Resort in Scottsdale, Arizona, we had a day full main-tent sessions. Here is a quick recap of the sessions presented in the afternoon.
Taming the Information Explosion

Doug Balog, IBM Vice President and Disk Storage Business Line Executive, presented on the information explosion. Storage Admins are focused on managing storage growth and the related costs and complexity, proper forecasting and capacity planning, and backup administration. IBM's strategy is to help clients in the following areas:

Storage Efficiency - getting the most use out of the resources you invest
Service Delivery - ensuring that information gets to the right people at the right time
Data Protection - protecting data against unethical tampering, unauthorized access, and unexpected loss and corruption

Cory Vokey, Senior Manager of IT Systems Operations at Research in Motion, Ltd., the people who bring you BlackBerry phone service, provided a client testimonial for the XIV storage system. Before the XIV, RIM suffered high storage costs and per-volume software licensing. Over the past 15 months, RIM deployed XIV as a corporate standard. With the XIV, they have had 100 percent up-time, and enjoyed 50 percent costs savings compared to their previous storage systems. They have increased capacity 300 percent, without any increase to their storage admin staff. XIV has greatly improved their procurement process, as they no longer need to "true up" their software licenses to the volume of data managed, a sore point with their previous storage vendor.

Mainframe Innovations and Integration

Tom Rosamillia, IBM General Manager of the System z mainframe platform, presented on mainframe servers. After 40 years, IBM's mainframe remains the gold standard, able to handle hundreds of workloads on a single server, facilitating immediate growth with scalability. The key values of the System z mainframe are:

Industry leading virtualization, management and qualities of service
A comprehensive portfolio for business intelligence and data warehousing
The premier platform for modernizing the enterprise
A large and growing portfolio of leading-applications ISV support

Steve Phillips, CIO of Avnet, presented the client testimonial for their use of a System z10 mainframe. Last year, Avnet was ranked Fortune's Number One "Most admired" for Technology distribution. Avnet distributes technology from 300 suppliers to over 100,000 resellers, ISVs and end users. They have modernized their system running SAP on System z with DB2 as the database management system, using Hypersockets virtual LAN inside the server to communicate between logical partitions (LPARs). The folks at Avnet especially like the ability for on-the-fly re-assignment of capacity. This is used for end-of-quarter peak processing, and to adjust between test and development workloads. They also like the various special purpose engines available:

z Integrated Information Processor (zIIP) for DB2 workloads
z Application Assist Processor (zAAP) for Java processing under WebSphere
Integrated Facility for Linux (IFL) for Linux applications

Cloud Computing: Real Capabilities, Real Stories

Mike Hill, IBM Vice President of Enterprise Initiatives, presented on IBM's leadership in cloud computing. He covered three trends that are driving IT today. First, there is a consumerization and industrialization of IT interfaces. Second, a convergence of the infrastructure that is driving a new focus on standards. Third, delivering IT as a service has brought about new delivery choices. The result is cloud computing, with on-demand self-service, ubiquitous network access, location-independent resource pooling, rapid elasticity, and flexible pricing models. Government agencies and businesses in Retail, Manufacturing and Utilities are leading the charge to cloud computing.

Mike covered IBM's five cloud computing deployment models, and shared his views on which workloads might be ready for cloud, and which may not be there yet. Organizations are certainly seeing significant results: reduced labor costs, improved capital utilization, reduced provisioning cycle times, improved quality through reduced software defects, and reduced end user IT support costs.

Mitch Daniels, Director of Technology at ManTech International Corporation, presented the customer testimonial for an IBM private cloud for Development and Test. Mantech chose a private cloud as they work with US Federal agencies like Department of Defense, Homeland Security and the Intelligence community. The private cloud was built from:

IBM Cloudburst virtualized server environment
Tivoli Unified Process to document process and workflow
Tivoli Service Automation Manager to request, deliver and manage IT services
Tivoli Self-Service Portal and Service Catalog to allow developers and testers to request resources as needed

The result: Mantech saved 50 percent in labor costs, and can now provision development and test resources in minutes instead of weeks.

The IBM Transformation Story

Leslie Gordon, IBM Vice President of Application and Infrastructure Services Management, presented IBM's own transformation story, becoming the premier "Globally Integrated Enterprise". Based on IBM's 2009 CIO study, CIOs must balance three roles with seemingly contradictory demands:

Make innovations real, be both an insightful visionary but also an able pragmatist
Raise the Return on Investment (ROI) of IT, determine savvy ways to create value but also be ruthless at cutting costs
Expanding the business impact of IT, be a collaborative business leader with the other C-level executives, but also be an inspiring manager for the IT staff.

In this case, IBM drinks its own champagne, using its own solutions to help run its internal operations. In 1997, IBM used over 15,000 applications, but this has been simplified down to 4500 applications today. Thousands of servers were consolidated to Linux on System z mainframes. The applications workloads were categorized as Blue, Bronze, Silver, and Gold to help prioritize the consolidation. IBM's key lessons from all this were:

Gather data at the business unit level, but build the business case from an enterprise view.
Start small and monitor progress continually, run operations concurrently with transformational projects
Address cultural and organizational changes by deploying transformation in waves
I found the client testimonials insightful. It is always good to hear that IBM's solutions work "as advertised" right out of the box.
technorati tags: IBM, dyninfra, summit, Scottsdale, RIM, XIV, zIIP, zAAP, IFL, Avnet, LPAR, ManTech, ROI, CIO
Continuing my coverage of the IBM Dynamic Infrastructure Executive Summit at the Fairmont Resort in Scottsdale, Arizona, we had a day full main-tent sessions. Here is a quick recap of the sessions presented in the morning.
Leadership and Innovation on a Smarter Planet

Todd Kirtley, IBM General Manager of the western United States, kicked off the day. He explained that we are now entering the Decade of Smart: smarter healthcare, smarter energy, smarter traffic systems, and smarter cities, to name a few. One of those smarter cities is Dubuque, Iowa, nicknamed the Masterpiece of the Mississippi river. Mayor Roy Boul of Dubuque spoke next on his testimonial on working with IBM. I have never been to Dubuque, but it looks and sounds like a fun place to visit. Here is the [press release] and a two-minute [video].

Smarter Systems for a Smarter Planet

Tom Rosamillia, IBM General Manager of the System z mainframe platform, presented on smarter systems. IBM is intentionally designing integrated systems to redefine performance and deliver the highest possible value for the least amount of resource. The five key focus areas were:

Enabling massive scale
Organizing vast amounts of data
Turning information into insight
Increasing business agility
Managing risk, security and compliance

The Future of Systems

Ambuj Goyal, IBM General Manager of Development and Manufacturing, presented the future of systems. For example, reading 10 million electricity meters monthly is only 120 million transactions per year, but reading them daily is 3.65 billion, and reading them every 15 minutes will result in over 350 billion transactions per year. What would it take to handle this? Beyond just faster speeds and feeds, beyond consolidation through virtualization and multi-core systems, beyond pre-configured fit-for-purpose appliances, there will be a new level for integrated systems. Imagine a highly dense integration with over 3000 processors per frame, over 400 Petabytes (PB) of storage, and 1.3 PB/sec bandwidth. Integrating software, servers and storage will make this big jump in value possible.

POWERing your Planet

Ross Mauri, IBM General Manager of Power Systems, presented the latest POWER7 processor server product line. The IBM POWER-based servers can run any mix of AIX, Linux and IBM i (formerly i5/OS) operating system images. Compared to the previous POWER6 generation, POWER7 are four times more energy efficient, twice the performance, at about the same price. For example, an 8-socket p780 with 64 cores (eight per socket) and 256 threads (4 threads per core) had a record-breaking 37,000 SAP users in a standard SD 2-tier benchmark, beating out 32-socket and 64-socket M9000 SPARC systems from Oracle/Sun and 8-socket Nehalem-EX Fujitsu 1800E systems. See the [SAP benchmark results] for full details. With more TPC-C performance per core, the POWER7 is 4.6 times faster than HP Itanium and 7.5 times faster than Oracle Sun T5440.

This performance can be combined with incredible scalability. IBM's PowerVM outperforms VMware by 65 percent and provides features like "Live Partition Mobility" that is similar to VMware's VMotion capability. IBM's PureScale allows DB2 to scale out across 128 POWER servers, beating out Oracle RAC clusters.

IBM AIX on POWER sytsems is also the most reliable UNIX operating system, which is 2.3 times more reliable than Oracle Sun Solaris on SPARC, HP-UX or Apple MacOS, and 10 times more reliable than Windows 2008 Server on x86 platforms. See the [ITIC 2009 Global Server Hardware and Server OS Reliability Survey].

Analytics and Information

The final speaker in the morning was Greg Lotko, IBM Vice President of Information Management Warehouse solutions. Analytics are required to gain greater insight from information, and this can result in better business outcomes. The [IBM Global CFO Study 2010] shows that companies that invest in business insight consistently outperform all other enterprises, with 33 percent more revenue growth, 32 percent more return on invested (ROI) capital, and 12 times more earnings (EBITDA). Business Analytics is more than just traditional business intelligence (BI). It tries to answer three critical questions for decision makers:

What is happening?
Why is it happening?
What is likely to happen in the future?

The IBM Smart Analytics System is a pre-configured integrated system appliance that combines text analytics, data mining and OLAP cubing software on a powerful data warehouse platform. It comes in three flavors: Model 5600 is based on System x servers, Model 7600 based on POWER7 servers, and Model 9600 on System z mainframe servers.

IBM has over 6000 business analytics and optimization consultants to help clients with their deployments.
While this might appear as "Death by Powerpoint", I think the panel of presenters did a good job providing real examples to emphasize their key points.
technorati tags: IBM, dyninfra, summit, Scottsdale, Dubuque, Iowa, Smarter City, Smarter Energy, POWER7, AIX, PowerVM, PureScale, DB2, Oracle, Sun, Solaris, SPARC, HP-UX, Apple, MacOS, Windows, ROI, EBITDA, OLAP, Nehalem-EX
While clients and IBM executives were in meetings today, in and around the Scottsdale Fairmont resort here in Scottsdale, Arizona, I helped to set up the "Solutions Showcase". There were three stations:
Smarter Systems

| | |
| --- | --- |
| | David Ayd and I manned this one, covering storage and server systems. From left to right: a fully-populated 15-module XIV storage system, my laptop running the XIV GUI; two-socket 16-core POWER p770 server, a solid-state drive, PS702 POWER blade, my book Inside System Storage: Volume I, HX5 x86 blade, and four-socket 16-core x3850 M3 server with MAX5 memory extension; David's laptop with various POWER and System x presentations, and our Kaon V-Osk interactive plasma screen display. |

Smarter Clouds

| | |
| --- | --- |
| Eric Kern manned the Smarter Clouds station. He had live guest images on the IBM Developer and Test cloud, which one the "Best of Interop" award up in Las Vegas this week. I covered IBM's cloud offering in my post [Three Things To Do on the IBM Cloud]. | |

Smarter Data Centers

| | |
| --- | --- |
| | Ken Schneebeli manned the "Smarter Data Centers" station. He directed people out to the parking lot to see Brian Canney and the Portable Modular Data Center (PMDC). The one here is 8.5 feet by 8.5 feet by 40 feet in size and can be configured and deployed in 12-14 weeks to any location. We can fit any mix of IBM and non-IBM equipment, provided it meets physical dimensions. Want a DS8700 disk system? The PMDC can hold up to 3-frame configurations of the DS8700. Want an eclectic mix of Sun, HP and Dell servers with HDS and EMC disk in your PMDC? IBM can do that too. |
| | |
| --- | --- |
| After we finished setup, we joined the clients at the "Welcome Reception" on the Lagoon Lawn. The weather was quite pleasant. | |
Special thanks to Jasdeep Purdhani, Lisa Gates, and Kelly Olson for their help organizing this event.
technorati tags: IBM, XIV, POWER, p770, ps702, hx5, ex5, x3850, KAON, V-osk,