with Tags:
ibm
X
For the longest time, people thought that humans could not run a mile in less than four minutes. Then, in 1954, [Sir Roger Bannister] beat that perception, and shortly thereafter, once he showed it was possible, many other runners were able to achieve this also. The same is being said now about the IBM Watson computer which appeared this week against two human contestants on Jeopardy!
(2014 Update: A lot has happened since I originally wrote this blog post! I intended this as a fun project for college students to work on during their summer break. However, IBM is concerned that some businesses might be led to believe they could simply stand up their own systems based entirely on open source and internally developed code for business use. IBM recommends instead the [IBM InfoSphere BigInsights] which packages much of the software described below. IBM has also launched a new "Watson Group" that has [Watson-as-a-Service] capabilities in the Cloud. To raise awareness to these developments, IBM has asked me to rename this post from IBM Watson - How to build your own "Watson Jr." in your basement to the new title IBM Watson -- How to replicate Watson hardware and systems design for your own use in your basement. I also took this opportunity to improve the formatting layout.)
Often, when a company demonstrates new techology, these are prototypes not yet ready for commercial deployment until several years later. IBM Watson, however, was made mostly from commercially available hardware, software and information resources. As several have noted, the 1TB of data used to search for answers could fit on a single USB drive that you buy at your local computer store.
But could you fit an entire Watson in your basement? The IBM Power 750 servers used in IBM Watson earned the [EPA Energy Star] rating, and is substantially [more energy-efficient than comparable 4-socket x86, Itanium, or SPARC servers]. However, having ninety of them in your basement would drive up your energy bill.
That got me thinking, would it be possible to build your own question-answering system, something less fancy, less sophisticated, scaled-down for personal use? John Pultorak explained [how to build your own Apollo Guidance Computer (AGC) in your basement]. Jay Shafer explains [how to build your own house for $20K]. And a 17-year-old George Hotz figured out a [hack to unlock your Apple iPhone] over the summer in his basement.
It turns out that much of the inner workings of IBM Watson were written in a series of articles in [IBM Systems Journal, Vol. 43, No. 3]. You can also read the [Wikipedia article]. Eric Brown from IBM Research will be presenting "Jeopardy: Under the Hood of IBM Watson Supercomputer" at next month's [The Linux Foundation End User Summit].
Take a look at the [IBM Research Team] to determine how the project was organized. Let's decide what we need, and what we don't in our version for personal use:
| | |
| --- | --- |
| Role: | Do we need it for personal use? |
| Team Lead | Yes, That's you. Assuming this is a one-person project, you will act as Team Lead. |
| Algorithms | Yes, I hope you know computer programming! |
| Game Strategy | No, since this version for personal use won't be appearing on Jeopardy, we won't need strategy on wager amounts for the Daily Double, or what clues to pick next. Let's focus merely on a computer that can accept a question in text, and provide an answer back, in text. |
| Systems | Yes, this team focused on how to wire all the hardware together. We need to do that, although this version for personal use will have fewer components. |
| Speech Synthesis | Optional. For now, let's have this version for personal use just return its answer in plain text. Consider this Extra Credit after you get the rest of the system working. Consider using [eSpeak], [FreeTTS], or the Modular Architecture for Research on speech sYnthesis [MARY] Text-to-Speech synthesizers. |
| Annotations | Yes, I will explain what this is, and why you need it. |
| Information Sources | Yes, we will need to get information for personal use to process |
| Question Parsing | Yes, this team developed a system for parsing the question being asked, and to attach meaning to the different words involved. |
| Search Optimization | No, this team focused on making IBM Watson optimized to answer in 3 seconds or less. We can accept a slower response, so we can skip this. |
| Project Management | Yes, even for a one-person project, having a little "project management" never hurt anyone. I highly recommend the book [Getting Things Done: The Art of Stress-Free Productivity] by David Allen]. |
(Disclaimer: As with any Do-It-Yourself (DIY) project, I am not responsible if you are not happy with your version for personal use I am basing the approach on what I read from publicly available sources, and my work in Linux, supercomputers, XIV, and SONAS. For our purposes, this version for personal use is based entirely on commodity hardware, open source software, and publicly available sources of information. Your implementation will certainly not be as fast or as clever as the IBM Watson you saw on television.)
Step 1: Buy the Hardware

Supercomputers are built as a cluster of identical compute servers lashed together by a network. You will be installing Linux on them, so if you can avoid paying extra for Microsoft Windows, that would save you some money. Here is your shopping list:

Three x86 hosts, with the following:

64-bit quad-core processor, either Intel-VT or AMD-V capable,
8GB of DRAM, or larger
300GB of hard disk, or larger
CD or DVD Read/Write drive
1GbE Ethernet

Computer Monitor, mouse and keyboard
Ethernet 1GbE 4-port hub, and appropriate RJ45 cables
Surge protector and Power strip
Local Console Monitor (LCM) 4-port switch (formerly known as a KVM switch) and appropriate cables. This is optional, but will make it easier during the development. Once your implementation is operational, you will only need the monitor and keyboard attached to one machine. The other two machines can remain "headless" servers.

Step 2: Establish Networking

IBM Watson used Juniper switches running at 10Gbps Ethernet (10GbE) speeds, but was not connected to the Internet while playing Jeopardy! Instead, these Ethernet links were for the POWER7 servers to talk to each other, and to access files over the Network File System (NFS) protocol to the internal customized SONAS storage I/O nodes.

The implementation will be able to run "disconnected from the Internet" as well. However, you will need Internet access to download the code and information sources. For our purposes, 1GbE should be sufficient. Connect your Ethernet hub to your DSL or Cable modem. Connect all three hosts to the Ethernet switch. Connect your keyboard, video monitor and mouse to the LCM, and connect the LCM to the three hosts.

Step 3: Install Linux and Middleware

To say I use Linux on a daily basis is an understatement. Linux runs on my Android-based cell phone, my laptop at work, my personal computers at home, most of our IBM storage devices from SAN Volume Controller to XIV to SONAS, and even on my Tivo at home which recorded my televised episodes of Jeopardy!

For this project, you can use any modern Linux distribution that supports KVM. IBM Watson used Novel SUSE Linux Enterprise Server [SLES 11]. Alternatively, I can also recommend either Red Hat Enterprise Linux [RHEL 6] or Canonical [Ubuntu v10]. Each distribution of Linux comes in different orientations. Download the the 64-bit "ISO" files for each version, and burn them to CDs.

Graphical User Interface (GUI) oriented, often referred to as "Desktop" or "HPC-Head"
Command Line Interface (CLI) oriented, often referred to as "Server" or "HPC-Compute"
Guest OS oriented, to run in a Hypervisor such as KVM, Xen, or VMware. Novell calls theirs "Just Enough Operating System" [JeOS].

For this version for personal use, I have chosen a [multitier architecture], sometimes referred to as an "n-tier" or "client/server" architecture.

Host 1 - Presentation Server

For the Human-Computer Interface [HCI], the IBM Watson received categories and clues as text files via TCP/IP, had a [beautiful avatar] representing a planet with 42 circles streaking across in orbit, and text-to-speech synthesizer to respond in a computerized voice. Your implementation will not be this sophisticated. Instead, we will have a simple text-based Query Panel web interface accessible from a browser like Mozilla Firefox.

Host 1 will be your Presentation Server, the connection to your keyboard, video monitor and mouse. Install the "Desktop" or "HPC Head Node" version of Linux. Install [Apache Web Server and Tomcat] to run the Query Panel. Host 1 will also be your "programming" host. Install the [Java SDK] and the [Eclipse IDE for Java Developers]. If you always wanted to learn Java, now is your chance. There are plenty of books on Java if that is not the language you normally write code.

While three little systems doesn't constitute an "Extreme Cloud" environment, you might like to try out the "Extreme Cloud Administration Tool", called [xCat], which was used to manage the many servers in IBM Watson.

Host 2 - Business Logic Server

Host 2 will be driving most of the "thinking". Install the "Server" or "HPC Compute Node" version of Linux. This will be running a server virtualization Hypervisor. I recommend KVM, but you can probably run Xen or VMware instead if you like.

Host 3 - File and Database Server

Host 3 will hold your information sources, indices, and databases. Install the "Server" or "HPC Compute Node" version of Linux. This will be your NFS server, which might come up as a question during the installation process.

Technically, you could run different Linux distributions on different machines. For example, you could run "Ubuntu Desktop" for host 1, "RHEL 6 Server" for host 2, and "SLES 11" for host 3. In general, Red Hat tries to be the best "Server" platform, and Novell tries to make SLES be the best "Guest OS".

My advice is to pick a single distribution and use it for everything, Desktop, Server, and Guest OS. If you are new to Linux, choose Ubuntu. There are plenty of books on Linux in general, and Ubuntu in particular, and Ubuntu has a helpful community of volunteers to answer your questions.

Step 4: Download Information Sources

You will need some documents for your implementation to process.

IBM Watson used a modified SONAS to provide a highly-available clustered NFS server. For this version, we won't need that level of sophistication. Configure Host 3 as the NFS server, and Hosts 1 and 2 as NFS clients. See the [Linux-NFS-HOWTO] for details. To optimize performance, host 3 will be the "official master copy", but we will use a Linux utility called rsync to copy the information sources over to the hosts 1 and 2. This allows the task engines on those hosts to access local disk resources during question-answer processing.

We will also need a relational database. You won't need a high-powered IBM DB2. Your implementation can do fine with something like [Apache Derby] which is the open source version of IBM CloudScape from its Informix acquisition. Set up Host 3 as the Derby Network Server, and Hosts 1 and 2 as Derby Network Clients. For more about structured content in relational databases, see my post [IBM Watson - Business Intelligence, Data Retrieval and Text Mining].

Linux includes a utility called wget which allows you to download content from the Internet to your system. What documents you decide to download is up to you, based on what types of questions you want answered. For example, if you like Literature, check out the vast resources at [FullBooks.com]. You can automate the download by writing a shell script or program to invoke wget to all the places you want to fetch data from. Rename the downloaded files to something unique, as often they are just "index.html". For more on wget utility, see [IBM Developerworks].

Step 5: The Query Panel - Parsing the Question

Next, we need to parse the question and have some sense of what is being asked for. For this we will use [OpenNLP] for Natural Language Processing, and [OpenCyc] for the conceptual logic reasoning. See Doug Lenat presenting this 75-minute video [Computers versus Common Sense]. To learn more, see the [CYC 101 Tutorial].

Unlike Jeopardy! where Alex Trebek provides the answer and contestants must respond with the correct question, we will do normal Question-and-Answer processing. To keep things simple, we will limit questions to the following formats:

Who is ...?
Where is ...?
When did ... happen?
What is ...?
Which ...?

Host 1 will have a simple Query Panel web interface. At the top, a place to enter your question, and a "submit" button, and a place at the bottom for the answer to be shown. When "submit" is pressed, this will pass the question to "main.jsp", the Java servlet program that will start the Question-answering analysis. Limiting the types of questions that can be posed will simplify hypothesis generation, reduce the candidate set and evidence evaluation, allowing the analytics processing to continue in reasonable time.

Step 6: Unstructured Information Management Architecture

The "heart and soul" of IBM Watson is Unstructured Information Management Architecture [UIMA]. IBM developed this, then made it available to the world as open source. It is maintained by the [Apache Software Foundation], and overseen by the Organization for the Advancement of Structured Information Standards [OASIS].

Basically, UIMA lets you scan unstructured documents, gleam the important points, and put that into a database for later retrieval. In the graph above, DBs means 'databases' and KBs means 'knowledge bases'. See the 4-minute YouTube video of [IBM Content Analytics], the commercial version of UIMA.

Starting from the left, the Collection Reader selects each document to process, and creates an empty Common Analysis Structure (CAS) which serves as a standardized container for information. This CAS is passed to Analysis Engines , composed of one or more Annotators which analyze the text and fill the CAS with the information found. The CAS are passed to CAS Consumers which do something with the information found, such as enter an entry into a database, update an index, or update a vote count.

(Note: This point requires, what we in the industry call a small matter of programming, or [SMOP]. If you've always wanted to learn Java programming, XML, and JDBC, you will get to do plenty here. )

If you are not familiar with UIMA, consider this [UIMA Tutorial].

Step 7: Parallel Processing

People have asked me why IBM Watson is so big. Did we really need 2,880 cores of processing power? As a supercomputer, the 80 TeraFLOPs of IBM Watson would place it only in 94th place on the [Top 500 Supercomputers]. While IBM Watson may be the [Smartest Machine on Earth], the most powerful supercomputer at this time is the Tianhe-1A with more than 186,000 cores, capable of 2,566 TeraFLOPs.

To determine how big IBM Watson needed to be, the IBM Research team ran the DeepQA algorithm on a single core. It took 2 hours to answer a single Jeopardy question! Let's look at the performance data:

| | | |
| --- | --- | --- |
| Element | Number of cores | Time to answer one Jeopardy question |
| Single core | 1 | 2 hours |
| Single IBM Power750 server | 32 | < 4 minutes |
| Single rack (10 servers) | 320 | < 30 seconds |
| IBM Watson (90 servers) | 2,880 | < 3 seconds |

The old adage applies, [many hands make for light work]. The idea is to divide-and-conquer. For example, if you wanted to find a particular street address in the Manhattan phone book, you could dispatch fifty pages to each friend and they could all scan those pages at the same time. This is known as "Parallel Processing" and is how supercomputers are able to work so well. However, not all algorithms lend well to parallel processing, and the phrase [nine women can't have a baby in one month] is often used to remind us of this.

Fortuantely, UIMA is designed for parallel processing. You need to install UIMA-AS for Asynchronous Scale-out processing, an add-on to the base UIMA Java framework, supporting a very flexible scale-out capability based on JMS (Java Messaging Services) and ActiveMQ. We will also need Apache Hadoop, an open source implementation used by Yahoo Search engine. Hadoop has a "MapReduce" engine that allows you to divide the work, dispatch pieces to different "task engines", and the combine the results afterwards.

Host 2 will run Hadoop and drive the MapReduce process. Plan to have three KVM guests on Host 1, four on Host 2, and three on Host 3. That means you have 10 task engines to work with. These task engines can be deployed for Content Readers, Analysis Engines, and CAS Consumers. When all processing is done, the resulting votes will be tabulated and the top answer displayed on the Query Panel on Host 1.

Step 8: Testing

To simplify testing, use a batch processing approach. Rather than entering questions by hand in the Query Panel, generate a long list of questions in a file, and submit for processing. This will allow you to fine-tune the environment, optimize for performance, and validate the answers returned.
There you have it. By the time you get your implementation fully operational, you will have learned a lot of useful skills, including Linux administration, Ethernet networking, NFS file system configuration, Java programming, UIMA text mining analysis, and MapReduce parallel processing. Hopefully, you will also gain an appreciation for how difficult it was for the IBM Research team to accomplish what they had for the Grand Challenge on Jeopardy! Not surprisingly, IBM Watson is making IBM [as sexy to work for as Apple, Google or Facebook], all of which started their business in a garage or a basement with a system as small as this version for personal use.
technorati tags: IBM, Watson, Jeopardy, Challenge, POWER7, EPA, Energy Star, RHEL, SLES, Ubuntu, Linux, UIMA, Hadoop, MapReduce, KVM, DeepQA, Roger Bannister, John Pultorak, Jay Shafer, George Hotz
Well, it's Thursday, and today IBM is having a major launch for storage. We have lots of exciting announcements today, so here is the major highlights:
IBM Storwize V7000 midrange disk system

Fellow blogger Rolf Potts just completed his [No Baggage Challenge], travelling around the world, twelve countries in six weeks with no luggage. I first learned of this trip from fellow published author and blogger Tim Ferriss in his post [How to Travel 12 Countries with No Baggage Whatsoever]. This trip was sponsored by a travel agency [BootsnAll.com] and travel clothing manufacturer [ScotteVest].

From New York, Rolf went to London, Paris, Madrid, Morocco, Cairo, South Africa, Bangkok Thailand, Malaysia, Singapore, New Zealand, Australia, and then back to United States. I was hoping to run into him while I was in Australia and New Zealand last month, but our schedules did not line up.

  Travelingwithout baggage is more than just a convenience, it is a metaphor for the philosophy that we should keep only what we need, and leave behind what we don't. This was the approach taken by IBM in the design of the IBM Storwize V7000 midrange disk system.

| | |
| --- | --- |
| | The IBM Storwize V7000 disk system consists of 2U enclosures. Controller enclosures have dual-controllers and drives. Expansion enclosures have just drives. Enclosures can have either 24 smaller form factor (SFF) 2.5-inch drives, or twelve larger 3.5-inch drives. A controller enclosure can be connected up to nine expansion enclosures. |

The drives are all connected via 6 Gbps SAS, and come in a variety of speeds and sizes: 300GB Solid-State Drive (SSD); 300GB/450GB/600GB high-speed 10K RPM; and 2TB low-speed 7200 RPM drives. The 12-bay enclosures can be intermixed with 24-bay enclosures on the same system, and within an enclosure different speeds and sizes can be intermixed. A half-rack system (20U) could hold as much as 480TB of raw disk capacity.

This new system, freshly designed entirely within IBM, competes directly against systems that carry a lot of baggage, including the HDS AMS, HP EVA, an EMC CLARiiON CX4 systems. Instead, we decided to keep the what we wanted from our other successful IBM products.

Inspired by our successful XIV storage system, IBM has developed a web-based GUI that focuses on ease-of-use. This GUI uses the latest HTML5 and dojo widgets to provide an incredible user experience.
Borrowed from our IBM DS8000 high-end disk systems, state-of-the-art device adapters provide 6 Gbps SAS connectivity with a variety of RAID levels: 0, 1, 5, 6, and 10.
From our SAN Volume Controller, the embedded [ SVC 6.1 firmware] provides all of the features and functions normally associated with enterprise-class systems, including Easy Tier sub-LUN automated tiering between Solid-State Drives and Spinning disk, thin provisioning, external disk virtualization, point-in-time FlashCopy, disk mirroring, built-in migration capability, and long-distance synchronous and asynchronous replication.

To learn more on this, read the [announcement letter], [landing page], [product page], [services page], as well as the blog posts from fellow master inventor and blogger Barry Whyte (IBM) at his [Storage Virtualization] blog.

My New Book is Now Available!

Finally, the various "internal NDA" that kept me from publishing this sooner have expired, so now I have the long-awaited [Inside System Storage: Volume II], documenting IBM's transformation in its storage strategy, including behind-the-scenes commentary about IBM's acquisitions of XIV and Diligent. Available initially in paperback form. I am still working on the hard cover and eBook editions.

For those who have not yet read my first book, Inside System Storage: Volume I, it is still available from my publisher Lulu, in [hard cover], [paperback] and [eBook] editions.

IBM System Storage DS8800

A lesson IBM learned long ago was not to make radical changes to high-end disk systems, as clients who run mission-critical applications are more concerned about reliability, availability and serviceability than they are performance or functionality. Shipping any product before it was ready meant painfully having to fix the problems in the field instead.

(EMC apparently is learning this same lesson now with their VMAX disk system. Their Engenuity code from Symmetrix DMX4 was ported over to new CLARiiON-based hardware. With several hundred boxes in the field, they have already racked up over 150 severity 1 problems, roughly half of these resulted in data loss or unavailability issues. For the sake of our mutual clients that have both IBM servers and EMC disk, I hope they get their act together soon.)

To avoid this, IBM made incremental changes to the successful design and architecture of its predecessors. The new DS8800 shares 85 percent of the stable microcode from the DS8700 system. Functions like Metro Mirror, Global Mirror, and Metro/Global Mirror, are compatible with all of the previous models of the DS8000 series, as well as previous models of the IBM Enterprise Storage Server (ESS) line.

| | |
| --- | --- |
| | The previous models of DS8000 series were designed to take in cold air from both front and back, and route the hot air out the top, known as chimney design. However, many companies are re-arranging their data centers into separate cold aisles and hot aisles. The new DS8800 has front-to-back cooling to help accommodate this design. |

My colleague Curtis Neal would call the rest of this a "BFD" announcement, which of course stands for "Bigger, Faster and Denser". The new DS8800 scales-up to more drives than its DS8700 predecessor, and can scale-out from a single-frame 2-way system to a multi-frame 4-way system. IBM has upgraded to faster 5GHz POWER6+ processors, with dual-core 8 Gbps FC and FICON host adapters, 8 Gbps device adapters, and 6 Gbps SAS connectivity to smaller form factor (SFF) 2.5-inch SAS drives. IBM Easy Tier will provide sub-LUN automated tiering between Solid-State Drives and spinning disk. The denser packaging with SFF drives means that we can pack over 1000 drives in only three frames, compared to five frames required for the DS8700.

To learn more, read the [landing page] or the announcement letters for the machine types [2421], [2422], [2423], [2424].

IBM System Storage SAN Volume Controller v6.1

The [IBM System Storage SAN Volume Controller] software release v6.1 brings Easy Tier sub-LUN automated tiering to the rest of the world. IBM Easy Tier moves the hottest, most active extents up to Solid-State Drives (SSD) and moves the coldest, least active down to spinning disk. This works whether the SSD is inside the SVC 2145-CF8 nodes, or in the managed disk pool.

Tired of waiting for EMC to finally deliver FAST v2 for your VMAX? It has been 18 months since they first announced that someday they would have sub-LUN automatic tiering. What is taking them so long? Why not virtualize your VMAX with SVC, and you can have it sooner!

SVC 6.1 also upgrades to a sexy new web-based GUI, which like the one for the IBM Storwize V7000, is based on the latest HTML5 and dojo widget standards. Inspired by the popular GUI from the IBM XIV Storage System, this GUI has greatly improved ease-of-use.

To learn more, read the [announcement letter] and [SVC product page].
These are just a subset of today's announcements. To see the rest, read [What's New].
technorati tags: IBM, announcements, #IBMstorage, Storwize V7000, DS8800, Lulu, SVC, Easy Tier, SAS
Happy Winter Solstice everyone! The Mayan calendar flipped over yesterday, and everything continued as normal.
The next date to watch out for is ... drumroll please ... April 8, 2014. This is the date Microsoft has decided to [drop support for Windows XP].
While many large corporations are actively planning to get off Windows XP, there are still many homes and individuals that are running on this platform.
When [Windows XP] was introduced in 2001, it could support systems with as little as 64MB of RAM. Nowadays, the latest versions of Windows now requires a minimum of 1GB for 32-bit systems, with 2GB or 3GB recommended.
That leaves Windows XP users on older hardware few choices:
Continue to run Windows XP, but without support (and hope for the best)
Upgrade their hardware with more RAM (and possibly more disk space) needed to run a newer level of Windows
Install a different operating system like Linux
Put the hardware in the recycle bin, and buy a new computer
Here is a personal example. A long time ago, I gave my sister a Thinkpad R31 laptop so that she could work from home. When she got a newer one, she passed this down to her daughter for doing homework. When my neice got a newer one, she passed this old laptop to her grandma.
Grandma is fairly happy with her modern PC running Windows XP. She plays all kinds of games, scans photographs, sends emails, listens to music on iTunes, and even uses Skype to talk to relatives. Her problem is that this PC is located upstairs, in her bedroom, and she wanted something portable that she could play music downstairs when she is playing cards with her friends.
"Why not use the laptop you have?" I asked. Her response: "It runs very slow. Perhaps it has a virus. Can you fix that?" I was up for the challenge, so I agreed.
(The Challenge: Update the Thinkpad R31 so that grandma can simply turn it on, launch iTunes or similar application, and just press a "play" button to listen to her music. It will be plugged in to an electrical outlet wherever she takes it, and she already has her collection of MP3 music files. My hope is to have something that is (a) simple to use, (b) starts up quickly, and (c) will not require a lot of on-going maintenance issues.)
Here are the relevant specifications of the Thinkpad R31 laptop:
CPU
Intel Celeron 1.13GHz Pentium-III
Display
13.3-inch TFT, 1024x768 XGA
Memory (RAM)
384 MB @133MHz, upgradeable only to 1GB
Disk storage
20.0 GB
Optical Drive
CD-ROM drive
BIOS boot options
Hard drive or CD-ROM only
External attachment
2 USB ports, but no USB boot option
Network
Wired 10/100 Mbps Ethernet
Wireless Ethernet
56 Kbps Phone modem
Weight
5.7 pounds!
The system was pre-installed with Windows XP, but was terribly down-level. I updated to Windows XP SP3 level, downloaded the latest anti-virus signatures, and installed iTunes. A full scan found no viruses. All this software takes up 14GB, leaving less than 6GB for MP3 music files.
The time it took from hitting the "Power-on" button to hearing the first note of music was over 14 minutes! Unacceptable!
If you can suggest what my next steps should be, please comment below or send me an email!
technorati tags: IBM, Windows XP, Microsoft, Thinkpad
Have you ever noticed that sometimes two movies come out that seem eerily similar to each other, released by different studios within months or weeks of each other? My sister used to review film scripts for a living, she would read ten of them and have to pick her top three favorites, and tells me that scripts for nearly identical concepts came all the time. Here are a few of my favorite examples:
(I think I made my point with just a few examples. A more complete list can be found on [Sam Greenspan's 11 Points website].)
This is different than copy-cat movies that are re-made or re-imagined many years later based on the previous successes of an original. Ever since my blog post [VPLEX: EMC's Latest Wheel is Round] in 2010 comparing EMC's copy-cat product that came our seven years after IBM's SAN Volume Controller (SVC), I've noticed EMC doesn't talk about VPLEX that much anymore.
This week, IBM announced [XIV Gen3 Solid-State Drive support] and our friends over at EMC announced [VFCache SSD-based PCIe cards]. Neither of these should be a surprise to anyone who follows the IT industry, as IBM had announced its XIV Gen3 as "SSD-Ready" last year specifically for this purpose, and EMC has been touting its "Project Lightning" since last May.
Fellow blogger Chris Mellor from The Register has a series of articles to cover this, including [EMC crashes the server flash party], [NetApp slaps down Lightning with multi-card Flash flush], [HP may be going the server flash route], and [Now HDS joins the server flash party].
Fellow blogger Chuck Hollis from EMC has a blog post [VFCache means Very Fast Cache indeed] that provides additional detail. Chuck claims the VFCache is faster than popular [Fusion-IO PCIe cards] available for IBM servers. I haven't seen the performance spec sheets, but typically SSD is four to five times slower than the DRAM cache used in the XIV Gen3. The VFCache's SSD is probably similar in performance to the SSD supported in the IBM XIV Gen3, DS8000, DS5000, SVC, N series, and Storwize V7000 disk systems.
Nonetheless, I've been asked my opinions on the comparison between these two announcements, as they both deal with improving application performance through the use of Solid-State Drives as an added layer of read cache.
(FTC Disclosure: I am both a full-time employee and stockholder of the IBM Corporation. The U.S. Federal Trade Commission may consider this blog post as a paid celebrity endorsement of IBM servers and storage systems. This blog post is based on my interpretation and opinions of publicly-available information, as I have no hands-on access to any of these third-party PCIe cards. I have no financial interest in EMC, Fusion-IO, Texas Memory Systems, or any other third party vendor of PCIe cards designed to fit inside IBM servers, and I have not been paid by anyone to mention their name, brands or products on this blog post.)
The solutions are different in that IBM XIV Gen3 the SSD is "storage-side" in the external storage device, and EMC VFCache is "server-side" as a PCI Express [PCIe] card. Aside from that, both implement SSD as an additional read cache layer in front of spinning disk to boost performance. Neither is an industry first, as IBM has offered server-side SSD since 2007, and IBM and EMC have offered storage-side SSD in many of their other external storage devices. The use of SSD as read cache has already been available in IBM N series using [Performance Accelerator Module (PAM)] cards.
IBM has offered cooperative caching synergy between its servers and its storage arrays for some time now. The predecessor to today's POWER7-based were the iSeries i5 servers that used PCI-X IOP cards with cache to connect i5/OS applications to IBM's external disk and tape systems. To compete in this space, EMC created their own PCI-X cards to attach their own disk systems. In 2006, IBM did the right thing for our clients and fostered competition by entering in a [Landmark agreement] with EMC to [license the i5 interfaces]. Today, VIOS on IBM POWER systems allows a much broader choice of disk options for IBM i clients, including the IBM SVC, Storwize V7000 and XIV storage systems.
EMC is not the first to manufacture an SSD-based PCIe card. Last summer, my friends at Texas Memory Systems [TMS] gave away a [RAMsan-70 PCIe card] at an after-party on [Day 2 of the IBM System Storage University].
Can a little SSD really help performance? Yes! An IBM client running a [DB2 Universal Database] cluster across eight System x servers was able to replace an 800-drive EMC Symmetrix by putting eight SSD Fusion-IO cards in each server, for a total of 64 Solid-State drives, saving money and improving performance. DB2 has the Data Partitioning Feature that has multi-system DB2 configurations using a Grid-like architecture similar to how XIV is designed. Most IBM System x and BladeCenter servers support internal SSD storage options, and many offer PCIe slots for third-party SSD cards. Sadly, you can't do this with a VFCache card, since you can have only one VFCache card in each server, the data is unprotected, and only for ephemeral data like transaction logs or other temporary data. With multiple Fusion-IO cards in an IBM server, you can configure a RAID rank across the SSD, and use it for persistent storage like DB2 databases.
Here then is my side-by-side comparison:
| | | |
| --- | --- | --- |
| Category | EMC VFCache | IBM XIV Gen3 SSD Caching |
| Servers supported | Selected x86-based models of Cisco UCS, Dell PowerEdge, HP ProLiant DL, and IBM xSeries and System x servers | All of these, plus any other blade or rack-optimized server currently supported by XIV Gen3, including Oracle SPARC, HP Titanium, IBM POWER systems, and even IBM System z mainframes running Linux |
| Operating System support | Linux RHEL 5.6 and 5.7, VMware vSphere 4.1 and 5.0, and Windows 2008 x64 and R2. | All of these, plus all the other operating systems supported by XIV Gen3, including AIX, IBM i, Solaris, HP-UX, and Mac OS X |
| Protocol support | FCP | FCP and iSCSI |
| Vendor-supplied driver required on the server | Yes, the VFCache driver must be installed to use this feature. | No, IBM XIV Gen3 uses native OS-based multi-pathing drivers. |
| External disk storage systems required | None, it appears the VFCache has no direct interaction with the back-end disk array, so in theory the benefits are the same whether you use this VFCache card in front of EMC storage or IBM storage | XIV Gen3 is required, as the SSD slots are not available on older models of IBM XIV. |
| Shared disk support | No, VFCache has to be disabled and removed for vMotion to take place. | Yes! XIV Gen3 SSD caching shared disk supports VMware vMotion and Live Partition Mobility. |
| Support for multiple servers | No | An advantage of the XIV Gen3 SSD caching approach is that the cache can be dynamically allocated to the busiest data from any server or servers. |
| Support for active/active server clusters | No | Yes! |
| Aware of changes made to back-end disk | No, it appears the VFCache has no direct interaction with the back-end disk array, so any changes to the data on the box itself are not communicated back to the VFCache card itself to invalidate the cache contents. | Yes! |
| Sequential-access detection | None identified. However, VFCache only caches blocks 64KB or smaller, so any sequential processing with larger blocks will bypass the VFCache. | Yes! XIV algorithms detect sequential access and avoid polluting the SSD with these blocks of data. |
| Number of SSD supported | One, which seems odd as IBM supports multiple Fusion-IO cards for its servers. However, this is not really a single point of failure (SPOF) as an application experiencing a VFCache failure merely drops down to external disk array speed, no data is lost since it is only read cache. | 6 to 15 (one per XIV module) for high availability. |
| Pin data in SSD cache | Yes, using split-card mode, you can designate a portion of the 300GB to serve as Direct-attached storage (DAS). All data written to the DAS portion will be kept in SSD. However, since only one card is supported per server and the data is unprotected, this should only be used for ephemeral data like logs and temp files. | No, there is no option to designate an XIV Gen3 volume to be SSD-only. Consider using Fusion-IO PCIe card as a DAS alternative, or another IBM storage system for that requirement. |
| Hot-pluggable/Hot-swappable | Not identified | Yes! |
| Pre-sales Estimating tools | None identified | Yes! CDF and Disk Magic tools are available to help cost-justify the purchase of SSD based on workload performance analysis. |
IBM has the advantage that it designs and manufactures both servers and storage, and can design optimal solutions for our clients in that regard.
technorati tags: IBM, XIV, Gen3, SSD, cache, EMC, VFCache, Project Lightning, SVC, Solid State Drives, Fusion-IO, Texas Memory Systems, RAMSan, System+x, POWER systems, VIOS, DRAM, VMware, Vmotion, Live Partition Mobility, AIX, IBM i, PCIe, PCI-X
Wrapping up my coverage of the annual [2010 System Storage Technical University], I attended what might be perhaps the best session of the conference. Jim Nolting, IBM Semiconductor Manufacturing Engineer, presented the new IBM zEnterprise mainframe, "A New Dimension in Computing", under the Federal track.
The zEnterprises debunks the "one processor fits all" myth. For some I/O-intensive workloads, the mainframe continues to be the most cost-effective platform. However, there are other workloads where a memory-rich Intel or AMD x86 instance might be the best fit, and yet other workloads where the high number of parallel threads of reduced instruction set computing [RISC] such as IBM's POWER7 processor is more cost-effective. The IBM zEnterprise combines all three processor types into a single system, so that you can now run each workload on the processor that is optimized for that workload.
IBM zEnterprise z196 Central Processing Complex (CPC)

Let's start with the new mainframe z196 central processing complex (CPC). Many thought this would be called the z11, but that didn't happen. Basically, the z196 machine has a maximum 96 cores versus z10's 64 core maximum, and each core runs 5.2GHz instead of z10's cores running at 4.7GHz.  It is available in air-cooled and water-cooled models. The primary operating system that runs on this is called "z/OS", which when used with its integrated UNIX System Services subsystem, is fully UNIX-certified. The z196 server can also run z/VM, z/VSE, z/TPF and Linux on z, which is just Linux recompiled for the z/Architecture chip set. In my June 2008 post [Yes, Jon, there is a mainframe that can help replace 1500 servers], I mentioned the z10 mainframe had a top speed of nearly 30,000 MIPS (Million Instructions per Second). The new z196 machine can do 50,000 MIPS, a 60 percent increase!

(Update: Back in 2007, IBM and Sun mutually supported [OpenSolaris on an IBM System z mainframe]. Unfortunately, after Oracle acquired Sun, the OpenSolaris Governing Board has [grown uneasy over Oracle's silence] about the future of OpenSolaris on any platform. The OpenSolaris [download site] identifies 2009.06 as the latest release, but only for x86 and SPARC chip sets. Apparently, the 2010.03 release expected five months ago in March has slipped. Now it looks official that [OpenSolaris is Dead].)

The z196 runs a hypervisor called PR/SM that allows the box to be divided into dozens of logical partitions (LPAR), and the z/VM operating system can also act as a hypervisor running hundreds or thousands of guest OS images. Each core can be assigned a specialty engine "personality": GP for general processor, IFL for z/VM and Linux, zAAP for Java and XML processing, and zIIP for database, communications and remote disk mirroring. Like the z9 and z10, the z196 can attach to external disk and tape storage via ESCON, FICON or FCP protocols, and through NFS via 1GbE and 10GbE Ethernet.

IBM zEnterprise BladeCenter Extension (zBX)

There is a new frame called the zBX that basically holds two IBM BladeCenter chassis, each capable of 14 blades, so total of 28 blades per zBX frame. For now, only select blade servers are supported inside, but IBM plans to expand this to include more as testing continues. The POWER-based blades can run native AIX, IBM's other UNIX operating system, and the x86-based blades can run Linux-x86 workloads, for example. Each of these blade servers can run a single OS natively, or run a hypervisor to have multiple guest OS images.  IBM plans to look into running other POWER and x86-based operating systems in the future.

If you are already familiar with IBM's BladeCenter, then you can skip this paragraph. Basically, you have a chassis that holds 14 blades connected to a "mid-plane". On the back of the chassis, you have hot-swappable modules that snap into the other side of the mid-plane. There are modules for FCP, FCoE and Ethernet connectivity, which allows blades to talk to each other, as well as external storage. BladeCenter Management modules serve as both the service processor as well as the keyboard, video and mouse Local Console Manager (LCM). All of the IBM storage options available to IBM BladeCenter apply to zBX as well.

Besides general purpose blades, IBM will offer "accelerator" blades that will offload work from the z196. For example, let's say an OLAP-style query is issued via SQL to DB2 on z/OS. In the process of parsing the complicated query, it creates a Materialized Query Table (MQT) to temporarily hold some data. This MQT contains just the columnar data required, which can then be transferred to a set of blade servers known as the Smart Analytics Optimizer (SAO), then processes the request and sends the results back. The Smart Analytics Optimizer comes in various sizes, from small (7 blades) to extra large (56 blades, 28 in each of two zBX frames).   A 14-blade configuration can hold about 1TB of compressed DB2 data in memory for processing.


IBM zEnterprise Unified Resource Manager

You can have up to eight z196 machines and up to four zBX frames connected together into a monstrously large system. There are two internal networks. The Inter-ensemble data network (IEDN) is a 10GbE that connects all the OS images together, and can be further subdivided into separate virtual LANs (VLAN). The Inter-node management network (INMN) is a 1000 Mbps Base-T Ethernet that connects all the host servers together to be managed under a single pane of glass known as the Unified Resource Manager. It is based on IBM Systems Director.

By integrating service management, the Unified Resource Manager can handle Operations, Energy Management, Hypervisor Management, Virtual Server Lifecycle Management, Platform Performance Management, and Network Management, all from one place.

IBM Rational Developer for System z Unit Test (RDz)

But what about developers and testers, such as those Independent Software Vendors (ISV) that produce mainframe software. How can IBM make their lives easier?

Phil Smith on z/Journal provides a history of [IBM Mainframe Emulation]. Back in 2007, three emulation options were in use in various shops:

Open Mainframe, from Platform Solutions, Inc. (PSI)
FLEX-ES, from Fundamental Software, Inc.
Hercules, which is an open source package

None of these are viable options today. Nobody wanted to pay IBM for its Intellectual Property on the z/Architecture or license the use of the z/OS operating system. To fill the void, IBM put out an officially-supported emulation environment called IBM System z Professional Development Tool (zPDT) available to IBM employees, IBM Business Partners and ISVs that register through IBM Partnerworld. To help out developers and testers who work at clients that run mainframes, IBM now offers IBM Rational Developer for System z Unit Test, which is a modified version of zPDT that can run on a x86-based laptop or shared IBM System x server. Based on the open source [Eclipse IDE], the RDz emulates GP, IFL, zAAP and zIIP engines on a Linux-x86 base. A four-core x86 server can emulate a 3-engine mainframe.

With RDz, a developer can write code, compile and unit test all without consuming any mainframe MIPS. The interface is similar to Rational Application Developer (RAD), and so similar skills, tools and interfaces used to write Java, C/C++ and Fortran code can also be used for JCL, CICS, IMS, COBOL and PL/I on the mainframe. An IBM study ["Benchmarking IDE Efficiency"] found that developers using RDz were 30 percent more productive than using native z/OS ISPF. (I mention the use of RAD in my post [Three Things to do on the IBM Cloud]).
What does this all mean for the IT industry? First, the zEnterprise is perfectly positioned for [three-tier architecture] applications. A typical example could be a client-facing web-server on x86, talking to business logic running on POWER7, which in turn talks to database on z/OS in the z196 mainframe. Second, the zEnterprise is well-positioned for government agencies looking to modernize their operations and significantly reduce costs, corporations looking to consolidate data centers, and service providers looking to deploy public cloud offerings. Third, IBM storage is a great fit for the zEnterprise, with the IBM DS8000 series, XIV, SONAS and Information Archive accessible from both z196 and zBX servers.
To learn more, see the [12-page brochure] or review the collection of [IBM Redbooks]. Check out the [IBM Conferences schedule] for an event near you. Next year, the IBM Storage University will be held July 18-22, 2011 in Orlando, Flordia.
technorati tags: IBM, Technical University, zEnterprise, x86, POWER7, RISC, z/OS, Linux, AIX, OpenSolaris, Oracle, FICON, NFS, z196, zBX, DB2, SAO, IEDN, INMN, RDz, ISV, Eclipse, Cloud Computing
Has EMC stooped so low that they have to resort to Hitachi math for their latest performance claims?
Readers might remember that just a few months ago, I had a blog post [Is this what HDS tells our mainframe clients?] pointing out the outlandish comparison Hitachi was using in their presentations. Their response was to cover it up, forcing me to follow up with my post [The Cover-up is worse than the original crime]. To their credit, they eventually removed the false and misleading information from their materials.
Now an avid reader of my blog has brought this to my attention. Apparently, EMC has been showing customers a presentation [Accelerating Storage Transformation with VMAX and VPLEX] with false and misleading comparison claims between IBM DS8000, HDS VSP and EMC VMAX 40K disk system performance.
(FTC Disclosure: This would be a good time to remind my readers that I work for IBM and own IBM stock. I do not endorse any of the EMC or HDS products mentioned in this post, and have no financial affiliation or investments directly with either EMC nor HDS. I am basing my information solely on the presentation posted on the internet and other sources publicly available, and not on any misrepresentations from EMC speakers at the various conferences where these charts might have been shown.)
The problem with misinformation is that it is not always obvious. The EMC presentation is quite pretty and professional-looking. It is the typical slick, attention-getting, low-content, over-simplified marketing puffery you have come to expect from EMC. There are two slides in particular that I have issue with.
This first graphic implies that IBM and HDS are nearly tied in performance, but that EMC VMAX 40K has nearly triple that bandwidth. Overall the slide has very little detail. That makes it difficult to determine what exactly is being claimed and whether a fair comparison is being made.
The title claims that VMAX 40K is "#1 in High Bandwidth Apps". Only three disk systems are shown so the claim appears to be relative to only the three systems. The wording "High Bandwidth Apps" is confusing considering the cited numbers are for disk systems and no application is identified. By comparison, IBM SONAS can drive up to 105 GB/sec sequential bandwidth, nearly double what EMC claims for its VMAX 40K, so EMC is certainly not even close to #1.


Is the workload random or sequential? That is not easy to determine. The use of "GB/s" along with the large block size of 128KB implies the I/O workload is sequential, which is great for some workloads like high performance computing, technical computing and video broadcasts. Random workloads, on the other hand, are usually measured in I/Os per second (IOPS) with a block size ranging 4KB to 64KB. (I am assuming the 128K blocks refers to 128KB block size, and not reading the same block of cache 128,000 times.)


The slide states "Maximum Sustainable RRH Bandwidth 128K Blocks". The acronym "RRH" is not defined; but I suspect this refers to "random read hits". For random workloads, 100 percent random read hits from cache represents one corner of the infamous "four corners" test. Real-world workloads have a mix of reads and writes, and a mix of cache hits and cache misses. It is also unclear whether the hits are from standard data cache or from internal buffers in adapters (perhaps accessing the same blocks repeatedly) or something else. So is this really for a random workload, or a sequential workload?

(The term "Hitachi Math" was coined by an EMC blogger precisely to slam Hitachi Data Systems for their blatant use of four-corners results, claiming that spouting ridiculously large, but equally unrealistic, 100 percent random read hit results don't provide any useful information. I agree. There are much better industry-standard benchmarks available, such as SPC-1 for random workloads, SPC-2 for sequential workloads, and even benchmarks for specific applications, that represent real-world IT environments. To shame HDS for their use of four-corners results, only for EMC themselves to use similar figures in their own presentation is truly hypocritical of them!)

The IBM system is identified as "DS8000". DS8000 is a generic family name that applies to multiple generations of systems first introduced in 2004. The specific model is not identified, but that is critical information. Is this a first generation DS8100, or the latest DS8800, or something in between?


The slide says "Full System Configs", but that is not defined and configuration details are not identified. Configuration details, also critical information in assessing system performance capabilities, are not specified. If the EMC box costs seven times more than IBM or HDS, would you really buy it to get 3x more performance? Is the EMC packed with the maximum amount of SSD? Were there any SSD in the IBM or HDS boxes to match?


The source of the claimed IBM DS8000 performance numbers is not identified. Did they run their own tests? While I cannot tell, the VMAX may have been configured with 64 Fibre Channel 8Gbps host connections. In that case each channel is theoretically capable of supporting about 800 MB/s at 100% channel utilization. Multiplying 64 x 800MB/s = 51.2GB/s, so did EMC just do the performance comparison on the back of a napkin, assuming there are no other bottlenecks in the system? Even then, I would not round up 51.2 to 52!


Response times were not identified. For random I/Os, response time is a very important metric. It is possible that the Symmetrix was operating with some resources at 100% utilization to get the highest GB/s result, but that would likely make I/O response times unacceptable for real-world random I/O workloads.
IBM and HDS have both published Storage Performance Council [SPC] industry-standard performance benchmarks. EMC has not published any SPC benchmarks for VMAX systems. If EMC is interested in providing customers with audited, detailed performance information along with detailed configuration information, all based on benchmarks designed to represent real-world workloads, EMC can always publish SPC benchmark results as IBM and other vendors have done. In past blog fights, EMC resorts to the excuse that SPC isn't perfect, but can they really argue that vague and unrealistic claims cited in its presentation are better?
The second graphic is so absurd, you would think it came directly from Larry Ellison at an Oracle OpenWorld keynote session. EMC is comparing a configuration with VMAX 40K plus an EMC VFCache host-side flash memory cache card to a configuration with an IBM and HDS disk system without host-side flash memory cache also configured. The comparison is clearly apples-to-oranges. Other disk system configuration details are also omitted.
FAST VP is EMC's name for its sub-volume drive tiering feature, comparable to IBM Easy Tier and Hitachi's Dynamic Tiering. The graph implies that IBM and HDS can only achieve a modest increment improvement from their sub-volume tiering. I beg to differ. I have seen various cases where a small amount of SSD on IBM DS8000 series can drastically improve performance 200 to 400 percent.


The "DBClassify" shown on the graph is a tool run as part of an EMC professional services offering called Database Performance Tiering Assessment, makes recommendations for storing various database objects on different drive tiers based on object usage and importance. Do you really need to pay for professional services? With IBM Easy Tier, you just turn it on, and it works. No analysis required, no tools, no professional services, and no additional charge!


VFCache is an optional product from EMC that currently has no integration whatsoever with VMAX. A fair comparison would have included a host-side flash memory cache (from any vendor) when the IBM or HDS storage system was configured. Or leave it out altogether and just focus on the sub-volume tiering comparison.
Keep in mind that EMC's VFCache supports only selected x86-based hosts. IBM has published a [Statement of Direction] indicating that it will also offer this for Power systems running AIX and Linux host-side flash memory cache integrated with DS8000 Easy Tier.
I feel EMC's claims about IBM DS8000 performance are vague and misleading. EMC appears to lack the kind of technical marketing integrity that IBM strives to attain. Since EMC is not able or willing to publish fair and meaningful performance comparisons, it is up to me to set the record straight and point out EMC's failings in this matter.
Reminder: It's not to late to register for my Webcast "Solving the Storage Capacity Crisis" on Tuesday, September 25. See my blog post [Upcoming events in September] to register!
technorati tags: IBM, DS8000, DS8800, HDS, VSP, EMC, VMAX, Symmetrix, VFCache, Easy Tier, FAST VP
Can Structured Query Language [SQL] be considered a storage protocol?
Several months ago, I was asked to review a book on SQL, titled appropriately enough "The Complete Idiot's Guide to SQL", by Steven Holzner, Ph.D. As a published author myself, I get a lot of these requests, and I agreed in this case, given that SQL was invented by IBM, and is a good fundamental skill to have for Business Analytics and Database Management.
(FTC Disclosure: I work for IBM but was not part of the SQL development team. I was provided a copy of this book for free to review it. I was not paid to mention this book, nor told what to write. I do not know the author personally nor anyone that works for his publicist. All of my opinions of the book in this blog post are my own.)
Despite an agreed-upon standard for SQL, each relational database management system (RDBMS) has decided to customize it for their own purposes. First, SQL can be quite wordy, so some RDBMS have made certain keywords optional. Second, RDBMS offer extra features by adding keywords or programming language extentions, options or parameters above and beyond what the SQL standard calls for. Third, the SQL standard has changed over the years, and some RDBMS have opted to keep some backward compatibility with their prior releases. Fourth, some RDBMS want to discourage people from easily porting code from one RDBMS to another, known in the industry as vendor lock-in.
Throughout my career, I have managed various databases, including Informix, DB2, MySQL, and Microsoft SQL Server, so I am quite familiar with the differences in SQL and the problems and implications that arise.
Most authors who want to write about SQL typically make a choice between (a) stick to the SQL standard, and expect the reader to customize the examples to their particular DBMS; or (b) stick to a single RDBMS implemenation, and offer examples that may not work on other RDBMS.
I found the book "The Complete Idiot's Guide to SQL" covered the basics quite well, but with an odd twist. The basics include creating databases and tables, defining columns, inserting and deleting rows, updating fields, and performing queries or joins. The odd twist is that Steven does not make the typical choice above, but rather shows how the various DBMS are different than standard SQL syntax, with actual working examples for different RDBMS.
You might be thinking to yourself that only an idiot would work in a place that had to require knowledge of multiple RDBMS. The sad truth is that most of the medium and large companies I speak to have two or more in production. This is either through acquisitions, or in some cases, individual business units or departments implementing their own via the [Shadow IT].
(For those who want to learn SQL and try out the examples in this book, IBM offers a free version of DB2 called [DB2-C Express] that runs on Windows, Linux, Mac OS, and Solaris.)
Last week, while I was in Russia for the [Edge Comes to You] event, I was interviewed by a journalist from [Storage News] on various topics. One question stuck me as strange. He asked why I did not mention IBM's acquisition of Netezza in my keynote session about storage. I had to explain that Netezza was not in the IBM System Storage product line, it is in a different group, under Business Analytics, where it belongs.
While it is true that Netezza can store data, because it has storage components inside, the same could also be said about nearly every other piece of IT equipment, from servers with internal disk, to digital cameras, smart phones and portable music players. They can all be considered storage devices, but doing so would undermine what differentiates them from one another.
Which brings me back to my original question: Should we consider SQL to be a storage protocol? For the longest time, IT folks only considered block-based interfaces as storage protocols, then we added file-based interfaces like CIFS and NFS, and we also have object-based interfaces, such as IBM's Object Access Method (OAM) and the System Storage Archive Manager (SSAM) API. Could SQL interfaces be the next storage protocol?
Let me know what you think on this. Leave a comment below.
Tonight PBS plans to air Season 38, Episode 6 of NOVA, titled [Smartest Machine On Earth]. Here is an excerpt from the station listing:
"What's so special about human intelligence and will scientists ever build a computer that rivals the flexibility and power of a human brain? In "Artificial Intelligence," NOVA takes viewers inside an IBM lab where a crack team has been working for nearly three years to perfect a machine that can answer any question. The scientists hope their machine will be able to beat expert contestants in one of the USA's most challenging TV quiz shows -- Jeopardy, which has entertained viewers for over four decades. "Artificial Intelligence" presents the exclusive inside story of how the IBM team developed the world's smartest computer from scratch. Now they're racing to finish it for a special Jeopardy airdate in February 2011. They've built an exact replica of the studio at its research lab near New York and invited past champions to compete against the machine, a big black box code -- named Watson after IBM's founder, Thomas J. Watson. But will Watson be able to beat out its human competition?"
Craig Rhinehart offers [10 Things You Need to Know About the Technology Behind Watson].
An artist has come up with this clever [unofficial poster].
Dr. Jon Lenchner from IBM Research has a series of posts on [How Watson "sees", "hears", and "speaks"] and [Selected Nuances].
Like most supercomputers, Watson runs the Linux operating system. The system runs 2,880 cores (90 IBM Power 750 servers, four sockets each, eight cores per socket) to achieve 80 [TeraFlops]. TeraFlops is the unit of measure for supercomputers, representing a trillion floating point operations. By comparison, Hans Morvec, principal research scientist at the Robotics Institute of Carnegie Mellon University (CMU) estimates that the [human brain is about 100 TeraFlops]. So, in the three seconds that Watson gets to calculate its response, it would have processed 240 trillion operations.
Several readers of my blog have asked for details on the storage aspects of Watson. Basically, it is a modified version of IBM Scale-Out NAS [SONAS] that IBM offers commercially, but running Linux on POWER instead of Linux-x86. System p expansion drawers of SAS 15K RPM 450GB drives, 12 drives each, are dual-connected to two storage nodes, for a total of 21.6TB of raw disk capacity. The storage nodes use IBM's General Parallel File System (GPFS) to provide clustered NFS access to the rest of the system. Each Power 750 has minimal internal storage mostly to hold the Linux operating system and programs.
When Watson is booted up, the 15TB of total RAM are loaded up, and thereafter the DeepQA processing is all done from memory. According to IBM Research, "The actual size of the data (analyzed and indexed text, knowledge bases, etc.) used for candidate answer generation and evidence evaluation is under 1TB." For performance reasons, various subsets of the data are replicated in RAM on different functional groups of cluster nodes. The entire system is self-contained, Watson is NOT going to the internet searching for answers.
On ZDnet, Steven J. Vaughan-Nichols welcomes our new [Linux Penguin Jeopardy overlords]. I have to say I share his enthusiasm!
technorati tags: IBM, Nova, Watson, #ibmwatson, Jeopardy, POWER7, p750, supercomputer, TeraFlops, disk, SONAS, GPFS, SAS, Craig Rhinehart, Jon Lenchner, Hans Morvec, Carnegie Mellon University, CMU
Continuing this week's coverage of IBM's 3Q announcements, today it's all about storage for our mainframe clients.
IBM System Storage DS8700

IBM is the leader in high-end disk attached to mainframes, with the IBM DS8700 being our latest model in a long series of successful products in this space. Here are some key features:

Full Disk Encryption (FDE), which I mentioned in my post [Different Meanings of the word "Protect"]. FDE are special 15K RPM Fibre Channel drives that include their own encryption chip, so that IBM DS8700 can encrypt the data at rest without impacting performance of reads or writes. The encryption keys are managed by IBM Tivoli Key Lifecycle Manager (TKLM).

Easy Tier, which I covered in my post [DS8700 Easy Tier Sub Lun Automatic Migration] which offers what EMC promised but has yet to deliver, the ability to have CKD volumes and FBA LUNs to straddle the fence between Solid State Drives (SSD) and spinning disk. For example, a 54GB CKD volume could have 4GB on SSD and the remaining 50GB on spinning drives.   The hottest extents are moved automatically to SSD, and the coldest moved down to spinning disk.  To learn more about Easy Tier, watch my [7-minute video] on IBM [Virtual Briefing Center].

z/OS Distributed Data Backup (zDDB), announced this week, provides the ability for a program running on z/OS to backup data written by distributed operating systems like Windows or UNIX stored in FBA format. In the past, to backup FBA LUNs involved a program like IBM Tivoli Storage Manager client to read the data natively, send it over Ethernet LAN to a TSM Server, which could run on the mainframe and use mainframe resources. This feature eliminates the Ethernet traffic by allowing a z/OS program to read the FBA blocks through standard FICON channels, which can then be written to z/OS disk or tape resources. Here is the [Announcement Letter] for more details.

One program that takes advantage of this new zDDB feature already is Innovation's [FDRSOS], which I pronounce "fudder sauce". If you are an existing FDRSOS customer, now is a good time to get rid of any EMC or HDS disk and replace with the new IBM DS8700 system.

IBM System Storage TS7680 ProtecTIER Deduplication Gateway for System z

When it comes to virtual tape libraries that attach to mainframes, the two main players are IBM TS7700 series and Oracle StorageTek Virtual Storage Manager (VSM). However, mainframe clients with StorageTek equipment are growing frustrated over Oracle's lack of commitment for mainframe-attachable storage. To make matters worse, Oracle recently missed a key delivery date for their latest enterprise tape drive.

Unfortunately, neither of these offer deduplication of the data. IBM solved this with the IBM TS7680. I covered the initial announcement six months ago in my post [TS7680 ProtecTIER Deduplication for the mainframe].

What's new this week is that IBM now supports native IP-based asynchronous replication of virtual tapes at distance, from one TS7680 to another TS7680. This replaces the method of replication using the back end disk features. The problem with using disk replication is that all the virtual tapes will be copied over. Instead, the ProtecTIER administrator can decide which subset of virtual tapes should be replicated to the remote site, and that can reduce both storage requirements as well as bandwidth costs. See the [Announcement Letter] for more details.
These new solutions will work with existing mainframes, as well as the new IBM [zEnterprise mainframe models] announced this week.
technorati tags: , IBM, DS8700, FDE, Easy+Tier, zDDB, SSD, TS7680, Deduplication, VTL, Oracle, Sun, StorageTek, STK, VSM, zEnterprise
Are you tired of hearing about Cloud Computing without having any hands-on experience? Here's your chance. IBM has recently launched its IBM Development and Test Cloud beta. This gives you a "sandbox" to play in. Here's a few steps to get started:
Go to the [IBM Developer & Test in the IBM Cloud beta] dashboard and register for an account. This can be your email address and your own password. You can watch the helpful videos.
Generate a "key pair". There are two keys. A "public" key that will reside in the cloud, and a "private" key that you download to your personal computer. Don't lose this key.
Request an IP address. This step is optional, but I went ahead and got a static IP, so I don't have to type in long hostnames like "vm353.developer.ihost.com".
Request storage space. Again, this step is optional, but you can request a 50GB, 100GB and 200GB LUN. I picked a 200GB LUN. Note that each instance comes with some 10 to 30GB storage already. The advantage to a storage LUN is that it is persistent, and you can mount it to different instances.
Start an "instance". An "instance" is a virtual machine, pre-installed with whatever software you chose from the "asset catalog". These are Linux images running under Red Hat Enterprise Virtualization (RHEV) which is based on Linux's kernel virtual machine (KVM). When you start an instance, you get to decide its size (small, medium, or large), whether to use your static IP address, and where to mount your storage LUN. On the examples below, I had each instance with a static IP and mounted the storage LUN to /media/storage subdirectory. The process takes a few minutes.
Download some programs on your personal computer. I downloaded an SSH client called [PuTTY] and an [NX client from NoMachine].
So, now that you are ready to go, what instance should you pick from the catalog? Here are three examples to get you started:
IBM WebSphere sMASH Application Builder

Being already familiar with [WaveMaker], the IBM WebSphere sMASH Application Builder seemed like a reasonable place to start. This is a browser-based utility to build web-based applications in PHP programming language using [DOJO widgets] written in JavaScript. Everything is graphical drag-and-drop. There are a variety of tutorials to get you started. I was able to design web page form, and then launch it on the WebSphere Application Server on localhost to verify it worked correctly.

Base OS server to run LAMP stack

Next, I decided to try out one of the base OS images. There are a lot of books on Linux, Apache, MySQL and PHP (LAMP) which represents nearly 70 percent of the web sites on the internet. This instance let's you install all the software from scratch. Between Red Hat and Novell SUSE distributions of Linux, Red Hat is focused on being the Hypervisor of choice, and SUSE is focusing on being the Guest OS of choice. Most of the images on the "asset catalog" are based on SLES 10 SP2. However, there was a base OS image of Red Hat Enterprise Linux (RHEL) 5.4, so I chose that.

To install software, you either have to find the appropriate RPM package, or download a tarball and compile from source. To try both methods out, I downloaded tarballs of Apache Web Server and PHP, and got the RPM packages for MySQL. If you just want to learn SQL, there are instances on the asset catalog with DB2 and DB2 Express-C already pre-installed. However, if you are already an expert in MySQL, or are following a tutorial or examples based on MySQL from a classroom textbook, or just want a development and test environment that matches what your company uses in production, then by all means install MySQL.

This is where my SSH client comes in handy. I am able to login to my instance and use "wget" to fetch the appropriate files. An alternative is to use "SCP" (also part of PuTTY) to do a secure copy from your personal computer up to the instance. You will need to do everything via command line interface, including editing files, so I found this [VI cheat sheet] useful. I copied all of the tarballs and RPMs on my storage LUN ( /media/storage ) so as not to have to download them again.

Compiling and configuring them is a different matter. By default, you login as an end user, "idcuser" (which stands for IBM Developer Cloud user). However, sometimes you need "root" level access. Use "sudo bash" to get into root level mode, and this allows you to put the files where they need to be. If you haven't done a configure/make/make install in awhile, here's your chance to relive those "glory days".

In the end, I was able to confirm that Apache, MySQL and PHP were all running correctly. I wrote a simple index.php that invoked phpinfo() to show all the settings were set correctly. I rebooted the instance to ensure that all of the services started at boot time.

Rational Application Developer over VDI

This last example, I started an instance pre-installed with Rational Application Developer (RAD), which is a full Integrated Development Environment (IDE) for Java and J2EE applications. I used the "NX Client" to launch a virtual desktop image (VDI) which in this case was Gnome on SLES 10 SP2. You might want to increase the screen resolution on your personal computer so that the VDI does not take up the entire screen.

From this VDI, you can launch any of the programs, just as if it were your own personal computer. Launch RAD, and you get the familiar environment. I created a short Java program and launched it on the internal WebSphere Application Server test image to confirm it was working correctly.
If you are thinking, "This is too good to be true!" there is a small catch. The instances are only up and running for 7 days. After that, they go away, and you have to start up another one. This includes any files you had on the local disk drive. You have a few options to save your work:
Copy the files you want to save to your storage LUN. This storage LUN appears persistent, and continues to exist after the instance goes away.
Take an "image" of your "instance", a function provided in the IBM Developer and Test Cloud. If you start a project Monday morning, work on it all week, then on Friday afternoon, take an "image". This will shutdown your instance, and backup all of the files to your own personal "asset catalog" so that the next time you request an instance, you can chose that "image" as the starting point.
Another option is to request an "extension" which gives you another 7 days for that instance. You can request up to five unique instances running at the same time, so if you wanted to develop and test a multi-host application, perhaps one host that acts as the front-end web server, another host that does some kind of processing, and a third host that manages the database, this is all possible. As far as I can tell, you can do all the above from either a Windows, Mac or Linux personal computer.
Getting hands-on access to Cloud Computing really helps to understand this technology!
technorati tags: , IBM, Development, Test, Cloud, WebSphere, sMASH, WaveMaker, LAMP, Linux, Apache, MySQL, PHP, Rational, RAD, VDI, , RHEL, RHEV, KVM, SUSE, SLES, Novell, NX, PuTTY, SSH
Did you miss IBM Pulse 2013 this week? I wasn't there either, having scheduled visits with clients in Washington DC this week, only to have those meetings cancelled due to the [U.S. sequestration cuts].
Fortunately, there are plenty of videos and materials to review from the event. Here's a [12-minute video] interview between Laura DuBois, Program VP of Storage for industry analyst firm [IDC], and fellow IBM executive Steve "Woj" Wojtowecz, VP of Tivoli Storage and Networking Software.
(Update: Apparently, IBM had not secured re-distribution rights from IDC to post this video prior to my blog post. IBM now has full permission to distribute. My apologies for any inconvenience last week.)
The two discuss client opportunities and requirements for storage clouds and compute clouds. Client cloud storage requirements include backup and archive clouds, file storage clouds, and storage that supports compute cloud environments.
On a related note, IBM has published a Redbook on its latest addition to the SmartCloud Storage family. I have added [IBM SmartCloud Storage Access V1.1 Configuration Cookbook] to the right panel for "Featured IBM Redbooks".
technorati tags: IBM, Pulse, Steve Wojtowecz, IDC, Laura DuBois, SmartCloud, Storage Cloud, Redbook
If you store your VMware bits on external SAN or NAS-based disk storage systems, this post is for you. The subject of the post, VM Volumes, is a potential storage management game changer!
Fellow blogger Stephen Foskett mentioned VM Volumes in his [Introducing VMware vSphere Storage Features] presentation at IBM Edge 2012 conference. His session on VMware's storage features included VMware APIs for Array Integration (VAAI), VMware Array Storage Awareness (VASA), vCenter plug-ins, and a new concept he called "vVol", now more formally known as VM Volumes. This post provides a follow-up to this, describing the VM Volumes concepts, architecture, and value proposition.
"VM Volumes" is a future architecture that VMware is developing in collaboration with IBM and other major storage system vendors. So far, very little information about VM Volumes has been released. At VMworld 2012 Barcelona, VMware highlights VM Volumes for the first time and IBM demonstrates VM Volumes with the IBM XIV Storage System (more about this demo below). VM Volumes is worth your attention -- when it becomes generally available, everyone using storage arrays will have to reconsider their storage management practices in a VMware environment -- no exaggeration!
But enough drama. What is this all about?
(Note: for the sake of clarity, this post refers to block storage only. However, the VM Volumes feature applies to NAS systems as well. Special thanks to Yossi Siles and the XIV development team for their help on this post!)
The VM Volumes concept is simple: VM disks are mapped directly to special volumes on a storage array system, as opposed to storing VMDK files on a vSphere datastore.
The following images illustrate the differences between the two storage management paradigms.
You may still be asking yourself: bottom line, how will I benefit from VM Volumes?
Well, take a VM snapshot for example. With
VM Volumes
, vSphere can simply offload the operation by invoking a hardware snapshot of the hardware volume. This has significant implications:
VM-Granularity: Only the right VMs are copied (with datastores, backing up or cloning individual-VM portions of hardware snapshot of a datastore would require more complex configuration, tools and work)


Hardware Offload: No ESXi server resources are consumed


XIV advantage: With XIV, snapshots consume no space upfront and are completed instantly.
Here's the first takeaway: With VM Volumes, advanced storage services (which cost a lot when you buy a storage array), will become available at an individual VM level. In a cloud world, this means that applications can be provisioned easily with advanced storage services, such as snapshots and mirroring.
Now, let's take a closer look at another relevant scenario where VM Volumes will make a lot of difference - provisioning an application with special mirroring requirements:
VM Volumes case: The application is ordered via the private cloud portal. The requestor checks a box requesting an asynchronous mirror. He changes the default RPO for his needs. When the request is submitted, the process wraps up automatically: Volumes are created on one of the storage arrays, configured with a mirror and RPO exactly as specified. A few minutes later, the requestor receives an automatic mail pointing to the application virtual machine.


Datastores case #1: As may be expected, a datastore that is mirrored with the special RPO does not exist. As a result, the automated workflow sets a pending status on the request, creates an urgent ticket to a VMware administrator and aborts. When the VMware admin handles that ticket, she re-assigns the ticket to the storage administrator, asking for a new volume which is mirrored with the special RPO, and mapped to the right ESXi cluster. The next day, the volume is created; the ticket is re-assigned to the storage admin, with the new LUN being pointed to. The VMware administrator follows and creates the datastore on top of it. Since the automated workflow was aborted, the admin re-assigns the ticket to the cloud administrator, who sometime later completes the application provisioning manually.


Datastores case #2: Luckily for the requestor, a datastore that is mirrored with the special RPO does exist. However, that particular datastore is consuming space from a high performance XIV Gen3 system with SSD caching, while the application does not require that level of performance, so the workflow requires a storage administrator approval. The approval is given to save time, but the storage administrator opens a ticket for himself to create a new volume on another array, as well as a follow-up ticket for the VMware admin to create a new datastore using the new volume and migrate the application to the other datastore. In this case, provisioning was relatively rapid, but required manual follow up, involving the two administrators.
Here's the second takeaway: With VM Volumes, management is simplified, and end-to-end automation is much more applicable. The reason is that there are no datastores. Datastores physically group VMs that may otherwise be totally unrelated, and require close coordination between storage and VMware administrators.
Now, the above mainly focuses on the VMware or cloud administrator perspective. How does VM Volumes impact storage management?
VM's are the new hosts: Today, storage administrators have visibility of physical hosts in their management environment. In a non-virtualized environment, this visibility is very helpful. The storage administrator knows exactly which applications in a data center are storage-provisioned or affected by storage management operations because the applications are running on well-known hosts. However, in virtualized environments the association of an application to a physical host is temporary. To keep at least the same level of visibility as in physical environments, VMs should become part of the storage management environment, like hosts. Hosts are still interesting, for example to manage physical storage mapping, but without VM visibility, storage administrators will know less about their operation than they are used to, or need to. VM Volumes enables such visibility, because volumes are provided to individual VMs. The XIV VM Volumes demonstration at VMworld Barcelona, although experimental, shows a view of VM volumes, in XIV's management GUI.
Here's a screenshot:
That's not all!
Storage Profiles and Storage Containers: A Storage Profile is a vSphere specification of a set of storage services. A storage profile can include properties like thin or thick provisioning, mirroring definition, snapshot policy, minimum IOPS, etc.
Storage administrators define a portfolio of supported storage services, maintained as a set of storage profiles, and published (via VASA integration) to vSphere.


VMware or cloud administrators define the required storage profiles for specific applications VMware and storage administrators need to coordinate the typical storage requirements and the automatically-available storage services. When a request to provision an application is made, the associated storage profiles are matched against the published set of available storage profiles. The matching published profiles will be used to create volumes, which will be bound to the application VMs. All that will happen automatically.

Note that when a VM is created today, a datastore must be specified. With VM Volumes, a new management entity called Storage Container (also known as Capacity Pool) replaces the use of datastore as a management object. Each Storage Container exposes a subset of the available storage profiles, as appropriate. The storage container also has a capacity quota.
Here are some more takeaways
:
New way to interface vSphere and storage management: Storage administrators structure and publish storage services to vSphere via storage profiles and storage containers.


Automated provisioning, out of the box: The provisioning process automatically matches application-required storage profiles against storage profiles available from the specified storage containers. There is no need to build custom scripts and custom processes to automate storage provisioning to applications


The XIV advantage:



XIV services are very simple to define and publish. The typical number of available storage profiles would be low. It would also be easy to define application storage profiles.


XIV provides consistent high performance, up to very high capacity utilization levels, without any maintenance. As a result, automated provisioning (which inherently implies less human attention) will not create an elevated risk of reduced performance.


Note: A storage vendor VASA provider is required to support VM Volumes, storage profiles, storage containers and automated provisioning. The IBM Storage VASA provider runs as a standalone service that needs to be deployed on a server.
To summarize the VM Volumes value proposition:
Streamline cloud operation by providing storage services at VM and application level, enabling end-to-end provisioning automation, and unifying VMware and storage administration around volumes and VMs.


Increase storage array ROI, improve vSphere scalability and response time, and reduce cloud provisioning lag, by offloading VM-level provisioning, failover, backup, storage migration, storage space recycling, monitoring, and more, to the storage array, using advanced storage operations such as mirroring and snapshots.


Simplify the adoption of VM Volumes using XIV, with smaller and simpler sets of storage profiles. Apply XIV's supreme fast cloning to individual VMs, and keep automation risks at bay with XIV's consistent high performance.
For additional information about VM Volumes, check out [VMware Storage APIs for VM and Application Granular Data Management] blog post by Duncan Epping, a Principal Architect in the Technical Marketing group at VMware!
Until you can get your hands on a VM Volumes-capable environment, the VMware and IBM developer groups will be collaborating and working hard to realize this game-changing feature. The above information is definitely expected to trigger your questions or comments, and our development teams are eager to learn from them and respond. Enter your comments below, and I will try to answer them, and help shape the next post on this subject. There's much more to be told.
technorati tags: IBM, VMware, vSphere, VM Volumes, vVOL, Stephen Foskett, VMworld, Barcelona, Spain, XIV, RPO, SSD
My coverage of Japan's earthquake and tsunami got some interesting reactions. This includes my blog posts [Earthquakes in Japan] and [Japan and Northern Pacific - Three Months Free].
Hana Hu from Digitimes has a great summary on [how the Japan earthquake will affect the four major Hard Disk Drive (HDD) manufacturers] that supply IBM and other storage vendors.
A reader from New Zealand expressed concern some corporate bloggers were [using the earthquake for marketing]. He lost someone close to him in Christchurch, and is unable to reach a friend living in Japan, so I am sorry for his loss. I plan to be in Australia and New Zealand to teach a Top Gun class May 15-27, so hopefully I will be able to meet him in person when I am down there.
Several readers sent me Felix Salmon's [Don't Donate Money to Japan] counter-argument. Here is an excerpt:
"Earmarking funds is a really good way of hobbling relief organizations and ensuring that they have to leave large piles of money unspent in one place while facing urgent needs in other places. ... Meanwhile, the smaller and less visible emergencies where NGOs can do the most good are left unfunded.

In the specific case of Japan, there's all the more reason not to donate money. Japan is a wealthy country which is responding to the disaster, among other things, by printing hundreds of billions of dollars' worth of new money."
Another reader mentioned that the last surviving American WW-II vet died the same week. WTF? IBM and Japan have been allies for quite a while now, and there is no reason to bring up past wars except to compare the scope and magnitude of the cleanup effort. (Update: Frank Buckles was the last surviving WW-I vet, but also served in WW-II).
Many readers felt that charity begins at home, and there are plenty of worthy causes right here in the USA to donate to instead. Inspired by last year's movie [Waiting for Superman], my girlfriend started a project called [Centers for My Super Stars] for her first grade class on DonorsChoose.org. For those not familiar with this website, DonorsChoose.org uses the cloud to connect school teachers in need of supplies with rich people to donate funds towards these projects. If you want to contribute to her project, [donate here].
Lastly, readers pointed me to Frank Deford, who said this on [his weekly spot on National Public Radio]:
"And speaking of class, there just happens to be a baseball team in Sendai, Japan. The Golden Eagles. Their stadium was severely damaged from the earthquake. Wouldn't you think some of them lug nuts who run American baseball would bring the Golden Eagles and their opponents over to the United States when the Japanese season starts -- play some games over here and raise money to help the Japanese? Wouldn't you think they could just once stop that national pastime stuff and help the international pastime?"
As you can see, different readers have different opinions on this. We are all on this world together, and both our economy and our ecology are more interconnected than you might think. Let's build a smarter planet.
technorati tags: IBM, Makuhari, Tokyo, Datacenter, HDD, manufacturers, , New Zealand, Japan, earthquake, WWII, , Sendai, Golden Eagles, Frank Deford, NPR
Well, it's Tuesday again, and you know what that means... IBM Announcements!
IBM thought the week that everyone is watching IBM Watson compete against humans on Jeopardy! would be a good week to launch new storage products.
IBM XIV Storage System

Ever since my post [Double Drive Failure Debunked: XIV Two Years Later], the XIV storage systems have been flying off the shelves. IBM rolls out the new [XIV 10.2.4 microcode level] with some exciting new software features. Here are the highlights:

Full VMware Vstorage API for Array Integration (VAAI). Back in 2008, VMware announced new vStorage APIs for its vSphere ESX hypervisor: vStorage API for Site Recovery Manager, vStorage API for Data Potection, vStorage API for Multipathing. Last July, VMware added a new API called vStorage API for Array Integration [VAAI] which offers three primitives:

Hardware-assisted Blocks zeroing. Sometimes referred to as "Write Same", this SCSI command will zero out a large section of blocks, presumably as part of a VMDK file. This can then be used to reclaim space on the XIV on thin-provisioned LUNs.
Hardware-assisted Copy. Make an XIV snapshot of data without any I/O on the server hardware.
Hardware-assisted locking. On mainframes, this is call Parallel Access Volumes (PAV). Instead of locking an entire LUN using standard SCSI reserve commands, this primitive allows an ESX host to lock just an individual block so as not to interfere with other hosts accessing other blocks on that same LUN.

Plans for a [fourth primitive called "Thin Provisioning Stun"] were mysteriously dropped. For now, VAAI support refers only to the three primitives above.

(Stephen, if you are reading this, please update your [VAAI in Plain English Support Matrix].)

Quality of Service (QoS) Performance Classes. When XIV was first released, it treated all hosts and all data the same, even when deployed for a variety of different applications. This worked for some clients, such as [Medicare y Mucho Más]. They migrated their databases, file servers and email system from EMC CLARiiON to an IBM XIV Storage System. In conjunction with VMware, the XIV provides a highly flexible and scalable virtualized architecture, which enhances the company's business agility.

However, other clients were skeptical, and felt they needed additional "nobs" to prioritize different workloads. The new 10.2.4 microcode allows you to define four different "performance classes". This is like the door of a nightclub. All the regular people are waiting in a long line, but when a celebrity in a limo arrives, the bouncer unclips the cord, and lets the celebrity in. For each class, you provide IOPS and/or MB/sec targets, and the XIV manages to those goals. Performance classes are assigned to each host based on their value to the business.

Offline Initialization for Asynchronous Mirror. Internally, we called this Truck Mode. Normally, when a customer decides to start using Asynchronous Mirror, they already have a lot of data at the primary location, and so there is a lot of data to send over to the new XIV box at the secondary location. This new feature allows the data to be dumped to tape at the primary location. Those tapes are shipped to the secondary location and restored on the empty XIV. The two XIV boxes are then connected for Asynchronous Mirroring, and checksums of each 64KB block are compared to determine what has changed at the primary during this "tape delivery time". This greatly reduces the time it takes for the two boxes to get past the initial synchronization phase.

IBM Storwize V7000 Rapid Application Storage

Last month, IBM announced the [IBM Storwize V7000 Rapid Application Storage] bundle. There is now a [Business Advantage Calculator] to help cost-justify this bundle.

IP-based Replication. When IBM first launched the Storwize V7000 last October, people commented that the one feature they felt missing was IP-based replication. Sure, we offered FCP-based replication as most other Enterprise-class disk systems offer today, but many midrange systems also offer IP-based repliation to reduce the need for expensive FCIP routers. [IBM Tivoli Storage FastBack for Storwize V7000] provides IP-based replication for Storwize V7000 systems.

Network Attached Storage

IBM announced two new models of the IBM System Storage N series. The midrange N6240 supports up to 600 drives, replacing the N6040 system. The entry-level N6210 supports up to 240 drives, and replaces the N3600 system. Details for both are available on the latest [data sheet].

IBM Real-Time Compression appliances work with all N series models to provide additional storage efficiency. Last October, I provided the [Product Name Decoder Ring] for the STN6500 and STN6800 models. The STN6500 supports 1 GbE ports, and the STN6800 supports 10GbE ports (or a mix of 10GbE and 1GbE, if you prefer). The IBM versions of these models were announced last December, but some people were on vacation and might have missed it. For more details of this, read the [Resources page], the [landing page], or [watch this video].

IBM System Storage DS3000 series

IBM System Storage [DS3524 Express DC and EXP3524 Express DC] models are powered with direct current (DC) rather than alternating current (AC). The DS3524 packs dual controllers and two dozen small-form factor (2.5 inch) drives in a compact 2U-high rack-optimized module. The EXP3524 provides addition disk capacity that can be attached to the DS3524 for expansion.

Large data centers, especially those in the Telecommunications Industry, receive AC from their power company, then store it in a large battery called an Uninterruptible Power Supply (UPS). For DC-powered equipment, they can run directly off this battery source, but for AC-powered equipment, the DC has to be converted back to AC, and some energy is lost in the conversion. Thus, having DC-powered equipment is more energy efficient, or "green", for the IT data center.

Whether you get the DC-powered or AC-powered models, both are NEBS-compliant and ETSI-compliant.

New Tape Drive Options for Autoloaders and Libraries

IBM System Storage [TS2900 Autoloader] is a compact 1U-high tape system that supports one LTO drive and up to 9 tape cartridges. The TS2900 can support either an LTO-3, LTO-4 or LTO-5 half-height drive.

IBM System Storage [TS3100 and TS3200 Tape Libraries] were also enhanced. The TS3100 can accomodate one full-height LTO drive, or two half-height drives, and hold up to 24 cartridges. The TS3200 offers twice as many drives and space for cartridges.
For more on this, see the [1Q2011 Storage Announcements page].
technorati tags: IBM, XIV, VAAI, QoS, Performance Class, Offline Initialization, Asynchronous Mirror, NAS, N6240, N6210, SONAS, DC-powered, DS3524, EXP3524, NEBS, ETSI, TS2900, TS3100, TS3200
Since so many personal and corporate users are still on [Windows XP], Microsoft announced that it would provide [Extended Support until 2014]. A ComputerWorld article back in 2007 offered tips on [How to make Windows XP last for the next seven years]. From May 2009 to April 2014, all support is fee-based and non-security hotfixes are produced only for corporate customers.
If we have learned anything from last decade's Y2K crisis, is that we should not wait for the last minute to take action. Now is the time to start thinking about weaning ourselves off Windows XP. IBM has 400,000 employees, so this is not a trivial matter.
Already, IBM has taken some bold steps:
Last July, IBM announced that it was switching from Internet Explorer (IE6) to [Mozilla Firefox as its standard browser]. IBM has been contributing to this open source project for years, including support for open standards, and to make it [more accessible to handicapped employees with visual and motor impairments]. I use Firefox already on Windows, Mac and Linux, so there was no learning curve for me. Before this announcement, if some web-based application did not work on Firefox, our Helpdesk told us to switch back to Internet Explorer. Those days are over. Now, if a web-based application doesn't work on Firefox, we either stop using it, or it gets fixed.
IBM also announced the latest [IBM Lotus Symphony 3] software, which replaces Microsoft Office for Powerpoint, Excel and Word applications. Symphony also works across Mac, Windows and Linux. It is based on the OpenOffice open source project, and handles open-standard document formats (ODF). Support for Microsoft Office 2003 will also run out in the year 2014, so moving off proprietary formats to open standards makes sense.
I am not going to wait for IBM to decide how to proceed next, so I am starting my own migrations. In my case, I need to do it twice, on my IBM-provided laptop as well as my personal PC at home.
IBM-provided laptop

Last summer, IBM sent me a new laptop, we get a new one every 3-4 years. It was pre-installed with Windows XP, but powerful enough to run a 64-bit operating system in the future. Here are my series of blog posts on that:

I decided to try out Red Hat Enterprise Linux 6.1 with its KVM-based Red Hat Enterprise Virtualization to run Windows XP as a guest OS. I will try to run as much as I can on native Linux, but will have Windows XP guest as a next option, and if that still doesn't work, reboot the system in native Windows XP mode.

Here's is how I have configured my laptop:

| | | | | |
| --- | --- | --- | --- | --- |
| Partition | Size | Format | Mount | Description |
| /dev/sda1 | 35GB | NTFS | C: | Windows XP SP3 operating system and programs |
| /dev/sda2 | 15GB | ext4 | /(root) | Ubuntu Desktop 10.10, SystemRescueCD, Clonezilla, Parted Magic |
| /dev/sda3 | 55GB | ext4 | /(root) | RHEL 6.1 with KVM to run Windows XP as guest OS |
| /dev/sda5 | 5GB | swap | swap | Linux swap |
| /dev/sda6 | 130GB | NTFS | D: | My Documents, Lotus Notes and other data |
| /dev/sda7 | 70GB | NTFS | E: | Extras and Archives |

Basically, this is a multi-boot system. I use Ubuntu to hold all my Linux utilities, including [SystemRescueCD], [Clonezilla], and [Parted Magic]. The new [Grub2 loader] makes this easy.

Here is what my initial boot screen looks like:

So far, I am pleased that I can do nearly everything my job requires natively in Red Hat Linux, including accessing my Lotus Notes for email and databases, edit and present documents with Lotus Symphony, and so on. I have made RHEL 6.1 my default when I boot up. Setting up Windows XP under KVM was relatively simple, involving an 8-line shell script and 54-line XML file. Here is what I have encountered:

We use a wonderful tool called "iSpring Pro" which merges Powerpoint slides with voice recordings for each page into a Shockwave Flash video. I have not yet found a Linux equivalent for this yet.
To avoid having to duplicate files between systems, I use instead symbolic links. For example, my Lotus Notes local email repository sits on D: drive, but I can access it directly with a link from /home/tpearson/notes/data.
While my native Ubuntu and RHEL Linux can access my C:, D: and E: drives in native NTFS file system format, the irony is that my Windows XP guest OS under KVM cannot. This means moving something from NTFS over to Ext4, just so that I can access it from the Windows XP guest application.
For whatever reason, "Password Safe" did not run on the Windows XP guest. I launch it, but it takes forever to load and never brings up the GUI. Fortunately, there is a Linux version [MyPasswordSafe] that seems to work just fine to keep track of all my passwords.

Personal home PC

My Windows XP system at home gave up the ghost last month, so I bought a new system with Windows 7 Professional, quad-core Intel processor and 6GB of memory. There are [various editions of Windows 7], but I chose Windows 7 Professional to support running Windows XP as a guest image.

Here's is how I have configured my personal computer:

| | | | | |
| --- | --- | --- | --- | --- |
| Partition | Size | Format | Mount | Description |
| /dev/sda1 | 104MB | NTFS | C: | Windows 7 Loader |
| /dev/sda2 | 10GB | ext4 | /(root) | Ubuntu Desktop 10.10, SystemRescueCD, Clonezilla, Parted Magic |
| /dev/sda3 | 50GB | ext4 | /(root) | RHEL 6.1 |
| /dev/sda5 | 7GB | swap | swap | Linux swap |
| /dev/sda6 | 60GB | NTFS | C: | Windows 7 OS and programs |
| /dev/sda7 | 230GB | NTFS | D: | My Documents, Lotus Notes and other data |
| /dev/sda8 | 250GB | NTFS | E: | Extras and Archives |

I actually found it more time-consuming to implement the "Virtual PC" feature of Windows 7 to get Windows XP mode working than KVM on Red Hat Linux. I am amazed how many of my Windows XP programs DO NOT RUN AT ALL natively on Windows 7. I now have native 64-bit versions of Lotus Notes and Symphony 3, which will do well enough for me for now.

I went ahead and put Red Hat Linux on my home system as well, but since I have Windows XP running as a guest under Windows 7, no need to duplicate KVM setup there. At least if I have problems with Windows 7, I can reboot in RHEL6  Linux at home and use that for Linux-native applications.
Hopefully, this will position me well in case IBM decides to either go with Windows 7 or Linux as the replacement OS for Windows XP.
technorati tags: IBM, Windows, Windows XP, Windows 7, Linux, Ubuntu, RedHat, RHEL, RHEL6, Lotus, Lotus Notes, Lotus Symphony
Some job titles can be vague. Have you ever given your title to a person at a cocktail party, only to have to explain exactly what you do? With a title like "IBM Master Inventor and Senior Managing Consultant", this happens to me all the time. To help explain what we do at the Tucson Executive Briefing Center (EBC), I use the following analogy.
People who want to see or interact with animals have several options. One option is to go visit the animals in their natural habitat. A more convenient option, however, is to visit the animals in a zoo. Zoos bring together a wide variety of animals, making it convenient to visit all of them at one time.
I did not fully appreciate the advantage of zoos until I took a safari in Kenya, Africa a few years ago. The word safari means "long journey" in Swahili. For two weeks, we drove around in a Land Rover on bumpy roads across the country. The best time to see the animals was early in the morning and late in the afternoon. We would drive around for hours looking for a type animal we had not seen already. Most came to see the so-called "Big Five": Buffalo, Elephant, Leopard, Lion and Rhinoceros. After two weeks and hundreds of miles, we had seen the "Big Nine" which extends the Big Five to include the Cheetah, Zebra, Giraffe and Hippo, as well as seeing a variety of other, lesser known animals.
When it comes to zoos, there are two kinds.
Self-guided -- offering the basic zoo experience where you are handed a map to visit the animals on your own.
Docent-guided -- offering a richer zoo experience where the docent provides added value, leading visitors around the zoo, answering questions, providing education, and comparing the differences between the animals.
Over the past 15 years, IBM has been consolidating storage development in Tucson, Arizona moving storage-related projects from San Jose, CA, from Rochester, MN, and from Raleigh, NC. Tucson has the largest collection of IBM storage hardware and software development in North America. I am one of the three local "docents", guiding the clients that come to Tucson to visit the developers.
(Note: I have seen other analogies to discuss groups of developers. There is an old adage: engineers are [like mushrooms: kept in the dark, covered with manure, and then canned when they are old enough]. In 2008, I had a popular blog post relating [Software Programmers as Bees]. In referring to developers as animals in the zoo in this post, I am treating them in high esteem as the star attractions of the zoo. This blog is not meant as commentary on their hygiene.)
Here are some of the types of developers that our clients ask to interact with:
Research Scientists

A was hired into IBM back in 1986 as a Research Scientist. When clients want to hear about IBM's future direction over the next 10-15 years, we bring in someone from IBM Research.

Hardware Engineers

While disk systems may seem no more complicated as arranging books on a shelf, clients often want to talk to hardware engineers related to IBM's tape libraries, especially the IBM System Storage TS3500 library and the High-Density frame that can store multiple cartridges per slot in a spring-loaded manner.

Software Engineers

I have a Bachelor's degree in Computer Engineering and Master's degree in Electrical Engineering, so I am able to speak both sides of the hardware/software divide. Software engineers here in Tucson develop the microcode that runs on disk and tape hardware, the various GUI, CLI and SMI-S API interfaces, as well as Tivoli Storage software, especially Tivoli Storage Manager (TSM) and Tivoli Storage Productivity Center.

Testers

IBM Tucson has a huge test lab, and our testers are very familiar with all of the subtle nuances of interoperability between servers, HBAs, switches and storage devices. We have system and function testers for the individual products, ISV testers to validate software compatability, performance testers, and environment testers to verify the storage devices can handle extremes in temperature, humidity, vibration and noise.

System Architects

IBM has architects for each product line to help decide which features and functions are developed for each product release. While many software engineers have expertise narrowly focused on an individual component, the system architects need to have a broad awareness of the entire environment. Earlier in my career, I was the chief architect for DFSMS, the storage management element of the z/OS mainframe operating sytsem, and chief architect for what we now call Tivoli Storage Productivity Center.

Product and Portfolio Managers

Product and Portfolio managers are helpful to explain to clients why IBM invested more in some products than others. I had served as the Portfolio Manager for IBM tape systems. When clients want to talk about the business side of our products, such as pricing, licensing and leasing issues, we bring the product and portfolio managers in.

IBM Executives

For some clients, high level executives want to speak to their counterparts at IBM, vice president to vice president, executive to executive. Our local IBM executives often help kick off the briefing in the morning, or provide the executive summary and discuss next steps at the end of the day. Golfing, dinners and drinks, of course, are always a popular scheduing option.
On behalf of the rest of the Tucson EBC, I would like to thank all the developers who have helped us last year with client briefings. There are too many to mention, and most are too humble to let me put their names in this blog. Team, your assistance is very appreciated!
Many IBMers consider Tucson to be the headquarters for storage, and I have heard IBM executives refer to Tucson as the center of the universe for storage products. However, IBM is a global company. Just as zoos do not pretend to be complete collections of animals, IBM storage development is not entirely contained in Tucson. IBM Research for storage is also done in Almaden CA, Yorktown Heights NY, and Haifa, Israel. Hardware development is also done in Japan, Europe and Israel. Tivoli Storage has locations in Beaverton, Oregon, and Austin, Texas, to name a few. IBM is a big company, so if I left your favorite location off the list, let me know in the comments below.
Some clients, sales reps and business partners have complained that Tucson is not the most convenient location to get to. I get that. One rep asked why we don't have briefing centers somewhere more accessible, such as Chicago or Atlanta, both cities offer a major airline hub. As much as I personally enjoy cities like Chicago or Atlanta, people don't visit zoos just to see the docents, they come to see the animals. Having docents located in Chicago or Atlanta, standing sadly in front of empty cages with no animals to interact with, makes no sense at all.
With over 350 days of sunshine per year, Tucson is actually a well-kept secret. Clients who have never been to Tucson discover the wonders of the Sonoran desert. Coyotes chase roadrunners across our parking lot. Several clients who have come to visit us have ended up buying retirement homes here. If you haven't been to Tucson, or it has been a while since your last trip, I encourage you to [schedule a briefing]. The weather right now is ideal!
technorati tags: IBM, Tucson EBC
Did IBM XIV force EMC's hand to announce VMAXe? Let's take a stroll down memory lane.
In 2008, IBM XIV showed the world that it could ship a Tier-1, high-end, enterprise-class system using commodity parts. Technically, prior to its acquisition by IBM, the XIV team had boxes out in production since 2005. EMC incorrectly argued this announcement meant the death of the IBM DS8000. Just because EMC was unable to figure out how to have more than one high-end disk product, doesn't mean IBM or other storage vendors were equally challenged. Both IBM XIV and DS8000 are Tier-1, high-end, enterprise-class storage systems, as are the IBM N series N7900 and the IBM Scale-Out Network Attached Storage (SONAS).
In April 2009, EMC followed IBM's lead with their own V-Max system, based on Symmetrix Engenuity code, but on commodity x86 processors. Nobody at EMC suggested that the V-Max meant the death of their other Symmetrix box, the DMX-4, which means that EMC proved to themselves that a storage vendor could offer multiple high-end disk systems. Hitachi Data Systems (HDS) would later offer the VSP, which also includes some commodity hardware as well.
In July 2009, analysts at International Technology Group published their TCO findings that IBM XIV was 63 percent less expensive than EMC V-Max, in a whitepaper titled [COST/BENEFIT CASE FOR IBM XIV STORAGE SYSTEM Comparing Costs for IBM XIV and EMC V-Max Systems]. Not surprisingly, EMC cried foul, feeling that EMC V-Max had not yet been successful in the field, it was too soon to compare newly minted EMC gear with a mature product like XIV that had been in production accounts for several years. Big companies like to wait for "Generation 1" of any new product to mature a bit before they purchase.
To compete against IBM XIV's very low TCO, EMC was forced to either deeply discount their Symmetrix, or counter-offer with lower-cost CLARiiON, their midrange disk offering. An ex-EMCer that now works for IBM on the XIV sales team put it in EMC terms -- "the IBM XIV provides a Symmetrix-like product at CLARiiON-like prices."
(Note: Somewhere in 2010, EMC dropped the hyphen, changing the name from V-Max to VMAX. I didn't see this formally announced anywhere, but it seems that the new spelling is the officially correct usage. A common marketing rule is that you should only rename failed products, so perhaps dropping the hyphen was EMC's way of preventing people from searching older reviews of the V-Max product.)
This month, IBM introduced the IBM XIV Gen3 model 114. The analysts at ITG updated their analysis, as there are now more customers that have either or both products, to provide a more thorough comparison. Their latest whitepaper, titled [Cost/Benefit Case for IBM XIV Systems: Comparing Cost Structures for IBM XIV and EMC VMAX Systems], shows that IBM maintains its substantial cost savings advantage, representing 69 percent less Total Cost of Ownership (TCO) than EMC, on average, over the course of three years.
In response, EMC announced its new VMAXe, following the naming convention EMC established for VNX and VNXe. Customers cannot upgrade VNXe to VNX, nor VMAXe to VMAX, so at least EMC was consistent in that regard. Like the IBM XIV and XIV Gen3, the new EMC VMAXe eliminated "unnecessary distractions" like CKD volumes and FICON attachment needed for the IBM z/OS operating system on IBM System z mainframes. Fellow blogger Barry Burke from EMC explains everything about the VMAXe in his blog post [a big thing in a small package].
So, you have to wonder, did IBM XIV force EMC's hand into offering this new VMAXe storage unit? Surely, EMC sales reps will continue to lead with the more profitable DMX-4 or VMAX, and then only offer the VMAXe when the prospective customer mentions that the IBM XIV Gen3 is 69 percent less expensive. I haven't seen any list or street prices for the VMAXe yet, but I suspect it is less expensive than VMAX, on a dollar-per-GB basis, so that EMC will not have to discount it as much to compete against IBM.
technorati tags: IBM, XIV, Gen3, EMC, DMX-4, VMAX, V-Max, HDS, N7900, SONAS, DS8000, CKD, FICON, TCO
Fellow master inventor and blogger Barry Whyte (IBM) recounts the past 20 years of history in IT storage from his perspective in a series of blog posts. They are certainly worth a read:
In his last post in this series, he mentions that the amazingly successful IBM SAN Volume Controller was part of a set of projects:
"IBM was looking for "new horizon" projects to fund at the time, and three such projects were proposed and created the "Storage Software Group". Those three projects became know externally as TPC, (TotalStorage Productivity Center), SanFS (SAN File System - oh how this was just 5 years too early) and SVC (SAN Volume Controller). The fact that two out of the three of them still exist today is actually pretty good. All of these products came out of research, and its a sad state of affairs when research teams are measured against the percentage of the projects they work on, versus those that turn into revenue generating streams."
But this raises the question: Was SAN File System just five years too early?
IBM classifies products into three "horizons"; Horizon-1 for well-established mature products, Horizon-2 was for recently launched products, and Horizon-3 was for emerging business opportunities (EBO). Since I had some involvement with these other projects, I thought I would help fill out some of this history from my perspective.
Back in 2000, IBM executive [Linda Sanford] was in charge of IBM storage business and presented that IBM Research was working on the concept of "Storage Tank" which would hold Petabytes of data accessible to mainframes and distributed servers.
In 2001, I was the lead architect of DFSMS for the IBM z/OS operating system for mainframes, and was asked to be lead architect for the new "Horizon 3" project to be called IBM TotalStorage Productivity Center (TPC), which has since been renamed to IBM Tivoli Storage Productivity Center.
In 2002, I was asked to lead a team to port the "SANfs client" for SAN File System from Linux-x86 over to Linux on System z. How easy or difficult to port any code depends on how well it was written with the intent to be ported, and porting the "proof-of-concept" level code proved a bit too challenging for my team of relative new-hires. Once code written by research scientists is sufficiently complete to demonstrate proof of concept, it should be entirely discarded and written from scratch by professional software engineers that follow proper development and documentation procedures. We reminded management of this, and they decided not to make the necessary investment to add Linux on System z as a supported operating system for SAN file system.
In 2003, IBM launched Productivity Center, SAN File System and SAN Volume Controller. These would be lumped together with Horizon-1 product IBM Tivoli Storage Manager and the four products were promoted together as the inappropriately-named [TotalStorage Open Software Family]. We actually had long meetings debating whether SAN Volume Controller was hardware or software. While it is true that most of the features and functions of SAN Volume Controller is driven by its software, it was never packaged as a software-only offering.
The SAN File System was the productized version of the "Storage Tank" research project. While the SAN Volume Controller used industry standard Fibre Channel Protocol (FCP) to allow support of a variety of operating system clients, the SAN File System required an installed "client" that was only available initially on AIX and Linux-x86. In keeping with the "open" concept, an "open source reference client" was made available so that the folks at Hewlett-Packard, Sun Microsystems and Microsoft could port this over to their respective HP-UX, Solaris and Windows operating systems. Not surprisingly, none were willing to voluntarily add yet another file system to their testing efforts.
Barry argues that SANfs was five years ahead of its time. SAN File System tried to bring policy-based management for information, which has been part of DFSMS for z/OS since the 1980s, over to distributed operating systems. The problem is that mainframe people who understand and appreciate the benefits of policy-based management already had it, and non-mainframe couldn't understand the benefits of something they have managed to survive without.
(Every time I see VMware presented as a new or clever idea, I have to remind people that this x86-based hypervisor basically implements the mainframe concept of server virtualization introduced by IBM in the 1970s. IBM is the leading reseller of VMware, and supports other server virtualization solutions including Linux KVM, Xen, Hyper-V and PowerVM.)
To address the various concerns about SAN File System, the proof-of-concept code from IBM Research was withdrawn from marketing, and new fresh code implementing these concepts were integrated into IBM's existing General Parallel File System (GPFS). This software would then be packaged with a server hardware cluster, exporting global file spaces with broad operating system reach. Initially offered as IBM Scale-out File Services (SoFS) service offering, this was later re-packaged as an appliance, the IBM Scale-Out Network Attached Storage (SONAS) product, and as IBM Smart Business Storage Cloud (SBSC) cloud storage offering. These now offer clustered NAS storage using the industry standard NFS and CIFS clients that nearly all operating systems already have.
Today, these former Horizon-1 products are now Horizon-2 and Horizon-3. They have evolved. Tivoli Storage Productivity Center, GPFS and SAN Volume Controller are all market leaders in their respective areas. 

technorati tags: IBM, Barry Whyte, TPC, SANfs, SVC, EBO, Storage Tank, SoFS, SONAS, SBSC, cloud storage, NAS, storage, NFS, CIFS, HTTP
"In times of universal deceit, telling the truth will be a revolutionary act."


-- George Orwell
Well, it has been over two years since I first covered IBM's acquisition of the XIV company. Amazingly, I still see a lot of misperceptions out in the blogosphere, especially those regarding double drive failures for the XIV storage system. Despite various attempts to [explain XIV resiliency] and to [dispel the rumors], there are still competitors making stuff up, putting fear, uncertainty and doubt into the minds of prospective XIV clients.
Clients love the IBM XIV storage system! In this economy, companies are not stupid. Before buying any enterprise-class disk system, they ask the tough questions, run evaluation tests, and all the other due diligence often referred to as "kicking the tires". Here is what some IBM clients have said about their XIV systems:
"3-5 minutes vs. 8-10 hours rebuild time..."



-- satisfied XIV client

"...we tested an entire module failure - all data is re-distributed in under 6 hours...only 3-5% performance degradation during rebuild..."



-- excited XIV client

"Not only did XIV meet our expectations, it greatly exceeded them..."



-- delighted XIV client
In this blog post, I hope to set the record straight. It is not my intent to embarrass anyone in particular, so instead will focus on a fact-based approach.
Fact: IBM has sold THOUSANDS of XIV systems

XIV is "proven" technology with thousands of XIV systems in company data centers. And by systems, I mean full disk systems with 6 to 15 modules in a single rack, twelve drives per module. That equates to hundreds of thousands of disk drives in production TODAY, comparable to the number of disk drives studied by [Google], and [Carnegie Mellon University] that I discussed in my blog post [Fleet Cars and Skin Cells].

Fact: To date, no customer has lost data as a result of a Double Drive Failure on XIV storage system

This has always been true, both when XIV was a stand-alone company and since the IBM acquisition two years ago. When examining the resilience of an array to any single or multiple component failures, it's important to understand the architecture and the design of the system and not assume all systems are alike. At it's core, XIV is a grid-based storage system. IBM XIV does not use traditional RAID-5 or RAID-10 method, but instead data is distributed across loosely connected data modules which act as independent building blocks. XIV divides each LUN into 1MB "chunks", and stores two copies of each chunk on separate drives in separate modules. We call this "RAID-X".

Spreading all the data across many drives is not unique to XIV. Many disk systems, including EMC CLARiiON-based V-Max, HP EVA, and Hitachi Data Systems (HDS) USP-V, allow customers to get XIV-like performance by spreading LUNs across multiple RAID ranks. This is known in the industry as "wide-striping". Some vendors use the terms "metavolumes" or "extent pools" to refer to their implementations of wide-striping. Clients have coined their own phrases, such as "stripes across stripes", "plaid stripes", or "RAID 500". It is highly unlikely that an XIV will experience a double drive failure that ultimately requires recovery of files or LUNs, and is substantially less vulnerable to data loss than an EVA, USP-V or V-Max configured in RAID-5. Fellow blogger Keith Stevenson (IBM) compared XIV's RAID-X design to other forms of RAID in his post [RAID in the 21st Centure].

Fact: IBM XIV is designed to minimize the likelihood and impact of a double drive failure

The independent failure of two drives is a rare occurrence. More data has been lost from hash collisions on EMC Centera than from double drive failures on XIV, and hash collisions are also very rare. While the published worst-case time to re-protect from a 1TB drive failure for a fully-configured XIV is 30 minutes, field experience shows XIV regaining full redundancy on average in 12 minutes. That is 40 times less likely than a typical 8-10 hour window for a RAID-5 configuration.

A lot of bad things can happen in those 8-10 hours of traditional RAID rebuild. Performance can be seriously degraded. Other components may be affected, as they share cache, connected to the same backplane or bus, or co-dependent in some other manner. An engineer supporting the customer onsite during a RAID-5 rebuild might pull the wrong drive, thereby causing a double drive failure they were hoping to avoid. Having IBM XIV rebuild in only a few minutes addresses this "human factor".

In his post [XIV drive management], fellow blogger Jim Kelly (IBM) covers a variety of reasons why storage admins feel double drive failures are more than just random chance. XIV avoids load stress normally associated with traditional RAID rebuild by evenly spreading out the workload across all drives. This is known in the industry as "wear-leveling". When the first drive fails, the recovery is spread across the remaining 179 drives, so that each drive only processes about 1 percent of the data. The [Ultrastar A7K1000] 1TB SATA disk drives that IBM uses from HGST have specified 1.2 million hours mean-time-between-failures [MTBF] would average about one drive failing every nine months in a 180-drive XIV system. However, field experience shows that an XIV system will experience, on average, one drive failure per 13 months, comparable to what companies experience with more robust Fibre Channel drives. That's innovative XIV wear-leveling at work!

Fact: In the highly unlikely event that a DDF were to occur, you will have full read/write access to nearly all of your data on the XIV, all but a few GB.

Even though it has NEVER happened in the field, some clients and prospects are curious what a double drive failure on an XIV would look like. First, a critical alert message would be sent to both the client and IBM, and a "union list" is generated, identifying all the chunks in common. The worst case on a 15-module XIV fully loaded with 79TB data is approximately 9000 chunks, or 9GB of data. The remaining 78.991 TB of unaffected data are fully accessible for read or write. Any I/O requests for the chunks in the "union list" will have no response yet, so there is no way for host applications to access outdated information or cause any corruption.

(One blogger compared losing data on the XIV to drilling a hole through the phone book. Mathematically, the drill bit would be only 1/16th of an inch, or 1.60 millimeters for you folks outside the USA. Enough to knock out perhaps one character from a name or phone number on each page. If you have ever seen an actor in the movies look up a phone number in a telephone booth then yank out a page from the phone book, the XIV equivalent would be cutting out 1/8th of a page from an 1100 page phone book. In both cases, all of the rest of the unaffected information is full accessible, and it is easy to identify which information is missing.)

If the second drive failed several minutes after the first drive, the process for full redundancy is already well under way. This means the union list is considerably shorter or completely empty, and substantially fewer chunks are impacted. Contrast this with RAID-5, where being 99 percent complete on the rebuild when the second drive fails is just as catastrophic as having both drives fail simultaneously.

Fact: After a DDF event, the files on these few GB can be identified for recovery.

Once IBM receives notification of a critical event, an IBM engineer immediately connects to the XIV using remote service support method. There is no need to send someone physically onsite, the repair actions can be done remotely. The IBM engineer has tools from HGST to recover, in most cases, all of the data.

Any "union" chunk that the HGST tools are unable to recover will be set to "media error" mode. The IBM engineer can provide the client a list of the XIV LUNs and LBAs that are on the "media error" list. From this list, the client can determine which hosts these LUNs are attached to, and run file scan utility to the file systems that these LUNs represent. Files that get a media error during this scan will be listed as needing recovery. A chunk could contain several small files, or the chunk could be just part of a large file. To minimize time, the scans and recoveries can all be prioritized and performed in parallel across host systems zoned to these LUNs.

As with any file or volume recovery, keep in mind that these might be part of a larger consistency group, and that your recovery procedures should make sense for the applications involved. In any case, you are probably going to be up-and-running in less time with XIV than recovery from a RAID-5 double failure would take, and certainly nowhere near "beyond repair" that other vendors might have you believe.

Fact: This does not mean you can eliminate all Disaster Recovery planning!

To put this in perspective, you are more likely to lose XIV data from an earthquake, hurricane, fire or flood than from a double drive failure. As with any unlikely disaster, it is best to have a disaster recovery plan than to hope it never happens. All disk systems that sit on a single datacenter floor are vulnerable to such disasters.

For mission-critical applications, IBM recommends using disk mirroring capability. IBM XIV storage system offers synchronous and asynchronous mirroring natively, both included at no additional charge.
For more about IBM XIV reliability, read this whitepaper [IBM XIV© Storage System: Reliability Reinvented]. To find out why so many clients LOVE their XIV, contact your local IBM storage sales rep or IBM Business Partner.
technorati tags: IBM, XIV, DDF, RAID-5, RAID-10, RAID-X, RAID-6, RAID-DP, HP, EVA, HDS, USP-V, EMC, CLARiiON, V-Max, Disaster Recovery, HGST, UltraStar, A7K1000
Well, I am back safely from my trip last week to Chicago, and now I am writing this in Madrid, Spain, on my way to Brussels, Belgium for the IT Storage Expo.
For those who have asked how the construction on the new Tucson EBC is going, here are a few pictures I took on Friday. As you can see, it is coming along nicely. The official grand opening will be April 2.
This is Building 9032
We have a row of dedicated parking spaces!
Our main entrance is through the lobby!
I get to walk past fresh flowers every day!
Our front door!
This is the "Catalina" room.
Shelly's command-and-control desk
Signage for the "Santa Rita" room
The "Santa Rita" room.
The Dining Area
As you can see, we are not quite there yet.
Here are some upcoming events related to IBM Storage!
If you sell IBM and/or Oracle solutions, please join me for IBM Oracle Virtual University 2013!
A few weeks ago, I recorded a session on IBM Storage: Overview, Positioning and How to Sell that will be available on demand starting tomorrow, February 26th, at the IBM Oracle Virtual University 2013.
It's one of 65 new sessions that will help IBM to surround Oracle applications with IBM infrastructure, services and industry solutions. Oracle software, after all, runs best on IBM hardware. Other highlights of Oracle Virtual University include a live executive State of the Alliance session with Q&A, Oracle keynote, updates by Oracle product managers, sessions on PureSystems, Selling IBM into an Oracle environment, Cloud, and much more.
Visit the [Orace Virtual University 2013 Registration page] to register.
(Update: For employees of IBM, Oracle and their respective business partners, the replays for this event is available until Feb 26, 2014. Visit the [Orace Virtual University 2013 Replay page])
There will be live technical teams on hand throughout launch day to answer your questions in real time, so I hope you can carve out 30 minutes or more on February 26th to take advantage of these available resources.
After helping launch the first Pulse back in 2008, I have sadly not been back since. Last year, I was invited to attend as a last-minute replacement for another speaker, but I was busy [having emergency surgery].
This year's [Pulse 2013] conference looks amazing. It will be held in Las Vegas, Nevada. Guest Speaker Payton Manning, NFL 4-time MVP football player, and Carrie Underwood, 6-time Grammy award winner, join IBM's Software Group executives and experts on how IBM Tivoli can help optimize your IT infrastructure.
Sadly, once again, I will not be there at Pulse. This time, I will be on the East Coast visiting clients instead, but my on-premise correspondent, Tom Rauchut, has informed me that he will be there. Hopefully, he will provide me something to write about.
Later in March, I will be in Brussels, Belgium for the Storage Expo. This is held March 20-21, at the Brussels-Expo venue. I will be presenting several topics each day, as well as visit clients in the area. This event comes on behalf of IBM Belgium in association with IBM Business Partner IRIS-ICT.
If you plan to participate in any of these events, let me know!
technorati tags: IBM, Oracle, Pulse, Storage, Expo, Payton Manning, Carrie Underwood, Las Vegas, Brussels Belgium
Recently, I spoke with Jarrett Potts, my long-time friend and former IBM colleague, who now works as Director of Strategic Marketing over at STORServer. If you have never heard of STORServer, it is a company that makes purpose-built backup appliances.
What is a Backup Appliance? It is an integrated solution of hardware and software that serves a single purpose: backup and recovery. STORServer Enterprise Backup Appliance (EBA) combines IBM's high-end x86 M4 server, IBM disk and tape storage, and IBM Tivoli Storage Manager (TSM) backup software.
(Fun Fact: The 2012 IBM year-end financial results were announced last month. IBM not only continues its #1 lead in servers overall, but has the #1 marketshare for high-end x86 servers, market-leading disk and tape storage hardware, and market leading backup software.)
To determine the appropriate size of your backup appliance, the folks at STORServer help you every step of the way. They figure out the number of TB you will backup every day, and even help configure all of the TSM server parameters to achieve the policies that make the most sense for your organization.
The appliance can backup every type of data, from databases and Virtual Machines (VMs) to documents, spreadsheets, and other unstructured data.
Are you then left with a solution too complicated to run yourself? No. The STORServer Console is an easy-to-use GUI for ongoing monitoring and maintenance. Plus, your friends at STORServer are only a phone call away in case you have any questions.
(FTC Disclosure: I work for IBM, and STORSever is an approved IBM Business Partner that uses IBM hardware and software to build their solution. I have no financial interest in STORServer, and was not paid by STORServer to mention their company or products on my blog. This post may be considered a celebrity endorsement of STORServer and its Enterprise Backup Appliances.)
Perhaps my readers feel that I am a bit biased in describing a TSM-based solution, and you want a second opinion. No worries, I understand. In the latest 165-page [2012 DCIG Backup Appliance Buyer's Guide], the STORServer models ranked very high. Here is an excerpt:
"Nowhere is this demand for purpose built appliances more evident than in the rise of purpose built backup appliances (PBBAs) over the last few years and their anticipated growth rate going forward. A recent market analysis performed by IDC found that worldwide PBBA revenue totaled $2.4 billion in 2011 which was a 42.4 percent increase over the prior year.

This scoring came into play in preparing this Buyer's Guide as the STORServer EBA 3100 model scored so highly overall that it fell outside of the two (2) standard deviations that DCIG generally uses as a guideline for inclusion and exclusion of products.

The reason DCIG included this model in this Buyer's Guide whereas in other situations it might not is that DCIG is unaware of any other backup appliance(s) from any other providers that come close to matching the EBA 3100's software and hardware attributes. As such, DCIG felt it would be doing STORServer specifically and the market generally a disservice by not highlighting in this Buyer's Guide that such a backup appliance existed and was generally available for purchase."



| | | | |
| --- | --- | --- | --- |
|   | Backup Appliance Models | Score | Ranking |
| 1. | STORServer EBA 3100 | 91.70 | ENTERPRISE |
| 2. | Symantec NetBackup 5220 Backup Appliance | 87.11 | Recommended |
| 3. | STORServer EBA 2100 | 86.90 | Recommended |
| 4. | STORServer EBA 1100 | 85.70 | Recommended |
| 5. | STORServer EBA 800 | 85.60 | Recommended |
| 6. | Symantec Backup Exec 3600 Appliance | 78.83 | Excellent |
| 7. | Unitrends Recovery-823 | 76.55 | Excellent |
| 8. | RackTop EBR-FE | 76.50 | Excellent |
| 9. | Unitrends Recovery-833 | 76.25 | Excellent |
| 10. | Unitrends Recovery-822 | 76.15 | Excellent |
The STORServer is ideal for small and medium-sized business (SMB), but can scale quite large to handle business growth. If you are currently unhappy with your current backup environment, and feel now is the time to look around for a better way of taking backups, you won't go wrong choosing a solution based on IBM's market-leading server and storage hardware with Tivoli Storage Manager software.
technorati tags: IBM, System Storage, Tivoli Storage Manager, STORServer
Thanks to all the readers who responded to my bleg for help for the [Laptop for Grandma]!
I've gotten suggestions to upgrade the memory and disk storage, and how to fine-tune the Microsoft Windows XP operating system. Others suggested replacing the OS with Linux, and to use the Cloud to avoid some of the storage space limitations.
But first, I have to mention the latest in our series of "Enterprise Systems" videos. The first was being [Data Ready]. The second was being [Security Ready]. The now the third in the series: the 3-minute [Cloud Ready] video.
So I decided to try different Cloud-oriented Operating Systems, to see if any would be a good fit. Here is what I found:
(FTC Disclosure: I work for IBM and own IBM stock. This blog post is not meant to endorse one OS over another. I have financial interests in, and/or have friends and family who work at some of the various companies mentioned in this post. Some of these companies also have business relationships with IBM.)
Jolicloud and Joli OS 1.2

I gave this OS a try. This is based on Linux, but with an interesting approach. First, you have to be on-line all the time, and this OS is designed for 15-25 year-olds who are on social media websites like Facebook. By having a Jolicloud account, you can access this from any browser on any system, or run the Joli OS operating system, or buy the already pre-installed Jolibook netbook computer.

The Joli OS 1.2 LiveCD ran fine on my T410 with 4GB or RAM, giving me a chance to check it out, but sadly did not run on grandma's Thinkpad R31 with 384MB of RAM. According to the [Jolicloud specifications], Joli OS should run in as little as 384MB of RAM and 2GB of disk storage space, but it didn't for me.

Google Chrome and Chromium OS Vanilla

Like the Jolibook, Google has come out with a $249 Chromebook laptop that runs their "Chrome OS". This is only available via OEM install on desginated hardware, but the open source version is available called Chromium OS. These are also based on Linux.

Rather than compiling from source, Hexxeh has made nightly builds available. You can download [Chromium OS Vanilla] zip file, unzip the image file, and copy it to a 4GB USB memory stick. The compressed image is about 300MB, but uncompressed about 2.5GB, so too big to fit on a CD. The image on the USB stick is actually two partitions, and cannot be run from DVD either.

If you don't have a 4GB USB stick handy, and want to see what all the fuss is about, just install the Google Chrome browser on your Windows or Linux system, and then maximize the browser window. That's it. That is basically what Chromium OS is all about.

Files can be stored locally, or out on your Google Drive. Documents can be edited using "Google Docs" in the Cloud. You can run in "off-line" mode, for example, read your Gmail notes when not connected to the Internet. Music and video files can be played using the "Files" app.

If you really need to get out of the browser, you can hit the right combination of keys to get to the "crosh" command line shell.

Like Joli OS, I was able to run this from my Thinkpad T410 with 4GB of RAM, but not on grandma's Thinkpad R31. It appears that Chromium requires at least 1GB of RAM to run properly.

Android for x86

While researching the Chromium OS, I found that there is an open source community porting [Android to the x86] platform. Android is based on Linux, and would allow your laptop or netbook to run very much like a smartphone or tablet. Most of the apps available to Android should work here as well.

Unfortunately, the project has focused only on selected hardware:

ASUS Eee PCs/Laptops
Viewsonic Viewpad 10
Dell Inspiron Mini Duo
Samsung Q1U
Viliv S5
Lenovo ThinkPad x61 Tablet

I tried running the Thinkpad x61 version on both my Thinkpad T410 and grandma's Thinkpad R31, but with no success.

Peppermint OS Three

Next up was Peppermint OS, which claims to be a blend of Linux Mint, Lubuntu, and Xfce, but with a "twist" of aspiring to be a Cloud-oriented OS.

Rather than traditional apps to write documents or maintain a calendar, this OS offers a "Single-Site Browser" (SSB) experience, where you can configure "apps" by pointing to their respective URL. For documents, launch GWoffice, the client for Google Docs. For calendar, launch Google Calendar.

Most Linux distros have both a number and a project name associated with them. For example, Ubuntu 10.04 LTS is known as "Lucid Lynx". The Peppermint OS team avoided this by just calling their latest version "Three" which serves as both its number and its name.

The browser is Chromium, similar to Google Chrome OS above, and uses the "DuckDuckGo" search engine. This is how the Peppermint OS folks make their money to defray the costs of this effort.

Peppermint OS claims to run in systems as little as 192MB or RAM, and only 4GB of disk space. The LiveCD ran well on both my Thinkpad T410, as well as grandma's Thinkpad R31. More importantly, when I installed on the hard drive, it ran well.

The music app "Guayadeque" that came pre-installed was awful. It couldn't play MP3 music out-of-the-box. I had to install the Codec plugins from various "ubuntu-restricted-extras" libraries. I also installed the music app "Rhythmbox", and that worked great. Time from power-on to first-note was less than 2 minutes! However, the problems with the Guayadeque gave me the impression this OS might not be ready for primetime.
I contacted grandma to ask if she has Wi-Fi in her home, and sure enough, she doesn't. Her PC upstairs is direct attached to the cable modem. So, while the Cloud suggestion was worthy of investigation, I will continue to pursue other options that do not require being connected. I certainly do not want to spend any time and effort getting Wi-Fi installed there.
technorati tags: IBM, Thinkpad, Cloud, Cloud Ready, Jolicloud, Jolibook, Joli OS, Google Chrome OS, Android, PeppermintOS,
Well it's Wednesday, and you know what that means... IBM Announcements.
(Normally, announcements are on Tuesdays, but we moved this one over to Wednesday to line up with our big launch event in Pinehurst, NC. )
A lot was announced today, so I decided to break it up into several separate posts. I will start with our Enterprise Systems: DS8870, TS7700 Release 3, and XIV Gen3.
Enterprise systems are the servers, storage and software at the core of an enterprise IT infrastructure. Enterprise systems enable a private cloud infrastructure at enterprise scale, with flexible service delivery models that provide dynamic efficiency for resource and workload management. They make sure critical data is always available across the enterprise, making it accessible in new ways so that actionable insights can be derived from advanced and operational analytics. They also provide ultimate security, ensuring the integrity of critical data while mitigating risk and providing assured compliance.
IBM System Storage DS8870® disk system

IBM Virtualization Engine™ TS7700 Release 3

My latest book "Inside System Storage: Volume V" is now available!

IBM XIV Storage System Gen3
To learn more about all of the announcements today, see the [Storage Landing Page].
technorati tags: IBM, DS8000, DS8870, TS7700, TS7720, TS7740, FDE, Encryption, XIV, Gen3, ANSI, T10, DIF, iPhone, iPad, DOE, SSD, RoHS, VAAI, VMware, SRM, Microsoft, Hyper-V,
Well it's Tuesday again, and you know what that means... IBM announcements! Yesterday, at the IBM Edge conference here in Orlando, Florida, IBM announced its new apporach to storage, and a whole bunch of storage products, enhancements, and services. I will focus on some key ones here, and save the rest for next week.
IBM SAN Volume Controller (SVC) v6.4

The SVC is IBM's enterprise-class storage hypervisor. The latest software release, v6.4, can be installed on any SVC hardware, from the 2145-8F2 introduced back in 2005, to newer models like the 2145-CG8. Here are the key features:

Fibre Channel over Ethernet (FCoE) -- This is complete end-to-end support. For SVC units with 10GbE ports, these ports can be now be used for FCoE. This allows hosts to attach to SVC via FCoE, allows SVC node-to-node communication for clustering, and allows SVC to communicate to back-end devices via FCoE.


Real-Time Compression -- IBM ported over the patent Random Access Compression Engine (RACE) from the Real-Time Compression Appliances to SVC v6.4. This allows primary data, accessed via block-based protocols, to be compressed up to 80 percent. This feature is an extra priced feature by TB.


Non-Disruptive Volume move between I/O Groups -- If you don't already have SVC, you don't need to worry about this. For existing SVC customers, this allows volumes to be associated with two or more I/O groups, and that you can add or remove I/O groups non-disruptively. For example, if you want to move a volume from IOG1 to IOG2, then you add IOG2 to the list of I/O groups for the volume, let the multi-pathing software discover the additional paths, the remove IOG1, which then marks the previous IOG1 paths inactive. All this can be done while applications read and write data.


Dedicate FCP ports for Replication -- If you activate the two 10GbE Ethernet ports for FCoE, you can free up two FCP ports that you can dedicate for long-distance Metro Mirror or Global Mirror.

If you have SVC today, but are running an old release like v4.3 or v5.1, I recommennd you upgrade up to at least v6.2.05 release now. This release has been out for a year and is very stable, and serves as a great platform for a later upgrade to SVC v6.4.

IBM Storwize V7000 v6.4

The Storwize V7000 is IBM's midrange storage hypervisor. The latest software release, v6.4, can be installed on existing block-only Storwize V7000 units in the field. The Storwize V7000 v6.4 gets all the features listed above, as well as the following:

Four-way clustering -- Previously, you could cluster two Storwize V7000 controller enclosures together (4 canisters total). To cluster three or four controllers required an RPQ. Now, IBM supports up to four Storwize V7000 controller enclosures (8 canisters) without an RPQ.


Direct Fibre Channel attach -- A lot of people are using Storwize V7000 inside single-rack configurations, so it makes sense not to require a SAN switch for just a few Windows, Linux or VMware servers. An RPQ is now available to allow this to happen.

 

IBM Tivoli Storage Productivity Center (TPC) v5.1

TPC is already ranked one of the best Storage Infrastructure Management software in the market, and this release will just solidify its lead. Key features include:

Upward integration to higher level management systems
A new, intuitive, easy-to-use web-based GUI inspired by the XIV GUI
Integration of COGNOS to be able to generate and customize reports
Support for SONAS systems

There are several presentations on TPC this week that will go into more detail. Check out the [TPC Facebook page].

My latest book Inside System Storage: Volume IV is now available!

Yes, can you believe it? I have published my fourth volume in my "Inside System Storage" series! It is available in three formats:

Hardcover with dust jacket
Paperback
eBook (Adobe Acrobat PDF)

You can order this, and all my other books, in all formats, directly from my [Author Spotlight] page. The paperback will also be available soon from other online booksellers, search for ISBN 978-1-105-72213-4.

IBM DS3500 Express

The DS3500 is our entry-level block-based device, designed specifically for random I/O workloads. This includes databases, email repositories, traditional business applications, and on-line transactional workloads. Here are the new features:

Dynamic Disk Pooling, similar to what XIV does to reduce disk rebuild times, but using a RAID-6 like approach per chunk of data.
Thin Provisioning using Dynamic Disk Pooling
Asynchronous Logical Unit Access (ALUA) failover
Enhanced FlashCopy, improved scalability, consistency groups and rollback support
VMware API for Array Integration (VAAI) support. This includes Write Same, Extended Copy, and Atomic Test & Set.

The DS3500 replaces the previous models of DS3200, DS3300 and DS3400 models.

IBM DCS3700

The DCS3700 is our entry-level/midrange block-based device, replacing the DCS9900 model, designed specifically for sequential I/O workloads. This includes Big Data analytics, Hadoop, High Performance Computing (HPC), video surveillance, and television broadcasting. It holds 60 drives in a 4U controller enclosure.
For more on any of these announcements, see the [June 4th Announcement Page], or follow the Twitter tag #transformITnow.
technorati tags: IBM, SVC, Storwize V7000, Tivoli Storage, Productivity Center, TPC, DS3500, DCS37000
Did you miss IBM's Pulse 2012 conference? So did I. Last month, I told you all to [mark your calendars], but wasn't sure if I would be there myself or not.
I was invited to attend Pulse this year, but had to instead go to the Hospital for surgery and spend the week recovering. I thought I made that clear on my last post that I would be spending [the week on my back, with a tube in my arm], but apparently, people missed that subtlety.
The tube was actually connected to the back of my left hand, and I was tempted to take pictures of the entire process, but decided not to, since my gown had no pockets to hold my camera. Perhaps it is better it went undocumented. The less you see of the inner workings of a hospital, as a patient, the better. The whole things was quite a blur.
Despite a few mishaps, I managed to survive the week. Many thanks to Hilda, Dina, Crystal, Marcie, Mike, Joe, Ryan, Sue, Debra, Donna, Modrechai, and the rest of the fine medical staff at St. Joseph's for their hospitality! And of course, many thanks to Mo, my parents and sisters for helping me through the recovery!
Fortunately, for those like me who were unable to go to Las Vegas last week, there is the [IBM Pulse2012 Video Library] with highlights of the keynotes and other sessions during the week.
Enjoy!
technorati tags: IBM, Pulse2012
This week, I am in Melbourne, Australia for the [IBM System x and System Storage Technical Symposium]. Here is a recap of Day 1:
Keynote Session

The keynote was led by Phil Tasker, IBM Business Unit Executive (BUE) for STG Education Programs in Growth Markets, then Joe Screnci, head of IBM Storage Sales for Australia. IBM is in the Top 10 Training Hall of Fame, and conducts over 40,000 classes worldwide, resulting in over 1.3 million student days of instructions. IBM Systems Lab and Training technical hosts over three dozen conferences like this one every year.

Next was Clod Barrera, Distinguished Engineer and Chief Technical Strategist for the IBM System Storage product line. He covered future trends in storage as they relate to IBM's Smarter COmputing initiative.




Storage for the Clouds

Clod Barrera presented this break-out session on Cloud Storage. He covered why clouds matter, the various types and purposes of cloud, technology and architectures, and where IBM is headed to support this trend.

Storage for Cloud computing was $1 Billion USD business in 2010, and is expected to grow 32 percent CAGR through, compared to 3.8 percent for non-cloud storage. Clod estimates that 10 to 15 percent of all storage will be in cloud deployments by 2015. Of this storage, analysts expect 50 percent in private clouds, and the other 50 percent in public clouds. For private clouds, clients are looking to "Cloudify" their existing IT infrastructures. For public clouds, the projects are mostly green field.

IBM is also looking to the "arms dealer" of choice for Telcos and other companies looking to launch their own Cloud Services. IBM has a Cloud Services Provider Platform (CSP2) specifically to provide all the tools and technologies needed to make this possible.

Last month, IBM launched several new solutions for Cloud. The IBM Starter Kit for Cloud will help existing IT environments adopt cloud technologies. The IBM Service Agility Accelerator for Cloud is available for more advanced deployments. IBM Service Delivery Manager (ISDM) integrates a collection of software to provide complete integrated service management. IBM CloudBurst provides an integrated hardware-and-software stack for both x86 and POWER chipsets.

Multi-tenancy is also a big issue, and this varies depending on deployment model: IaaS, PaaS, or SaaS. Multi-tenancy is needed to help divide up management tasks, and to ensure that shared resources are paid for and meet SLA requirements accordingly.

Clod feels there are good reasons to use high performance, transactional SAN storage for VMware environments, versus NAS which many people consider simpler to deploy. IBM is also active in open standards, including SNIA's Cloud Data Management Interface [CDMI].




Journey to the Private Cloud

Gary Luke from Brocade provided this session on IBM's SAN384B-2 and SAN768B-2 SAN directors. Brocade is one of IBM's suppliers for SAN switches, and thanks to TRILL being adopted last August by IETF, supports multi-hop FCoE configurations! However, Gary did not talk about FCoE, but rather native FCP and FICON support in these new directors.

According to VMware, only 30 percent of x86 workloads are virtualized by any hypervisor. Gary feels that server virtualization and the use of Solid-State Drives (SSD) in disk arrays are driving existing 8 Gbps SAN to upgrade to 16 Gbps. Gary feels that Fibre-Channel based SANs are best positioned to handle unpredictable peaks in a 24-by-7 world.

The SAN384B-2 can house up to 256 ports (8 Gbps) or 192 ports (16 Gbps) in four slots, 9U chassis. The SAN768B-2 can handle twice these, in a 12U chassis. The nice thing about the 16Gbps ports is that they can auto-negotiate down to 10, 8, 4 and 2 Gbps. This is far better than typical N-2 support, often referred to as the speeds supported, such as 4/2/1 and 8/4/2. An upcoming FOS release will allow people with previous generation SAN384B-1/SAN768B-1 directors to move their 8Gbps blades over to the new SAN384B-2/SAN768B-2 generation models.

Since most CWDM and DWDM only support maximum 10 Gbps FC and 10GbE, Brocade's 16Gbps can automatically drop down to 10 Gbps for direct attachment to CWDM/DWDM, rather than having a step-down box normally required.

A major advancement is the change from copper to optical "Inter-Chassis Links" (ICL). Unlike Inter-switch links (ISL) that use up SAN ports on each box, the ICL is faster, more efficient and does not consume ports. Normally, clients would connect two directors together, but now you can connect up to six chassis together! For example, you can have four SAN368B-2 connected to your host servers, ICL attached to two SAN768B-2, that are then connected to your disk and tape storage devices. The fiber optic ICL allow for up to 50 meters distance. Combining six chassis together would allow the complex to support over 3,000 ports (8 Gbps) or 2,300 ports (16 Gbps).

Brocade supports encryption of data in-flight. Why is this important? Gary suggested we watch this [YouTube video from Australia's Today Tonight show]:

The SAN384B-2 and SAN768B-2 supports "virtual SAN" logical switches, traffic isoliation (TI) zones, fabric-assigned WWNNs, and fabric-based QoS.

Lastly, Brocade offers a free utility called [SANhealth] that will gather data from your b-type, m-type and even Cisco MDS-based SAN. The data can then be sent to Brocade for analysis, and Brocade will then email back some nice Visio graphs, spreadsheets and other analysis results on the health of your SAN.
technorati tags: IBM, Melbourne, Australia, Phil Tasker, Joe Screnci, Clod Barrera, Gary Luke, Brocade, SAN384B-2, SAN768B-2, Cloud+Storage, SAN, FCP, ICL
IBM wins lots of awards, but this time is unique: [IBM and Fox Networks Group have jointly won an Engineering Emmy® Award] for Innovation from the Academy of Television Arts & Sciences. According to the Academy, by improving the ability of media companies to capture, manage and exploit content in digital form, IBM and Fox have fundamentally changed the way that audio and video content is managed and stored. Here's an excerpt from the IBM Press Release:
"By standardizing technologies in this way, Fox can now use open-standard, file-based tape in all aspects of production, post-production and distribution functions – displacing costly proprietary tape formats and/or disk subsystems. This provides media companies with the consumer equivalent of having their entire library of DVDs online and available at any time, and the ability to go to a specific scene, in any one of the movies, in an instant.

In the early stage of the technology initiative, the IBM/Fox team applied IBM-patented technologies invented by IBM Research for high-speed data movement. They also integrated traditional broadcast transport and encoding standards with IT industry open standards. This allowed either Standard Definition (SD) or HD programming to be available in real time for digital recording and repurposing -- with improved economics."
Last year, in my posts [Double the Storage Capacity - Double the Fun!], [Happy E.A.R.T.H day!], [Local IBM Team recognized by Arizona Daily Star], and [On Cirago Docking Stations, IBM RDX and LTFS], I had referred to LTFS by its prior name, the Long Term File System. People keep archives on tape because it is a great medium for long term retention.
Unfortunately, people didn't like the name, but they loved the acronym, so it was renamed to Linear Tape File System. IBM offers LTFS single-drive edition on its LTO-5 and TS1140 tape drives, and LTFS library-edition across all of its tape libraries. Since everyone hates proprietary vendor lock-in, IBM has graciously shared LTFS as an open source standard with the rest of the Linear Tape Open consortium.
(Note: I was not there at the awards ceremony. The pictures were taken by Ed Childers, David Pease and Rainer Richter of each other. Additional photos are available on this [Flicr photo album].)
(1) Rainer Richter, Media Technology Market Partners LLC [MTMP], presenting the Emmy to Steve Canepa, IBM General Manager for Media and Entertainment industry. MTMP is an IBM Business Partner that offers integrated solutions for LTO and LTFS, consulting, services, and technology to the media and entertainment industry…
(2) Ed Childers, IBM manager of the Tape Drive Development team, holding the Emmy. Fellow IBM blogger Steve Hamm credits Ed on coming up with the idea for LTFS seven years ago, in his blog post [Coding and Loading in Las Vegas: How a Team of IBM Researchers Helped Transform the Way Video is Stored]. Ed wanted to make tape storage easier to use and to integrate it into the workflow of networks and studios, and suggested using an indexing system that would allow people to write software that would make video more accessible.
(3) David Pease, IBM Senior Technical Staff Member from the IBM Almaden Research Center, holding the Emmy. Along with Lucas Villa Real (IBM Brazil) and Michael Richmond (IBM Almaden), David and his team were able to come up with a working prototype in just four months. Michael discusses this in his posts [Tape? Does anyone care about Tape anymore?"] and [the Emmy goes to... LTFS].
If David and Ed look familiar, it is because I had their picture on my blog back in May when [LTFS won 2011 NAB Show Pick Hits award]. For more from the IBM Almaden Research team, see their blog post [We won an Emmy!]
Of course, Technology is only worthwhile if you put it to use. Our friends at FOX initially partnered with IBM to develop this video archive solution for the National Football League (NFL). If there is one place that "re-purposes" a lot of video footage, it is sports television. The technology proved so useful that FOX has since expanded it to other types of programming.
technorati tags: IBM, FOX, Emmy, Ed Childers, David Pease, Steve Canepa, Michael Richmond, Rainer Richter, MTMP, Almaden Research Center, LTFS, LTO-5, TS1140, Media and Entertainment, Steve Hamm
I have arrived safely to San Francisco, and was able to check-in at the hotel, pick up my registration badge for Oracle OpenWorld 2011, and attend the first keynote session. This is the largest Oracle OpenWorld event to-date, with over 45,000 attendees from 117 different countries. There are 520,000 square feet of exhibition floor, and over 2,400 educational sessions. The conference is spread across the different buildings of the Moscone center, as well as nearby hotels. On average, attendees will walk seven miles during the week.
Larry Ellison was the keynote speaker for this first kick-off session. He focused almost exclusively on server and storage hardware. He feels that business is all about moving data, not doing integer math.
Exadata

At the beginning of 2011, Oracle had only sold about 1,000 Exadata, but they have a sales target to sell an additional 3,000 Exadata boxes by year end. The Exadata offers up to 10x columnar compression, and has 10x faster bandwidth (40Gbps Infiniband versus 4Gbps FCP). If you have a 100TB database, it would take up only 10TB of disk with this approach. He claims that the 90TB of disk you don't have to buy can then be used to buy more DRAM and/or Flash SSD.

(Realistically, since SSD is 15x more expensive than spinning disk, you can only purchase about 6TB of Flash for the 90TB you save on disk!)

Larry claims the design point for Exadata and Exalogic was to offer a system that was more powerful than IBM's fastest P795 computer, but cheaper than commodity x86 hardware. His secret is to "Parallel everything" for faster performance, and no single points of failure (SPOF). Exadata offers up to 10-50x faster query, and 4-10x faster OLTP. To keep costs low, Exadata uses all commodity hardware except the Infiniband. He cited various customer examples:

A company replaced 36 Teradata with 3 Exadata and result was application was 8x faster.
Banco Chile 9x faster than previous system
Deutsche Post 60x faster
Sogetti gets 60x faster backups.
French bank BNP Paribas 17x faster and no change to applications.
Proctor & Gamble 18x faster
Merck 5x faster
Turkcell 250TB compressed to 25TB, 10x faster

The problem was that in each example, he said what it was compared against was the old previous system, which varies and could have been an older Sun system, or an old system from HP, IBM or Dell. Perhaps it was a freudian slip, but Larry mistakenly said "Paralyze" your applications, when he probably meant to "Parallelize".

SPARC Supercluster

Of all their 380,000 Oracle customers, 70 percent have SPARC/Solaris and/or Linux. Last week, Oracle announced the new SPARC-T4, which Larry claimed was 5x faster than the previous SPARC-T3. Larry feels that for the first time ever, a non-IBM CPU can challenge the long-standing rein of the IBM POWER series processor. Larry admitted that the IBM POWER7 chip actually did some tasks faster than the SPARC-T4, so his work is not yet done, but they plan to offer a new SPARC-T5 next year that will be 2x better than the SPARC-T4.

Larry compared the I/O bandwidth of serv ers based on SPARC-T4, compared to POWER7, and found that the SPARC-T4 has double the I/O bandwidth, for a cost that was only about 1/4 the cost of a mainframe. IBM offers both. POWER7-based servers for CPU-intensive workloads, and System z (S/390)-based systems for I/O-intensive workloads. Larry feels that even though POWER7 is superior than SPARC-T4 for mathematical calculations, all business applications are focused on I/O-bandwidth to move data, not computations.

(Fellow IBMer Carter O'Mahoney has already posted a response on his post [Challenging Oracle's SPARC SuperCluster Claims].)

Larry claims the new SPARC-T4 can do 1.2 million IOPS. He uses 40 Gbps Infiniband instead of traditional SAN-attached FCP solutions.

Exalytics

A new "box" called Exalytics, combines their commodity hardware platform with a hueristic adaptive in-memory cache, their latest "me-too" solution that compares with what IBM already offers in [IBM SolidDB]. In fact, their me-too is not even internally developed, but rather the result of an acquisition of a company called "Times Ten". I thought it was interesting that the only piece of Oracle software mentioned during Larry's 90-minute speach, was this piece of acquired technology. The new Exalytics product run on a small rack and grow, analyzing relational data, non-relational OLAP, as well as unstructured documents. The result is what Larry called "the Speed of Light".
He also mentioned that Bob Shimp would kick-off the Cloud later in the week. Given that Larry himself thought that Cloud was a stupid, over-marketed term that nobody has deployed over the past few years, to a complete believer, claiming that over 20 live demos will be given this year on Cloud.
Perhaps the funniest quote was his motivation to use Infiniband as the interconnect
"Ethernet was invented by Xerox when I was a child."
-- Larry Ellison
Here are some sessions that IBM is featuring on Monday. Note the first two are Solution Spotlight sessions at the IBM Booth #1111 where I will be most of the time.
IBM Cloud Computing Solutions for Oracle

10/03/11, 10:30 a.m. – 11:00 a.m., Solution Spotlight, Booth #1111 Moscone South
Presenter: Chuck Calio,Technical Strategist, IBM Systems & Technology Group
IBM is recognized in the IT industry as one of the "Big 6" cloud providers, along with Amazon, Google, Microsoft, Salesforce and Yahoo. This session will highlight how IBM Cloud offerings apply to Oracle applications.

Lowering Cost and increasing efficiency in your long term support of Oracle EPM and BI

10/03/11, 3:00 p.m. -- 3:30 p.m., Solution Spotlight, Booth #1111 Moscone South
Presenter: Matthew Angelstad, IBM Global Business Solutions - Oracle EPM (Hyperion) Practice Lead
In 2007, Oracle acquired Hyperion, a leading provider of performance management software. This session will show how IBM helps Oracle clients unify Enterprise Performance Management (EPM) and Business Intelligence (BI) in a cost-effective manner, supporting a broad range of strategic, financial and operational management processes.

Application Strategy: Charting the Course for Maximum Business Value

10/03/11, 3:30 p.m. – 4:30 p.m., OpenWorld session #39061
Presenter: Mike Marchildon, IBM
The industry is undergoing a shift from single Enteprise Resource Planning (ERP) application to second-generation platforms containing diverse yet interdependent systems. This shift presents opportunities and challenges for both IT and the business.
technorati tags: IBM, Oracle, Larry Ellison, keynote, SPARC-T4, Exadata, Exalogic, Exalytics, POWER7
Can you believe it has been five years since I started blogging?
(If you absolutely abhor the navel-gazing associated with blogging-about-blogging posts, then by all means stop reading now!)
Back in July 2005, IBM decided to merge together two brands, IBM eServer and IBM TotalStorage, into a single all-encompassing "IBM Systems" brand. Thus TotalStorage brand became the "IBM System Storage" product line of the "IBM Systems" brand. The next six months was spent renaming some (not all) of the products. The following January, I was named the Marketing Strategist for this new product line, with the mission to help promote the new naming convention.
We looked at possibly doing a regularly-scheduled podcast, but nobody back then, including myself, were familar with audio editing tools. Instead, we chose a blog. Most blogs at IBM are internal, safely hidden behind the firewall, accessible only to IBM employees. I wanted mine to be different, to be accessible to the public, clients, prospects, IBM Business Partners, and yes, even those working for IBM's various competitors. One thing I like about blogs is that if you have a typo, or make a mistake, you can go back and correct it after it has posted.
Marketing through social media is quite different than traditional marketing techniques. Management was supportive, but legal wanted to review and approval everything I wrote before I posted it onto my blog. Official IBM Press Releases, for example, go through a dozen reviews before they are finally made public. I refused. This kind of review and approval would ruin the blogging process.
Fortunately, this blog was not my first attempt at technical writing. Our legal counsel reviewed my past trip reports from various conferences, and decided to let me blog without review. Occasionally, someone will reivew my blog once already posted, and ask me to make some corrections. It reminds me of my favorite saying used heavily within IBM:
It is easier to get forgiveness than permission.
-- Arthur Bloch [Yale Book of Quotations]
Despite these delays, we managed to launch this blog in September 2006, just in time to celebrate the 50th anniversary of disk systems. IBM introduced the industry's first commercial disk system on September 13, 1956.
Over the years, this blog has helped sales reps and IBM Business Partners close deals, and address the FUD their prospects heard from competition. I have helped my readers get in touch with the right people within IBM. And, I have "sent the elevator back down", helping other IBMers launch their own blogs, including [Barry Whyte], [Elisabeth Stahl], and [Anthony Vandewerdt].
Today, bloggers have a profound impact on the world. Not everyone has a positive view on this. Bloggers and other users of social media have been seen as whistle-blowers for fraudulent corporations, as activists against corrupt governments and dictators, and as subject matter experts and fact checkers referenced during television and radio newscasts. In a recent movie, one of the major characters was a trouble-making blogger, and another character describes his blogging as nothing more than "graffiti with punctuation."
I want to thank all of my readers for making this the #1 most influential blog on IBM DeveloperWorks in 2011! This blog has been [published in a series of books], Inside System Storage Volume I and Volume II. And yes, before you all ask in the comments below, I am actively working on Volume III.
For a bit of nostalgia, I invite you to read my first 21 blog posts that I posted back in [September 2006].
technorati tags: IBM, anniversary, blogoversary, Lulu, TotalStorage, eServer, System Storage
This Thursday, June 16, 2011, marks IBM's Centennial 100 year anniversary. It happens to also be my 25th anniversary with IBM Storage. To avoid conflicts in celebrations, we decided to celebrate my induction into the "Quarter Century Club" (QCC) last Friday instead.
My colleague Harley Puckett was master of ceremonies. Here he is presenting me with a memorial plaque and keychain. Harley mentioned a few facts about 1986, the year I started working for IBM. Ronald Reagan was the US President, gasoline cost only 93 cents per gallon, and the US National Debt was only 2 trillion US dollars!
Here are my colleagues from DFSMShsm. From left to right: Ninh Le, Henry Valenzuela, Shannon Gallaher, and Stan Kissinger. I started in 1986 as aa software developer on DFHSM, and slowly worked my way up to be a lead architect of DFSMS.
Here are my colleagues from Tivoli Storage Manager (TSM). From left to right: Matt Anglin, Ken Hannigan and Mark Haye. I first met them when they worked in DFDSS, having moved from San Jose, CA down to Tucson. While I never worked on the TSM code itself, I did co-author some of the patents used in the product and other products like the 3494 Virtual Tape Server that makes use of TSM internally. I also traveled extensively to promote TSM, often with a TSM developer tagging along so they can learn the ropes about how to travel and make presentaitons.
Here are my colleagues from the disk team. From left to right: Joe Bacco, Carlos Pratt, Gary Albert, and Siebo Friesenborg. I worked on the SMI-S interface for the ESS 800 and DS8000 disk systems needed for the Tivoli Storage Productivity Center. Joe leads the "Disk Magic" tools team. Carlos and I worked on qualifying the various disk products to run with Linux on System z host attachment. Gary Albert is the Business Line Executive (BLE) of Enterprise Disk. Siebo Friesenborg was a disk expert on performance and disaster recovery, but is now enjoying his retirement.
Here are my colleagues from the support team. From left to right: Max Smith, Dave Reed, and Greg McBride. I used to work in Level 2 Support for DFSMS with Max and Dave, carrying a pager and managing the queue on RETAIN. We had enough people so that each Level 2 only had to carry the pager two weeks per year. On Monday afternoons, the person with the pager would give it to the next person on the rotation. On Monday, September 10, 2001, I got the pager, and the following morning, it went off to help all the many clients affected by the September 11 tragedy.
I worked with Greg McBride when he was in DFSMS System Data Mover (SDM), and then again in Tivoli Storage Productivity Center for Replication (TPC-R), and now he is supporting IBM Scale-Out Network Attached Storage (SONAS).
Standing in the light blue striped shirt is Greg Van Hise, my first office-mate and mentor when I first joined IBM. He went on to be part of the elite "DFHSM 2.4.0" prima donna team, then move on to be an architect for Tivoli Storage Manager (TSM).
I wasn't limited to inviting just coworkers, I was also able to invite friends and family. Here are Monica, Richard, and my mother. Normally, my parents head south for the summer, but they postponed their flights so that they could participate in my QCC celebration.
From left to right: my father, Greg Tevis, and myself. It was pure coincidence that my father would wear a loud darkly patterned shirt like mine. Honestly, we did not plan this in advance. Greg Tevis and I were lead architects for the Tivoli Storage Productivity Center, and Greg is now the Technology Strategist for the Tivoli Storage product line.
Here is Jack Arnold, fellow subject matter expert who works with me here at the Tucson Executive Briefing Center, sampling the food. We had quite the spread, including egg rolls, meatballs, luncheon meats, chicken strips, and fresh vegetables.
More colleagues from the Tucson Executive Briefing Center, from left to right, Joe Hayward, Lee Olguin, and Shelly Jost. Joe was a subject matter expert on Tape when I first joioned the EBC in 2007, but he has moved back to the Tape development/test team. Lee is our master "Gunny" sargeant to manage all of our briefing schedules. Shelly is our Client Support Manager, and was the one who organized all the food and preparations for this event!
Lastly, here are Brad Johns, myself, and Harley Puckett. Brad was my mentor for my years in Marketing, and has since retired from IBM and now works on his golf game. I would like to thank all of the Tucson EBC staff for pulling off such a great event, and all my coworkers, friends and family for coming out to celebrate this milestone in my career!
In addition to the plaque and keychain, Harley presented me with a book of congratulatory letters. If you would like to send a letter, it's not too late, contact Mysti Wood (mysti@us.ibm.com).
technorati tags: IBM, IBM100, QCC, Tucson, EBC, DFSMS, DFSMShsm, DFHSM, TSM, TPC
When I turned on the television last weekend, I saw large waves of water knock down rows of small houses. I thought I had caught the end of a bad Godzilla movie, but sadly it was not movie special effects. Mother Nature can be quite destructive. Over the past four days, Japan has been hit hard by a series of earthquakes and resulting tsunami.
(Note: Disasters can happen anywhere and at any time. Last month, New Zealand had an earthquake as well. It is best to always be prepared. If you haven't done so lately, check out the latest recommendations from the US Government [Ready.Gov] website.)
Several have asked me how this tragedy in Japan might affect IBM and its clients. Here is what I have gathered from various sources. All IBM Japan employees have survived, are safe and reporting no major injuries. IBM has four major facilities, near central part of the country around Tokyo, far from Sendai, the epicenter. All IBM buildings are still standing and operational. A few sections of Tokyo are affected by scheduled brown-outs in an effort to save electricity. Employees are asked to telecommute (a.k.a. work from home) to minimize traffic congestion.
Hakozaki - Headquarters and executive briefing center
Makuhari - Technical Center, where we often hold conferences and other events
Yamato - Research Facility, where R&D is done for IBM tape storage products
Toyosu - Service Delivery Center
I have been to Japan many times throughout my career. Back in the summer of 1995, IBM sent me to Osaka to help out clients in the aftermath of the Great Hanshin eartquake near Kobe. I remember it well, sending an email back to my team saying "It is 1995, and here in Japan it is 95 degrees and 95 percent humidiy." It was seven months after the earthquake, but people were still living in cardboard boxes and make-shift tents.
Many people asked if I will be going back to Japan to help out. I speak Japanese, can make sense of the Japanese Katakana characters on computer monitors, and am an expert in Disaster Recovery. However, the IBM Japan team is doing an awesome job helping our clients restore their data and recovery their business operations. Of course, if IBM needs me in Japan, I will gladly go, but so far, it doesn't seem that I am needed there.
Instead, I will support Japan remotely from my little office here in Tucson, Arizona. If you want to help, contribute to the Red Cross [Japan Earthquake and Pacific Tsunami] fund. 

technorati tags: IBM, Japan, Earthquate, Tokyo, Hakozaki, Makuhari, Yamato, Toyosu, Hanshin, Kobe, Osaka
| | |
| --- | --- |
| | Guest Post: The following post was written by Tom Rauchut, IBM Infrastructure Architect and Advanced Technical Sales Specialist for Tivoli Automation. Tom is at IBM Pulse 2011 for Las Vegas this week, and has offered to send his observations. |
---
The expo opened last night. There are so many fantastic demos and product experts. Las Vegas has a Tivoli buzz on right now.
I'm working in the Hands On Labs room. Pulse labs kicked off Sunday. The hot topics included Cloud, Storage, Automation, Asset Management, and BigFix (a company IBM [acquired and products will now be called Tivoli Endpoint Manager])
I'll try to get you a few updates along the way.
technorati tags: IBM, Pulse, #ibmpulse, BigFix, Cloud, Storage, Asset Management, Automation, BigFix
Actually, if the title confuses you, it is because it has a double meaning.
Meaning 1: IBM earned almost 100 Billion dollars (USD)

IBM's 2010 [earnings report is now available], for the full year 2010 and the fourth quarter. IBM had $99.9 Billion dollars (USD) in revenue, almost $100 Billion dollars that it had set out as a vision in the 1980s. IBM Storage contributed with 8 percent growth, not bad for a year Dave Barry considers [one of the worst years ever.].

IBM President and CEO Sam Palmisano granted me a chunk of IBM stock in appreciation of my efforts towards the 2010 success! Actually, he gave stock to a whole bunch of IBMers, not just me, and they all deserve it also.  Woo hoo!


Meaning 2: IBM is almost 100 years old

That's right, this upcoming June 16, 2011, IBM turns 100 years old. This Centennial date also happens to be my 25th year anniversary working in IBM Storage, which IBM calls joining the Quarter Century Club, or QCC for short. So, I am looking forward to plenty of cake and fireworks on that day!
I am looking forward to a year-long celebration on both counts!
technorati tags: IBM, Centenial, QCC, Revenues, Earnings, 4Q10, Dave Barry
Continuing my post-week coverage of the [Data Center 2010 conference], Wednesday evening we had six hospitality suites. These are fun informal get-togethers sponsored by various companies. I present them in the order that I attended them.
Intel - The Silver Lining

| | |
| --- | --- |
| | Intel called their suite "The Silver Lining". Magician Joel Bauer wowed the crowds with amazing tricks. |

| | |
| --- | --- |
| Intel handed out branded "Snuggies". I had to explain to this guy that he was wearing his backwards. | |

i/o - Wrestling with your Data Center?

| | |
| --- | --- |
| | New-comer "i/o" named their suite "Wrestling with your Data Center?" They invited attendees frustrated with their data centers to don inflated Sumo Wrestling suits. |

APC by Schneider Electric - Margaritaville

This will be the last year for Margaritaville, a theme that APC has used now for several years at this conference.

Cisco - Fire and Ice

| | |
| --- | --- |
| Cisco had "Fire and Ice" with half the room decorated in Red for fire, and White for ice. | |

| | |
| --- | --- |
| | This is Ivana, welcoming people to the "Ice" side. |

| | |
| --- | --- |
| This is Peter, on the "Fire" side. Cisco tried to have opposites on both sides, savory food on one side, sweets on the other. | |

CA Technologies - Can you Change the Game?

CA Technologies offered various "sports games", with a DJ named "Coach".

Compellent - Get "Refreshed" at the Fluid Data Hospitality Suite

Compellent chose a low-key format, "lights out" approach with a live guitarist. They had hourly raffles for prizes, but it was too dark to read the raffle ticket numbers.
Of the six, my favorite was Intel. The food was awesome, the Snuggies were hilarious, and the magician was incredibly good. I would like to think Intel for providing me super-secret inside access to their Cloud Computing training resources and for the Snuggie!
technorati tags: IBM, LSC29, Intel, Snuggie, APC, Schneider Electric, Margaritaville, CA+Technologies, Cisco, Compellent, Joel Bauer
On Wikibon, David Floyer has an article titled [SAS Drives Tier 1 to New Levels of Green] that focuses on the energy efficiency benefits of newer Serial-Attach SCSI (SAS) drives over older Fibre Channel (FC) drives. This makes sense, as R&D budgets have been spent on making newer technologies more "green".
Fellow blogger Hu Yoshida (HDS) encourages people to [Invest in the Future with SAS, SATA and SFF], referring to Figure 1.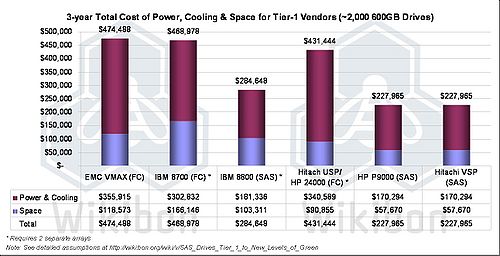 Of course, people might consider this an [apples-to-oranges] comparison. Not only are we changing from FC to SAS technology, we are also changing from 3.5-inch drives to small form factor (SFF) 2.5-inch drives. It seems odd to specify 2000 drives, when only two of the five scale up to that level. Few systems in production, from any vendor, have more than 1000 drives, so it would have seemed that would have been a fairer comparison.
However, Hu's conclusion that the combination of SAS and SFF provides better performance and energy efficiency for both IBM DS8800 and HDS VSP than FC-based alternatives from any vendor seems reasonably supported by the data.
Meanwhile, fellow blogger David Merrill (HDS) pokes fun at IBM DS8800 in Figure 2 in his post [Winner o' the green]. This second comparison was for 4PB of raw capacity, which 4 of the 5 can handle easily using 2TB SATA drives, but the DS8800 is based on SAS technology and does not support 2TB SATA drives. A performance-oriented configuration with four distinct DS8800 boxes employing 600GB SAS drives is used instead, causing the data for the DS8800 to stick out like a sore thumb, or perhaps more intentionally as a middle finger.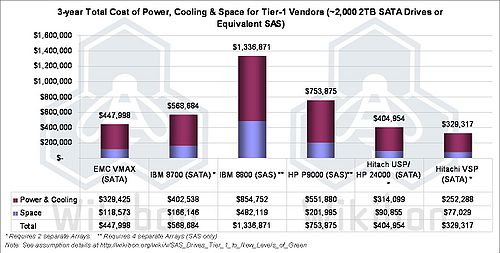 The main take-away here is that IBM offers both the DS8700 for capacity-optimized workloads, and the DS8800 for performance-optimized workloads. Some competitors may have been spreading FUD that the DS8700 was withdrawn last month, it wasn't. As you can see from the data presented, there are times where a DS8700 might be more preferable than a DS8800, depending on the type of workloads you plan to deploy. IBM offers both, and will continue to support existing DS8700 and DS8800 units in the field for many years to come.
technorati tags: IBM, DS8700, DS8800, Wikibon, Hu Yoshida, David Merrill, Davud Floyer
Well, I'm back from my adventure. For those who did not follow my tweets, here is a quick recap. Not counting the day we flew from Tucson to Minneapolis, or the day we flew from Memphis back to Tucson, Mo and I spent nine days on the road, covering 1549 miles, or roughly two thirds of the Mississippi River. 

Well, now I have a lot of unread emails and blogs to get through! My next trip is the [IBM System Storage Technical University] in Washington DC, July 26-30.
Continuing my rant from Monday's post [Time for a New Laptop], I got my new laptop Wednesday afternoon. I was hoping the transition would be quick, but that was not the case. Here were my initial steps prior to connecting my two laptops together for the big file transfer:
Document what my old workstation has

Back in 2007, I wrote a blog post on how to [Separate Programs from Data]. I have since added a Linux partition for dual-boot on my ThinkPad T60.

| | | | | |
| --- | --- | --- | --- | --- |
| Partition | Size | Format | Mount | Description |
| /dev/sda1 | 26GB | NTFS | C: | Windows XP SP3 operating system and programs |
| /dev/sda2 | 12GB | ext3 | /(root) | Red Hat Enterprise Linux 5.4 |
| /dev/sda5 | 1GB | swap | swap | Linux swap |
| /dev/sda6 | 80GB | NTFS | D: | My Documents and other data |

I also created a spreadsheet of all my tools, utilities and applications. I combined and deduplicated the list from the following sources:

Control Panel -> Add/Remove programs
C:\Program Files
Start -> Programs panels
Program taskbar at bottom of screen
D:\Install-Files

The last one was critical. Over the years, I have gotten in the habit of saving those ZIP or EXE files that self-install programs into a separate directory, D:/Install-Files, so that if I had to unintsall an application, due to conflicts or compatability issues, I could re-install it without having to download them again.

So, I have a total of 134 applications, which I have put into the following rough categories:

AV - editing and manipulating audio, video or graphics
Files - backup, copy or manipulate disks, files and file systems
Browser - Internet Explorer, Firefox, Opera and Google Chrome
Communications - Lotus Notes and Lotus Sametime
Connect - programs to connect to different Web and Wi-Fi services
Demo - programs I demonstrate to clients at briefings
Drivers - attach or sync to external devices, cell phones, PDAs
Games - not much here, the basic solitaire, mindsweeper and pinball
Help Desk - programs to diagnose, test and gather system information
Projects - special projects like Second Life or Lego Mindstorms
Lookup - programs to lookup information, like American Airlines TravelDesk
Meeting - I have FIVE different webinar conferencing tools
Office - presentations, spreadsheets and documents
Platform - Java, Adobe Air and other application runtime environments
Player - do I really need SIXTEEN different audio/video players?
Printer - print drivers and printer management software
Scanners - programs that scan for viruses, malware and adware
Tools - calculators, configurators, sizing tools, and estimators
Uploaders - programs to upload photos or files to various Web services

Backup my new workstation

My new ThinkPad T410 has a dual-core i5 64-bit Intel processor, so I burned a 64-bit version of [Clonezilla LiveCD] and booted the new system with that. The new system has the following configuration:

| | | | | |
| --- | --- | --- | --- | --- |
| Partition | Size | Format | Mount | Description |
| /dev/sda1 | 320GB | NTFS | C: | Windows XP SP3 operating system, programs and data |

There were only 14.4GB of data, it took 10 minutes to backup to an external USB disk. I ran it twice: first, using the option to dump the entire disk, and the second to dump the selected partition. The results were roughly the same.

Run Workstation Setup Wizard

The Workstation Setup Wizard asks for all the pertinent location information, time zone, userid/password, needed to complete the installation.

Re-Partition Disk Drive

I burned a 64-bit version of [System Rescue CD] and ran [Gparted] to re-partition this disk into the following:

| | | | | |
| --- | --- | --- | --- | --- |
| Partition | Size | Format | Mount | Description |
| /dev/sda1 | 40GB | NTFS | C: | Windows XP SP3 operating system and programs |
| /dev/sda2 | 15GB | ext3 | /(root) | Ubuntu Desktop 10.04 LTS |
| /dev/sda3 | 15GB | ext3 | unused | unused |
| /dev/sda5 | 5GB | swap | swap | Linux swap |
| /dev/sda6 | 245GB | NTFS | D: | My Documents and other data |




Redefine Windows directory structure

I made two small changes to connect C: to D: drive.

Changed "My Documents" to point to D:\Documents which will move the files over from C: to D: to accomodate its new target location. See [Microsoft procedure] for details.
Edited C:\notes\notes.ini to point to D:\notes\data to store all the local replicas of my email and databases.

Install Ubuntu Desktop 10.04 LTS

My plan is to run Windows and Linux guests through virtualization. I decided to try out Ubuntu Desktop 10.04 LTS, affectionately known as Lucid Lynx, which can support a variety of different virtualization tools, including KVM, VirtualBox-OSE and Xen. I have two identical 15GB partitions (sda2 and sda3) that I can use to hold two different systems, or one can be a subdirectory of the other. For now, I'll leave sda3 empty.

Take another backup of my new workstation

I took a fresh new backup of paritions (sda1, sda2, sda6) with Clonezilla.
The next step involved a cross-over Ethernet cable, which I don't have. So that will have to wait until Thursday morning.
technorati tags: IBM, Lenovo, ThinkPad, T60, T410, Intel, Clonezilla, SysRescCD, Gparted, Windows, Ubuntu, Linux, Lucid, LTS
This week I got a comment on my blog post [IBM Announces another SSD Disk offering!]. The exchange involved Solid State Disk storage inside the BladeCenter and System x server line. Sandeep offered his amazing performance results, but we have no way to get in contact with him. So, for those interested, I have posted on SlideShare.net a quick five-chart presentation on recent tests with various SSD offerings on the eX5 product line here:
Sandeep, if you see this, we would also be interested in seeing your results as well.
technorati tags: , IBM, BladeCenter, eX5, server, solid state disk, SSD, PCIe
Well, it's Tuesday again, and you know what that means! IBM announcements!
Today, I am in New York visiting clients. The weather is a lot nicer than I expected. Here is a picture of the Hudson River through some trees with leaves turning color. Something we don't see in Tucson! Our cactus and pine trees stay green year-round!
The announcements today center around the IBM PureSystems family of expert integrated systems. The PureFlex is based on Flex System components. The Flex System chassis is 10U high that hold 14 bays, consisting of 7 rows by 2 columns. Computer and Storage nodes fit in the front, and switches, fans and power supplies in the back. Here is a quick recap:
IBM Flex System Compute Nodes

The x220 Compute Node is a single-bay low-power 2-socket x86 server. The x440 Compute Node is a powerful double-bay (1 row, 2 columns). The p260 Compute Node is a single-bay server based on the latest POWER7+ CPU processor.

IBM Flex System Expansion Nodes

Do you remember those old movies where a motorcycle would have a sidecar that could hold another passenger, or extra cargo? IBM introduces "Expansion Nodes" for the x200 series single-bay Compute nodes. The idea here is that in a single column, you have one bay for the Compute node, and then on the side in the next bay (same column) you have an Expanions node. There are two choices:

Storage Expansion Node allows you to have eight additional drives
PCIe Expansion Node allows to to have four PCIe cards, which could include the SSD-based PCIe cards from IBM's recent acquisition, Texas Memory Systems.

There are times where one or two internal drives are just not enough storage for a single server, and these expanion nodes could just be the perfect solution for some use cases.

IBM Flex System V7000 Storage Node

I saved the best for last! The Flex System V7000 Storage Node is basically the IBM Storwize V7000 repackaged to fit into the Flex System chassis. This means that in the front of the chassis, the Flex System V7000 takes up four bays (2 rows by 2 columns). In the back of the chassis are the power supplies, fans and switches.

The new Flex System V7000 supports everything the Storwize V7000 does except the upgrade to "Unified" through file modules. For those who want to have Storwize V7000 Unified in their PureFlex systems, IBM will continue to offer the outside-the-chassis original Storwize V7000 that can have two file modules added for NFS, CIFS, HTTPS, FTP and SCP protocol support.

IBM Flex System Converged Network Switch

The Converged Network Switch provide Fibre Channel over Ethernet (FCoE) directly from the chassis. This eliminates the need for a separate "Top-of-Rack" switch, and allows the new Flex System V7000 Storage Node to externally virtualize FCoE-based disk arrays.

Patterns of Expertise for Infrastructure

The original patterns of expertise focused on the PureApplication Systems. Now IBM has added some for the Infrastructure on PureFlex systems.
IBM has sold over 1,000 Flex System and PureFlex systems, across 40 different countries around the world, since their introduction a few months ago in April! These latest enhancements will help solidify IBM's industry leadership,
technorati tags: IBM, PureFlex, Storwize V7000, Flex System V7000, PureSystems, PureApplication, Patters of Expertise
Every year, I teach hundreds of sellers how to sell IBM storage products. I have been doing this since the late 1990s, and it is one task that has carried forward from one job to another as I transitioned through various roles from development, to marketing, to consulting.
This week, I am in the city of Taipei [Taipei] to teach Top Gun sales class, part of IBM's [Sales Training] curriculum. This is only my second time here on the island of Taiwan.
As you can see from this photo, Taipei is a large city with just row after row of buildings. The metropolitan area has about seven million people, and I saw lots of construction for more on my ride in from the airport.
The student body consists of IBM Business Partners and field sales reps eager to learn how to become better sellers. Typically, some of the students might have just been hired on, just finished IBM Sales School, a few might have transferred from selling other product lines, while others are established storage sellers looking for a refresher on the latest solutions and technologies.
I am part of the teach team comprised of seven instructors from different countries. Here is what the week entails for me:
Monday - I will present "Selling Scale-Out NAS Solutions" that covers the IBM SONAS appliance and gateway configurations, and be part of a panel discussion on Disk with several other experts.


Tuesday - I have two topics, "Selling Disk Virtualization Solutions" and "Selling Unified Storage Solutions", which cover the IBM SAN Volume Controller (SVC), Storwize V7000 and Storwize V7000 Unified products.


Wednesday - I will explain how to position and sell IBM products against the competition.


Thursday - I will present "Selling Infrastructure Management Solutions" and "Selling Unified Recovery Management Solutions", which focus on the IBM Tivoli Storage portfolio, including Tivoli Storage Productivity Center, Tivoli Storage Manager (TSM), and Tivoli Storage FlashCopy Manager (FCM). The day ends with the dreaded "Final Exam".


Friday - The students will present their "Team Value Workshop" presentations, and the class concludes with a formal graduation ceremony for the subset of students who pass. A few outstanding students will be honored with "Top Gun" status.
These are the solution areas I present most often as a consultant at the IBM Executive Briefing Center in Tucson, so I can provide real-life stories of different client situations to help illustrate my examples.
To learn more about a Top Gun class in your area, see the [Top Gun class schedule].
The weather here in Taipei calls for rain every day! I was able to take this photo on Sunday morning while it was still nice and clear, but later in the afternoon, we had quite the downpour. I am glad I brought my raincoat!
technorati tags: IBM, Sales Training, Top Gun, Taipei, Taiwan, NAS, SONAS, disk, virtualization, unified+storage, SAN Volume Controller, SVC, Storwize V7000, Storwize V7000 Unified, Infrastructure Management, Tivoli Storage, Productivity Center, TPC, Unified Recovery Management, TSM, FlashCopy, FCM
Well it's Tuesday again, and you know what that means.. IBM announcements! Today, IBM announces that next Monday marks the 60th anniversary of first commercial digital tape storage system! I am on the East coast this week visiting clients, but plan to be back in Tucson in time for the cake and fireworks next Monday.
Note that I said first commercial tape system as tape itself, in various forms, [has been around since 4000 B.C.]. A little historical context might help:
1845 - surgical tape
1921 - the Band-Aid, self-adhesive bandage
1925 - masking tape (which 3M sold under its newly announced Scotch® brand)
1930 - clear cellulose-based tape (today, when people say Scotch tape, they usually are referring to the cellulose version)
1935 - Allgemeine Elektrizitatsgesellschaft (AEG) presents Magnetophon K1, audio recording on analog tape
1942 - Duct tape
1947 - Bing Crosby adopts audio recording for his radio program. This eliminated him doing the same program live twice per day, perhaps the first example of using technology for "deduplication".
According to the IBM Archives the [IBM 726 tape drive was formally announced May 21, 1952]. It was the size of a refrigerator, and the tape reel was the size of a large pizza. The next time you pull a frozen pizza from your fridge, you can remember this month's celebration!
When I first joined IBM in 1986, there were three kinds of IBM tape. The round reel called 3420, and the square cartridge called 3480, and the tubes that contained a wide swath of tape stored in honeycomb shelves called the [IBM 3850 Mass Storage System].
My first job at IBM was to work on DFHSM, which was specifically started in 1977 to manage the IBM 3850, and later renamed to the DFSMShsm component of the DFSMS element of the z/OS operating system. This software was instrumental in keeping disk and tape at high 80-95 percent utilization rates on mainframe servers.
While visiting a client in Detroit, the client loved their StorageTek tape automation silo, but didn't care for the StorageTek drives inside were incompatible with IBM formats. They wanted to put IBM drives into the StorageTek silos. I agreed it was a good idea, and brought this back to the attention of development. In a contentious meeting with management and engineers, I presented this feedback from the client.
Everyone in the room said IBM couldn't do that. I asked "Why not?" The software engineers I spoke to already said they could support it. With StorageTek at the brink of Chapter 11 bankruptcy, I argued that IBM drives in their tape automation would ease the transition of our mainframe customers to an all-IBM environment.
Was the reason related to business/legal concerns, or was their a hardware issue? It turned out to be a little of both. On the business side, IBM had to agree to work with StorageTek on service and support to its mutual clients in mixed environments. On the technical side, the drive had to be tilted 12 degrees to line up with the robotic hand. A few years later, the IBM silo-compatible 3592 drive was commercially available.
Rather than put StorageTek completely out of business, it had the opposite effect. Now that IBM drives can be put in StorageTek libraries, everyone wanted one, basically bringing StorageTek back to life. This forced IBM to offer its own tape automation libraries.
In 1993, I filed my first patent. It was for the RECYCLE function in DFHSM to consolidate valid data from partial tapes to fresh new tapes. Before my patent, the RECYCLE function selected tapes alphabetically, by volume serial (VOLSER). My patent evaluated all tapes based on how full they were, and sorted them least-full to most-full, to maximize the return of cartridges.
Different tape cartridges can hold different amounts of data, especially with different formats on the same media type, with or without compression, so calculating the percentage full turned out to be a tricky algorithm that continues to be used in mainframe environments today.
The patent was popular for cross-licensing, and IBM has since filed additional patents for this invention in other countries to further increase its license revenue for intellectual property.
In 1997, IBM launched the IBM 3494 Virtual Tape Server (VTS), the first virtual tape storage device, blending disk and tape to optimal effect. This was based off the IBM 3850 Mass Storage Systems, which was the first virtual disk system, that used 3380 disk and tape to emulate the older 3350 disk systems.
In the VTS, tape volume images would be emulated as files on a disk system, then later moved to physical tape. We would call the disk the "Tape Volume Cache", and use caching algorithms to decide how long to keep data in cache, versus destage to tape. However, there were only a few tape drives, and sometimes when the VTS was busy, there were no tape drives available to destage the older images, and the cache would fill up.
I had already solved this problem in DFHSM, with a function called pre-migration. The idea was to pre-emptively copy data to tape, but leave it also on disk, so that when it needed to be destaged, all we had to do was delete the disk copy and activate the tape copy. We patented using this idea for the VTS, and it is still used in the successor models of IBM Sysem Storage TS7740 virtual tape libraries today.
Today, tape continues to be the least expensive storage medium, about 15 to 25 times less expensive, dollar-per-GB, than disk technologies. A dollar of today's LTO-5 tape can hold 22 days worth of MP3 music at 192 Kbps recording. A full TS1140 tape cartridge can hold 2 million copies of the book "War and Peace".
(If you have not read the book, Woody Allen took a speed reading course and read the entire novel in just 20 minutes. He summed up the novel in three words: "It involves Russia." By comparison, in the same 20 minutes, at 650MB/sec, the TS1140 drive can read this novel over and over 390,000 times.)
If you have your own "war stories" about tape, I would love to hear them, please consider posting a comment below.
technorati tags: IBM, AEG, Bing Crosby, Duct+Tape, Band Aid, DFHSM, RECYCLE, DFSMShsm, z/OS, StorageTek, VTS, VTL, LTO-5, TS1140, LTFS, Woody Allen
This week, I am in beautiful Sao Paulo, Brazil, teaching Top Gun class to IBM Business Partners and sales reps. Traditionally, we have "Tape Thursday" where we focus on our tape systems, from tape drives, to physical and virtual tape libraries. IBM is the number #1 tape vendor, and has been for the past eight years.
(The alliteration doesn't translate well here in Brazil. The Portuguese word for tape is "fita", and Thursday here is "quinta-feira", but "fita-quinta-feira" just doesn't have the same ring to it.)
In the class, we discussed how to handle common misperceptions and myths about tape. Here are a few examples:
Myth 1: Tape processing is manually intensive

Myth 2: Tape media is less reliable than disk media

Myth 3: Most tape restores fail

Myth 4: Vendors and Manufacturers are no longer investing in tape technology
Next month, IBM celebrates the 60th anniversary for tape. It is good to see that tape continues to be a vibrant part of the IT industry, and to IBM's storage business!
technorati tags: IBM, Google, Microsoft, EMC, Brazil, LTO, TS2900, TS3500, Space Shuttle, Challenger
Five years ago, I sprayed coffee all over my screen from something I read on a blog post from fellow blogger Hu Yoshida from HDS. You can read what cased my reaction in my now infamous post [Hu Yoshida should know better]. Subsequently, over the years, I have disagreed with Hu on a variety of of topics, as documented in my 2010 blog post [Hu Yoshida Does It Again].
(Apparently, I am not alone, as the process of spraying one's coffee onto one's computer screen while reading other blog posts has been referred to as "Pulling a Tony" or "Doing a Tony" by other bloggers!)
Fortunately, my IBM colleague David Sacks doesn't drink coffee. Last month, David noticed that Hu had posted a graph in a recent blog entry titled [Additional Storage Performance Efficiencies for Mainframes], comparing the performance of HDS's Virtual Storage Platform (VSP) to IBM's DS8000.
For those not familiar with disk performance graphs, flatter is better, lower response time and larger IOPS are always desired. This graph implies that the HDS disk system is astonishingly faster than IBM's DS8000 series disk system. Certainly, the HDS VSP qualifies as a member of the elite [Super High-End club] with impressive SPC benchmark numbers, and is generally recognized as a device that works in IBM mainframe environments. But this new comparison graph is just ridiculous!
(Note: While SPC benchmarks are useful for making purchase decisions, different disk systems respond differently to different workloads. As the former lead architect of DFSMS for z/OS, I am often brought in to consult on mainframe performance issues in complex situations. Several times, we have fixed performance problems for our mainframe clients by replacing their HDS systems with IBM DS8000 series!)
Since Hu's blog entry contained very little information about the performance test used to generate the graph, David submitted a comment directly to Hu's blog asking a few simple questions to help IBM and Hu's readers determine whether the test was fair. Here is David's comment as submitted:
"Hello, Hu,
(Disclosure: I work for IBM. This comment is my own.)

I was quite surprised by the performance shown for the IBM DS8000 in the graph in your blog. Unfortunately, you provided very little detail about the benchmark. That makes it rather difficult (to say the least) to identify factors behind the results shown and to determine whether the comparison was a fair one.

Of the little information provided, an attribute that somewhat stands out is that the test appears to be limited to a single volume at least, that's my interpretation of "LDEV: 1*3390-3"? IBM's internal tests for this kind of case show far better response time and I/Os per second than the graph you published.

Here are a few examples of details you could provide to help readers determine whether the benchmark was fair and whether the results have any relevance to their environment.

What DS8000 model was the test run on? (the DS8000 is a family of systems with generations going back 8 years. The latest and fastest model is the DS8800.)
What were the hardware and software configurations of the DS8000 and VSP systems, including the number and speed of performance-related components?
What were the I/O workload characteristics (e.g., read:write ratio and block size(s))?
What was the data capacity of each volume? (Allocated and used capacity.)
What were the cache sizes and cache hit ratios for each system? (The average I/O response times under 1.5 milliseconds for each system imply the cache hit ratios were relatively high.)
How many physical drives were volumes striped across in each system?"
Unlike my blog on IBM, HDS bloggers like Hu are allowed to reject or deny comments before they appear on his blog post. We were disappointed that HDS never posted David's comment nor responded to it. That certainly raises questions about the quality of the comparison.
So, perhaps this is yet another case of [Hitachi Math], a phrase coined by fellow blogger Barry Burke from EMC back in 2007 in reference to outlandish HDS claims. My earliest mention was in my blog post [Not letting the Wookie Win].
By the way, since the test was about z/OS Extended Address Volumes (EAV), it is worth mentioning that IBM's DS8700 and DS8800 support 3390 volume capacities up to 1 TB each, while the HDS VSP is limited to only 223 GB per volume. Larger volume capacities help support ease-of-growth and help reduce the number of volumes storage administrators need to manage; that's just one example of how the DS8000 series continues to provide the best storage system support for z/OS environments.
Personally, I am all for running both IBM and HDS boxes side-by-side and publishing the methodology, the workload characteristics, the configuration details, and the results. Sunshine is always the best disinfectant!
technorati tags: IBM, DS8000, DS8800, HDS, Hu Yoshida, USP, VSP, mainframe, EAV
Well, it's Tuesday, and you know what that means... IBM announcements!
In today's environment, clients expect more from their storage, and from their storage provider. The announcements span the gamut, from helping to use Business Analytics to analyze Big Data for trends, insights and patterns, to managing private, public and hybrid cloud environments, all with systems that are optimized for their particular workloads.
There are over a dozen different announcements, so I will split these up into separate posts. Here is part 1.
IBM Scale Out Network Attach Storage (SONAS) R1.3

I have covered [IBM SONAS] for quite some time now. Based on IBM's General Parallel File System (GPFS), this integrated system combines servers, storage and software into a fully functional scale-out NAS solution that support NFS, CIFS, FTP/SFTP, HTTP/HTTPS, and SCP protocols. IBM continues its technical leadership in the scale-out NAS marketplace with new hardware and software features.

The hardware adds new disk options, with 900GB SAS 15K RPM drives, and 3TB NL-SAS 7200 RPM drives. These come in 4U drawers of 60 drives each, six ranks of ten drives each. So, with the high-performance SAS drives that would be about 43TB usable capacity per drawer, and with the high-capacity NL-SAS drives about 144TB usable. You can have any mix of high-performance drawers and high-capacity drawers, up to 7200 drives, for a maximum usable capacity of 17PB usable (21PB for those who prefer it raw). This makes it the largest commercial scale-out NAS in the industry. This capacity can be made into one big file system, or divided up to 256 smaller file systems.

In addition to snapshots of each file system, you can divide the file system up into smaller tree branches and snapshot these independently as well. The tree branches are called fileset containers. Furthermore, you can now make writeable clones of individual files, which provides a space-efficient way to create copies for testing, training or whatever.

Performance is improved in many areas. The interface nodes now can support a second dual-port 10GbE, and replication performance is improved by 10x.

SONAS supports access-based enumeration, which means that if there are 100 different subdirectories, but you only have authority to access five of them, then that's all you see, those five directories. You don't even know the other 95 directories exist.

I saved the coolest feature for last, it is called Active Cloud Engine™ that offers both local and global file management. Locally, Active Cloud Engine placement rules to decide what type of disk a new file should be placed on. Management rules that will move the files from one disk type to another, or even migrates the data to tape or other externally-managed storage! A high-speed scan engine can rip through 10 million files per node, to identify files that need to be moved, backed up or expired.

Globally, Active Cloud Engine makes the global namespace truly global, allowing the file system to span multiple geographic locations. Built-in intelligence moves individual files to where they are closest to the users that use them most. This includes an intelligent push-over-WAN write cache, on-demand pull-from-WAN cache for reads, and will even pre-fetch subsets of files.

No other scale-out NAS solution from any other storage vendor offers this amazing and awesome capability!




IBM® Storwize® V7000

Last year, we introduced the [IBM Storwize V7000], a midrange disk system with block-level access via FCP and iSCSI protocols. The 2U-high control enclosure held two cannister nodes, a 12-drive or 24-drive bay, and a pair of power-supply/battery UPS modules. The controller could attach up to nine expansion enclosures for more capacity, as well as virtualize other storage systems. This has been one of our most successful products ever, selling over 100PB in the past 12 months to over 2,500 delighted customers.

The 12-drive enclosure now supports both 2TB and 3TB NL-SAS drives. The 24-drive enclosures support 200/300/400GB Solid-State Drives (SSD), 146 and 300GB 15K RPM drives, 300/450/600GB 10K RPM drives, and a new 1TB NL-SAS drive option. For those who want to set up "Flash-and-Stash" in a single 2U drawer, now you can combine SSD and NL-SAS in the 24-drive enclosure! This is the perfect platform for IBM's Easy Tier sub-LUN automated tiering.  IBM's Easy Tier is substantially more powerful and easier to use than EMC's FAST-VP or HDS's Dynamic Tiering.


Last week, at Oracle OpenWorld, there were various vendors hawking their DRAM/SSD-only disk systems, including my friends at Texas Memory Systems, Pure Storage, and Violin Memory Systems. When people came to the IBM booth to ask what IBM offers, I explained that both the IBM DS8000 and the Storwize V7000 can be outfitted in this manner. With the Storwize V7000, you can buy as much or little SSD as you like. You do not have to buy these drives in groups of 8 or 16 at a time.

The Storwize V7000 is the sister product of the IBM SAN Volume Controller, so you can replicate between one and the other. I see two use cases for this. First, you might have a SVC at a primary location, and decide to replicate just the subset of mission-critical production data to a remote location, and use the Storwize V7000 as the target device. Secondly, you could have three remote or branch offices (ROBO) that replicate to a centralized data center SAN Volume Controller.

Lastly, like the SVC, the Storwize V7000 now supports clustering so that you can now combine multiple control enclosures together to make a single system.




IBM® Storwize® V7000 Unified

Do you remember how IBM combined the best of SAN Volume Controller, XIV and DS8000 RAID into the Storwize V7000? Well, IBM did it again, combining the best of the Storwize V7000 with the common NAS software base developed for SONAS into the new "Storwize V7000 Unified".

You can upgrade your block-only Storwize V7000 into a file-and-block "Storwize V7000 Unified" storage system. This is a 6U-high system, consisting of a pair of 2U-high file modules connected to a standard 2U-high control enclosure. Like the block-only version, the control enclosure can attach up to nine expansion enclosures, as well as all the same support to virtualize external disk systems. The file modules combine the management node, interface node and storage node functionality that SONAS R1.3 offers.

What exactly does that mean for you? In addition to FCP and iSCSI for block-level LUNs, you can carve out file systems that support NFS, CIFS, FTP/SFTP, HTTP/HTTPS, and SCP protocols. All the same support as SONAS for anti-virus checking, access-based enumeration, integrated TSM backup and HSM functionality to migrate data to tape, NDMP backup support for other backup software, and Active Cloud Engine's local file management are all included!




IBM SAN Volume Controller V6.3

The SAN Volume Controller [SVC] increases its stretched cluster to distances up to 300km. This is 3x further than EMC's VPLEX offering. This allows identical copies of data to be kept identical in both locations, and allows for Live Partition Mobility or VMware vMotion to move workloads seamlessly from one data center to another. Combining two data centers with an SVC stretch cluster is often referred to as "Data Center Federation".

The SVC also introduces a low-bandwidth option for Global Mirror. We actually borrowed this concept from our XIV disk system. Normally, SVC's Global Mirror will consume all the bandwidth it can to keep the destination copy of the data within a few seconds of currency behind the source copy. But do you always need to be that current? Can you afford the bandwidth requirements needed to keep up with that? If you answered "No!" to either of these, then the low-bandwidth option is you. Basically, a FlashCopy is done on the source copy, this copy is then sent over to the destination, and a FlashCopy is made of that. The process is then repeated on a scheduled basis, like every four hours. This greatly reduces the amount of bandwidth required, and for many workloads, having currency in hours, rather than seconds, is good enough.

-
I am very excited about all these announcements! It is a good time to be working for IBM, and look forward to sharing these exciting enhancements with clients at the Tucson EBC.
technorati tags: IBM, SONAS, GPFS, SAS, NL-SAS, Active Cloud Engine, Global+Namespace, Storwize+V7000, V7000U, V7000 Unified, block-only, block-and-file, SVC, SSD, Easy Tier, Flash-and-Stash, Texas Memory Systems, Pure Storage, Violin Memory
I gotten several emails expressing worry that I have fallen off the face of th earth. The last two weeks have been educational and eye-opening for me. I can't provide details in my blog, so I will just say that it involved government agencies that IBM refers to as "dark accounts", and that I am now back safely in the USA. Between adjusting to time zone differences, ridiculously long hours, and restricted access to the internet, I was unable to blog lately.
Instead, I will resume my coverage of the [IBM System Storage Technical University 2011]. The "Solutions Expo" runs Monday evening through Wednesday lunch. This is a chance for people to explore all the solutions that are part of IBM's large "eco-system" for IBM System storage and System x products. There were several sponsors for this event.
As is often the case at these conferences, the various booths hand out fun items. The hot items this year were tie-dyed tee-shirts from Qlogic, and propeller beanies from the IBM rack and power systems team. Here is Amanda, one of the bartenders showing off the latter.
After the expo on Tuesday night, my friends at [Texas Memory Systems] held an after-party. Unlike the pens, tee-shirts and keychains at the Expo, these guys had a raffle for real storage products. Here is Erik Eyberg handing out a RamSan PCIe card, valued at $14,000 or so. IBM recently certified the TMS RamSan as External SSD storage for the IBM SAN Volume Controller (SVC). The SVC can optimize performance using this for automated sub-LUN tiering with the IBM System Storage Easy Tier feature.
technorati tags: IBM, Storage, University, Qlogic, TMS, RamSan, SVC, Easy Tier
Normally, when EMC fails, it is worth a giggle. Companies are run by humans, and nobody is perfect. However, their latest one, failing to defend their RSA SecurID two-factor website, is no laughing matter. Breaches like this undermine the trust needed for business and commerce to be done with Information Technology, so it affects the entire IT industry.
(FTC Disclosure: I do not work or have any financial investments in either EMC nor ENC Security Systems. Neither EMC nor ENC Security Systems paid me to mention them on this blog. Their mention in this blog is not an endorsement of either company or their products. Information about EMC was based solely on publicly available information made available by EMC and others. My friends at ENC Security Systems provided me an evaluation license for their latest software release so that I could confirm the use cases posed in this post.)
Of course, EMC did the right thing by making this breach public in an [Open Letter to RSA Customers]. While this may affect their revenues, as clients question whether they should do business with EMC, or affect their stock price, as investors question whether they should invest in EMC, they were very clear and public that the breach occurred. As far as I know, none of the executives of the RSA security division have stepped down. The disclosure of the breach was the right thing to do, and required by law from the [US Securities Exchange Commission]. This law was created to prevent companies from trying to hide breaches that expose external client information.
The breach does not affect RSA public/private key pairs used by IBM and most every other large company. Rather, this breach was targeted to RSA SecurID two-factor authentication. I explained two-factor authentication in my blog post [Day 5 Grid, SOA and Cloud Computing - System x KVM solutions], but basically it is an added level of security, requiring something you know (your password) with something you have (such as a magnetic card or key fob). Both are required to gain access to the system.
Breaches happen. Recently, [Hackers found vulnerabilities in the McAfee.com website]. Last month, fellow blogger Chuck Hollis from EMC had a blog post on [Understanding Advanced Persistent Threats (APT)] in the week leading up to their RSA Conference. It was precisely an APT that hit RSA, so the irony of this breach was not lost on the blogosphere. Perhaps Chuck's blog post gave hackers the idea to do this, like saying "I hope terrorists don't bomb this building that hold all of our chemical weapons..." or "I hope bank robbers don't rob this repository where we keep all the cash..."
(The sinister counter-theory, that EMC staged this breach as a marketing stunt to undermine trust in hybrid or public cloud offerings, such as those offered by IBM, Amazon or Salesforce.com, offers an interesting twist. While computer breaches in general are fodder for [Luddites] to argue we should not use computers at all, this particular breach could be used by EMC salesmen to encourage their customers to choose private cloud over hybrid cloud or public cloud deployments.  Given all the extra work that RSA SecurID customers have to now do to harden their environments, that would be in bad taste.)
Over on Mashable, Simon Crosby argues [Why the Cloud Is Actually the Safest Place for Your Data]. I am sure we have not heard the last of the implications of this RSA breach. For now, I have two recommendations for you.
Validate Backup Methodology

Today, March 31, is World Backup Day. This is because many viruses are triggered to operate on April 1. Just like checking the batteries in your smoke alarms every year, you should ensure that your backup methodology remains valid.

Back in 2008, I was a volunteer for the One Laptop Per Child (OLPC) initiative, and built an XS server to be used for Uruguay. I shipped [this baby off to school] to be the central server that all the student and teacher laptops connected to. It was the gateway to the Internet, as well as the [repository for the blogs of each student]. The blogs were accessible to the public, so that parents could read what their students were writing.

Unfortunately, this public access resulted in my little XS server being attacked by hackers, with IP addresses in Russia and China. Why anyone from either of those two countries wanted to ruin the hopes and dreams of small school children in Uruguay was beyond me. Fortunately, I had planned for remote administration. Backups were taken by me weekly to a second drive that was only mounted when I was dialed in to take the backup. The rest of the time, it was offline, so as not to be written to by hackers.

I also shipped along with the server a bootable DVD that contained a modified version of [System Rescue CD], scripts to start up SSHD daemon, and pre-populated for use with public/private RSA keys for me and eight other administrators located in various countries. To effect repairs, the local operator would reboot to the DVD, and then I could login via "ssh" and restore the operating system, programs and data. Sadly, this meant that the students might have lost some of their most recent blog posts since the last backup.

Please consider reviewing your own backup strategies. If your security were compromised, data was corrupted or lost, would you be able to recover from your backups?

Use Encryption where Appropriate

If you plan to travel this Summer, you may want to consider encryption to protect yourself. ENC Security Systems has just released their latest [Encrypt Stick] which is a USB memory stick pre-loaded with software that provides three features:

Encryption for your files
A secure web browser for accessing sensitive websites
Secure password manager

Hotel Lobby

Many hotels now offer computers for use by the guests. These are typically running some flavor of Windows operating system. Encrypt Stick comes with an EXE file that you can run to browse the web securely, and have access to your encrypted files and passwords, leaving no trace on the hotel lobby computer.

Friends and Family

What if you are visiting friends and family, and they have a Mac instead? No problem, as Encrypt Stick has a DMG file to use on Mac OS X operating system. While you may not be worried about your siblings hacking into your bank account, you may not want them necessarily seeing what sites you visited.

Airport Lounge

I have been to several airport lounges now that use Linux for their public computers. Makes sense to me, as there are fewer viruses for Linux, and updating Linux is relatively straightforward. However, Encrypt Stick does not support Linux. For my Linux-knowledgeable readers, you can build your own with [Unetbootin] bootable USB memory stick to launch your favorite Linux browser in memory on whatever system you are using. The [Gparted Magic] utility rescue tool includes [TrueCrypt] to encrypt your files. Lastly, you can use [MyPasswordSafe] to hold all of your passwords securely.

Several clients have asked if any of the IBM data-at-rest encrypted disks or tapes are affected by this breach. IBM uses AES encryption for the actual disk and tape media, but we do use RSA keys to encrypt the generated keys used on the TS1120 and TS1130 drives. However, these were not affected by the RSA SecurID breach, and your tapes are safely protected.
Advanced Persistent Threats, viruses and other malware are no laughing matter. If you are concerned about security, contact IBM to help you assess your current environment and help you plan a robust protection strategy.
technorati tags: IBM, EMC, ENC Security Systems, EncryptStick, RSA, SecurID, breach, APT, Chuck Hollis, OLPC, SysRescCD, UnetBootin, TrueCrypt, Gparted, TS1120, TS1130, AES
My series last week on IBM Watson (which you can read [here], [here], [here], and [here]) brought attention to IBM's Scale-Out Network Attached Storage [SONAS]. IBM Watson used a customized version of SONAS technology for its internal storage, and like most of the components of IBM Watson, IBM SONAS is commercially available as a stand-alone product.
| | |
| --- | --- |
| | Like many IBM products, SONAS has gone through various name changes. First introduced by Linda Sanford at an IBM SHARE conference in 2000 under the IBM Research codename Storage Tank, it was then delivered as a software-only offering SAN File System, then as a services offering Scale-out File Services (SoFS), and now as an integrated system appliance, SONAS, in IBM's Cloud Services and Systems portfolio. |
If you are not familiar with SONAS, here are a few of my previous posts that go into more detail:
This week, IBM announces that SONAS has set a world record benchmark for performance, [a whopping 403,326 IOPS for a single file system]. The results are based on comparisons of publicly available information from Standard Performance Evaluation Corporation [SPEC], a prominent performance standardization organization with more than 60 member companies. SPEC publishes hundreds of different performance results each quarter covering a wide range of system performance disciplines (CPU, memory, power, and many more). SPECsfs2008_nfs.v3 is the industry-standard benchmark for NAS systems using the NFS protocol.
(Disclaimer: Your mileage may vary. As with any performance benchmark, the SPECsfs benchmark does not replicate any single workload or particular application. Rather, it encapsulates scores of typical activities on a NAS storage system. SPECsfs is based on a compilation of workload data submitted to the SPEC organization, aggregated from tens of thousands of fileservers, using a wide variety of environments and applications. As a result, it is comprised of typical workloads and with typical proportions of data and metadata use as seen in real production environments.)
The configuration tested involves SONAS Release 1.2 on 10 Interface Nodes and 8 Storage Pods, resulting a single file system over 900TB usable capacity.

10 Interface Nodes; each with:

Maximum 144 GB of memory
One active 10GbE port

8 Storage Pods; each with:

2 Storage nodes and 240 drives
Drive type: 15K RPM SAS hard drives
Data Protection using RAID-5 (8+P) ranks
Six spare drives per Storage Pod
IBM wanted a realistic "no compromises" configuration to be tested, by choosing:
Regular 15K RPM SAS drives, rather than a silly configuration full of super-expensive Solid State Drives (SSD) to plump up the results.
Moderate size, typical of what clients are asking for today. The Goldilocks rule applies. This SONAS is not a small configuration under 100TB, and nowhere close to the maximum supported configuration of 7,200 disks across 30 Interface Nodes and 30 Storage Pods.
Single file system, often referred to as a global name space, rather than using an aggregate of smaller file systems added together that would be more complicated to manage. Having multiple file systems often requires changes to applications to take advantage of the aggregate peformance.  It is also more difficult to load-balance your performance and capacity across multiple file systems.  Of course, SONAS can support up to 256 separate file systems if you have a business need for this complexity.
| | |
| --- | --- |
| The results are stunning. IBM SONAS handled three times more workload for a single file system than the next leading contender. All of the major players are there as well, including NetApp, EMC and HP. | |
Congratulations to the SONAS development and test teams! Scale-Out NAS is a competitive space. SONAS can handle not only large streaming files but also small random I/O workloads extraordinarily well. Just in the last two years, to compete against IBM's leadership in this realm, [HP acquired Ibrix], [EMC acquired Isilon] and [Dell has acquired what's left of Exanet's assets], THey have a lot of catching up to do!
technorati tags: IBM, SONAS, Watson, Storage Tank, SFS, SoFS, SBSC, SSD, SAS, , IOPS, SPEC, SPECsfs, SPECsfs2008, SPECsfs2008_nfs.v3, EMC, Isilon, HP, Ibrix, Dell, Exanet, Global Name Space, scale-out,, Watson, IBM Watson, benchmark, performance, record performance, world record, filesystem, file+system, nfs, EMC, NetApp, VNX, Isilon, storage, storage+system, NAS
In my post [What is the Smartest Machine on Earth?], I described the storage inside [IBM Watson], the computer that will compete against two humans on the quiz show Jeopardy!
"When Watson is booted up, the 15TB of total RAM are loaded up, and thereafter the DeepQA processing is all done from memory. According to IBM Research, the actual size of the data (analyzed and indexed text, knowledge bases, etc.) used for candidate answer generation and evidence evaluation is under 1 Terabyte (TB). For performance reasons, various subsets of the data are replicated in RAM on different functional groups of cluster nodes. The entire system is self-contained, Watson is NOT going to the internet searching for answers."
I had several readers ask me to explain the significance of the "Terabyte". I'll work my way up.
Bit

A bit is simply a zero (0) or one (1). This could answer a Yes/No or True/False question.

Byte

Most computers have standardized a byte as a collection of 8 bits. There are 256 unique combinations of ones and zeros possible, so a byte could be used to storage a 2-digit integer, or a single upper or lower case character in the English alphabet. In pratical terms, a byte could store your age in years, or your middle initial.

Kilobyte (KB)

The Kilobyte is a thousand bytes, enough to hold a few paragraphs of text. A typical written page could be held in 4 KB, for example.

The IBM Challenge to play on Jeopardy! is being compared to the historic 1969 moon landing. To land on the moon, Apollo 11 had the "Apollo Guidance Computer" (AGC) which had 74KB of fixed read-only memory, and 2KB of re-writeable memory. Over [3500 IBM employees were involved] to get the astronauts to the moon and safely back to earth again.

The importance of this computer was highlighted in a [lecture by astronaut David Scott] who said: "If you have a basketball and a baseball 14 feet apart, where the baseball represents the moon and the basketball represents the Earth, and you take a piece of paper sideways, the thinness of the paper would be the corridor you have to hit when you come back."

Megabyte (MB)

The Megabyte is a thousand KB, or a million bytes. The 3.5-inch floppy diskette, mentioned in my post [A Boxfull of Floppies] could hold 1.44MB, or about 360 pages of text.

The first commercial disk system, the [350 Disk Storage Unit, introduced in 1956 for the IBM RAMAC computer], could hold only 5 MB and was the size of two refrigerators. While 5MB might not seem like much today, it is enough to hold the [Complete works of Shakespeare]. That's right, all 42 plays, poems and sonnets.

In the article [Wikipedia as a printed book], the printing of a select 400 articles resulted in a book 29 inches thick. Those 5,000 pages would consume about 20 MB of space.

One of my favorite resources I use to search is the Internet Movie Data Base [IMDB]. Leaving out the photos and videos, the [text-only portion of the IMDB database is just over 600 MB], representing nearly all of the actors, awards, nominations, television shows and movies. A standard CD-ROM can hold 700MB, so the text portion of the IMDB could easily fit on a single CD.

Gigabyte (GB)

The Gigabyte is a thousand MB, or a billion bytes. My Thinkpad T410 laptop has 4GB of RAM and 320GB of hard disk space. My laptop comes with a DVD burner, and each DVD can hold up to 4.7GB of information.

The popular Wikipedia now has some 17 million articles, of which 3.5 million are in English language. It would only take [14GB of space to hold the entire English portion] of Wikipedia. That is small enough to fit on twenty CDs, three DVDs, an Apple iPad or my cellphone (a Samsung Galaxy S Vibrant).

Perhaps you are thinking, "Someone should offer Wikipedia pre-installed on a small handheld!" Too late. The [The Humane Reader] is able to offer 5,000 books and Wikipedia in a small device that connects to your television. This would be great for people who do not have access to the internet, or for parents who want their kids to do their homework, but not be online while they are doing it.

In the latest 2009 report of [How Much Information?] from the University of California, San Diego, the average American consumes 34 GB of information. This includes all the information from radio, television, newspapers, magazines, books and the internet that a person might look at or listen to throughout the day. This project is sponsored by IBM and others to help people understand the nature of our information-consuption habits.

Back in 1992, I visited a client in Germany. Their 90 GB of disk storage attached to their mainframe was the size of three refrigerators, and took five full-time storage administrators to manage.

Terabyte (TB)

The Terabyte is a thousand GB, or a trillion bytes. It is now possible to buy external USB drive for your laptop or personal computer that holds 1TB or more. However, at 40MB/sec speeds that USB 2.0 is capable of, it would take seven hours to do a bulk transfer in or out of the device.

IBM offers 1TB and 2TB disk drives in many of our disk systems. In 2008, IBM was preparing to announce the first 1TB tape drive. However, Sun Microsystems announced their own 1TB drive the day before our big announcement, so IBM had to rephrase the TS1130 announcement to [The World's Fastest 1TB tape drive!]

In his book [The Singularity is Near: When Humans Transcend Biology], Ray Kurzweil estimates the human brain's memory can hold about 1.25 TB of information. This would make IBM Watson about 80 percent human.

A typical academic research library will hold about 2TB of information. For the [US Library of Congress] print collection is considered to be about 10TB, and their web capture team has collected 160TB of digital data. If you are ever in the Washington DC, I strongly recommend a visit to the Library of Congress. It is truly stunning!

Full-length computer animated movies, like [Happy Feet], consume about 100TB of disk storage during production. IBM offers disk systems that can hold this much data. For example, the IBM XIV can hold up to 151 TB of usable disk space in the size of one refrigerator.

A Key Performance Indicator (KPI) for some larger companies is the number of TB that can be managed by a full-time employee, referred to as TB/FTE. Discussions about TB/FTE are available from IT analysts including [Forrester Research] and [The Info Pro].

The website [Ancestry.com] claims to have over 540 million names in its genealogical database, with a storage of 600TB, with the inclusion of [US census data from 1790 to 1930]. The US government took nine years to process the 1880 census, so for the 1890 census, it rented equipment from Herman Hollerith's Tabulating Machine Company. This company would later merge with two others in 1911 to form what is now called IBM.




Petabyte (PB)

A Petabyte is thousand TB, or a quadrillion bytes. It is estimated that all printed materials on Earth would represent approximately 200 PB of information.

IBM's largest disk system, the Scale-Out Network Attach Storage (SONAS) comprised of up to 7,200 disk drives, which can hold over 11 PB of information. A smaller 10-frame model, the same size as IBM Watson, with six interface nodes and 19 storage pods, could hold over 7 PB of information.

IBM's automated [TS3500 tape library with high-density frames] can hold up to 60 PB of compressed tape data. A smaller 10-frame model, the size of IBM Watson, could hold up to 36 PB of data.

For those of us in the IT industry, 1TB is small potatoes. I for one, was expecting it to be much bigger. But for everyone else, the equivalent of 200 million pages of text that IBM Watson has loaded inside is an incredibly large repository of information. I suspect IBM Watson probably contains the complete works of Shakespeare as well as other fiction writers, the IMDB database, all 3.5 million articles of Wikipedia, religious texts like the Bible and the Quran, famous documents like the Magna Carta and the US Constitution, and reference books like a Dictionary, a Thesaurus, and "Gray's Anatomy". And, of course, lots and lots of lists.

For those on Twitter, follow [@ibmwatson] these next three days during the challenge.

technorati tags: IBM, Watson, Challenge, Jeopardy, @ibmwatson, #ibmwatson