with Tags:
ds8800
X
This week, IBM made over a dozen announcements related to IBM storage products. Here is part 2 of my overview:
IBM System Storage® DS8000 series microcode

One of the advantages of acquiring XIV as IBM's other high-end disk system, is that it allows the DS8000 team to focus on the IBM i and z/OS operating systems. As a result, IBM DS8000 has over half the mainframe-attach market share.

For both the DS8700 and DS8800 models, IBM Easy Tier now support sub-LUN automated tiering across three storage tiers: Solid-State Drives, high-performance spinning disk drives (15K and 10K RPM), and high-capacity disk drives (7200 RPM).

For System z customers, the latest DS8000 microcode has synergy with z/OS and GDPS, now supporting 4x larger EAV volumes, faster high-performance FICON (zHPF), and Workload Manager (WLM) integration with the I/O Priority Manager. IBM has a world record SAP performance of 59 million account postings per hour. DB2 v10 for z/OS queries were measured at 11x faster using the new zHPF feature.

IBM System Storage® DS8800 systems

On the hardware side, the DS8800 now supports a fourth frame to hold a total over 1,500 disk drives. Yes, we have customers that three frames wasn't enough, and they wanted more.

IBM is now also offering new drive options. Small Form Factor (2.5 inch) drives now include 300GB 15K RPM drives, and a 900GB 10K RPM drives. But wait! There's more! The DS8800 is no longer a SFF-only box, it now allows for mixing in Large form factor (3.5 inch) drives, starting with the 3TB NL-SAS 7200 RPM drive.

IBM XIV® Storage System Gen3

We announced the XIV Gen3 already, but we have two enhancements.

First, we now offer a model based entirely on 3TB NL-SAS drives. If you are thinking, what IBM is going to put 3TB drives into everything? Yup. Once we go through all the pain and suffering of qualifying a drive, we make sure we get our money's worth!

Secondly, we have now an iPad application to manage the XIV. This has nothing to do with Apple CEO Steve Jobs passing away last week, it was merely coincidence.

IBM Real-time Compression Appliances™ STN6500 and STN6800 V3.8

The latest software for RtCA now supports Microsoft SMB v2, and enhanced reporting so that storage admins know exactly the benefits of the compression ratios of different file extensions.

IBM System Storage EXP2500 Express®

The EXP2500 is for direct-attach situations, like the IBM BladeCenter. IBM adds LFF 3.5-inch 3TB NL-SAS drives, SFF 2.5-inch 300GB 15K RPM SAS drives, and 900GB 7200 RPM NL-SAS drives.
My colleague Curtis Neal refers to these as "B.F.D" announcements, which of course stands for Bigger, Faster, Denser!
technorati tags: IBM, DS8000, DS8700, DS8800, Easy Tier, FICON, zHPF, WLM, DB2, SAS, NL-SAS, , XIV, STN6500, STN6800, EXP2500, Curtis Neal
Well, it's Thursday, and today IBM is having a major launch for storage. We have lots of exciting announcements today, so here is the major highlights:
IBM Storwize V7000 midrange disk system

Fellow blogger Rolf Potts just completed his [No Baggage Challenge], travelling around the world, twelve countries in six weeks with no luggage. I first learned of this trip from fellow published author and blogger Tim Ferriss in his post [How to Travel 12 Countries with No Baggage Whatsoever]. This trip was sponsored by a travel agency [BootsnAll.com] and travel clothing manufacturer [ScotteVest].

From New York, Rolf went to London, Paris, Madrid, Morocco, Cairo, South Africa, Bangkok Thailand, Malaysia, Singapore, New Zealand, Australia, and then back to United States. I was hoping to run into him while I was in Australia and New Zealand last month, but our schedules did not line up.

  Travelingwithout baggage is more than just a convenience, it is a metaphor for the philosophy that we should keep only what we need, and leave behind what we don't. This was the approach taken by IBM in the design of the IBM Storwize V7000 midrange disk system.

| | |
| --- | --- |
| | The IBM Storwize V7000 disk system consists of 2U enclosures. Controller enclosures have dual-controllers and drives. Expansion enclosures have just drives. Enclosures can have either 24 smaller form factor (SFF) 2.5-inch drives, or twelve larger 3.5-inch drives. A controller enclosure can be connected up to nine expansion enclosures. |

The drives are all connected via 6 Gbps SAS, and come in a variety of speeds and sizes: 300GB Solid-State Drive (SSD); 300GB/450GB/600GB high-speed 10K RPM; and 2TB low-speed 7200 RPM drives. The 12-bay enclosures can be intermixed with 24-bay enclosures on the same system, and within an enclosure different speeds and sizes can be intermixed. A half-rack system (20U) could hold as much as 480TB of raw disk capacity.

This new system, freshly designed entirely within IBM, competes directly against systems that carry a lot of baggage, including the HDS AMS, HP EVA, an EMC CLARiiON CX4 systems. Instead, we decided to keep the what we wanted from our other successful IBM products.

Inspired by our successful XIV storage system, IBM has developed a web-based GUI that focuses on ease-of-use. This GUI uses the latest HTML5 and dojo widgets to provide an incredible user experience.
Borrowed from our IBM DS8000 high-end disk systems, state-of-the-art device adapters provide 6 Gbps SAS connectivity with a variety of RAID levels: 0, 1, 5, 6, and 10.
From our SAN Volume Controller, the embedded [ SVC 6.1 firmware] provides all of the features and functions normally associated with enterprise-class systems, including Easy Tier sub-LUN automated tiering between Solid-State Drives and Spinning disk, thin provisioning, external disk virtualization, point-in-time FlashCopy, disk mirroring, built-in migration capability, and long-distance synchronous and asynchronous replication.

To learn more on this, read the [announcement letter], [landing page], [product page], [services page], as well as the blog posts from fellow master inventor and blogger Barry Whyte (IBM) at his [Storage Virtualization] blog.

My New Book is Now Available!

Finally, the various "internal NDA" that kept me from publishing this sooner have expired, so now I have the long-awaited [Inside System Storage: Volume II], documenting IBM's transformation in its storage strategy, including behind-the-scenes commentary about IBM's acquisitions of XIV and Diligent. Available initially in paperback form. I am still working on the hard cover and eBook editions.

For those who have not yet read my first book, Inside System Storage: Volume I, it is still available from my publisher Lulu, in [hard cover], [paperback] and [eBook] editions.

IBM System Storage DS8800

A lesson IBM learned long ago was not to make radical changes to high-end disk systems, as clients who run mission-critical applications are more concerned about reliability, availability and serviceability than they are performance or functionality. Shipping any product before it was ready meant painfully having to fix the problems in the field instead.

(EMC apparently is learning this same lesson now with their VMAX disk system. Their Engenuity code from Symmetrix DMX4 was ported over to new CLARiiON-based hardware. With several hundred boxes in the field, they have already racked up over 150 severity 1 problems, roughly half of these resulted in data loss or unavailability issues. For the sake of our mutual clients that have both IBM servers and EMC disk, I hope they get their act together soon.)

To avoid this, IBM made incremental changes to the successful design and architecture of its predecessors. The new DS8800 shares 85 percent of the stable microcode from the DS8700 system. Functions like Metro Mirror, Global Mirror, and Metro/Global Mirror, are compatible with all of the previous models of the DS8000 series, as well as previous models of the IBM Enterprise Storage Server (ESS) line.

| | |
| --- | --- |
| | The previous models of DS8000 series were designed to take in cold air from both front and back, and route the hot air out the top, known as chimney design. However, many companies are re-arranging their data centers into separate cold aisles and hot aisles. The new DS8800 has front-to-back cooling to help accommodate this design. |

My colleague Curtis Neal would call the rest of this a "BFD" announcement, which of course stands for "Bigger, Faster and Denser". The new DS8800 scales-up to more drives than its DS8700 predecessor, and can scale-out from a single-frame 2-way system to a multi-frame 4-way system. IBM has upgraded to faster 5GHz POWER6+ processors, with dual-core 8 Gbps FC and FICON host adapters, 8 Gbps device adapters, and 6 Gbps SAS connectivity to smaller form factor (SFF) 2.5-inch SAS drives. IBM Easy Tier will provide sub-LUN automated tiering between Solid-State Drives and spinning disk. The denser packaging with SFF drives means that we can pack over 1000 drives in only three frames, compared to five frames required for the DS8700.

To learn more, read the [landing page] or the announcement letters for the machine types [2421], [2422], [2423], [2424].

IBM System Storage SAN Volume Controller v6.1

The [IBM System Storage SAN Volume Controller] software release v6.1 brings Easy Tier sub-LUN automated tiering to the rest of the world. IBM Easy Tier moves the hottest, most active extents up to Solid-State Drives (SSD) and moves the coldest, least active down to spinning disk. This works whether the SSD is inside the SVC 2145-CF8 nodes, or in the managed disk pool.

Tired of waiting for EMC to finally deliver FAST v2 for your VMAX? It has been 18 months since they first announced that someday they would have sub-LUN automatic tiering. What is taking them so long? Why not virtualize your VMAX with SVC, and you can have it sooner!

SVC 6.1 also upgrades to a sexy new web-based GUI, which like the one for the IBM Storwize V7000, is based on the latest HTML5 and dojo widget standards. Inspired by the popular GUI from the IBM XIV Storage System, this GUI has greatly improved ease-of-use.

To learn more, read the [announcement letter] and [SVC product page].
These are just a subset of today's announcements. To see the rest, read [What's New].
technorati tags: IBM, announcements, #IBMstorage, Storwize V7000, DS8800, Lulu, SVC, Easy Tier, SAS
Has EMC stooped so low that they have to resort to Hitachi math for their latest performance claims?
Readers might remember that just a few months ago, I had a blog post [Is this what HDS tells our mainframe clients?] pointing out the outlandish comparison Hitachi was using in their presentations. Their response was to cover it up, forcing me to follow up with my post [The Cover-up is worse than the original crime]. To their credit, they eventually removed the false and misleading information from their materials.
Now an avid reader of my blog has brought this to my attention. Apparently, EMC has been showing customers a presentation [Accelerating Storage Transformation with VMAX and VPLEX] with false and misleading comparison claims between IBM DS8000, HDS VSP and EMC VMAX 40K disk system performance.
(FTC Disclosure: This would be a good time to remind my readers that I work for IBM and own IBM stock. I do not endorse any of the EMC or HDS products mentioned in this post, and have no financial affiliation or investments directly with either EMC nor HDS. I am basing my information solely on the presentation posted on the internet and other sources publicly available, and not on any misrepresentations from EMC speakers at the various conferences where these charts might have been shown.)
The problem with misinformation is that it is not always obvious. The EMC presentation is quite pretty and professional-looking. It is the typical slick, attention-getting, low-content, over-simplified marketing puffery you have come to expect from EMC. There are two slides in particular that I have issue with.
This first graphic implies that IBM and HDS are nearly tied in performance, but that EMC VMAX 40K has nearly triple that bandwidth. Overall the slide has very little detail. That makes it difficult to determine what exactly is being claimed and whether a fair comparison is being made.
The title claims that VMAX 40K is "#1 in High Bandwidth Apps". Only three disk systems are shown so the claim appears to be relative to only the three systems. The wording "High Bandwidth Apps" is confusing considering the cited numbers are for disk systems and no application is identified. By comparison, IBM SONAS can drive up to 105 GB/sec sequential bandwidth, nearly double what EMC claims for its VMAX 40K, so EMC is certainly not even close to #1.


Is the workload random or sequential? That is not easy to determine. The use of "GB/s" along with the large block size of 128KB implies the I/O workload is sequential, which is great for some workloads like high performance computing, technical computing and video broadcasts. Random workloads, on the other hand, are usually measured in I/Os per second (IOPS) with a block size ranging 4KB to 64KB. (I am assuming the 128K blocks refers to 128KB block size, and not reading the same block of cache 128,000 times.)


The slide states "Maximum Sustainable RRH Bandwidth 128K Blocks". The acronym "RRH" is not defined; but I suspect this refers to "random read hits". For random workloads, 100 percent random read hits from cache represents one corner of the infamous "four corners" test. Real-world workloads have a mix of reads and writes, and a mix of cache hits and cache misses. It is also unclear whether the hits are from standard data cache or from internal buffers in adapters (perhaps accessing the same blocks repeatedly) or something else. So is this really for a random workload, or a sequential workload?

(The term "Hitachi Math" was coined by an EMC blogger precisely to slam Hitachi Data Systems for their blatant use of four-corners results, claiming that spouting ridiculously large, but equally unrealistic, 100 percent random read hit results don't provide any useful information. I agree. There are much better industry-standard benchmarks available, such as SPC-1 for random workloads, SPC-2 for sequential workloads, and even benchmarks for specific applications, that represent real-world IT environments. To shame HDS for their use of four-corners results, only for EMC themselves to use similar figures in their own presentation is truly hypocritical of them!)

The IBM system is identified as "DS8000". DS8000 is a generic family name that applies to multiple generations of systems first introduced in 2004. The specific model is not identified, but that is critical information. Is this a first generation DS8100, or the latest DS8800, or something in between?


The slide says "Full System Configs", but that is not defined and configuration details are not identified. Configuration details, also critical information in assessing system performance capabilities, are not specified. If the EMC box costs seven times more than IBM or HDS, would you really buy it to get 3x more performance? Is the EMC packed with the maximum amount of SSD? Were there any SSD in the IBM or HDS boxes to match?


The source of the claimed IBM DS8000 performance numbers is not identified. Did they run their own tests? While I cannot tell, the VMAX may have been configured with 64 Fibre Channel 8Gbps host connections. In that case each channel is theoretically capable of supporting about 800 MB/s at 100% channel utilization. Multiplying 64 x 800MB/s = 51.2GB/s, so did EMC just do the performance comparison on the back of a napkin, assuming there are no other bottlenecks in the system? Even then, I would not round up 51.2 to 52!


Response times were not identified. For random I/Os, response time is a very important metric. It is possible that the Symmetrix was operating with some resources at 100% utilization to get the highest GB/s result, but that would likely make I/O response times unacceptable for real-world random I/O workloads.
IBM and HDS have both published Storage Performance Council [SPC] industry-standard performance benchmarks. EMC has not published any SPC benchmarks for VMAX systems. If EMC is interested in providing customers with audited, detailed performance information along with detailed configuration information, all based on benchmarks designed to represent real-world workloads, EMC can always publish SPC benchmark results as IBM and other vendors have done. In past blog fights, EMC resorts to the excuse that SPC isn't perfect, but can they really argue that vague and unrealistic claims cited in its presentation are better?
The second graphic is so absurd, you would think it came directly from Larry Ellison at an Oracle OpenWorld keynote session. EMC is comparing a configuration with VMAX 40K plus an EMC VFCache host-side flash memory cache card to a configuration with an IBM and HDS disk system without host-side flash memory cache also configured. The comparison is clearly apples-to-oranges. Other disk system configuration details are also omitted.
FAST VP is EMC's name for its sub-volume drive tiering feature, comparable to IBM Easy Tier and Hitachi's Dynamic Tiering. The graph implies that IBM and HDS can only achieve a modest increment improvement from their sub-volume tiering. I beg to differ. I have seen various cases where a small amount of SSD on IBM DS8000 series can drastically improve performance 200 to 400 percent.


The "DBClassify" shown on the graph is a tool run as part of an EMC professional services offering called Database Performance Tiering Assessment, makes recommendations for storing various database objects on different drive tiers based on object usage and importance. Do you really need to pay for professional services? With IBM Easy Tier, you just turn it on, and it works. No analysis required, no tools, no professional services, and no additional charge!


VFCache is an optional product from EMC that currently has no integration whatsoever with VMAX. A fair comparison would have included a host-side flash memory cache (from any vendor) when the IBM or HDS storage system was configured. Or leave it out altogether and just focus on the sub-volume tiering comparison.
Keep in mind that EMC's VFCache supports only selected x86-based hosts. IBM has published a [Statement of Direction] indicating that it will also offer this for Power systems running AIX and Linux host-side flash memory cache integrated with DS8000 Easy Tier.
I feel EMC's claims about IBM DS8000 performance are vague and misleading. EMC appears to lack the kind of technical marketing integrity that IBM strives to attain. Since EMC is not able or willing to publish fair and meaningful performance comparisons, it is up to me to set the record straight and point out EMC's failings in this matter.
Reminder: It's not to late to register for my Webcast "Solving the Storage Capacity Crisis" on Tuesday, September 25. See my blog post [Upcoming events in September] to register!
technorati tags: IBM, DS8000, DS8800, HDS, VSP, EMC, VMAX, Symmetrix, VFCache, Easy Tier, FAST VP
Well, it's Tuesday again, and you know what that means... IBM announcements!
Last week, IBM had a big storage launch of various products, with the June 4 announcements at the IBM Edge 2012 conference. I provided highlights in my post [IBM Edge Announcements]. As promised, here are the rest of the announcements.
SONAS v1.3.2

SONAS v1.3.2 adds support for management by the newly announced IBM Tivoli Storage Productivity Center v5.1 release. Also, IBM now officially supports "Gateway configurations" that have the storage nodes connected to XIV or Storwize v7000 disk systems. These gateway configurations offer new flexible choices and options for our ever-expanding set of clients.

ProtecTIER appliances and gateways

IBM ProtecTIER line of data deduplication appliances and gateways add CIFS file system support. Rather than using OST or a VTL interface, you now have CIFS as a new option for host attach. Also, IBM introduces the new TS7620 Express model, with options for 5.4TB and 11TB in capacity, replacing the previous TS7610 entry level.

LTFS Storage Manager

The Linear Tape File System (LTFS) allows files to be stored on tape cartridges in a manner that allows them to be mounted as file systems, much like a USB memory stick. The new LTFS Storage Manager software allows you to manage a collection of files across a set of cartridges, moving files from one cartridge to another, consolidating valid data onto fewer cartridges, and removing files no longer needed. This is sometimes referred to as "lifecycle management".

Tape System Library Manager

When IBM first introduced the "shuttle" that allowed up to fifteen TS3500 tape libraries to be connected together into a single system, only HPSS customers could take advantage of this. Software was required to coordinate the movement of cartridges from one library to another. The new IBM Tape System Library Manager now offers an alternative to HPSS for coordinating this activity.

DS8000 v6.3 microcode

IBM now offers 400GB solid-state drives. IBM's market leading support for Full Disk Encryption (FDE) is now extended to cover all drive speeds, from the slowest 7200RPM NL-SAS drives up to the fastest solid-state. IBM Easy Tier extends its super-easy implementation to work across all three of these tiers including encryption.

Implementation Services

IBM now offers implementation services for IBM XIV Gen3 storage system, and the N series models 3220 and 3240.
This week I am on the road visiting various clients. Next week, Moscow Russia for the "Edge Comes to You" event!
technorati tags: IBM, SONAS, TPC, Tivoli Storage, Productivity Center, ProtecTIER, TS7650, TS7620, CIFS, OST, VTL, LTFS, Storage Manager, Tape System Library Manager, DS8000, DS8800, XIV Gen3, N3220, N3240, Edge, ECTY
Five years ago, I sprayed coffee all over my screen from something I read on a blog post from fellow blogger Hu Yoshida from HDS. You can read what cased my reaction in my now infamous post [Hu Yoshida should know better]. Subsequently, over the years, I have disagreed with Hu on a variety of of topics, as documented in my 2010 blog post [Hu Yoshida Does It Again].
(Apparently, I am not alone, as the process of spraying one's coffee onto one's computer screen while reading other blog posts has been referred to as "Pulling a Tony" or "Doing a Tony" by other bloggers!)
Fortunately, my IBM colleague David Sacks doesn't drink coffee. Last month, David noticed that Hu had posted a graph in a recent blog entry titled [Additional Storage Performance Efficiencies for Mainframes], comparing the performance of HDS's Virtual Storage Platform (VSP) to IBM's DS8000.
For those not familiar with disk performance graphs, flatter is better, lower response time and larger IOPS are always desired. This graph implies that the HDS disk system is astonishingly faster than IBM's DS8000 series disk system. Certainly, the HDS VSP qualifies as a member of the elite [Super High-End club] with impressive SPC benchmark numbers, and is generally recognized as a device that works in IBM mainframe environments. But this new comparison graph is just ridiculous!
(Note: While SPC benchmarks are useful for making purchase decisions, different disk systems respond differently to different workloads. As the former lead architect of DFSMS for z/OS, I am often brought in to consult on mainframe performance issues in complex situations. Several times, we have fixed performance problems for our mainframe clients by replacing their HDS systems with IBM DS8000 series!)
Since Hu's blog entry contained very little information about the performance test used to generate the graph, David submitted a comment directly to Hu's blog asking a few simple questions to help IBM and Hu's readers determine whether the test was fair. Here is David's comment as submitted:
"Hello, Hu,
(Disclosure: I work for IBM. This comment is my own.)

I was quite surprised by the performance shown for the IBM DS8000 in the graph in your blog. Unfortunately, you provided very little detail about the benchmark. That makes it rather difficult (to say the least) to identify factors behind the results shown and to determine whether the comparison was a fair one.

Of the little information provided, an attribute that somewhat stands out is that the test appears to be limited to a single volume at least, that's my interpretation of "LDEV: 1*3390-3"? IBM's internal tests for this kind of case show far better response time and I/Os per second than the graph you published.

Here are a few examples of details you could provide to help readers determine whether the benchmark was fair and whether the results have any relevance to their environment.

What DS8000 model was the test run on? (the DS8000 is a family of systems with generations going back 8 years. The latest and fastest model is the DS8800.)
What were the hardware and software configurations of the DS8000 and VSP systems, including the number and speed of performance-related components?
What were the I/O workload characteristics (e.g., read:write ratio and block size(s))?
What was the data capacity of each volume? (Allocated and used capacity.)
What were the cache sizes and cache hit ratios for each system? (The average I/O response times under 1.5 milliseconds for each system imply the cache hit ratios were relatively high.)
How many physical drives were volumes striped across in each system?"
Unlike my blog on IBM, HDS bloggers like Hu are allowed to reject or deny comments before they appear on his blog post. We were disappointed that HDS never posted David's comment nor responded to it. That certainly raises questions about the quality of the comparison.
So, perhaps this is yet another case of [Hitachi Math], a phrase coined by fellow blogger Barry Burke from EMC back in 2007 in reference to outlandish HDS claims. My earliest mention was in my blog post [Not letting the Wookie Win].
By the way, since the test was about z/OS Extended Address Volumes (EAV), it is worth mentioning that IBM's DS8700 and DS8800 support 3390 volume capacities up to 1 TB each, while the HDS VSP is limited to only 223 GB per volume. Larger volume capacities help support ease-of-growth and help reduce the number of volumes storage administrators need to manage; that's just one example of how the DS8000 series continues to provide the best storage system support for z/OS environments.
Personally, I am all for running both IBM and HDS boxes side-by-side and publishing the methodology, the workload characteristics, the configuration details, and the results. Sunshine is always the best disinfectant!
technorati tags: IBM, DS8000, DS8800, HDS, Hu Yoshida, USP, VSP, mainframe, EAV
This week, IBM celebrates its Centennial, 100 years since its incorporation on June 16, 1911.
A few months ago, the Tucson Executive Briefing Center ordered its latest IBM System Storage [DS8800] to be on display for demos. This was manufactured in Vác, Hungary (about an hour north of Budapest), and was going to be shipped over to the United States.
However, Sam Palmisano, IBM Chairman and CEO, was in Hannover, Germany for the [CeBIT conference] and wanted this DS8800 to be re-directed to Germany first for this event. He was kind enough to sign it for us. Brian Truskowski, IBM General Manager for Storage, and Rod Adkins, IBM Senior Vice President for IBM Systems Technolgoy Group (and my fifth-line manager), also signed this as well!
I am pleased to say this "signed" DS8000 has arrived to Tucson. This is the latest model in a family of market-leading high-end enterprise-class disk systems designed to attach to all computers, including System z mainframes, POWER systems running AIX and IBM i, as well as servers running HP-UX, Solaris, Linux or Windows.
For more on IBM's other innovations over the past 100 years, check out the [Icons of Progress], which includes these storage innovations:
If you are planning a visit to Tucson, please ask for a tour to see this DS8800, a historic monument to disk innovation!
technorati tags: IBM, Tucson, EBC, DS8800, CEO, Chairman, Sam Palmisano, Brian Trukowski, Rod Adkins, mainframe, AIX, Linux, Windows
| | |
| --- | --- |
| | The client that bought these dozen IBM System Storage DS8800 disk systems also bought three DS8700 systems. |
Governor's Celebration of Innovation [GCOI] is an annual awards gala, with attendees who include technologists, corporate executives, entrepreneurs, investors, and policymakers. Last week, IBM was awarded "Innovator of the Year" in the Large Company category for its Easy Tier feature of the IBM DS8700 that allows optimal use of Solid-State Drives through sub-LUN automatic movement of data. IBM's Long Term File System (LTFS) was also a finalist under consideration.
The award was presented to Cindy Grossman, IBM VP and Senior Location Executive for Tucson. Joining her were Dr. Krishna Nathan, Ed Childers, Glen Jaquette, Vincent Hsu, Rick Krebsbach, Gene Leo, Denise Lopez, Hironobu Nagura, Calline Sanchez, Johnny Smith, and Dr. Cheng-Chung Song.
To learn more, read the articles in the [Arizona Business & Money] and [Phoenix Business Journal]
And for my readers in the United States, Happy Thanksgiving!
technorati tags: IBM, GCOI, Cindy Grossman, DS8800, DS8700, Easy Tier, LTFS
On Wikibon, David Floyer has an article titled [SAS Drives Tier 1 to New Levels of Green] that focuses on the energy efficiency benefits of newer Serial-Attach SCSI (SAS) drives over older Fibre Channel (FC) drives. This makes sense, as R&D budgets have been spent on making newer technologies more "green".
Fellow blogger Hu Yoshida (HDS) encourages people to [Invest in the Future with SAS, SATA and SFF], referring to Figure 1.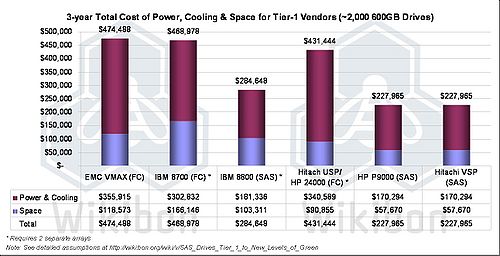 Of course, people might consider this an [apples-to-oranges] comparison. Not only are we changing from FC to SAS technology, we are also changing from 3.5-inch drives to small form factor (SFF) 2.5-inch drives. It seems odd to specify 2000 drives, when only two of the five scale up to that level. Few systems in production, from any vendor, have more than 1000 drives, so it would have seemed that would have been a fairer comparison.
However, Hu's conclusion that the combination of SAS and SFF provides better performance and energy efficiency for both IBM DS8800 and HDS VSP than FC-based alternatives from any vendor seems reasonably supported by the data.
Meanwhile, fellow blogger David Merrill (HDS) pokes fun at IBM DS8800 in Figure 2 in his post [Winner o' the green]. This second comparison was for 4PB of raw capacity, which 4 of the 5 can handle easily using 2TB SATA drives, but the DS8800 is based on SAS technology and does not support 2TB SATA drives. A performance-oriented configuration with four distinct DS8800 boxes employing 600GB SAS drives is used instead, causing the data for the DS8800 to stick out like a sore thumb, or perhaps more intentionally as a middle finger.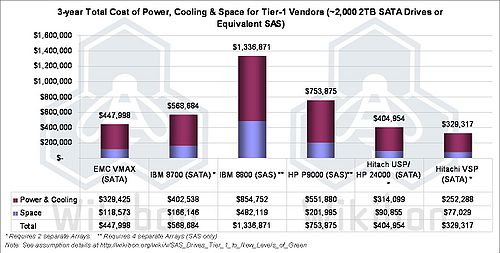 The main take-away here is that IBM offers both the DS8700 for capacity-optimized workloads, and the DS8800 for performance-optimized workloads. Some competitors may have been spreading FUD that the DS8700 was withdrawn last month, it wasn't. As you can see from the data presented, there are times where a DS8700 might be more preferable than a DS8800, depending on the type of workloads you plan to deploy. IBM offers both, and will continue to support existing DS8700 and DS8800 units in the field for many years to come.
technorati tags: IBM, DS8700, DS8800, Wikibon, Hu Yoshida, David Merrill, Davud Floyer