with Tags:
ds8700
X
Well, it's Tuesday again, but this time, today we had our third big storage launch of 2009! A lot got announced today as part of IBM's big "Dynamic Infrastructure" marketing campaign. I will just focus on the disk-related announcements today:
IBM System Storage DS8700

IBM adds a new model to its DS8000 series with the [IBM System Storage DS8700]. Earlier this month, fellow blogger and arch-nemesis Barry Burke from EMC posted [R.I.P DS8300] on this mistaken assumption that the new DS8700 meant that DS8300 was going away, or that anyone who bought a DS8300 recently would be out of luck.  Obviously, I could not respond until today's announcement, as the last thing I want to do is lose my job disclosing confidential information.  BarryB is wrong on both counts:

IBM will continue to sell the DS8100 and DS8300, in addition to the new DS8700.
Clients can upgrade their existing DS8100 or DS8300 systems to DS8700.

BarryB's latest post [What's In a Name - DS8700] is fair game, given all the fun and ridicule everyone had at his expense over EMC's "V-Max" name.

So the DS8700 is new hardware with only 4 percent new software. On the hardware side, it uses faster POWER6 processors instead of POWER5+, has faster PCI-e buses instead of the RIO-G loops, and faster four-port device adapters (DAs) for added bandwidth between cache and drives. The DS8700 can be ordered as a single-frame dual 2-way that supports up to 128 drives and 128GB of cache, or as a dual 4-way, consisting of one primary frame, and up to four expansion frames, with up to 384GB of cache and 1024 drives.

Not mentioned explicitly in the announcements were the things the DS8700 does not support:

ESCON attachment - Now that FICON is well-established for the mainframe market, there is no need to support the slower, bulkier ESCON options. This greatly reduced testing effort. The 2-way DS8700 can support up to 16 four-port FICON/FCP host adapters, and the 4-way can support up to 32 host adapters, for a maximum of 128 ports. The FICON/FCP host adapter ports can auto-negotiate between 4Gbps, 2Gbps and 1Gbps as needed.


LPAR mode - When IBM and HDS introduced LPAR mode back in 2004, it sounded like a great idea the engineers came up with. Most other major vendors followed our lead to offer similar "partitioning". However, it turned out to be what we call in the storage biz a "selling apple" not a "buying apple". In other words, something the salesman can offer as a differentiating feature, but that few clients actually use. It turned out that supporting both LPAR and non-LPAR modes merely doubled the testing effort, so IBM got rid of it for the DS8700.

Update: I have been reminded that both IBM and HDS delivered LPAR mode within a month of each other back in 2004, so it was wrong for me to imply that HDS followed IBM's lead when obviously development happened in both companies for the most part concurrently prior to that. EMC was late to the "partition" party, but who's keeping track?

Initial performance tests show up to 50 percent improvement for random workloads, and up to 150 percent improvement for sequential workloads, and up to 60 percent improvement in background data movement for FlashCopy functions. The results varied slightly between Fixed Block (FB) LUNs and Count-Key-Data (CKD) volumes, and I hope to see some SPC-1 and SPC-2 benchmark numbers published soon.

The DS8700 is compatible for Metro Mirror, Global Mirror, and Metro/Global Mirror with the rest of the DS8000 series, as well as the ESS model 750, ESS model 800 and DS6000 series.

New 600GB FC and FDE drives

IBM now offers [600GB drives] for the DS4700 and DS5020 disk systems, as well as the EXP520 and EXP810 expansion drawers. In each case, we are able to pack up to 16 drives into a 3U enclosure.

Personally, I think the DS5020 should have been given a DS4xxx designation, as it resembles the DS4700 more than the other models of the DS5000 series. Back in 2006-2007, I was the marketing strategist for IBM System Storage product line, and part of my job involved all of the meetings to name or rename products. Mostly I gave reasons why products should NOT be renamed, and why it was important to name the products correctly at the beginning.

IBM System Storage SAN Volume Controller hardware and software

Fellow IBM master inventory Barry Whyte has been covering the latest on the [SVC 2145-CF8 hardware]. IBM put out a press release last week on this, and today is the formal announcement with prices and details. Barry's latest post [SVC CF8 hardware and SSD in depth] covers just part of the entire announcement.

The other part of the announcement was the [SVC 5.1 software] which can be loaded on earlier SVC models 8F2, 8F4, and 8G4 to gain better performance and functionality.

To avoid confusion on what is hardware machine type/model (2145-CF8 or 2145-8A4) and what is software program (5639-VC5 or 5639-VW2), IBM has introduced two new [Solution Offering Identifiers]:

5465-028 Standard SAN Volume Controller
5465-029 Entry Edition SAN Volume Controller

The latter is designed for smaller deployments, supports only a single SVC node-pair managing up to 150 disk drives, available in Raven Black or Flamingo Pink.

EXN3000 and EXP5060 Expansion Drawers

IBM offers the [EXN3000 for the IBM N series]. These expansion drawers can pack 24 drives in a 4U enclosure. The drives can either be all-SAS, or all-SATA, supporting 300GB, 450GB, 500GB and 1TB size capacity drives.

The [EXP5060 for the IBM DS5000 series] is a high-density expansion drawer that can pack up to 60 drives into a 4U enclosure. A DS5100 or DS5300 can handle up to eight of these expansion drawers, for a total of 480 drives.

IBM System Storage Productivity Center v1.4

The latest [System Storage Productivity Center (SSPC) v1.4] can manage all of your DS3000, DS4000, DS5000, DS6000, DS8000 series disk, and SAN Volume Controller. You can get the SSPC built in two modes:

Pre-installed with Tivoli Storage Productivity Center Basic Edition. Basic Edition can be upgraded with license keys to support Data, Disk and Standard Edition to extend support and functionality to report and manage XIV, N series, and non-IBM disk systems.
Pre-installed with Tivoli Key Lifecycle Manager (TKLM). This can be used to manage the Full Disk Encryption (FDE) encryption-capable disk drives in the DS8000 and DS5000, as well as LTO and TS1100 series tape drives.

IBM Tivoli Storage FlashCopy Manager v2.1

The [IBM Tivoli Storage FlashCopy Manager V2.1] replaces two products in one. IBM used to offer IBM Tivoli Storage Manager for Copy Services (TSM for CS) that protected Windows application data, and IBM Tivoli Storage Manager for Advanced Copy Services (TSM for ACS) that protected AIX application data.

The new product has some excellent advantages. FlashCopy Manager offers application-aware backup of LUNs containing SAP, Oracle, DB2, SQL server and Microsoft Exchange data. It can support IBM DS8000, SVC and XIV point-in-time copy functions, as well as the Volume Shadow Copy Services (VSS) interfaces of the IBM DS5000, DS4000 and DS3000 series disk systems. It is priced by the amount of TB you copy, not on the speed or number of CPU processors inside the server.

Don't let the name fool you. IBM FlashCopy Manager does not require that you use Tivoli Storage Manager (TSM) as your backup product. You can run IBM FlashCopy Manager on its own, and it will manage your FlashCopy target versions on disk, and these can be backed up to tape or another disk using any backup product. However, if you are lucky enough to also be using TSM, then there is optional integration that allows TSM to manage the target copies, move them to tape, inventory them in its DB2 database, and provide complete reporting.
Yup, that's a lot to announce in one day. And this was just the disk-related portion of the launch!
technorati tags: ds8000, disk, ds8700, exn3, svc, cf8, 2145-c58, DS5000, DS4000, DS3000, DS5020, DS4700, DS5100, DS5300, SSPC, TKLM, FlashCopy+Manager, Tivoli, Storage+Manager, TSM, DB2, Oracle, SAP, SQL, Microsoft+Exchange, VSS, Windows, AIX, N+series, XIV
Well, it's Tuesday, and that means IBM announcements!
IBM kicks EMC in the teeth with the announcement of System Storage Easy Tier, a new feature available
at no additional charge
on the DS8700 with the R5.1 level microcode. Barry Whyte introduces the concept in his [
post this morning
]. I will use SLAM (sub-LUN automatic movement) to refer generically to IBM Easy Tier and EMC FAST v2. EMC has yet to deliver FAST v2, and given that they just recently got full-LUN FAST v1 working a few months ago, it might be
next year
before you see EMC sub-LUN FAST v2.
Here are the key features of Easy Tier on the DS8700:
Sub-LUN Automatic Movement

IBM made it really easy to implement this on the DS8700. Today, you have "extent pools" that can be either SSD-only or HDD-only. With this new announcement, we introduce "mixed" SSD+HDD extent pools. The hottest extents are moved to SSD, and cooler extents are moved down to HDD. The support applies to both Fixed block architecture (FBA) LUNs as well as Count-Key-Data (CKD) volumes. In other words, an individual LUN or CKD volume can have some of its 1GB extents on SSD and other extents on FC or SATA disk.

Entire-LUN Manual Relocation

Entire-LUN Manual Relocation (ELMR, pronounced "Elmer"?) is similar to what EMC offers now with FAST v1. With this feature, you can now relocate an entire LUN non-disruptively from any extent pool to any other extent pool. You can relocate LUNs from an SSD-only or HDD-only pool over to a new Easy Tier-managed "mixed" pool, or take a LUN out of Easy Tier management by moving it to an SSD-only or HDD-only pool. Of course, this support also applies to both Fixed block architecture (FBA) LUNs as well as Count-Key-Data (CKD) volumes.

This feature also can be used to relocate LUNs and CKD volumes from FC to SATA pools, from RAID-10 to RAID-5 pools, and so on.

Pool Mergers

What if you already have SSD-only and HDD-only pools and want to use Easy Tier? You can now merge pools to create a "mixed" pool.

SSD Mini-Packs

Before this announcement, you had to buy 16 solid-state drives at a time, called Mega-packs. Now, you can choose to buy just 8 SSD at a time, called Mini-packs. It turns out that just moving as little as 10 percent of your data from Fibre Channel disk over to Solid-State with Easy Tier can result in up to 300 to 400 percent performance improvement. IBM plans to publish formal SPC-1 benchmark results using Easy Tier-managed mixed extent pool in a few weeks.

Storage Tier Advisor Tool (STAT)

Don't have SSD yet, or not sure how awesome Easy Tier will be for your data center? The IBM Storage Tier Advisor Tool will analyze your extents and estimate how much benefit you will derive if you implement Easy Tier with various amounts of SSD. Those clients with R5.1 microcode on their DS8700 can download from the [DS8700 FTP site].
To learn more, see the [Easy Tier landing page] and the 10-page Easy Tier chapter in [DS8000 Introduction and Planning Guide]. IBM also had announcements regarding LTO-5 tape, N series and XIV storage systems, which I will get to in later posts.
technorati tags: IBM, Easy Tier, SLAM, ELMR, DS8700, SSD, HDD, extent pool, FBA, CKD, LUN, FC, SATA, disk, storage, RAID-5, RAID-10, Mega-Pack, Mini-Pack
Continuing this week's coverage of IBM's 3Q announcements, today it's all about storage for our mainframe clients.
IBM System Storage DS8700

IBM is the leader in high-end disk attached to mainframes, with the IBM DS8700 being our latest model in a long series of successful products in this space. Here are some key features:

Full Disk Encryption (FDE), which I mentioned in my post [Different Meanings of the word "Protect"]. FDE are special 15K RPM Fibre Channel drives that include their own encryption chip, so that IBM DS8700 can encrypt the data at rest without impacting performance of reads or writes. The encryption keys are managed by IBM Tivoli Key Lifecycle Manager (TKLM).

Easy Tier, which I covered in my post [DS8700 Easy Tier Sub Lun Automatic Migration] which offers what EMC promised but has yet to deliver, the ability to have CKD volumes and FBA LUNs to straddle the fence between Solid State Drives (SSD) and spinning disk. For example, a 54GB CKD volume could have 4GB on SSD and the remaining 50GB on spinning drives.   The hottest extents are moved automatically to SSD, and the coldest moved down to spinning disk.  To learn more about Easy Tier, watch my [7-minute video] on IBM [Virtual Briefing Center].

z/OS Distributed Data Backup (zDDB), announced this week, provides the ability for a program running on z/OS to backup data written by distributed operating systems like Windows or UNIX stored in FBA format. In the past, to backup FBA LUNs involved a program like IBM Tivoli Storage Manager client to read the data natively, send it over Ethernet LAN to a TSM Server, which could run on the mainframe and use mainframe resources. This feature eliminates the Ethernet traffic by allowing a z/OS program to read the FBA blocks through standard FICON channels, which can then be written to z/OS disk or tape resources. Here is the [Announcement Letter] for more details.

One program that takes advantage of this new zDDB feature already is Innovation's [FDRSOS], which I pronounce "fudder sauce". If you are an existing FDRSOS customer, now is a good time to get rid of any EMC or HDS disk and replace with the new IBM DS8700 system.

IBM System Storage TS7680 ProtecTIER Deduplication Gateway for System z

When it comes to virtual tape libraries that attach to mainframes, the two main players are IBM TS7700 series and Oracle StorageTek Virtual Storage Manager (VSM). However, mainframe clients with StorageTek equipment are growing frustrated over Oracle's lack of commitment for mainframe-attachable storage. To make matters worse, Oracle recently missed a key delivery date for their latest enterprise tape drive.

Unfortunately, neither of these offer deduplication of the data. IBM solved this with the IBM TS7680. I covered the initial announcement six months ago in my post [TS7680 ProtecTIER Deduplication for the mainframe].

What's new this week is that IBM now supports native IP-based asynchronous replication of virtual tapes at distance, from one TS7680 to another TS7680. This replaces the method of replication using the back end disk features. The problem with using disk replication is that all the virtual tapes will be copied over. Instead, the ProtecTIER administrator can decide which subset of virtual tapes should be replicated to the remote site, and that can reduce both storage requirements as well as bandwidth costs. See the [Announcement Letter] for more details.
These new solutions will work with existing mainframes, as well as the new IBM [zEnterprise mainframe models] announced this week.
technorati tags: , IBM, DS8700, FDE, Easy+Tier, zDDB, SSD, TS7680, Deduplication, VTL, Oracle, Sun, StorageTek, STK, VSM, zEnterprise
My colleagues, Harley Puckett (left) and Jack Arnold (right) were highlighted in today's Arizona Daily Star, our local newspaper, as part of an article on IBM's success and leadership in the IT storage industry. At 1400 employees here in Tucson, IBM is Southern Arizona's 36th largest employer.
Highlighted in the article:
DS8700 with the new Easy Tier feature
TS7650 ProtecTIER virtual tape library with data deduplication capability
LTO-5 tape and the new Long Term File System (LTFS)
XIV with the new 2TB drive, for a maximum per-rack usable capacity of 161 TB.
Read the full article [IBMers Crank Out 4 New Offerings To Handle Data Deluge]
technorati tags: , Arizona Daily Star, IBM Tucson, DS8700, Easy Tier, ProtecTIER, Deduplication, LTO-5, LTFS, XIV, IBM, Tucson, Arizona
On Wikibon, David Floyer has an article titled [SAS Drives Tier 1 to New Levels of Green] that focuses on the energy efficiency benefits of newer Serial-Attach SCSI (SAS) drives over older Fibre Channel (FC) drives. This makes sense, as R&D budgets have been spent on making newer technologies more "green".
Fellow blogger Hu Yoshida (HDS) encourages people to [Invest in the Future with SAS, SATA and SFF], referring to Figure 1.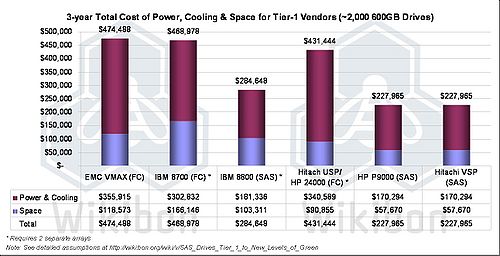 Of course, people might consider this an [apples-to-oranges] comparison. Not only are we changing from FC to SAS technology, we are also changing from 3.5-inch drives to small form factor (SFF) 2.5-inch drives. It seems odd to specify 2000 drives, when only two of the five scale up to that level. Few systems in production, from any vendor, have more than 1000 drives, so it would have seemed that would have been a fairer comparison.
However, Hu's conclusion that the combination of SAS and SFF provides better performance and energy efficiency for both IBM DS8800 and HDS VSP than FC-based alternatives from any vendor seems reasonably supported by the data.
Meanwhile, fellow blogger David Merrill (HDS) pokes fun at IBM DS8800 in Figure 2 in his post [Winner o' the green]. This second comparison was for 4PB of raw capacity, which 4 of the 5 can handle easily using 2TB SATA drives, but the DS8800 is based on SAS technology and does not support 2TB SATA drives. A performance-oriented configuration with four distinct DS8800 boxes employing 600GB SAS drives is used instead, causing the data for the DS8800 to stick out like a sore thumb, or perhaps more intentionally as a middle finger.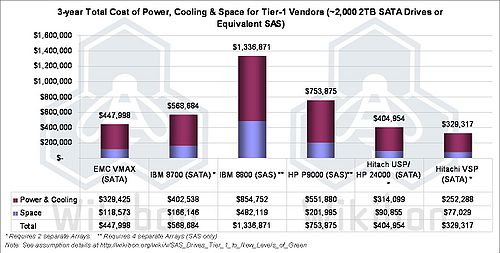 The main take-away here is that IBM offers both the DS8700 for capacity-optimized workloads, and the DS8800 for performance-optimized workloads. Some competitors may have been spreading FUD that the DS8700 was withdrawn last month, it wasn't. As you can see from the data presented, there are times where a DS8700 might be more preferable than a DS8800, depending on the type of workloads you plan to deploy. IBM offers both, and will continue to support existing DS8700 and DS8800 units in the field for many years to come.
technorati tags: IBM, DS8700, DS8800, Wikibon, Hu Yoshida, David Merrill, Davud Floyer