with Tags:
ds8700
X
On Wikibon, David Floyer has an article titled [SAS Drives Tier 1 to New Levels of Green] that focuses on the energy efficiency benefits of newer Serial-Attach SCSI (SAS) drives over older Fibre Channel (FC) drives. This makes sense, as R&D budgets have been spent on making newer technologies more "green".
Fellow blogger Hu Yoshida (HDS) encourages people to [Invest in the Future with SAS, SATA and SFF], referring to Figure 1.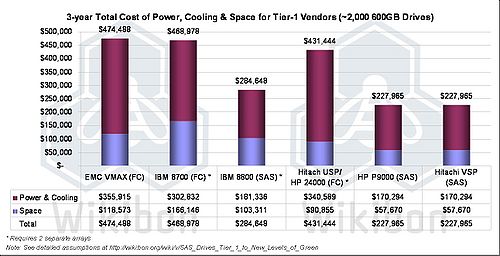 Of course, people might consider this an [apples-to-oranges] comparison. Not only are we changing from FC to SAS technology, we are also changing from 3.5-inch drives to small form factor (SFF) 2.5-inch drives. It seems odd to specify 2000 drives, when only two of the five scale up to that level. Few systems in production, from any vendor, have more than 1000 drives, so it would have seemed that would have been a fairer comparison.
However, Hu's conclusion that the combination of SAS and SFF provides better performance and energy efficiency for both IBM DS8800 and HDS VSP than FC-based alternatives from any vendor seems reasonably supported by the data.
Meanwhile, fellow blogger David Merrill (HDS) pokes fun at IBM DS8800 in Figure 2 in his post [Winner o' the green]. This second comparison was for 4PB of raw capacity, which 4 of the 5 can handle easily using 2TB SATA drives, but the DS8800 is based on SAS technology and does not support 2TB SATA drives. A performance-oriented configuration with four distinct DS8800 boxes employing 600GB SAS drives is used instead, causing the data for the DS8800 to stick out like a sore thumb, or perhaps more intentionally as a middle finger.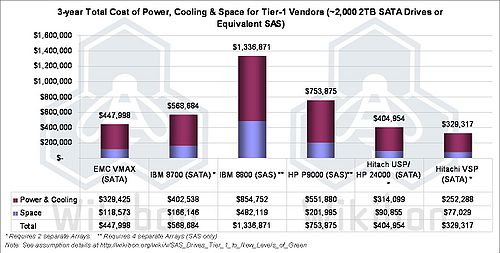 The main take-away here is that IBM offers both the DS8700 for capacity-optimized workloads, and the DS8800 for performance-optimized workloads. Some competitors may have been spreading FUD that the DS8700 was withdrawn last month, it wasn't. As you can see from the data presented, there are times where a DS8700 might be more preferable than a DS8800, depending on the type of workloads you plan to deploy. IBM offers both, and will continue to support existing DS8700 and DS8800 units in the field for many years to come.
technorati tags: IBM, DS8700, DS8800, Wikibon, Hu Yoshida, David Merrill, Davud Floyer
Continuing my discussion of this week's announcements of IBM storage products, I will cover the announcements that double storage capacity per footprint.
Linear Tape Open - Generation 5

IBM announced [LTO-5 drives], the TS2250 half-height and the TS2350 full-height drives, as well as support for LTO-5 drives in its various tape libraries: TS3100, TS3200, and TS3500. The native 1.5TB capacity of the LTO-5 cartridge is nearly double the 800GB capacity of the LTO-4 predecessor. With 2:1 compression, that's 3TB of data per cartridge! Performance-wise, the data transfer rate is 140 MB/sec, about 17 percent improvement over the 120MB/sec of the LTO-4 technology. The TS2250, TS2350, TS3100 and TS3200 now all offer dual-SAS ports for higher availability.

LTO-5 carries forward many of the advancements of past generations. For example, LTO-5 continues the G-2/G-1 "backward compatibility" architecture, which means that the LTO-5 drive can read LTO-3 and LTO-4 cartridges, and can write LTO-4 cartridges. Like the LTO-3 and LTO-4, the same LTO-5 drive can read and write WORM or regular rewriteable cartridges. Like the LTO-4, the LTO-5 offers drive-level data-at-rest encryption. These use a symmetric 256-bit AES key, managed by IBM Tivoli Key Lifecycle Manager (TKLM).

One thing that is new in LTO-5 is the Long Term File System [LTFS] available on the TS2250 and TS2350, which allows you to treat the tape as a hierarchical file system, with files and folders, that you can drag and drop like any other file system.

XIV storage system

IBM [doubles the capacity of the XIV storage system] by supporting 2TB SATA drives. A full 15-module frame can hold up to 161TB of usable capacity. The smallest 6-module system with 2TB can hold up to 55TB of usable capacity. At this time, all of the drives in an XIV must be the same type, so we do not yet allow intermix of 1TB and 2TB in the same frame. The 2TB are more energy efficient, with a full 15-module frame consuming on average 6.7 kVA, compared to 7.8 kVA for the 1TB drives. The performance is roughly the same, so if, for example, your application workload got 3700 IOPS per module with 1TB drives, it will get about the same 3700 IOPS per module with 2TB drives.

TS7650 ProtecTIER Data Deduplication

IBM now supports [many-to-one virtual tape volume mirroring] on the ProtecTIER. In other words, you can have two or more locations sending data to a single ProtecTIER disaster recovery site.

N series disk system

The EXN1000 and EXN3000 can now double in capacity with 2TB SATA drives. These can be attached to the N3000 entry-level models, such as the N3400.

DS3000 disk system

The DS3200, DS3300 and DS3400, as well as their related expansion drawers, now supports 2TB SATA drives. This means that a single control unit with three expansion drawers can hold up to 96TB of raw capacity (48 drives).

DS8700 disk system

The DS8700 also now supports 2TB SATA drives, for a maximum raw capacity over 2PB, as well as new 600GB Fibre Channel drives. Now that IBM offers [Easy Tier] functionality, pairing Solid State Drives with slower, energy-efficient SATA disk makes a lot of financial sense.
That's a lot of announcements! As always, feel free to dig into each of the links to learn more about each product.
technorati tags: IBM, LTO-5, TS2250, TS2350, TS3100, TS3200, TS500, AES, TKLM, LTFS, XIV, 2TB, TS7650, TS7650G, EXN1000, EXN3000, N3400, DS3200, DS3300, DS3400, DS8700, SATA
Well, it's Tuesday, and that means IBM announcements!
IBM kicks EMC in the teeth with the announcement of System Storage Easy Tier, a new feature available
at no additional charge
on the DS8700 with the R5.1 level microcode. Barry Whyte introduces the concept in his [
post this morning
]. I will use SLAM (sub-LUN automatic movement) to refer generically to IBM Easy Tier and EMC FAST v2. EMC has yet to deliver FAST v2, and given that they just recently got full-LUN FAST v1 working a few months ago, it might be
next year
before you see EMC sub-LUN FAST v2.
Here are the key features of Easy Tier on the DS8700:
Sub-LUN Automatic Movement

IBM made it really easy to implement this on the DS8700. Today, you have "extent pools" that can be either SSD-only or HDD-only. With this new announcement, we introduce "mixed" SSD+HDD extent pools. The hottest extents are moved to SSD, and cooler extents are moved down to HDD. The support applies to both Fixed block architecture (FBA) LUNs as well as Count-Key-Data (CKD) volumes. In other words, an individual LUN or CKD volume can have some of its 1GB extents on SSD and other extents on FC or SATA disk.

Entire-LUN Manual Relocation

Entire-LUN Manual Relocation (ELMR, pronounced "Elmer"?) is similar to what EMC offers now with FAST v1. With this feature, you can now relocate an entire LUN non-disruptively from any extent pool to any other extent pool. You can relocate LUNs from an SSD-only or HDD-only pool over to a new Easy Tier-managed "mixed" pool, or take a LUN out of Easy Tier management by moving it to an SSD-only or HDD-only pool. Of course, this support also applies to both Fixed block architecture (FBA) LUNs as well as Count-Key-Data (CKD) volumes.

This feature also can be used to relocate LUNs and CKD volumes from FC to SATA pools, from RAID-10 to RAID-5 pools, and so on.

Pool Mergers

What if you already have SSD-only and HDD-only pools and want to use Easy Tier? You can now merge pools to create a "mixed" pool.

SSD Mini-Packs

Before this announcement, you had to buy 16 solid-state drives at a time, called Mega-packs. Now, you can choose to buy just 8 SSD at a time, called Mini-packs. It turns out that just moving as little as 10 percent of your data from Fibre Channel disk over to Solid-State with Easy Tier can result in up to 300 to 400 percent performance improvement. IBM plans to publish formal SPC-1 benchmark results using Easy Tier-managed mixed extent pool in a few weeks.

Storage Tier Advisor Tool (STAT)

Don't have SSD yet, or not sure how awesome Easy Tier will be for your data center? The IBM Storage Tier Advisor Tool will analyze your extents and estimate how much benefit you will derive if you implement Easy Tier with various amounts of SSD. Those clients with R5.1 microcode on their DS8700 can download from the [DS8700 FTP site].
To learn more, see the [Easy Tier landing page] and the 10-page Easy Tier chapter in [DS8000 Introduction and Planning Guide]. IBM also had announcements regarding LTO-5 tape, N series and XIV storage systems, which I will get to in later posts.
technorati tags: IBM, Easy Tier, SLAM, ELMR, DS8700, SSD, HDD, extent pool, FBA, CKD, LUN, FC, SATA, disk, storage, RAID-5, RAID-10, Mega-Pack, Mini-Pack
Now that the US Recession has been declared over, companies are looking to invest in IT again. To help you plan your upcoming investments, here are some upcoming events in April.
SNW Spring 2010, April 12-15

IBM is a Platinum Plus sponsor at this [Storage Networking World event], to be held April 12-15 at the Rosen Shingle Creek Resort in Orlando, Florida. If you are planning to go, here's what you can go look for:

IBM booth at the Solution Center featuring the DS8700 and XIV disk systems, SONAS and the Smart Business Storage Cloud (SBSC), and various Tivoli storage software
IBM kiosk at the Platinum Galleria focusing on storage solutions for SAP and Microsoft environments
IBM Senior Engineer Mark Fleming presenting "Understanding High Availability in the SAN"
IBM sponsored "Expo Lunch" on Tuesday, April 13, featuring Neville Yates, CTO of IBM ProtecTIER, presenting "Data Deduplication -- It's not Magic - It's Math!"
IBM CTO Vincent Hsu presenting "Intelligent Storage: High Performance and Hot Spot Elimination"
IBM Senior Technical Staff Member (STSM) Gordon Arnold presenting "Cloud Storage Security"
One-on-One meetings with IBM executives

I have personally worked with Mark, Neville, Vincent and Gordon, so I am sure they will do a great job in their presentations. Sadly, I won't be there myself, but fellow blogger [Rich Swain from IBM] will be at the event to blog about all the actviities there.

Systems for a Smarter Planet webinar, April 15

Can't travel to Orlando? On April 15, IBM will offer a [Systems for a Smarter Planet webinar] to highlight IBM's vision, strategy and latest offerings. Speakers include:

Jim Stallings - General Manager, Global Markets, IBM Systems and Technology Group
Scott Handy - Vice President, WW Marketing, Power Systems, IBM Systems and Technology Group
Dan Galvan - Vice President, Marketing & Strategy, Storage and Networking Systems, IBM Systems and Technology Group
Inna Kuznetsova - Vice President, Marketing and Sales Enablement, Systems Software, IBM Systems and Technology Group
Jeanine Cotter - Vice President, Systems Services, IBM Global Technology Services

The webinar will include client testimonials from various companies as well.

Dynamic Infrastructure Executive Summit, April 27-29

I will be there, at this this 2-and-a-half-day [Executive Summit] in Scottsdale, Arizona, to talk to company executives. Discover how IBM can help you manage your ever-increasing amount of information with an end-to-end, innovative approach to building a dynamic infrastructure. You will learn all of our innovative solutions and find out how you can effectively transform your enterprise for a smarter planet.
It's looking to be a busy month!
technorati tags: , IBM, SNW, DS8700, XIV, SONAS, SBSC, Tivoli, CTO, ProtecTIER, Deduplication, SAP, Microsoft, webinar, summit, Orlando, Florida, Scottsdale, Arizona, #ibmsystems, #dyninfra
| | |
| --- | --- |
| | The client that bought these dozen IBM System Storage DS8800 disk systems also bought three DS8700 systems. |
Governor's Celebration of Innovation [GCOI] is an annual awards gala, with attendees who include technologists, corporate executives, entrepreneurs, investors, and policymakers. Last week, IBM was awarded "Innovator of the Year" in the Large Company category for its Easy Tier feature of the IBM DS8700 that allows optimal use of Solid-State Drives through sub-LUN automatic movement of data. IBM's Long Term File System (LTFS) was also a finalist under consideration.
The award was presented to Cindy Grossman, IBM VP and Senior Location Executive for Tucson. Joining her were Dr. Krishna Nathan, Ed Childers, Glen Jaquette, Vincent Hsu, Rick Krebsbach, Gene Leo, Denise Lopez, Hironobu Nagura, Calline Sanchez, Johnny Smith, and Dr. Cheng-Chung Song.
To learn more, read the articles in the [Arizona Business & Money] and [Phoenix Business Journal]
And for my readers in the United States, Happy Thanksgiving!
technorati tags: IBM, GCOI, Cindy Grossman, DS8800, DS8700, Easy Tier, LTFS