The Innovation Capitalist
Looks like Neat Receipts will finally make available their Mac version tomorrow. I understand its pretty good. I've been using the PC version on VMWare Fusion on the Mac and it works good but I'm going to immediately start using the Mac version when it becomes available tomorrrow.
Here is the website
I'm a fan of this product as it works nicely. If you need to keep track of your receipts or need a nice portable scanner, its definitely worth the price.[
Read More
]
Looks like the folks at expressor software have been busy these days building out a new "semantic data integration system" that hopes to differentiate itself from other popular data integration solutions in the market place. The cool features of their product include a semantic-driven meta data repository that helps data integration experts better handle business terms used in the conjunction with the data integration efforts. In addition, expressor claims they have a very rich user interface and parallel processor that is "10x" faster than other players in the market. Should be one to watch in the data integration market. You can learn more about their launch via this
press release made available today
.[
Read More
]
A very cool innovation for all the driving french fry consumers. From the folks at Improvements.
[
Read More
]
Sent to me today from Dwight Koop over at CohesiveFT. I particularly like the background. Thanks Dwight.
[
Read More
]
Well, since it is Java One this week, I thought I would dig around my lab and see if I could find something Java from years ago to share with you. Thought about the Java Station but my favorite is the Java Ring. Here is my Java Ring sitting on my MacBook Pro. Enjoy.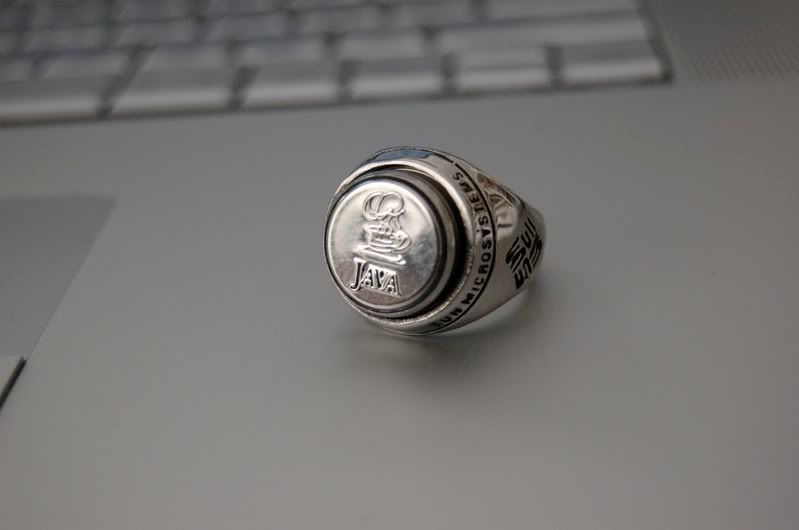 [
Read More
]
If you are involved in data management, database technologies, data warehousing, etc. I would invite you to keep an eye on the blog of Curt Monash, entitled DBMS2 - Database Management System Services. Now, I wouldn't call the blog site the most modern looking website I've seen but what's more important, good looks or good content. I'd vote for content. I've known Curt for some time and feel that he is a fair observer of the industry and his space. Now that isn't a suck up statement as I myself was an industry analyst at Forrester Research and one thing I really liked to hear is feedback whether negative or positive. Definitely worth keeping an eye out on his observations and by all means, talk to Curt if you get a chance and you will open up an opportunity to get some very interesting insight on the space he covers.
[
Read More
]
Simplifying the creation of Ajax applications is a goal of many software tools these days, but the folks at WaveMaker have taken this effort to a new level with their slick rapid Ajax development tool called Wavemaker Visual Ajax Studio. Our very own Lewis Cunningham has written up a nice review of their product here. This rich development environment goes a long way in helping you build what I call Information Intensive web based applications using some very nice drag and drop features in the product. I've had the pleasure to speak with Chris Keene about their solution and we are both excited about working together to ensure that Wavemaker Visual Ajax Studio uses Postgres Plus as a first class open source enterprise database that comes alongside the product in the near future. Give it a try, they have downloads for Windows, Mac and Linux. I think you will enjoy working with the product. Having worked in the development tools space for many years, it is refreshing to see the advancements that are being made in next generation development environments that help developers overcome obstacles in rapidly creating new styles of enterprise applications.
[
Read More
]