JSK V7000
Matching:
enterprise
X
Originating Author:
David Vellante
Co-author: David Floyer
Tip: ctrl +/- to increase/decrease text size
There has been significant discussion in the industry about storage optimization and making better use of storage capacity. A number of storage vendors have successfully marketed data de-duplication for offline/backup applications, reducing the volume of backup data by a factor of 5-15:1, according to Wikibon user input.
Data de-duplication as applied to backup use cases is different from compression in that compression actually changes the data using algorithms to create a computational byproduct and write fewer bits. With de-duplication, data is not changed, rather copies 2-N are deleted and pointers are inserted to a 'master' instance of the data. Single-instancing can be thought of as synonymous with de-duplication.
Traditional data de-duplication technologies however are generally unsuitable for online or primary storage applications because the overheads associated with the algorithms required to de-duplicate data will unacceptably elongate response times. As an example, popular data de-duplication solutions such as those from Data Domain, ProtecTier (Diligent/IBM), Falconstor and EMC/Avamar are not used for reducing capacities of online storage.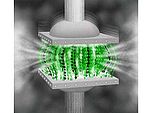 There are three primary approaches to optimizing online storage, reducing capacity requirements and improving overall storage efficiencies. Generally, Wikibon refers to these in the broad category of on-line or primary data compression, although the industry will often use terms like de-duplication (e.g. NetApp A-SIS) and single instancing. These data reduction technologies are illustrated by the following types of solutions:
NetApp A-SIS and EMC Celerra which employ either "data de-duplication light" or single-instance technology embedded into the storage array;
Host-managed offline data reduction solutions such as Ocarina Networks;
In-line data compression appliances available from IBM Real-time Compression.
Unlike some data reduction solutions for backup, these three approaches use lossless data compression algorithms, meaning mathematically, bits can always be reconstructed.
Each of these approaches has certain benefits and drawbacks. The obvious benefit is reduced storage costs. However each solution places another technology layer in the network and increases complexity and risk.
Array-based data reduction
Array-based data reduction technologies such as A-SIS operate in-line as data is being written to reduce primary storage capacity. The de-duplication feature of WAFL (NetApp's Write Anywhere File Layout) allows the identification of duplicates of a 4K block at write time (creating a weak 32-bit digital signature of the 4K block, which is then compared bit-by-bit to ensure that there is no hash collision) and placed into a signature file in the metadata. The work of identifying the duplicates is similar to the snap technology and is done in the background if controller resources are sufficient. The default is once every 24 hours and every time the percentage of changes reaches 20%.
In addition, there are three main disadvantages of an A-SIS solution, including:
With A-SIS, de-duplication can only occur within a single flex-volume (not traditional volume), meaning candidate blocks must be co-resident within the same volume to be eligible for comparison. The deduplication is based on 4k fixed blocks, rather than the variable block of (say) IBM/Diligent. This limits the de-duplication potential.
There is a complicated set of constraints when A-SIS is used together with different snaps depending on the level of software. Snaps made before deduplication will overrule de-duplication candidacy in order to maintain data integrity. This limits the space savings potential of de-dupe. Specifically, NetApp's de-dupe is not cumulative to space efficient snapshots. See (technical description);
The performance overheads of deduplication as described above mean that A-SIS should not be applied to a highly utilized controller (where the most benefit is likely to be achieved);
There is an overhead of for the metadata (up to 6%)
To exploit this feature, users are locked-in to NetApp storage.
IT Managers should note that A-SIS is included as a no-charge standard offering within NetApp's Nearline component of ONTAP, the company's storage OS.
Host-managed offline data compression solutions
Ocarina is an example of a host-managed data reduction offering or what it calls 'split-path.' It consists of an offline process that reads files through an appliance, compresses those files and writes them back to disk. When a file is requested, another appliance re-hydrates data and delivers it to the application. The advantage of this approach is much higher levels of compression because the process is offline and uses many more robust algorithms. A reasonable planning assumption of reduction ratios will range from 3-6:1 and sometimes higher for initial ingestion and read-only Web environments. However, because of the need to re-hydrate when new data is written, classical production environments may see lower ratios.
In the case of Ocarina, the company has developed proprietary algorithms that can improve reduction ratios on many existing file types (e.g. jpeg, pdf, mpeg, etc), which is unique in the industry.
The main drawbacks of host-managed data reduction solutions are:
The expense of the solution is not insignificant due to appliance and server costs needed to perform compression. In infrequently accessed, read-only or write-light environments, these costs will be justified.
To achieve these benefits, all files must be ingested, which is a slow process. Picking the right use cases will minimize this issue.
After a file is read and modified, it is written back to disk as uncompressed. To achieve savings, files must be re-compressed again limiting use cases to infrequently accessed files.
Ocarina currently supports only files, unlike NetApp A-SIS which supports both file and block-based storage. However Ocarina's implementation offers several advantages over A-SIS (remember A-SIS is free).
The solution is not highly scalable because the processes related to backup, re-hydration, and data movement are complicated.
On balance, solutions such as Ocarina are highly suitable and cost-effective for infrequently accessed data and read-intensive applications. High update environments should be avoided.
In-line data compression
IBM Real-time Compression offers in-line data compression whereby a device sits between servers and the storage network (see Shopzilla's architecture). Wikibon members indicate a compression ratio of 1.5-2:1 is a reasonable rule-of-thumb.
The main advantage of the IBM Real-time Compression approach is very low latency (i.e. microseconds) and improved performance. Storage performance is improved because compression occurs before data hits the storage network. As a result, all data in the storage network is compressed, meaning less data is sent through the SAN, cache, internal array, and disk devices, minimizing resource requirements and backup windows by 40% or more, according to Wikibon estimates.
There are two main drawbacks of the IBM Real-time Compression approach, including:
Costs of appliances and network re-design to exploit the compression devices. The Wikibon community estimates clear ROI will be realized in shops with greater than 30TB's;
Complexity of recovery, specifically users need to plan for re-hydration of data when performing recovery of backed up files (i.e. they need to have a Storewize engine or software present to recover from a data loss).
On balance, the advantages of an Ocarina or IBM Real-time Compression approach are they can be applied to any file-based storage (i.e. heterogeneous devices). NetApp and other array-based solutions lock customers into a particular storage vendor but have certain advantages as well. For example, they are simpler to implement because they are already integrated.
An Ocarina approach is best applied in read-intensive environments where it will achieve better reduction ratios due to its post-process/batch ingestion methodology. IBM Real-time Compression will achieve the highest levels of compression and ROI in general purpose enterprise data centers of 30TB's or greater.
Action Item: On-line data reduction is rapidly coming to mainstream storage devices in your neighborhood. Storage executives should familiarize themselves with the various technologies in this space and demand that storage vendors apply capacity optimization techniques to control storage costs.
Footnotes: RELATED RESEARCH
Brocade Unlocks the Power of the Cloud Through Open, Multi-Vendor Virtual Compute Blocks
Brocade and Its Partners Help Customers Build the Next Generation of Distributed and Virtualized Data Centers in a Simple, Evolutionary Way
LAS VEGAS, NV -- (MARKET WIRE) -- 08/30/11 -- (VMworld 2011) -- Today at VMworld, Brocade (NASDAQ: BRCD), the leader in fabric-based data center architectures, today announced significant advancements to the Brocade® CloudPlex™ architecture with new Brocade Virtual Compute Blocks. These bundled solutions consist of integrated, tested and validated multi-vendor server, virtualization, networking and storage resources. Demonstrating substantial partner traction, the new solutions are available today, delivered and supported in collaboration with a wide range of alliance partners, including Dell, EMC, Fujitsu, Hitachi Data Systems and VMware.
This open approach is an underlying tenet of the Brocade CloudPlex architecture, which was announced in May 2011. The open, extensible framework is designed to help customers build the next generation of distributed and virtualized data centers in a simple, evolutionary way that preserves their ability to dictate all aspects of the migration. It is the foundation for integrated compute blocks and it supports existing multi-vendor infrastructure to unify customers' assets into a single compute and storage domain.
"Organizations are seeking to maximize the benefits of cloud computing through more efficient infrastructure procurement, pre-integrated components, faster support response, and greater choice in best-in-class products to meet specific business needs," said John McHugh, CMO of Brocade. "Brocade Virtual Compute Blocks leverage our Ethernet fabrics and industry-leading Fibre Channel SAN fabrics to allow our partners to create integrated stacks that optimize cost effectiveness, flexibility and performance. Because these solutions are open, they allow our customers to scale components independently and better utilize legacy infrastructures."
According to IDC research, "As organizations move to create a dynamic data center enabled by virtualization, they are moving to architectures where server, storage, and network assets are in tighter alignment into converged infrastructures. IDC defines a converged infrastructure as one in which the server, storage, and network infrastructure resources are treated as pools to be assigned as needed to business services... The top benefits organizations achieve by implementing a converged infrastructure are cost savings, simplified management, better availability, increased flexibility, and higher utilization."(1)
Brocade Virtual Compute Block Partner Solutions
Brocade Virtual Compute Block solutions include hypervisor software integrated with servers, storage and Brocade fabric networking products in bundled, pre-racked and pre-tested configurations enriched by technology from Dell, EMC, Fujitsu, Hitachi Data Systems and VMware.
Dell
Brocade and Dell have partnered to develop a reference architecture that includes Dell Compellent Fibre Channel storage, Dell PowerEdge servers, Brocade data center and SAN switches and the VMware hypervisor, which is being shown at the Brocade VMworld booth.
"Our reference architecture developed with Brocade demonstrates Dell Compellent's commitment to provide open, cloud-optimized solutions for our customers' increasingly dynamic requirements in Fibre Channel environments," said Phil Soran, president of Dell Compellent. "Enterprises that deploy this reference architecture benefit from the ability to scale virtualization with their business requirements while deploying industry-leading storage from Dell Compellent and Fibre Channel networking solutions from Brocade."
EMC
EMC and Brocade have joined forces with several partners to deliver Virtual Compute Blocks, which combine VMware virtualization software and management tools, EMC® VNXe™ unified storage, servers and integrated Brocade Fibre Channel and Ethernet fabric networking technologies. EMC and Brocade are now working with Arrow, Tech Data, First Distribution and Acao to deliver Virtual Compute Blocks in the U.S., and in parts of Europe,Africa, and South America. These integrated, easy-to-install solutions enable EMC customers to quickly deploy private and hybrid cloud infrastructures, which provide data center consolidation, availability, scalability and automation.
"Our integration work with Brocade is a key enabler for our resellers in providing simplified deployment of Virtual Compute Blocks and further demonstrates our commitment to delivering cloud infrastructure solutions for our mutual customers that help transform data centers into highly efficient and agile environments," said Josh Kahn, vice president of Solutions Marketing at EMC.
Fujitsu
Fujitsu and Brocade have partnered to create solutions supporting Fujitsu's Dynamic Infrastructures architecture, which will help enterprises boost business agility, efficiency and IT economics. These are designed for data centers of the future, delivering powerful automated pools of computing resources made up of server, storage, network and virtualization technology.
"Fabric-based networks are an important requirement to successful deployments of solutions that will enable our customers to accelerate their cloud-based IT initiatives," said Jens-Peter Seick, senior vice president of the Product Development Group at Fujitsu Technology Solutions. "We are pleased to add Brocade Ethernet fabric technologies to our portfolio, which enhances the long-term partnership we have had in deploying SANs for our customers' virtualized environments."
Hitachi Data Systems
Hitachi converged data center solutions combine storage, compute and networking, with software management, automation and optimization to automate, accelerate and simplify cloud adoption. As a key networking partner, Brocade provides networking solutions for Hitachi converged data center solutions, including Ethernet switch, Fibre Channel fabric data center switches, and Fibre Channel switch modules for the Hitachi Compute Blade family. Solutions include:
Hitachi solutions built on Microsoft Hyper-V Cloud Fast Track: A combination of Hitachi storage and compute, with Brocade networking and Microsoft Windows Server 2008 R2 with Hyper-V and

 

System Center

 

for high-performance private cloud infrastructures and an avenue for further automation and orchestration.

 





Hitachi Unified Compute Platform: An open and converged platform that provides orchestration and management within the portfolio of Hitachi converged solutions for automated dynamic management of servers, storage and networking to create business resource pools from a simple, yet comprehensive interface.

 





Hitachi Converged Platform for Microsoft Exchange 2010: The first in a portfolio of pre-tested application-specific converged solutions, engineered for rapid deployment and tightly integrated with Exchange 2010's powerful new features for resilience, predictable performance and seamless scalability.

"HDS and Brocade have partnered to deliver tested and proven solutions with tightly integrated storage, compute and networking products that allow our mutual customers to benefit from Ethernet switch and Fibre Channel fabric technologies to create flexible cloud-based infrastructures," said Asim Zaheer, vice president of Corporate and Product Marketing at Hitachi Data Systems. "Through quicker deployment, automation and scalability, Hitachi converged data center solutions help organizations adopt cloud at their own pace and see predictable results and faster time to value."
VMware 
VMware and Brocade have developed a reference architecture solution that enables organizations to create a scalable virtual desktop infrastructure (VDI) environment.
The VMware/Brocade VDI reference architecture, VMware View™, combines Brocade VDX data center switches and converged network adapters, Intel x-86-based rack servers, iSCSI-based storage and TrendMicro security software.
Benefits of the VMware/Brocade VDI solution include best-in-class performance and scalability, enhanced security, ease-of-migration and lower total cost of ownership.
"VMware and Brocade have collaborated on a joint VDI solution that addresses our customers' needs to improve business productivity though increased performance, secured client access and elimination of business disruptions," said Vittorio Viarengo, vice president of End-User Computing at VMware. "IT organizations can utilize our reference architecture to deploy a quick-start configuration within their data center or at remote locations. In addition, it can be used as a test or development platform for businesses eager to gain the benefits and advantages of virtualizing user desktops."
Avnet Virtual Compute Block Solutions
Separately today at VMworld, Brocade and Avnet announced the joint development of marketing and enablement support for a new set of multi-vendor, pre-tested and configured virtualization solutions. The first of these is a reference architecture and validated solution designed to cost effectively scale virtual desktop infrastructure (VDI) environments to support thousands of clients (or desktops) per solution bundle. The VDI bundle will help Avnet reseller partners design and deploy open, efficient and scalable virtualization solutions for their end customers by incorporating Brocade and VMware networking and hypervisor technologies in conjunction with a variety of compute and storage platforms.
About Brocade
Brocade (NASDAQ: BRCD) networking solutions help the world's leading organizations transition smoothly to a world where applications and information reside anywhere. (www.brocade.com)
(1)Worldwide Datacenter Network 2011 - 2015 Forecast and Analysis, Lucinda Borovick, IDC, Dec. 2011, Pg. 2, #226224
Brocade, the B-wing symbol, DCX, Fabric OS, and SAN Health are registered trademarks, and Brocade Assurance, Brocade NET Health, Brocade One, CloudPlex, MLX, VCS, VDX, and When the Mission Is Critical, the Network Is Brocade are trademarks of Brocade Communications Systems, Inc., in the United States and/or in other countries. Other brands, products, or service names mentioned are or may be trademarks or service marks of their respective owners.
VMware, VMware View and VMworld are registered trademarks and/or trademarks of VMware, Inc. in the United States and/or other jurisdictions. The use of the word "partner" or "partnership" does not imply a legal partnership relationship between VMware and any other company.
© 2011 Brocade Communications Systems, Inc. All Rights Reserved.

"Procedures for replacing or adding nodes to an existing cluster"

Scope and Objectives
The scope of this document is two fold. The first section provides a procedure for replacing existing nodes in a SVC cluster non-disruptively. For example, the current cluster consists of two 2145-8F4 nodes and the desire is to replace them with two 2145-CF8 nodes maintaining the cluster size at two nodes. The second section provides a procedure to add nodes to an existing cluster to expand the cluster to support additional workload. For example, the current cluster consists of two 2145-8G4 nodes and the desire is to grow it to a four node cluster by adding two 2145-CF8 nodes.
 The objective of this document is to provide greater detail on the steps required to perform the above procedures then is currently available in the SVC Software Installation and Configuration Guide, SC23-6628, located at www.ibm.com/storage/support/2145. In addition, it provides important information to assist the person performing the procedures to avoid problems while following the various steps.
Section 1: Procedure to replace existing SVC nodes non-disruptively
You can replace SAN Volume Controller 2145-8F2, 2145-8F4, 2145-8G4, and 2145-8A4 nodes with SAN Volume Controller 2145-CF8 nodes in an existing, active cluster without taking an outage on the SVC or on your host applications. In fact you can use this procedure to replace any model node with a different model node as long as the SVC software level supports that particular node model type. For example, you might want to replace a 2145-8F2 node in a test environment with a 2145-8G4 node previously in production that just got replaced by a new 2145-CF8 node.
Note: If you are attempting to replace existing 2145-4F2 nodes with new 2145-CF8 nodes do not use this procedure as you must use the procedure specifically for this sort of upgrade located at the following URL:
ftp://ftp.software.ibm.com/storage/san/sanvc/V5.1.0/pubs/multi/4F2MigrationVer1.pdf
This procedure does not require changes to your SAN environment because the new node being installed uses the same worldwide node name (WWNN) as the node you are replacing. Since SVC uses this to generate the unique worldwide port name (WWPN), no SAN zoning or disk controller LUN masking changes are required.
READ MORE>
ProtecTier deduplication offers 25-to-1 reduction and online backup
In June, IBM debuted ProtecTIER* deduplication solutions for AIX* and IBM i. ProtecTIER offers solutions to those who can't complete backup operations in a given window, have difficulty protecting rapidly growing amounts of data or find their current backup infrastructure unreliable.
With data amounts growing, deduplication is becoming a vital part of data management, backup and recovery. "One of the reasons ProtecTIER is so crucial is because of the crazy growth the world is experiencing as it moves to an all-digital environment," says Victor Nemechek, ProtecTIER deduplication offering manager at IBM. "Customers are finding their data often doubles or more every year and their current backup systems make it difficult to capture that data, protect it and restore it when they need to."
For backups many companies use tapes that load data quickly, but present retrieval problems. These challenges—along with reliability problems—sent customers to disk where data was more accessible, but also expensive. Companies used disk for small portions of their most critical data, and kept their other data on tape. "Even with disk for critical data, backup is still an issue because you have a primary disk that you store your data on and you have to have that much disk to back up to, basically doubling your disk needs, and that can be very expensive," Nemechek says.
"Deduplication can squeeze 25 terabytes of data down to only 1 terabyte of physical disk, so customers can have the speed and reliability of disk but without that one-to-one cost." —Victor Nemechek, ProtecTIER deduplication offering manager, IBM
Successful companies fuel business with predictive analytics
by

 

Kathy Konkel

IBM offers strong capabilities in information management, reporting and analysis. A merger with SPSS in 2009 further enables customers to drive competitive action from both structured and unstructured data. SPSS was an early driver of predictive analytics and influenced its emergence on the market; now it's an established leader in the field. This IBM company's predictive-analytics offerings provide organizations a distinct advantage as analytics becomes a mainstay in today's gridlocked marketplace.
The IBM SPSS predictive-analytics software portfolio combines various capabilities that integrate multiple data sources for statistical, mathematical and other algorithmic analyses and predictive modeling—along with an infrastructure that helps organizations effectively deploy predictions. The results are higher-quality decisions, measurably better outcomes and a higher ROI.
Business analytics combines the forward-looking capacities of predictive analytics with the data-exploration and reporting capabilities of business-intelligence applications. Because it gives organizations the power to use their rich stores of data in many different ways, business analytics is at the heart of providing business insight; it's the engine that drives better outcomes. System Components>
The Real ROI
Organizations that invest in predictive analytics improve their capability to gain detailed insight into present conditions and to evaluate likely future events and outcomes. They quickly identify ways to improve business performance by cutting costs, minimizing risk and developing successful strategies for increasing revenue. They often outperform their peers. Not surprisingly, the demand for predictive analytics continues to grow. In a 2009 IBM study, 83 percent of CIOs said analytics is a priority.
Companies that deploy predictive solutions clearly demonstrate the power of predictive analytics. Ninety-four percent of SPSS customers achieved a positive ROI with an average payback period of 10.7 months, according to a Nucleus Research study. Returns were achieved through reduced costs, increased productivity, increased employee and customer satisfaction, and greater visibility. Flexibility, performance and price were all key factors in SPSS software purchase decisions.
 Technology giant IBM on Tuesday said it has emerged as the top player in the Indian external disk storage systems for the year 2010.
According to IT research firm IDC, IBM India has maintained its 2010 leadership with a 26.2 per cent market share (in revenue terms) and over four per cent points lead over its nearest competitor.
"While the overall external disk storage market in India declined to 1.5 per cent in calender year 2010, according to IDC, IBM has been able to grow its hold in the country given the constant innovation and focus on bringing in storage efficiency," Sandeep Dutta, Storage, Systems and Technology Group, IBM India/ South Asia told PTI.
Also, in Q4 2010, IBM maintained leadership with a 29 per cent market share and a seven per cent point lead over its nearest competitor in revenue terms.
During the year 2010, IBM launched products like IBM StorwizeV7000 and IBM System Storage DS8000, which helped it to strengthen its leadership position in the market.
During the year, IBM bagged orders from Kotak, Suzlon, Oswal mills, CEAT, L&T (ECC division), Indian Farmer and Fertilizer Cooperative Ltd, Solar Semiconductors and Ratnamani Metals. Read More>
IBM Scale Out NAS sets World Performance record

My series last week on IBM Watson (which you can read [here], [here], [here], and [here]) brought attention to IBM's Scale-Out Network Attached Storage [SONAS]. IBM Watson used a customized version of SONAS technology for its internal storage, and like most of the components of IBM Watson, IBM SONAS is commercially available as a stand-alone product.
 

Like many IBM products, SONAS has gone through various name changes. First introduced by Linda Sanford at an IBM SHARE conference in 2000 under the IBM Research codename

 

Storage Tank, it was then delivered as a software-only offering

 

SAN File System, then as a services offering

 

Scale-out File Services (SoFS), and now as an integrated system appliance,

 

SONAS, in IBM's Cloud Services and Systems portfolio.
If you are not familiar with SONAS, here are a few of my previous posts that go into more detail:
"As the world becomes more interconnected, instrumented and intelligent, more and more information is created. This influx of information creates both challenges and opportunities. Companies must build smarter information infrastructures that can handle all of this information and manage it intelligently. IBM has invested billions of dollars developing smart storage solutions that embody a set of essential technologies: virtualization, thin provisioning, deduplication, compression and automated tiering that will enable you to manage the influx of information and unlock new business opportunities."
http://www-03.ibm.com/systems/storage/news/announcement/20101007.html
Storage virtualization
In many IT departments, increased user demand has led to haphazard storage growth, resulting in sprawling, heterogeneous storage environments. These environments make it difficult to achieve optimal utilization and to provision storage capacity for new users and applications. Storage virtualization can put an end to these problems. It enables companies to logically aggregate disk storage so capacity can be efficiently allocated across applications and users.
 "Since October 2010
IBM Corp.
announced workload-optimized systems to help companies manage a range of more demanding workloads that are placing new stresses on already over-taxed data centers.  
The offerings, which span IBM's systems portfolio, represent IBM's investment in systems integrated and optimized across chips, hardware and software, for a range of work at a time when companies face amounts of data and are under pressure to become more efficient in managing and drawing timely insights from the information.
The new systems include: A new offering for the zEnterprise BladeCenter Extension (zBX), IBM's systems design that allows workloads on mainframe servers and other select systems to share resources and be managed as a single, virtualized system; and key new Storage and System x products, which can bring new levels of efficiency to the data center."
http://www.storagenewsletter.com/news/business/ibm-shipped-1000-storwize-v7000