Build the social collaboration experience.
Find rich technical content: Downloads, communities, documentation, and more.
---
---
Make every moment count--learn how at Connect 2016. Discover IBM solutions that increase collaboration and productivity by delivering the next generation work experience. Learn how to deliver value at the point of impact with personalized and persuasive digital content.
Featured content
Technical Library: Articles created by IBM experts and developers like you.
Critical links
Build social applications and extend IBM Collaboration Solutions.

Product documentation, white papers, Redbooks, and more

Learn more about IBM Collaboration Solutions products with videos, tutorials, web seminars, and more.
Learn how to develop for IBM Digital Experience products.

Downloads, tools and resources, troubleshooting help, and more.

In-depth, real-world how-to, by subject matter experts world-wide.
IBM Collaboration Solutions software
For information about available application development products, see IBM Collaborations Solutions application development tools.
For general information about IBM Collaboration Solutions software products, see the IBM Collaboration Solutions products list.
Bluemix: Leverage our cloud services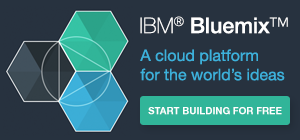 Develop your apps from concept to live in minutes.
Featured trials
Connect with IBM Collaboration Solutions
Connect with IBM developerWorks