Notes from the developerWorks Technology editor: The best of 2016
A quick rundown of the most popular open standards articles and tutorials from 2016
2016 was a rough year. It included the passing of too many music and cultural icons, an epic presidential election in the United States, and for me personally, the loss of my beloved dog, Gozo. I truly couldn't wait for 2016 to end. And although I can't remember a year with so much loss and sadness, there were bright spots: I traveled to several interesting locations, adopted a new dog, drank some amazing wines, and published some fine content by some superb software engineers.
In the spirit of learning from our past, I wanted to take a look back at some of that outstanding content in the past year from my areas on developerWorks: the Web development and Java™ development hubs. I've included a combination of content items that topped the traffic charts (though not necessarily published in 2016), and those pieces I published last year that stood out from the rest of the pack. Enjoy perusing, and here's to all that 2017 has in store for us!
Intro to Java programming learning path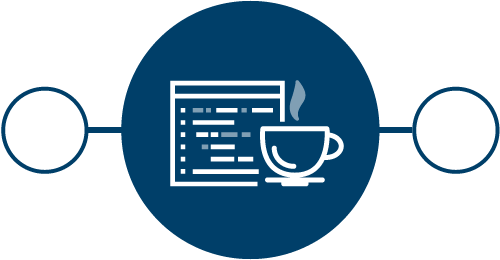 This learning path, a 23-unit course with video and quizzes, occupied a good portion of my time (and that of the author, Steve Perry, and my hired editorial gun, Eileen Cohen) in 2016. We spent several months planning, designing, creating, and editing this beast. And it paid off. This introductory content has helped thousands of people — including some of our own staffers! — learn about the Java platform in a fun and engaging way.
Use JavaScript closures efficiently
Two members of our supremely busy IBM Runtime Technologies team penned this article for me last March. It immediately lit up traffic and continued to perform well throughout the year. If you want to prevent memory leaks in your Node apps, this article should be on your list of must-reads.

I was lucky to have two top writers, real Jedi Masters, return to developerWorks after a hiatus. Both of them, Brian Goetz and David Geary, wrote a five-part series of articles: Brian on the Java Streams API and David on managing JavaScript state with the Redux library. Most of the articles in both series excelled and they are all worth the time needed to read them thoroughly.
5 things you didn't know about...

The "5 things you didn't know about..." series by Ted Neward is rather old, but it is a perennial top performer, so I decided to include it here this year (and Ted has also promised to update it). Written in 2010, each installment covers five things you might not know about a particular Java library or API or technique. Given its continued popularity and mostly still accurate content, it's worth checking out if you haven't seen it.
Docker: A boon for the modern developer

The first article published in 2016 was a runaway favorite during the year. Author Sing Li, a regular face on developerWorks, shows you how to make the transition to containerized apps to increase coding productivity and boost your development IQ. Sing's latest project keeps him busy and unavailable to write much for developerWorks, so you'll want to read him while you can.
Conclusion
Looking back through this content, I'm proud of the work I published in 2016. It might have been a challenging year, but this list shows that it wasn't all bad. I hope you enjoy the selections.
---
Downloadable resources
---