Information Management communities
Blogs
Connect with peers, stay posted on the latest technical resources, ask questions, and share tips.
Blogging to benefit Information Management Support customers worldwide.
More Information Management blogs
Forums
Exchange ideas and share solutions with your peers in the IBM InfoSphere BigInsights.
Engage in discussions related to the use of IBM Data Studio for management and development for IBM Data Servers.
More Information Management forums
More community resources
Webcast: DB2 BLU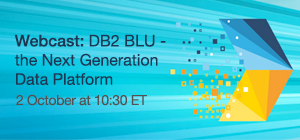 Learn about how IBM DB2 with BLU Acceleration is revolutionizing analytics and reporting.
InterConnect 2015
Registration is now open for IBM InterConnect 2015: The Premier Cloud & Mobile Conference.
Register by 31 October and save $500!
Connect with IBM developerWorks