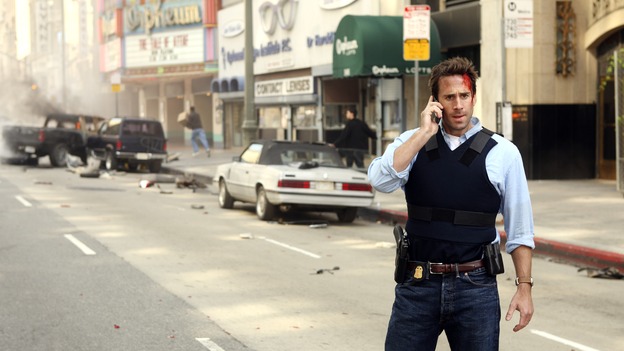 I'll admit, in spite of working for IBM, and being exposed to many
Smarter Planet
ideas, messages, and examples, there are times I struggle to "get it".  And then sometimes a light pops on in my mind... This time it was inspired by
FlashForward
, a tv show... yes, a tv show.
A little background here... I'm a Lost nut. I've watched it religiously since epi 1. In fact, I now feel compelled to check out anything springing from the creative loins of JJ Abrams. So yes, I went to see Star Trek this summer. And thus, I'm now a Fringe nut too (if you  liked X-Files once upon a time, give it a try.) When I saw previews for FlashForward, I wasn't dazzled or intrigued.  But I watched and lo and behold I'm now hooked despite the totally bizarre premise - that a "global event" occurs where everyone goes unconscious and has a vision of the future for 2 minutes and 17 seconds - they refer to it as a flash forward.  
So, ummm... what does FlashForward the tv show have to do with IT and Smarter Planet?
Naturally, the FBI rushes in to investigate and they build a web site called Mosaic to allow anyone in the world to voluntarily describe what they saw during their individual "flash forward".  Millions of people respond and now with everyone entering their experiences into Mosaic, the data is now searchable and available to create a big picture view of the event around the world. As a side note, ABC has actually created a
fictional Mosaic web site
  to help promote the show...
I didn't consider the Mosaic web site concept until several episodes in, where it struck me that  this REALLY is the future, and is an amazing, if fictional, example of Web 2.0 (or is it Web 3.0, I'm never sure where that line is crossed) and how IT can create a smarter planet. Crowd-sourcing, collective wisdom, whatever you call it... It's real people coming together, voluntarily sharing information in a single repository, for a united purpose.
I have a friend with a chronic disease that is complicated and in desperate need of years of scientific research to even begin to understand - the story of many diseases and not enough research dollars to go around. It inspired me to think, what if you could set up a web site like Mosaic where everyone with that disease went in and entered info like their symptoms, related diseases, what treatments they've tried, what worked, what didn't, etc. They could update it over a period of years with their ongoing information. You could have a running giant database of info, instead of a tiny selected scientific study group.
The way this COULD change science, research, and medicine is incredible if you could combine researchers + technology + willing participants.
The way research is done today is very controlled, and of course you'd have to give up some of that control. It would require you to trust people to tell the truth - but why wouldn't they if they have a disease and want to find a cure? And then there is the issue of who owns the data (is it a university, a pharmaceutical company, a government?).  But what if instead of controlling this data, it was open - like an open source health project?  If you could get past pre-conceived establishment notions of medical research you could have data on a million people over 10 years,instead of a hundred people over 3 months!  Wouldn't that completely change the game?
Does anyone know of real-life examples of Mosaic-like projects going on out there?