In
Web Services Compression and Reliability
, I explained that new SOAP compression specs like XOP and MTOM will not eliminate the need for messaging systems. What might give
messaging systems
like
WebSphere MQ
a run for their money are emerging standards around making Web services reliable.
Like many specification efforts surrounding Web services these days, there isn't just one spec in the works, but two:
The two specs are similar approaches by two sets of companies to solve the same problem: How to transmit SOAP messages reliabily over a less-reliable protocol such as HTTP. For a comparison of the two specs, see "
WS-RM and WS-R: Can SOAP be reliably delivered from confusion?
"
Also, in the book I co-authored,
Sean Neville
wrote an
Emerging Standards
chapter which contains a good overview of WS-Reliability and WS-ReliableMessaging. The details may be a bit dated at this point, but it's still a good introduction. Here's a neat picture from Sean's chapter that shows quite effectively how WS-ReliableMessaging works: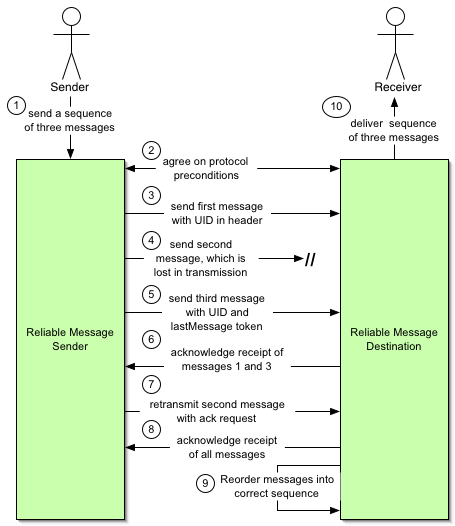 So, if you can send SOAP messages reliably, who needs a messaging system anymore? Well, the thing is, the specs are just specs; you need products that implement them. In this case, you need some software running on each end of the connection that stores the messages and resends them/confirms receipt until successful. You know what that software is? That's a messaging system! So guess who's going to be in the marketplace of providing these spec-complient products?
So as I see it, the key to reliable Web services is not as a replacement for messaging systems, but as a way to make messaging systems
interoperable
. Wait, doesn't JMS make messaging systems interoperable? Seems like it, but no. JMS is an API that makes two different providers look the same to an application. JMS has nothing to do with making two different messaging systems talk to each other, even if they both support the JMS API. However, two messaging systems which both implement the same reliable Web services standard should be able to interoperate via that standard. Interoperability is the whole point of the standard.
So reliable Web services won't eliminate the need for messaging systems. Rather, the standards will make messaging systems interoperable.
If you'd like to play around with an implementation of WS-ReliableMessaging, check out the
Emerging Technologies Toolkit
(ETTK) on
Alphaworks
. To learn more about the lastest release of the WS-RM spec, see "
Web Services Reliable Messaging reloaded
."