How to measure engagement on Facebook?
Interesting question today from an IBM digital strategist: if you are building fans for a Facebook page, how can you measure how many of them fit your target profile?
The problem can be compounded if you outsource the promotion of the page to an agency or other third party. How do you know they are not using questionable techniques to over-inflate the number of fans?
Look at engagement metrics
Over on Social Media Examiner, Mari Smith recommends looking at the engagement your page generates. Look at how many impressions each post gets and look at feedback on a post-by-post basis: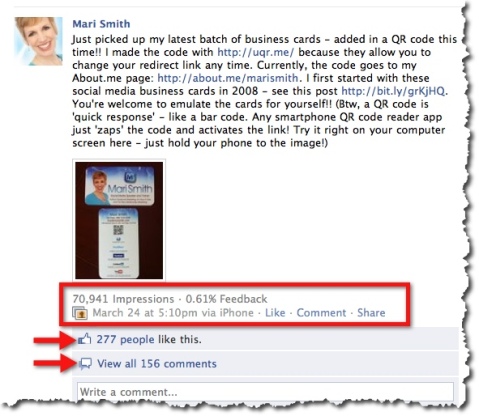 If you are the admin of a page, you can crawl under the hood and check out the 'Insights' Facebook offers. For instance, you can see how people arrive on the page, which links they click on and how active they are (eg. daily/weekly/monthly viewers). As the Facebook help pages explain, you can use Post Quality to measure how relevant your content is to your fans.
Use a third party social media analytics tool
There are tools out there (such as Simplify360) that will provide more in-depth analysis such as scoring the influence of each fan. If you have multiple pages you can perform comparisons to determine which pages are more effective.
Over on PR Daily, they advocate looking at sentiment analysis. This makes sense given their PR focus: sentiment analysis has been used for years to track whether a brand receives positive or negative press. Often this will be done manually by an agency although algorithmic sentiment analysis is growing as a field.
Stay clear of counting fans as a metric
As the PR Daily post also states, it's better to have a small number of highly active users than play the numbers game and grow a huge network who rarely sees your content. You just need to make sure that those few users you do have remain active ;)
If you are using an agency or other external party to build up your Facebook presence, the takeaway here is to not measure them solely against new fans created. You may find them hitting the numbers but the tangible results back to you are minimal. Look for other metrics that are closer to your business objectives.
I know there is a strong argument that says you shouldn't use agencies to build this kind of presence, full stop. But I have seen successful Facebook page campaigns run by agencies, particularly around events.
Anyone have any stories to share around measuring engagement on a Facebook Page? Any more advice to offer? I'm all ears!